ARTS & ENTERTAINMENT
You'll Be Able to Stay Onboard an Immersive 'Star Wars' Spaceship From 2021
You'll hop onboard for a two-day, two-night experience — and you'll be immersed in a 'Star Wars' adventure the whole time.
Whether you're the kind of fan who has a lightsaber on your shelf and a Jedi robe in your cupboard, or you prefer simply watching and rewatching every last second of the space-themed science fiction franchise, it has never been easier to indulge your love for Star Wars. We've just seen five new films hit big screens over the latter half of the past decade, The Mandalorian keeps bringing new tales to streaming and, pre-pandemic, an event devoted to the series was never too far away no matter where Down Under you reside. When 2021 rolls around, though, you'll be able to live, breathe and sleep the saga by staying not only in a themed hotel, but onboard a Star Wars spaceship.
Yes, in the very near future, in this very galaxy, you can set your sights on Walt Disney World's immersive 360 vacation concept in Orlando. Disney first announced this addition to its growing theme park realm back in 2017, and dropped specific details for all those wannabe Jedis clamouring for a unique holiday back in 2019 — but now it has released a sneak peek of what its new hotel, called Star Wars: Galactic Starcruiser, will look like.
When you're getting some shuteye, expect grey and orange tones combined with white surfaces, and an industrial look and feel as well. Fancy climbing up a ladder to kick back in a space built into an alcove — yes, as seen in oh-so-many space-set flicks? Well, based on the initial mockup imagery, that's in store.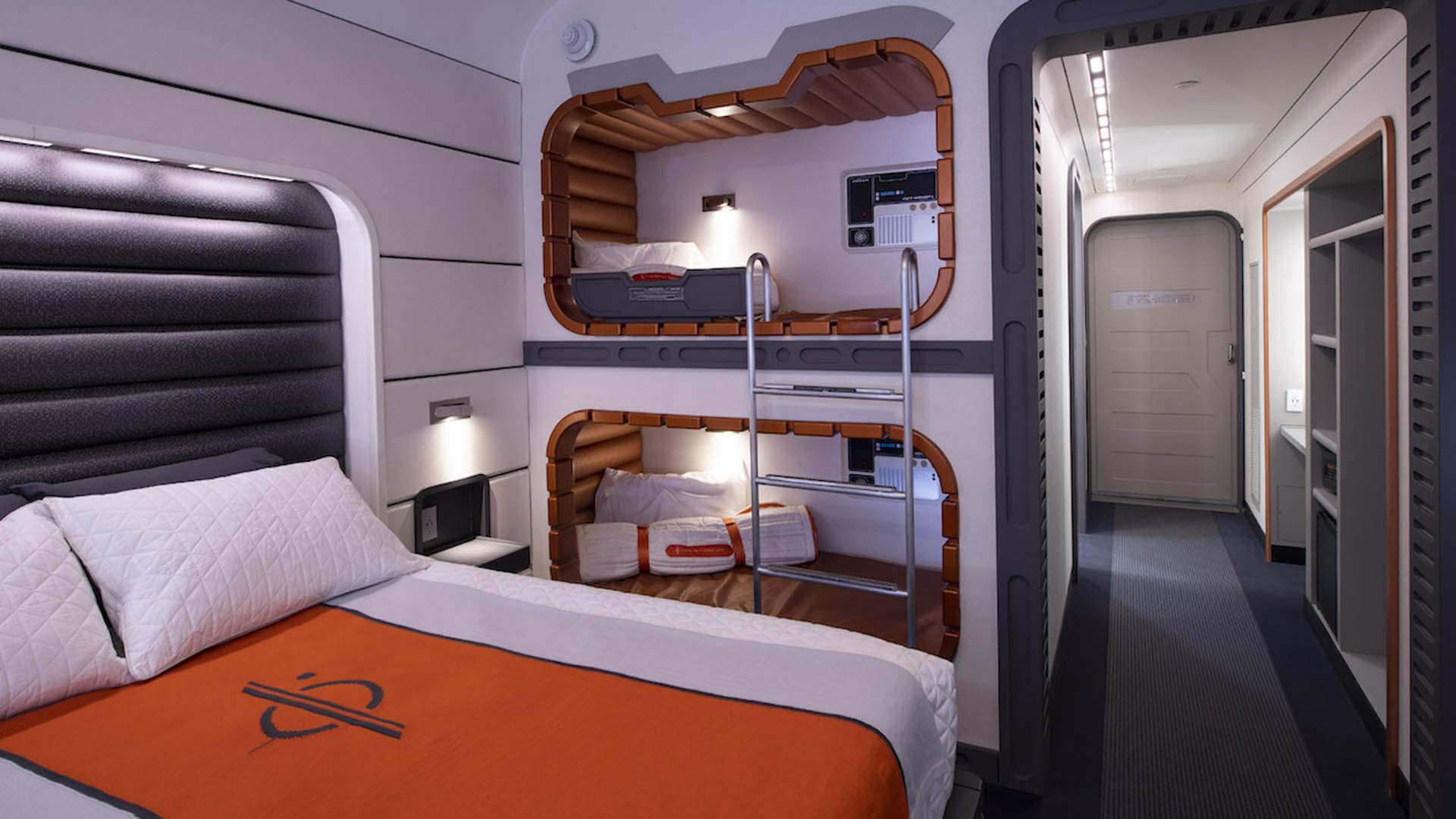 To answer the obvious question: no, you won't actually be going into space (although that idea isn't as out-of-this-world as it may sound). You will have a blast pretending that you're headed to a galaxy far, far, away, though. We're happy to report that the resort is taking the immersive part very seriously, with Star Wars: Galactic Starcruiser allowing patrons to embark upon a two-day, two-night adventure on the starcruiser Halycon.
First step: leave your real life at the door. Upon check-in, guests become a citizen of the galaxy — which means that, every minute of every day of your stay, you're a part of the Star Wars story happening around you. You'll hang out in the Atrium, where crew and passengers gather; operate the Halycon's navigation and defence systems, with plenty of guidance; and learn how to use a lightsaber, because an interactive Star Wars-themed stay wouldn't be complete without wielding a glowing weapon. You'll also sleep in the aforementioned spaceship cabins, drink in the passenger lounge and try to sneak into the crew-only engineering rooms.
Star Wars: Galactic Starcruiser will form part of Star Wars: Galaxy's Edge, Walt Disney World's new sprawling zone dedicated to the space-set franchise — which opened at the Orlando site, and at Disneyland in California as well, in 2019.
For now, the hotel doesn't have an exact 2021 opening date given the current state of the world at the moment; however, you can sign up to register your interest. If you're keen to give it a whirl once it opens (and once international travel gets back to normal, too), you'll have to be committed to the experience. The "every minute of every day" comment may well include sleeping hours — the dark side never sleeps, after all.
For more information about Star Wars: Galactic Starcruiser, which is due to open sometime in 2021, head to Walt Disney World's website.
Image: Disney/Lucasfilm via Disney Parks Blog.
Published on December 05, 2020 by Sarah Ward