The Barossa Is Set to Score a $50-Million New Six-Star, 12-Storey Hotel in the Middle of a Vineyard
First announced back in 2020, this stunning-looking new getaway spot in SA's famed Seppeltsfield winery has officially been given the go-ahead, and will open in 2024.
When there's all that vino to drink, no one really needs another reason to book in a holiday to the Barossa. Still, a towering new six-star hotel smack bang in the middle of the vineyard is certain to catapult the South Australian wine region to the top of your must-visit list. That's what's coming to the famed Seppeltsfield winery, as first announced back in 2020 — and the $50-million, 12-storey spot has just gotten the official tick of approval.
Given that the Oscar Seppeltsfield has only just received that planning go-ahead after a period of community consultation, don't go backing your bags just yet — it isn't set to open until 2024. But it'll make one helluva impressive spot to visit when it does start welcoming in wine-loving guests, and also give the Barossa a new landmark.
Named after winemaker Oscar Benno Seppelt, the hotel will be surrounded by century-old bush vines — and every room will feature a private balcony so that you can soak up that view. Speaking of spots to slumber, there'll be 71 rooms in total, including penthouses and suites.
Also included: a fine-dining restaurant, private dining room, boardroom, fitness studio, day spa and infinity pool. And, to literally cap it all off, a top-floor viewing deck with 360-degree views over the region will sit on the highest level.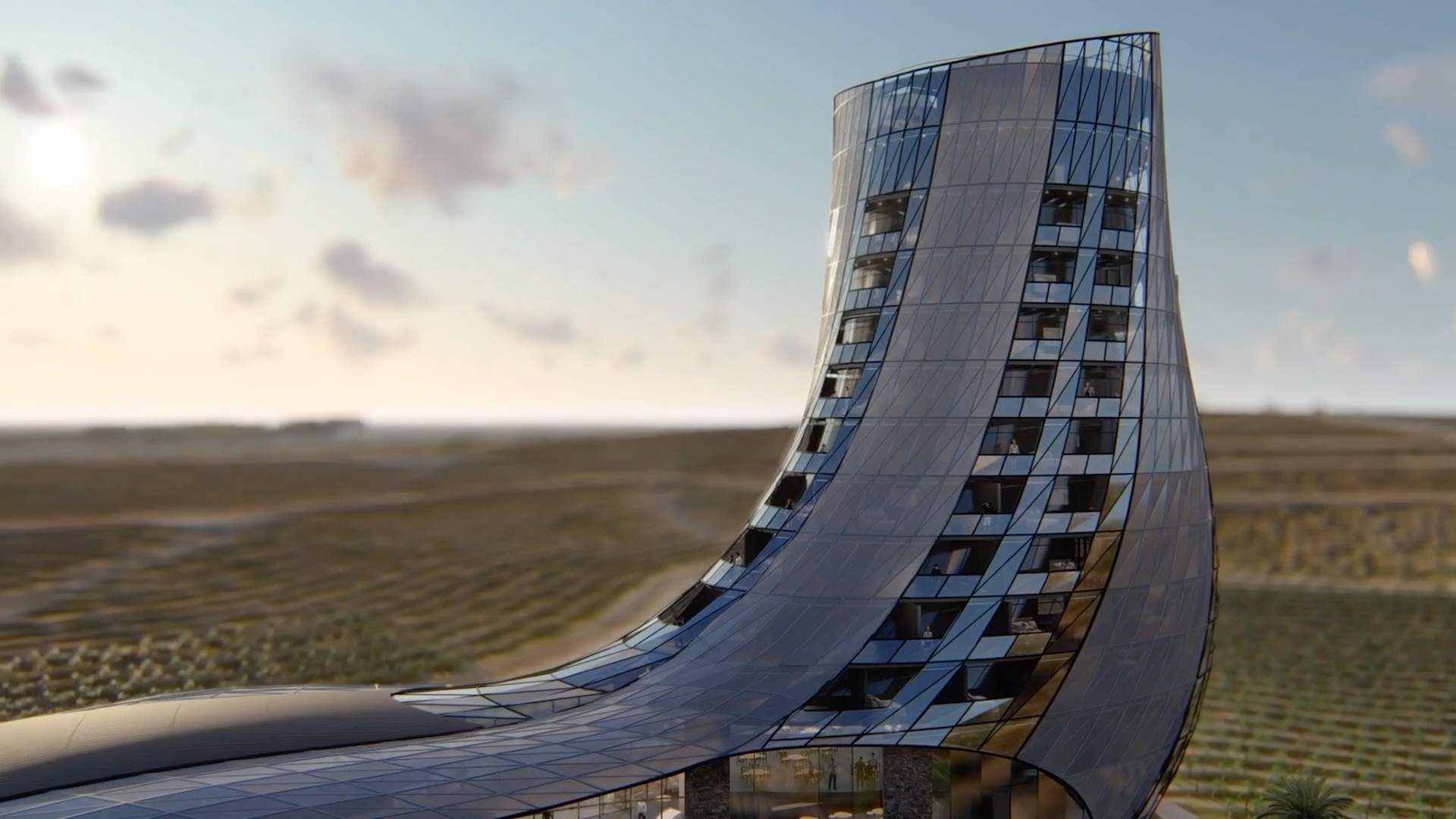 Just think, after hitting up a bunch of cellar doors, sipping local vinos and eating lots of cheese, you can come back and have a dip in the pool, peer out over the vines from a great height, then sit down for more wine and a white-tablecloth dinner. If you're looking for indulgence, this is it.
Designed by Adelaide-based firm Intro Architecture, the towering 12-storey design was inspired by wine barrels and is set to bring a modern edge to Seppeltstfield, which is one of Australia's oldest wineries and was lauded as one of the top 50 vineyards in the world in 2019. The new hotel also looks a lot like La Cité du Vin in Bordeaux, also one of the world's most prestigious wine destinations.
Construction on the Oscar is expected to start this year. And yes, it's destined to become a tourist attraction. It's anticipated that the hotel will bring in an extra $90 million in tourism dollars, and also drive an increase in both Aussie and international visitors,  within the first five years of opening alone.
"The Oscar Seppeltsfield will complete the grand vision of our tourism master plan — to be the most desirable epicurean destination for tourists worldwide. A national icon for South Australia, a Sydney Opera House for the Barossa," said Seppeltsfield proprietor and Executive Chairman Warren Randall.
Oscar Seppeltsfield is slated to open at Seppeltsfield Winery's Great Terraced Vineyard, Barossa Valley, South Australia, in 2024. For more information, head to the winery's website.
Concrete Playground Trips
Book unique getaways and adventures dreamed up by our editors