This New Overnight Experience Is Getting Artists to Make Over the Gold Coast's Heritage Motel Rooms
First up: a three-month pop-up at Surf Street Motel at Mermaid Beach, where you can stay in a room outfitted by local artist Dion Parker.
High-rise hotels and the Gold Coast go hand in hand; however, slumbering at great heights isn't the only way to stay at the tourist-friendly spot. The area is also home to plenty of motels, which come with their own low-key (and lower to the ground) charms — and, thanks to a new startup, they're getting an art-fuelled makeover.
Meet Golden Ticket Motel, which wants to turn the Goldie's heritage motel rooms into highly Instagrammable experiences; think: Sugar Republic and the Museum of Ice Cream, but you can kip there. Beginning as a three-month pilot, it enlists artists to deck out motels, turning them into the kind of space that you'll want to snap copious amounts of pictures of. 'Art you can sleep in' is the official spiel, and it fits.
The first venue doing the honours is Surf Street Motel in Mermaid Beach, with one room given a revamp by Gold Coast artist Dion Parker. Big, colourful, flower-filled designs feature heavily, as set against black walls. The makeover covers the brightly hued quilt and curtains, statement walls complete with a velvet centrepiece that's designed to look like flowing hair, and florals throughout the bathroom. No, you haven't stayed in a motel quite like this before.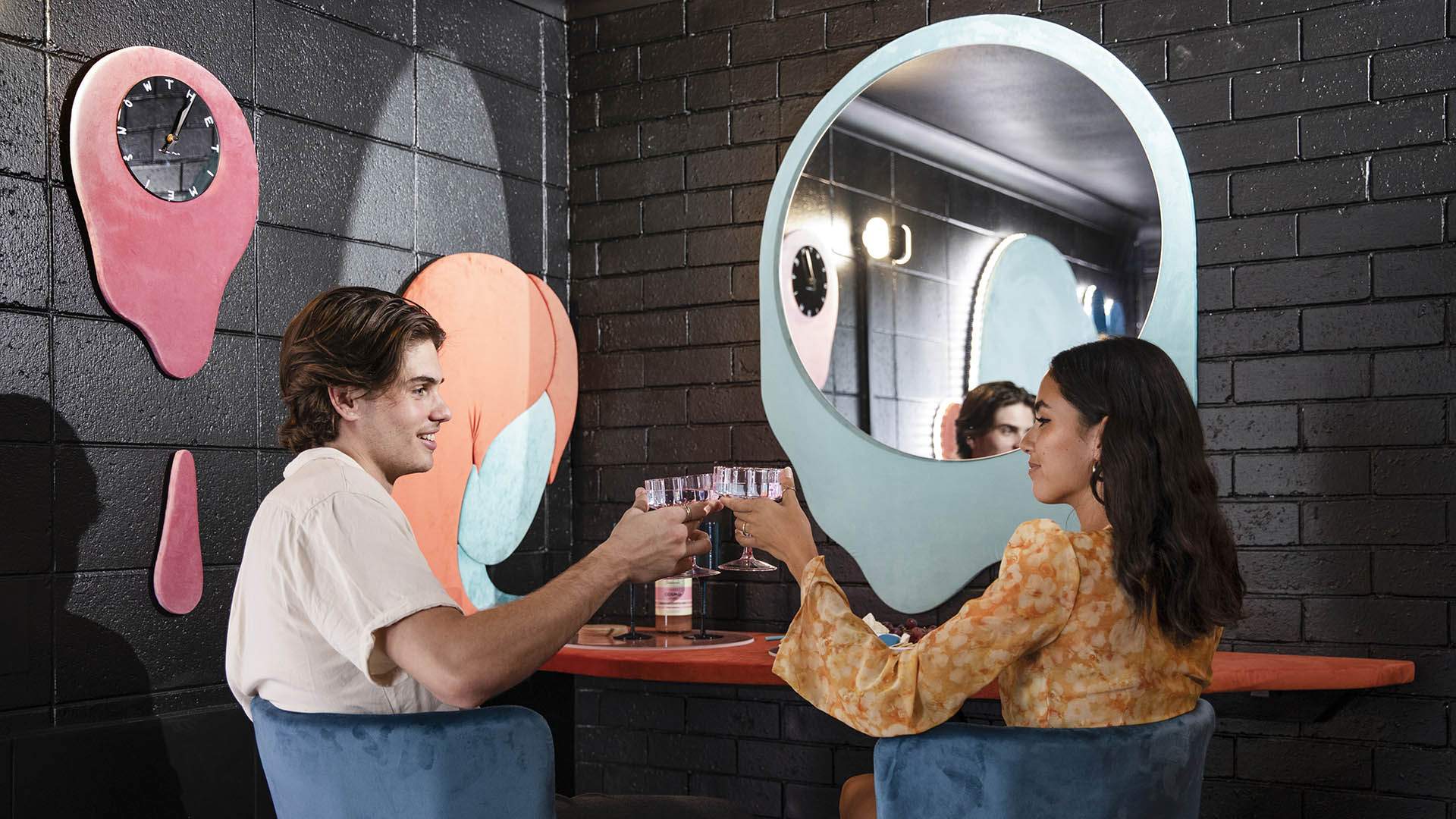 If that sounds like your kind of place for an evening, bookings are open for visits from May, starting from $235 per night. As well as soaking in the eye-catching interior design, you'll also be just a five-minute walk from Nobby Beach — because no GC stay is ever really complete without some surf, sun and sand, obviously.
The pilot run is supported by a City of Gold Coast creative tourism grant — and if it goes well, the aim is roll out the concept to other Goldie motels. So, you might soon have more places to spend a night in.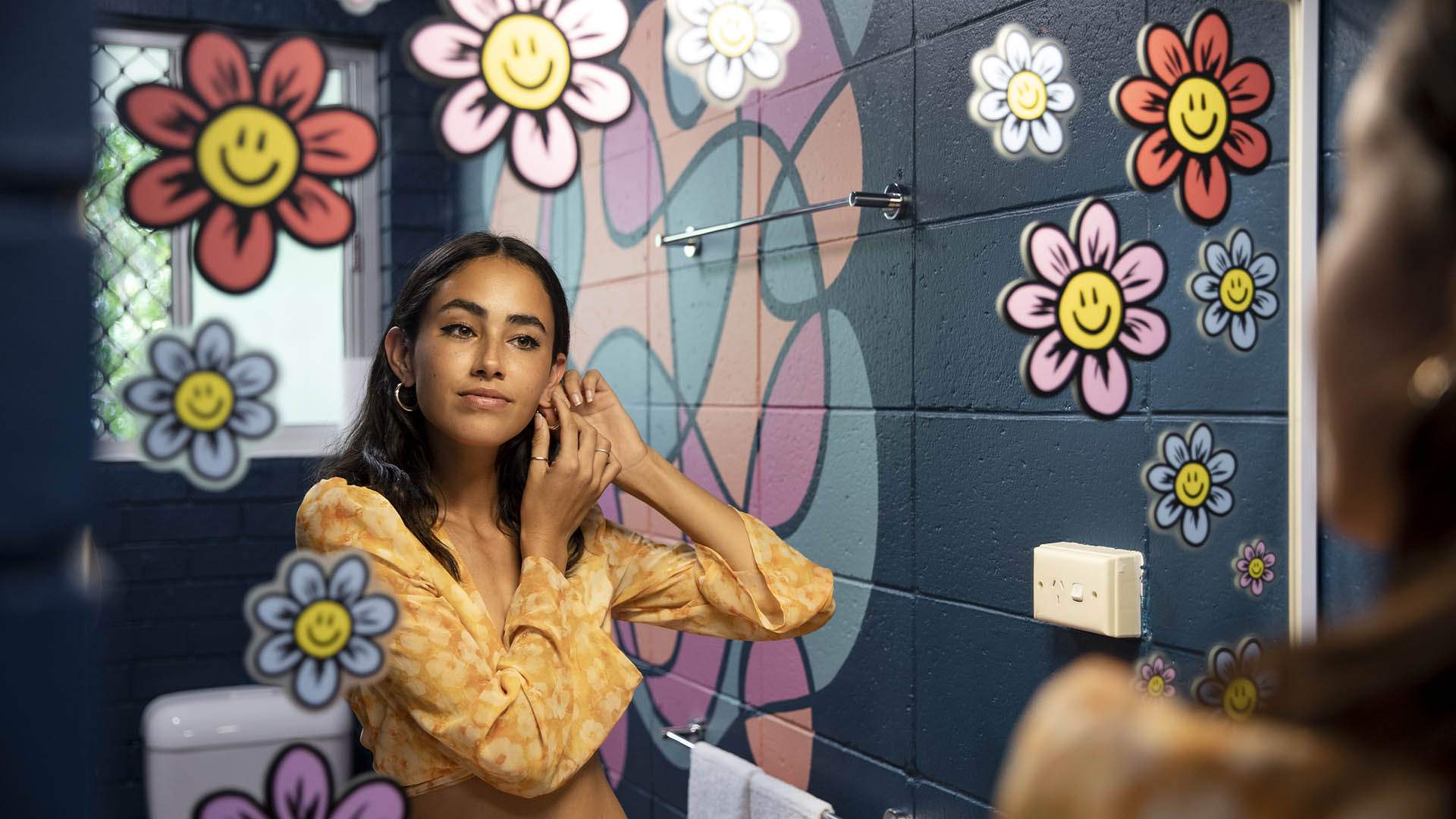 "The vision for Golden Ticket Motel is to create a unique overnight tourism product for the Gold Coast in collaboration with local artists during a time when there are limited exhibition opportunities for working artists in the area," said Golden Ticket Motel founder Lucy Fisher.
"The Gold Coast is blessed with historic motels that should be celebrated, and I wanted to create a product that encourages motel visitation without any outlay from operators and introduce a new audience to this style of accommodation."
"Ultimately, the aim is to build Golden Ticket Motel into a thriving creative tourism business based on the Gold Coast that works with artists and accommodation providers to create playful and unique overnight art experiences."
Golden Ticket Motel's first pop-up at Surf Street Motel, Mermaid Beach, is available to book for the next three months. For more information, head to the Golden Ticket Motel website.