TRAVEL & LEISURE
The Ten Most Unique Bowling Alleys in the World
Getting a strike here is worth the airfare.
in partnership with

As far as next-level design goes, the humble bowling alley has quite the tendency to err on the side of OTT. They either take us back in time to the '50s, milkshakes and the halcyon days when bowling was literally the most fun you could have, or they blast us forward in time to a super luxurious, neon space rave. Sometimes they let you play in an underwater grotto. Wherever they take us, bowling alleys are always an adventure. They're the perfect setting for novelty dates or big group outings because they allow everyone, from graceful sports stars to kidults who need bumper bars, to look cute in bowling shoes.
We're getting into the Lebowski-loved art that is bowling this winter (even if we have to use bumpers), so we thought we'd take a little desk trip to some of the most unique bowling alleys around the world. If you've a hankering to drink, bowl and party closer to home, check out your local bowling alley's seasonal deals (like these clangers Kingpin are offering right now). It might just be one of the best date ideas under $50 this city's ever seen.
WHITE HOUSE BOWLING ALLEY, WASHINGTON
The President of the United States may spend his days running the country but you know he spends his nights obliterating pins in his swagged out bowling alleys. That's right, plural. There are two bowling alleys in the White House and one is, naturally, decorated in blue and red (patriotism never sleeps). You can access the bowling alley during your overnight stay at the White House (which will set you back a surprisingly doable US$400 a night).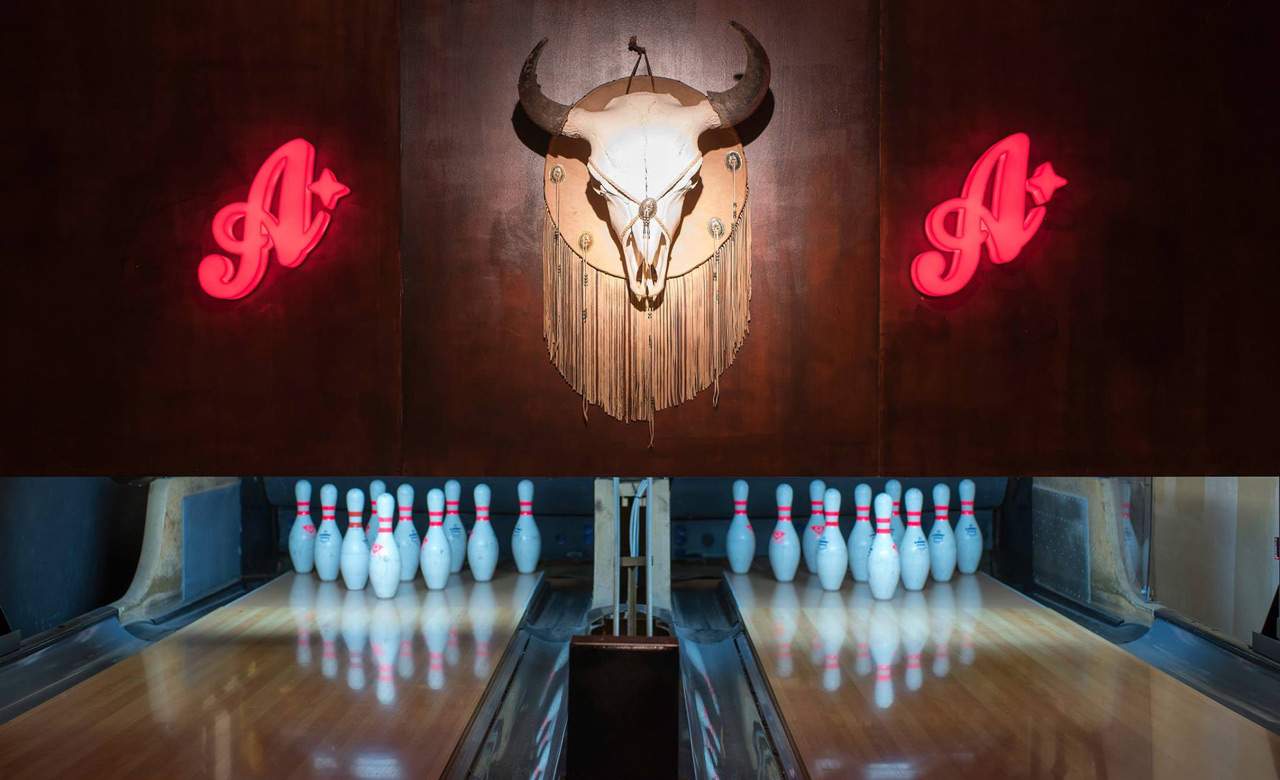 Now, All Star Lanes may be a franchised restaurant/bar/bowling alley, but they really turn up the charm. Their Brick Lane location in London is dripping in old-school glam, the Holgate iteration takes it back to retro middle America in the '70s while the Bayswater venue is, rather inexplicably, retro-Western. All the venues include break-away dining and bar areas with a killer menu. Come for the bowling, stay for the grilled cheese (with a stacked shake on the side to make your retro experience more authentic and belt-loosening).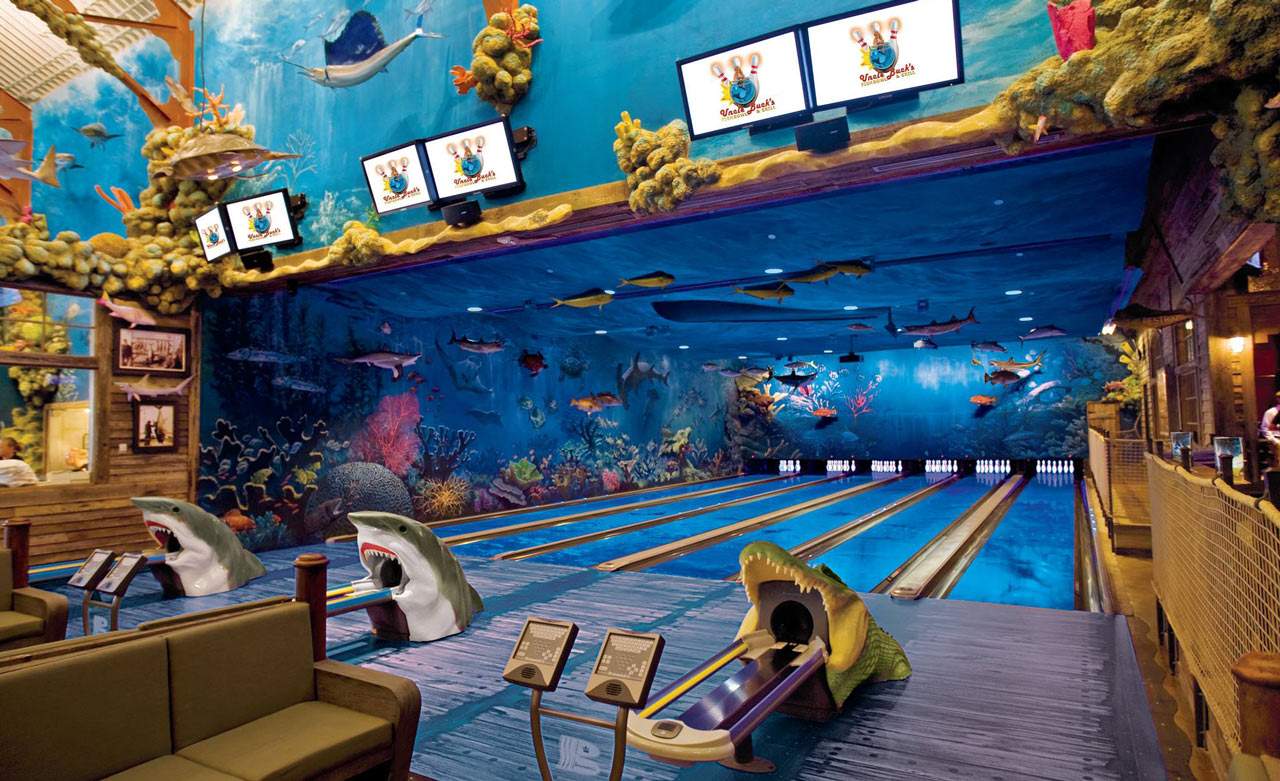 Uncle Buck's Fish Bowl and Grill, a family restaurant in Tacoma, may boast one of the weirdest bowling alleys in the world. The whole venue is styled in an under-the-sea theme (because, y'know, they serve seafood) but they've reeeally pushed the boat out (yeah we did) on this concept. Nowhere is this more acute, or disturbing, than in the 16-lane bowling alley. The room shimmers like it truly is underwater and large colourful fish hang from the wavy ceiling. Your bowling balls are spat back to you from the terrifying maws of crocodiles, sharks and octopus. In summary: it's amazing, tacky and we want to go to there.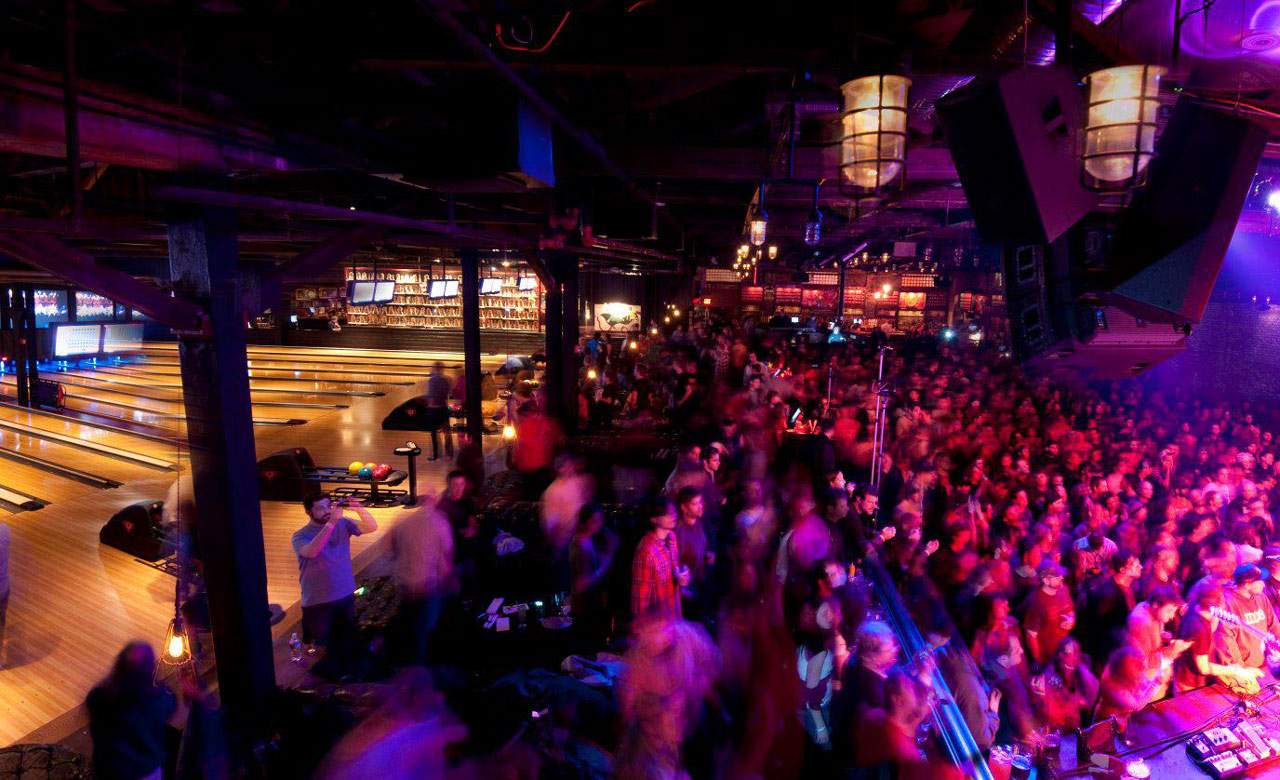 Rolling Stone called it "One of the most incredible places on earth" and we can kinda see why. One of New York's best loved establishments any night of the week, Brooklyn Bowl in New York is a hybrid rock 'n' roll music venue and bowling alley. The alley is decked out with Chesterfield lounges and boasts a menu by the world famous fried chicken institution, Blue Ribbon Fried Chicken. And on the other side of the venue, the stage has hosted bands like Gun N Roses, Elvis Costello and the Roots and frequently throw rockin' tribute and DJ nights. Also, it's co-owned by André 3000. So, we're in.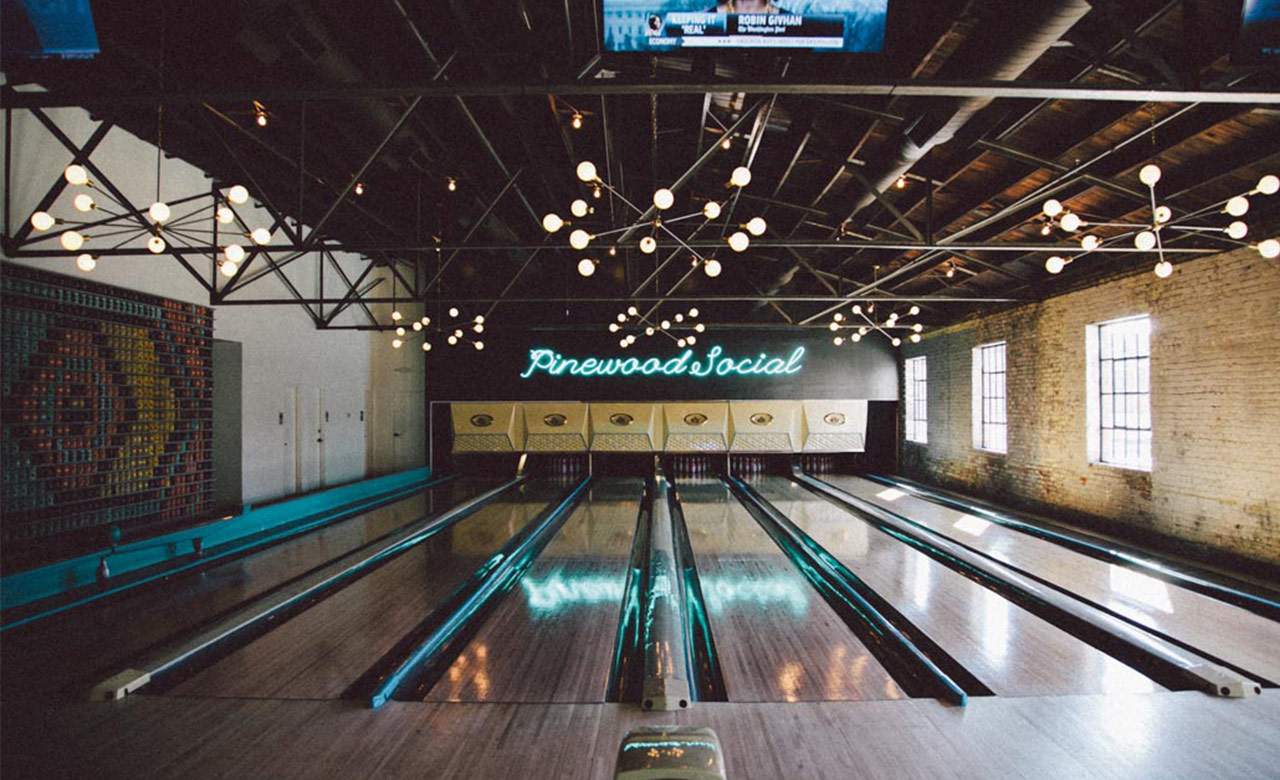 The Pinewood Social bowling alley is a retro, yet minimalist, bowling alley in Nashville and it might be the cutest place on earth. It's not like most bowling alleys with its high ceiling, exposed trusses and complete lack of neon lights, the complex also includes a café, dining area, bar, lounge and outdoor area with bocce ball court and a pool — all gloriously retro without crossing into tacky territory. You'll also find a mural alongside the lanes made up of specially printed cans. We'll call it, Pinewood Social may be the hippest place in America.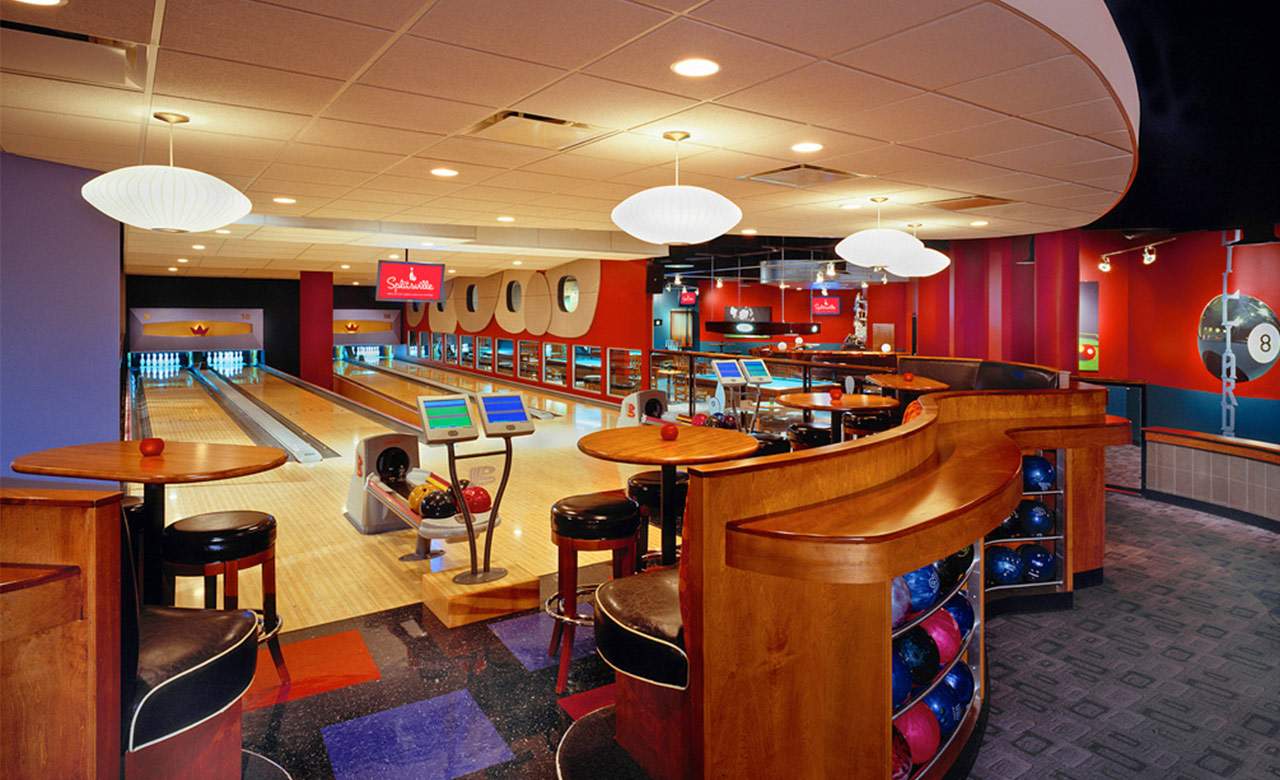 Splitsville is not just a place you temporarily populate after being dumped in primary school. It's also a retro-fantastic bowling alley and funtorium in Tampa, Florida, that looks like it's remained exactly the same since its conception in the '70s. In fact Splitsville has had an upgrade (they serve sushi now!) but despite this, it's still a pretty retro joint. You'll be able to see it from a mile away if you look for the two-storey pin (purportedly the largest in the world) on the front door.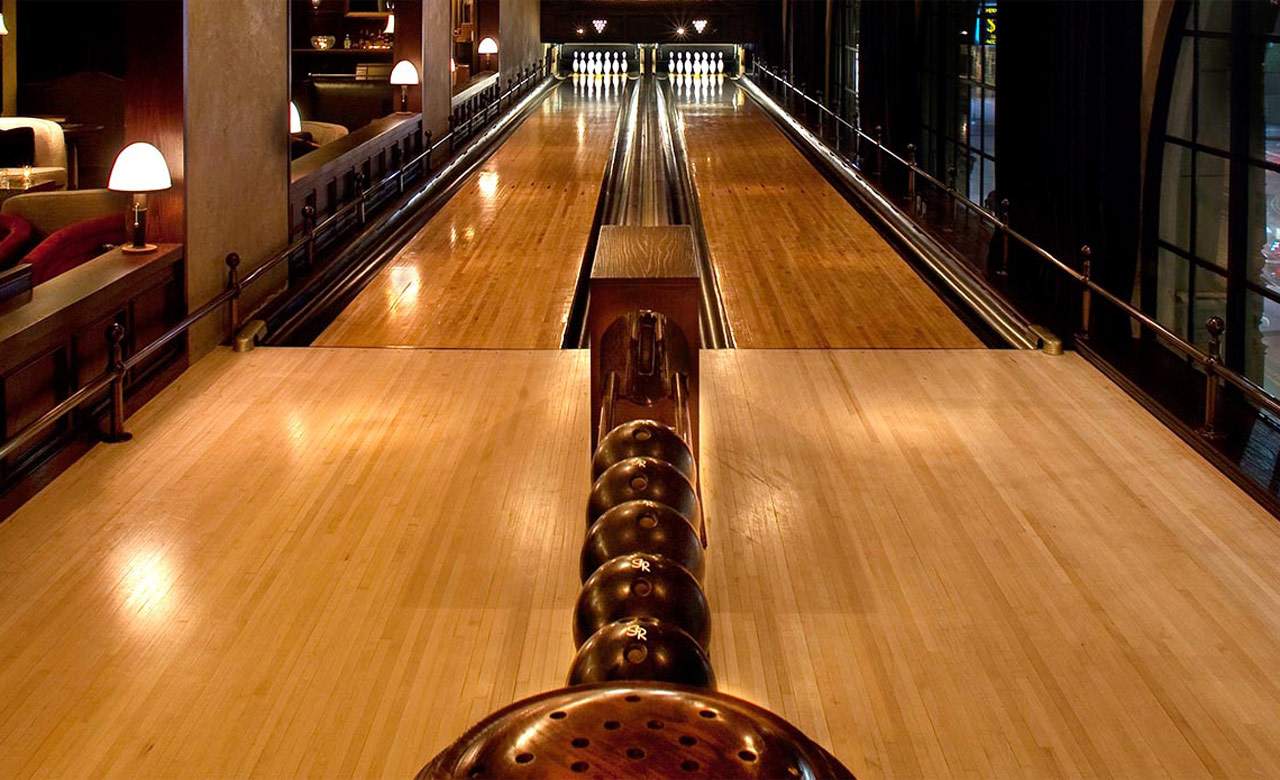 You might not think squeaking across a polished wooden floor hurling hefty balls about as a classy activity, but at The Spare Room it can be. Rich mahogany wood finishes, chandeliers and arched windows pair nicely with the bar's ridiculous, but classic, cocktail list. They've complemented their highly resplendent cocktail bowling facilities with other sophisticated pursuits like chess, dominoes, old school bingo, a wooden Connect Four set and an amazing, old school menu.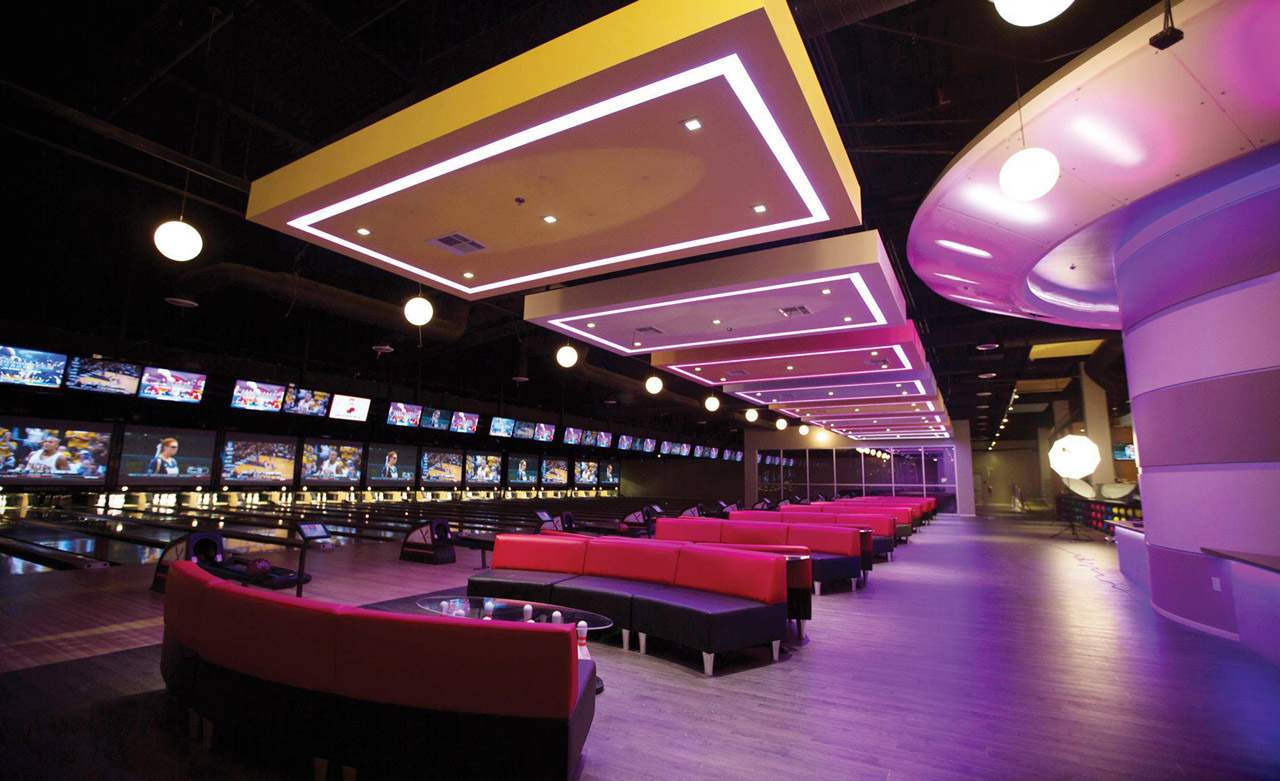 If you're after an integrated, flashy bowling experience, XLanes in Downtown Los Angeles might be just what you need. It's a big (we mean big) bowling alley with 16 lanes and all the flashing neon lights you could ever dream of. But its real value is in the extras, like the full bar, massive gaming arcade (hello Fruit Ninja, we meet again), darts, karaoke and pool and billiards room. It's like a hedonistic adult playground of excess and bowling. Take our money.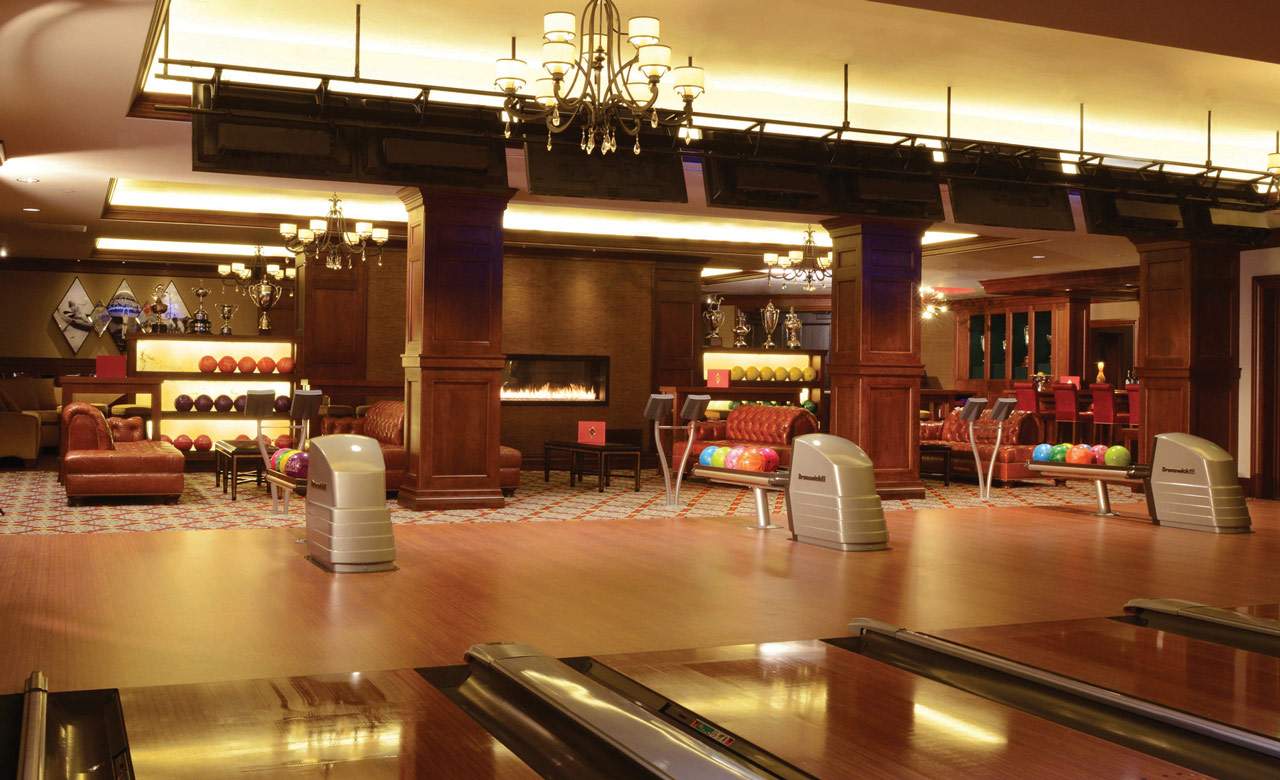 The Broadmoor in Colorado is a bonkers holiday destination for the insanely wealthy. It's really damn decadent. It's so fancy the bowling alley doesn't even look like a bowling alley — it's decked out in leather couches, chandeliers, gold gilt and affluent smuggery. You will not be ordering a margarita slushie here or entering your name as ASS on in the scoreboard, no. Instead you can partake of adult shaved ice topped with locally made liqueurs and parmesan white-truffle popcorn (seriously, these are things they serve). You might have to sell a kidney to get onto their six lanes or stay the night in their digs, but you can guarantee you'll have the swankiest bowl of your life.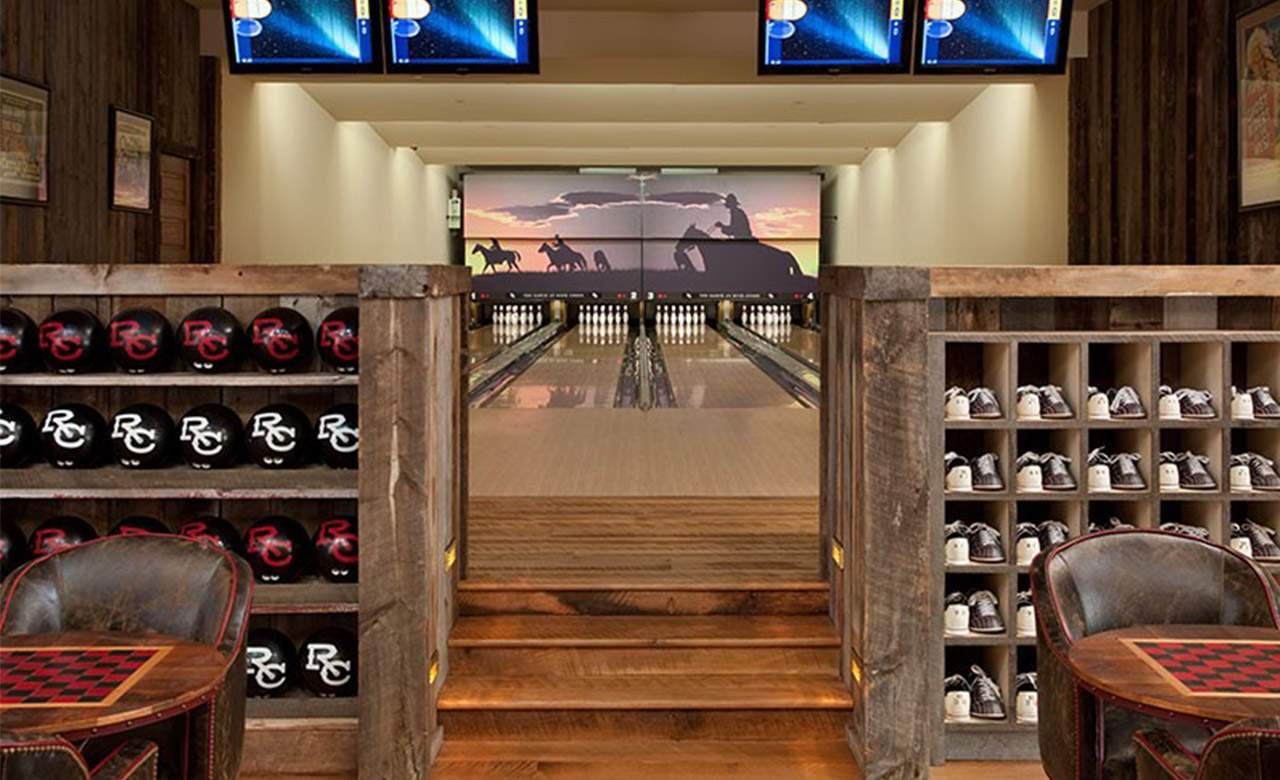 If you've found another bar in this crazy world of ours boasting stools that are saddles, please let us know. As well as being a rootin' tootin' bar, the Silver Dollar Saloon also boasts a Western-themed, four-lane bowling alley. This kitted-out saloon also features a billiards table, a private theatre, shuffleboard table and darts. It's part of the Rock Creek Ranch in Montana and while a night there will set you back a minimum of US$800, it does include all alcohol and unlimited bowling time so you might just break even.
Inspired? If all this reading about bowling has given you a hankering to knock down some pins, let's get you a lane. Kingpin is doing unlimited bowling and laser tag for a cheeky $30pp from 7pm till close. That's quite simply one of the best affordable (and actually fun) date ideas we've seen in this fine city of ours.
Published on July 13, 2016 by Imogen Baker