TRAVEL & LEISURE
Make a Sea Change at Vietnam's Six Senses Con Dao
Get a healthy dose of history, pho and zen at Vietnam's luxury spa stay — on an island with quite the dark past.
Life moves very slowly on the Con Dao Islands. Lying just 45 minutes by plane from Ho Chi Minh City, the archipelago of 16 mountainous outcrops couldn't be further away from the hustle and bustle of Vietnam's frenzied capital. Our destination is Con Son, the largest in the chain, covering roughly 50 square kilometres.
Once considered 'the devil's island of Indochina', Con Son is ringed by golden sand beaches and covered in verdant rainforests, and looks anything but intimidating. Now, the island is better known as a luxury spa destination thanks to the arrival of Six Senses Con Dao, named by National Geographic Traveler as one of the world's best ecolodges.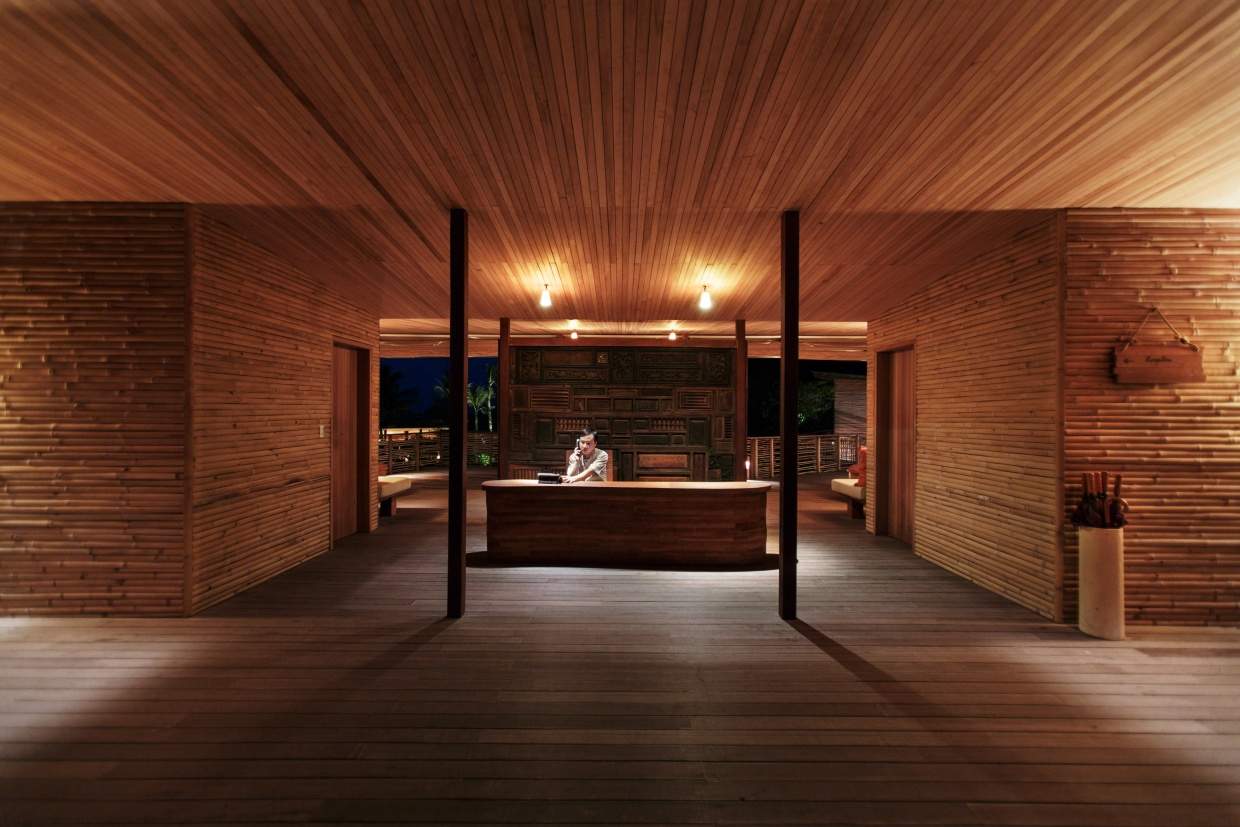 ARRIVE AT THE END OF THE EARTH
Described by chief designers Parisian architecture firm AW2 as 'luxury at the end of the earth', Six Senses Con Dao is first glimpsed across the waters of a large turquoise bay. Arriving at the property's front gates, the sleek design lines and playful colour palette of the resort's 50 villas becomes apparent, with swaying palms framing a scene that's custom-built for Instagram. Reclaimed teak and sustainably-sourced materials abound but the aesthetic remains a contemporary one; less Robinson Crusoe than other Six Senses properties around the world.
We're quickly introduced to the effervescent Minh, our dedicated 'Guest Experience Maker' for the duration of our stay, before being whisked off to our villa in a golf cart. Minh insists that she unpacks our bags so that we can get straight down to relaxing, and we're not inclined to argue. But with a host of activities, beachside restaurants and bars, an outdoor cinema, private infinity pools, a Vietnamese cooking school and a world-renowned holistic spa all waiting to be explored, it's hard to sit still for long.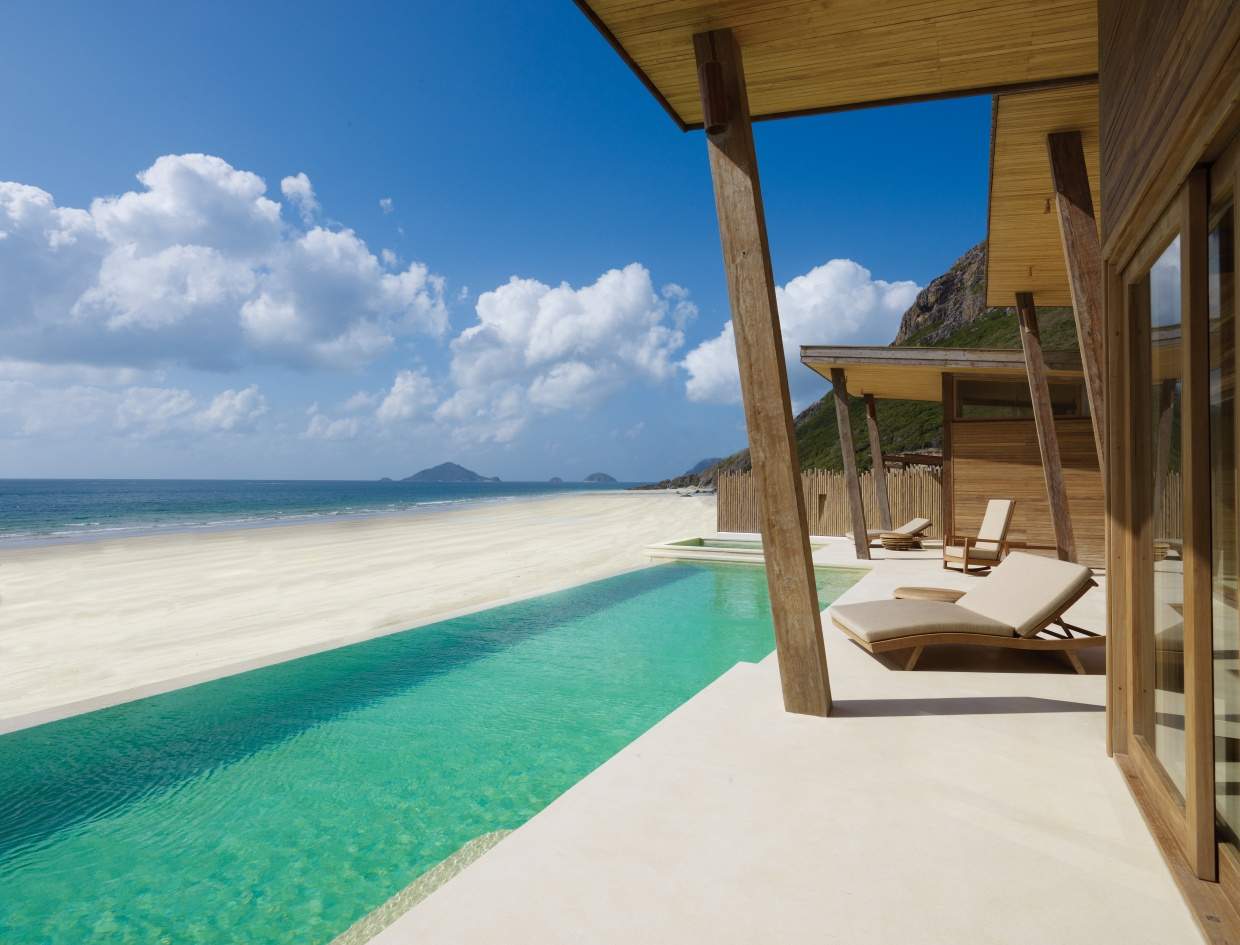 SETTLE INTO YOUR BEACH VILLA
Our room, the self-explanatory Ocean Front Deluxe Pool Villa, has an open plan layout that proves fluid and functional. Moving from the back to the beachfront, the villa contains a large private garden (complete with a mandatory outdoor shower), an enormous bathroom containing an oversized bath and multiple day beds, a large bedroom and sitting area, and an outdoor sun lounge area that overlooks the private infinity pool and ocean beyond. Rounding out the villa is a Bose sound system, a rather nifty espresso machine (that I have absolutely no clue how to operate), free and insanely fast wi-fi, tablets, and a well-stocked wine cabinet, ensuring that you want for nothing during your stay.
All of the resort's villas come served with stunning views of the sea, and are offered as single-level and duplex standalone structures containing anywhere from one to four bedrooms. An efficient timber frame construction means that each building operates at low energy levels, designed to maximise natural ventilation provided by the prevailing trade winds. Materials and labour for the property were locally sourced, as were more than a quarter of the resort's employees. Even the drinking water is eco-friendly, bottled to the sound of classical music in a desalination plant on site. Yep, to classical music.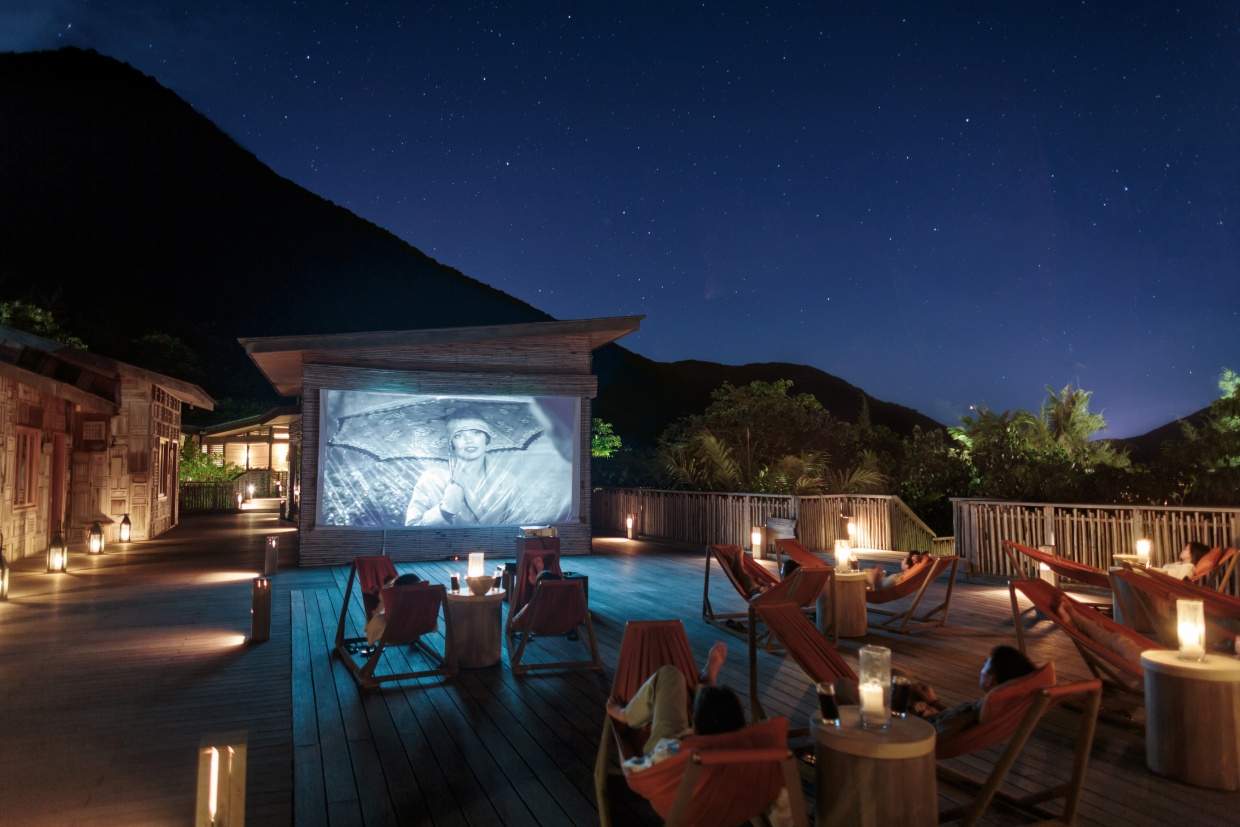 PLAY 'FEED THE FISH' GOLF AND STUFF YOURSELF SILLY
Minh works with the Experience Team to make sure that the coming days are as full as our oft-fed bellies, and some of the highlights on offer include fishing trips, kayaking, diving, snorkelling, sunset boat charters and 'feed the fish golf', a driving range that provides guests with biodegradable golf balls which dissolve into fish food in less than 24 hours. Myriad beach activities are available along the one kilometre stretch of sand too.
The heart of the property was dreamt up by AW2, responsible for the design of some of the world's more opulent hotels. Their intention was for the main collection of buildings to resemble a Vietnamese village-style market, complete with dining, drinks and shopping. The openair Vietnamese Kitchen quickly becomes a favourite pit-stop, where delicious pho, banh mi and rice paper roll creations are the order of the day. At night, we're talked into the traditional hot pot for two, and we're blown away by its rich flavours and spices. The transition from our table onto the designer hammocks placed in front of the outdoor cinema screen is not a complicated one, and as we sit back with home-cooked popcorn and freshly-made ice cream (which is on offer for free in the deli at all times of the day and night) the opening credits of Four Weddings and a Funeral start to roll.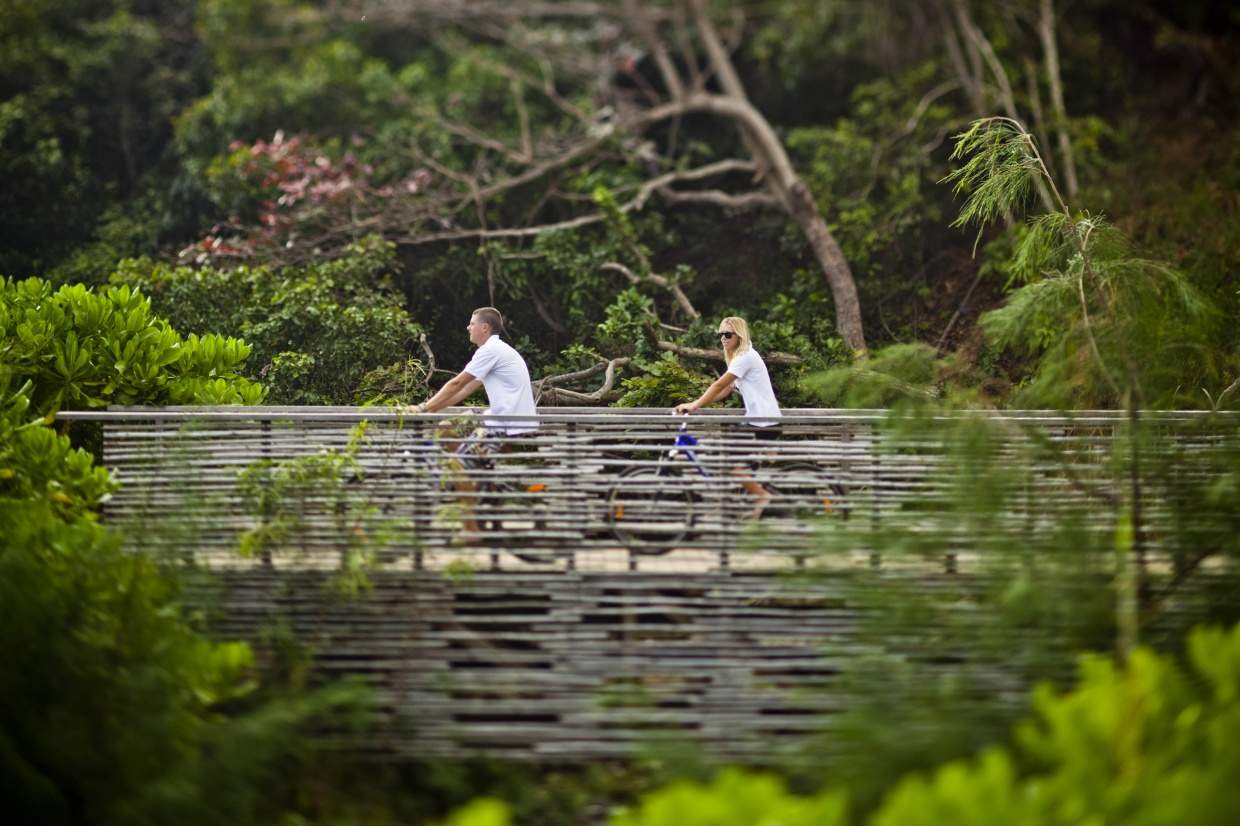 DISCOVER THE ISLAND'S DARK HISTORY
Like much of Vietnam, history is all around you here, and the island is best explored on bike or scooter. We commandeer one of the resort's bright red Vespas and navigate our way across most of Con Son, winding around spectacular hillside roads that drop hundreds of metres into the waves below.
Of most interest is the island's dark military history. Con Son served as a prison island during the French colonial era, then later housed Vietcong political prisoners from the North during the Vietnam War, where inmates were imprisoned in infamous 'tiger cages' until 1975. Some 20,000 inmates lost their lives in custody here, and the jails and museums dotted around Con Son town prove at once interesting and eerie. A large group of ex-VC soldiers, on the island to pay their respects to fallen comrades, does little to lessen the intensity as we meander through Phu Hai, the largest of the island's prisons.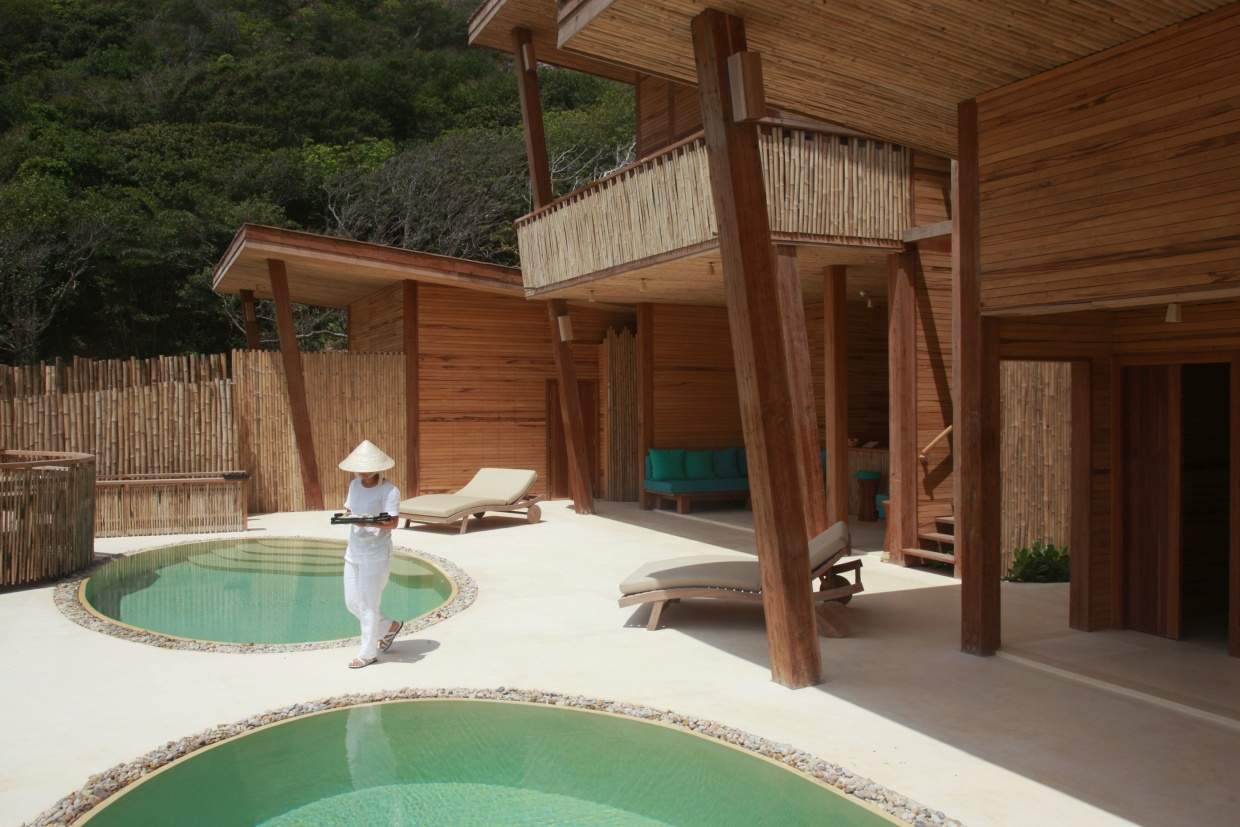 PREPARE TO TAKE YOUR NEWFOUND ZEN HOME
Before we depart for the Vietnamese mainland Minh makes sure to book us into the Six Senses Spa, recently a winner at the 2014 World Luxury Spa Awards. Sculpted bamboo fences frame numerous indoor and outdoor treatment rooms, pools and salas, and the Six Senses spa menu provides endless ways to spend inordinate amounts of time and money indulging. We meet with Dr Aneesh, an ayurvedic consultant at the Six Senses Spa who originally hails from India, and he takes us through a 60-minute consultation to determine our overall 'wellness', providing some tips to help take the slower pace of Con Dao back into our everyday lives.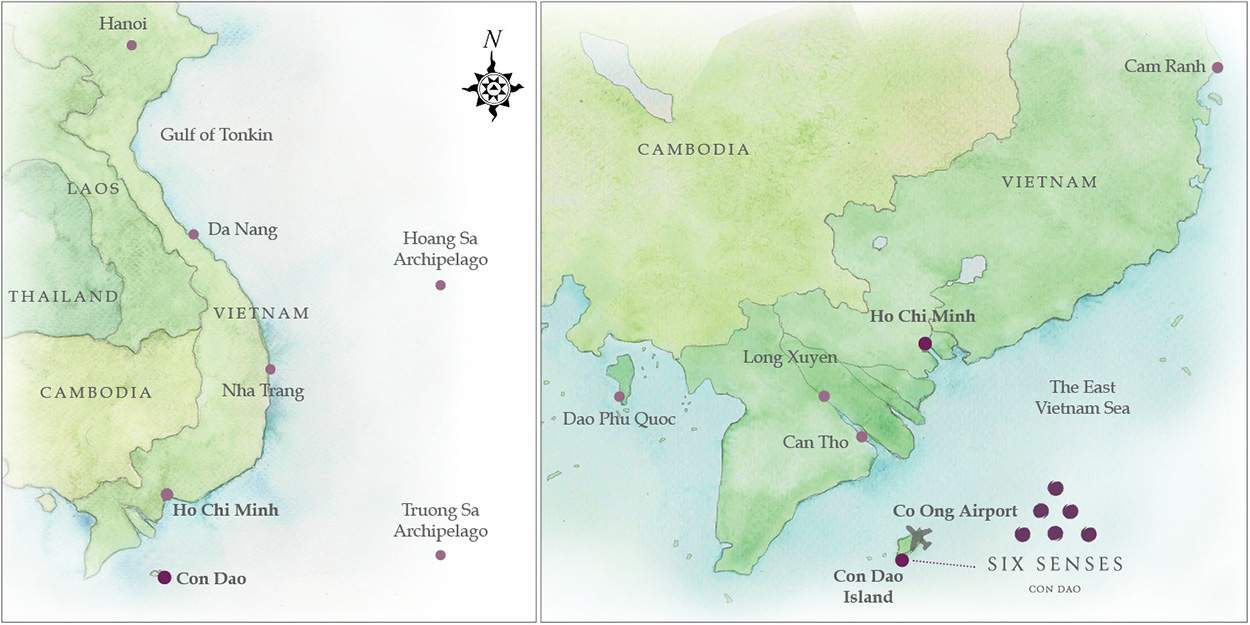 LET'S DO THIS, GIVE ME THE DETAILS:
To get there, fly to Ho Chi Minh City — Tan Son Nhat International Airport (SGN), then take a 45-minute commercial or chartered plane to Co Ong regional airport (VCS) for a short transfer to the resort. The distance from Ho Chi Minh City to Con Dao is around 230 kilometres or 145 miles. Rooms start at US$428/night and can be booked online at the Six Senses Con Dao website.
The writer stayed as a guest of Six Senses.
Published on July 14, 2015 by Rich Fogarty