TRAVEL & LEISURE
The Great Barrier Reef Is Now Home to Australia's First Underwater Hotel
Cruise the Whitsundays on a floating pontoon — and sleep below sea level.
Seeing the Great Barrier Reef sits on every Australian's bucket list, especially given that the thriving underwater expanse is under threat from climate change. And while most of us have been content to simply swim, snorkel or sail through it — or stay in the Whitsundays and gaze out at it from a sandy beach — visitors to Queensland's far north can now spend a night underwater.
Get ready to sleep under the sea at Reefsuites, the Great Barrier Reef's very own underwater hotel. It's not the first space of its type around the world — a resort in the Maldives, submerged villas in Dubai and a room at an African hotel all boast similar experiences — but it is the first at this Aussie natural wonder, and in Australia in general.
Launching on Sunday, December 1 as part of a new floating pontoon called Reefword — which is moored at Hardy Reef, around 40 nautical miles from Airlie Beach — Reefsuites features two underwater rooms that can sleep four in total. Guests can choose betweeen  king double or twin single options, and each room comes with floor-to-ceiling views of the Great Barrier Reef and its marine life. Those underwater vistas are a highlight not only in the bedrooms, but in the attached private ensuites
A stay onsite includes all meals, most beverages (beer and wine are part of the package, but cocktails will cost you extra), a night dining experience under the stars, a guided snorkelling tour and a semi-submarine tour, and access to the underwater observatory. Naturally, it doesn't come cheap. Enjoying all of the above will start from $799 per night per person for a double booking (two people in a room), or $1199 for a single — and that covers a stay from 4.30pm on the day of arrival until 2.30pm the next day.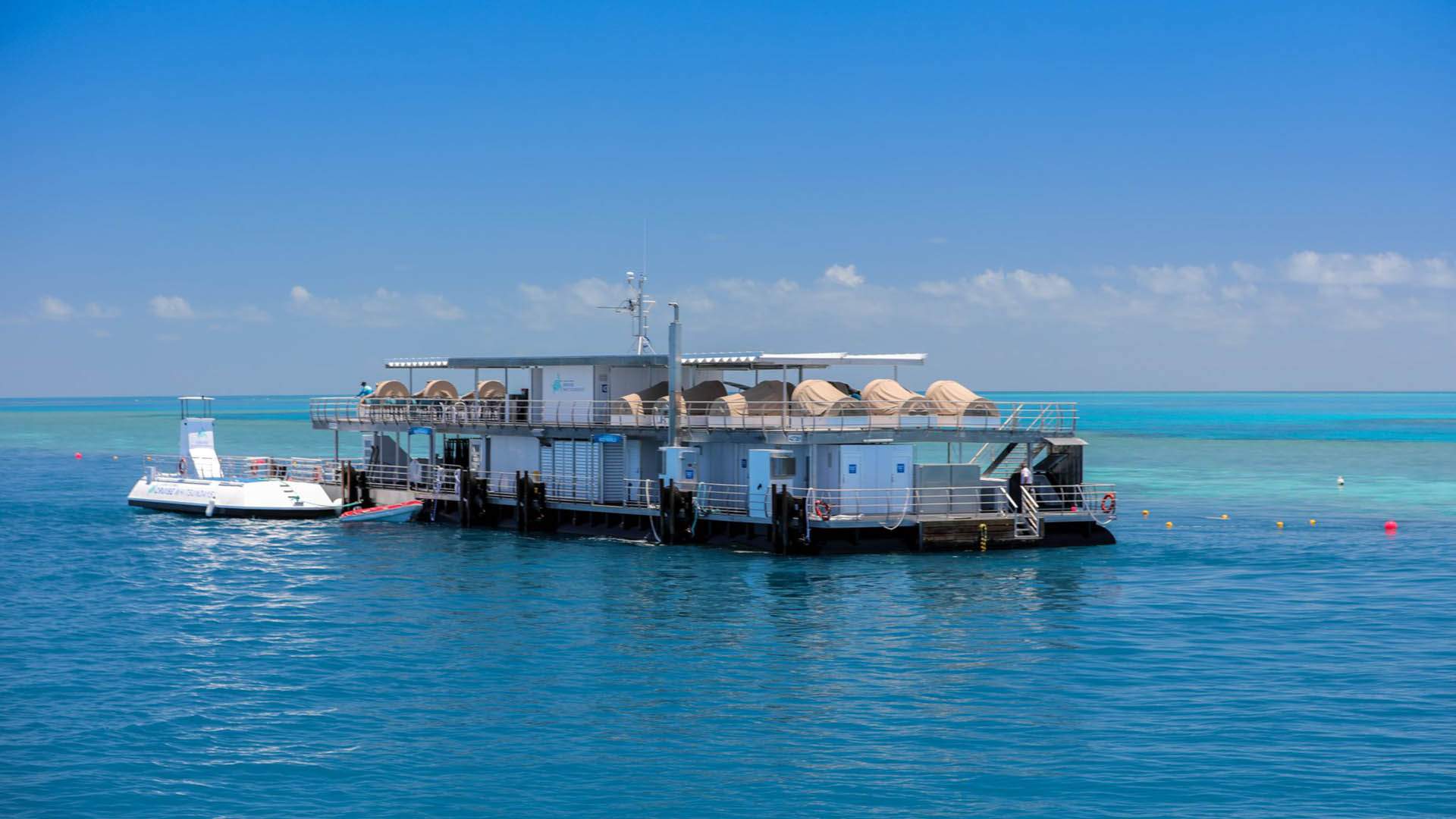 As for the $8 million Reefworld pontoon itself, it's a partnership between Cruise Whitsundays and the Queensland Government, and has the capacity to host 300 visitors per day. Measuring 12 metres by 45 metres, it's designed as a hub for diving and snorkelling — as well as a place to stay — and also offers guests access semi-submersible vessels.
Announcing the project back in August, Queensland Tourism Industry Development Minister Kate Jones noted that Reefworld and Reefsuites will add something new and unique to the popular tourist hotspot. "This will give more people the chance to see the Great Barrier Reef and will allow tourists to experience this natural wonder in new ways."
The aim, of course, is to ramp up tourism, with an extra 60,000 visitors per year expected thanks to the new attraction.
For more information about Reefsuites, or to book a stay, visit the Cruise Whitsundays website.
Images: Cruise Whitsundays.
Published on November 30, 2019 by Sarah Ward