ARTS & ENTERTAINMENT
Concrete Playground Meets When Life Hands Me a Skateboard
If you had one chance to send a message to the world, what would that be?
Concrete Playground Meets When Life Hands Me a Skateboard
If you had one chance to send a message to the world, what would that be?
Like many of us, Millie Lambess felt hopeless reading endless negative news stories. Unlike many of us, however, Millie came up with a way to do something about it. Millie has always wanted to use her involvement in the arts scene to create positive outcomes, but struggled to find the appropriate opportunities. So she took matters into her own hands, and came up with the idea of When Life Hands Me a Skateboard.
When Life Hands Me a Skateboard is a charitable organisation that brings together 50 artists (including renowned New Zealand street artists BMD) from around the world through one medium – a skateboard. Each artist will use a skateboard as their canvas, and respond to the question: 'if you had one chance to send a message to the world, what would that be?' The boards are to be auctioned off, with all proceeds going to the Make a Wish Foundation, whose mission is to grant the special wishes of children with life-threatening medical conditions to bring hope, strength and joy at a challenging time in their lives.
Concrete Playground met up with Millie to chat about her project while checking out the Wellington street art scene.

What do you aim to achieve with When Life Hands Me a Skateboard?
The aim of the game is to send blank skateboard decks to artists with the brief: 'if you had one chance to send a message to the world, what would that be?' They can interpret that however they like. There are artists from all disciplines, from students right through to professionals. They send it back to us once it's done, with a little paragraph explaining their message.
Then we plan to do an exhibition in Wellington, and auction the skateboards off, with 100% of the proceeds going to Make a Wish. The aim for the opening night is to have more of a community event, rather than an artist-y 'walk-in-have-a-look-and-walk-out'. Realistically it will probably be next year, but it's definitely in the works. We're looking at making it a yearly event – so it can potentially go further than just skateboards.
How did it all begin?
It was one night. I was reading the news – reading about all the crap that was going on and I got into one of those phases, like, 'what can I do?' I've always wanted to do something positive in the arts scene, but I've never been presented the opportunity through other people before. I was trying to think of ways to do it myself and also make opportunities for other artists. I had the idea that, since I'd always been into skateboards, I could try to bring people together through art and skateboards. I started thinking about it more and the idea popped into my head to do an exhibition. I let that fizzle for a few days.
I wrote it all down in an email and started sending it out to artists. I emailed at least 100 artists. A few people started replying, and then heaps of people started replying and I was like 'Oh shit, people actually like the idea!' People started saying yes and getting real into it – more than I thought! The artists were passionate about it all and so I decided I actually better give it a crack! They were all so keen to help.
How did you get your idea off the ground?
It was all totally new to me – a new scene that I was trying to understand. I went to private skateboarding companies, and a couple of them said that they'd provide the boards.
The Butcher Shop in Australia have provided boards for the ten Australian artists. Ultimate Boards has provided 30 boards for the New Zealand artists. Powell-Peralta in America said yes and I thought 'sweet as'. Then I was talking to some mates that are hard out into skating and they told me Stacy Peralta is the guy from Lords of Dogtown (the one with long blonde hair)! To have that kind of backing really pushed me to carry on.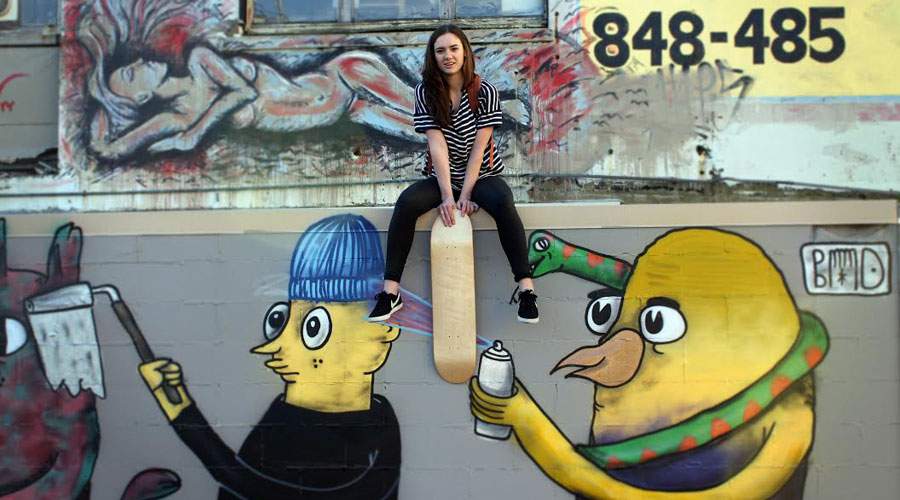 Has When Life Hands Me a Skateboard been involved in other projects?
I've done a Make A Wish already…that was the first time I saw an outcome after working on this for about a year.
12-year-old Sean, who lives in the Waikato and has a rare condition called Polyendocrine Type 4, which affects the autoimmune system, wished for his own skate ramp. Make A Wish came to me saying 'his skateboard's just been stolen, can you do anything?' We had about a month until the big reveal of the skate ramp. I got in touch with Ultimate Boards and they sent out a board which Mica Still worked on. Ultimate Boards came up and we went to visit Sean. We brought Levi Hawking (of 'nek minnit' fame) with us to teach him some tricks.
So what's next?
At this stage we're pretty much ready to go, but we're just working on the funding for postage, which is the main cost. We want the final auction to be accessible online internationally so we've had to budget for sending the boards overseas to the winners as well. At this stage we're just working on getting sponsorship.
When Life Hands Me a Skateboard is auctioning a longboard (17x75cm) made by The Paper Rain Project on August 20, 2014. All proceeds from the auction will go towards expenses for the project. The board is hand-shaped from a Marlborough pinot noir barrel, gripped with crushed recycled glass, with laser cut images. Check out When Life Hands Me a Skateboard's Facebook page for a link to the TradeMe auction.
"It became a lot bigger than I originally thought it would, just coming from me being annoyed at the world."
Published on August 11, 2014 by Penny Gault