Action-Drama 'Muru', a Response to the Tuhoe Raids, Has Just Dropped Its Powerful Trailer
Starring Cliff Curtis and Tame Iti as himself, the film will open the NZIFF in Auckland, Wellington, Christchurch and Dunedin, before releasing in cinemas nationwide.
On October 15, 2007, armed police raids took place across New Zealand, conducted by anti-terrorism special forces. That date has been cemented in Aotearoa's history ever since, with the New Zealand police descending upon on the Tūhoe people, focusing on homes in Rūātoki — all in response to alleged Urewera mountain range paramilitary training camps.
Those events have now been given the cinematic treatment courtesy of Muru, an action-drama that offers a response itself — to those raids. It isn't a straightforward dramatisation, however. As lead producer Reikura Kahi explains, "Muru is not a recreation of the events, but a story which weaves the deep past and the recent present together, in order to reach a place, we deserve now more than ever."
Ahead of Matariki, the film has just dropped its first trailer — and it makes for powerful viewing. Cliff Curtis (The Dark Horse, Fear of the Walking Dead) stars, alongside Tame Iti as himself. Also featuring: Jay Ryan (The Furnace), Manu Bennett (The Hobbit trilogy) and Simone Kessell (Obi-Wan Kenobi), as well as Ria Te Uira Paki (The Dead Lands), Roimata Fox (Waru) and Poroaki Merritt-McDonald (Savage).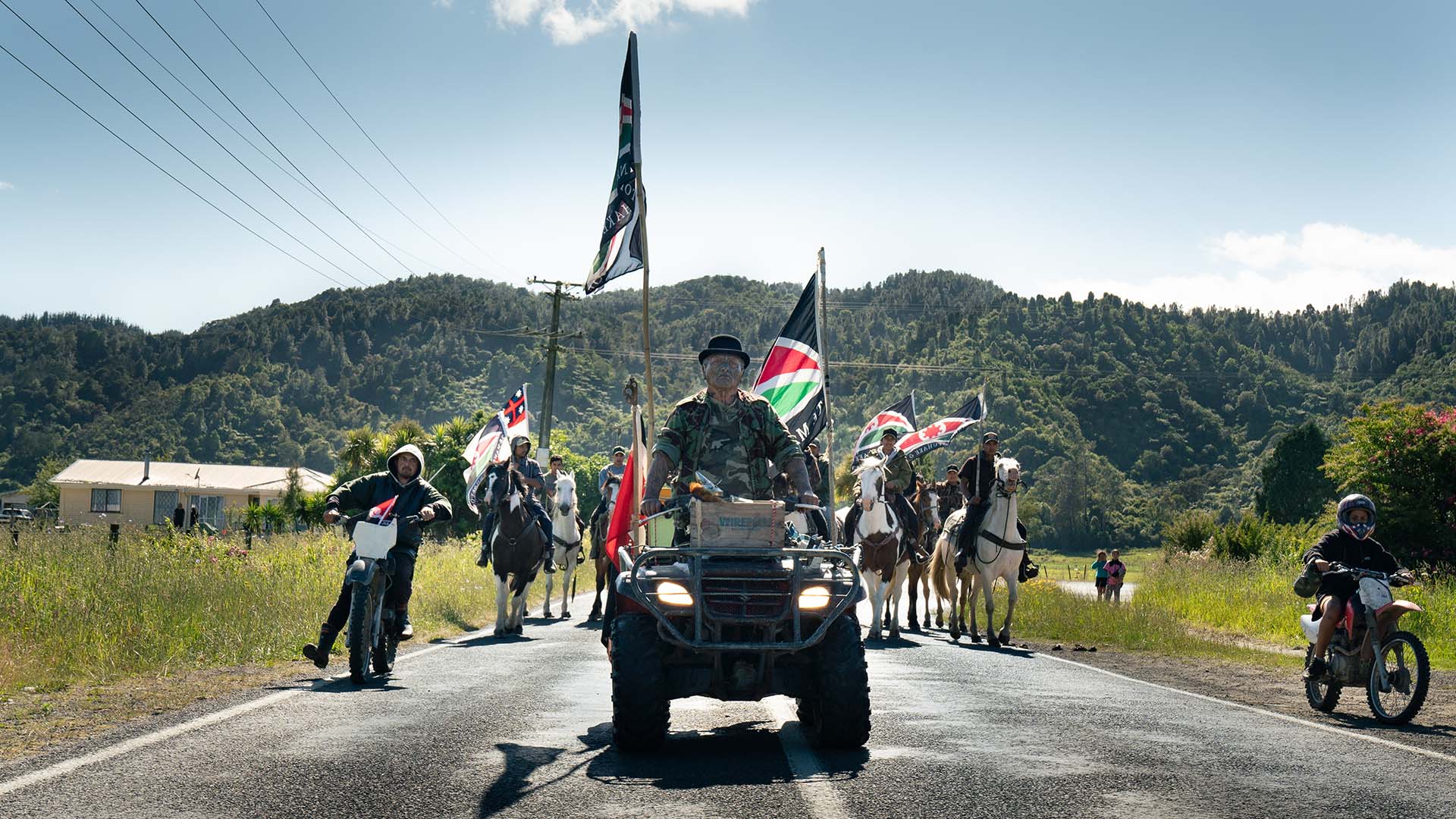 Hailing from writer/director Tearepa Kahi (Poi E: The Story of our Song, Mt Zion), and taking its name from the Māori concept for reconciliation and forgiveness, Muru will open in cinemas nationwide on September 1.
Before that, though, it'll open this year's New Zealand International Film Festival in selected cities — world premiering on Friday, July 28th at Auckland's The Civic, and also launching the fest in Wellington, Christchurch and Dunedin. NZIFF will host a special screening in Whakatāne as well.
Story-wise, the film focuses on Community Sergeant 'Taffy' Tawharau (Curtis), who has newly returned home — to look after his unwell father — when the police descend upon Rūātoki. Muru also covers the manhunt for Iti, which is where the Tūhoe activist features as himself.
Check out the trailer for Muru below:
Muru