---
It's a fashionable little space that wouldn't be out of place in the arid landscape of Los Angeles, nor a busy city block in New York. Nadya France-White is articulating her vision into ENA, a concept store new to Wellington. Providing a platform for young designers, ENA also redefines the idea of store as brand without losing its authenticity, retaining a sense of being both interesting and interested.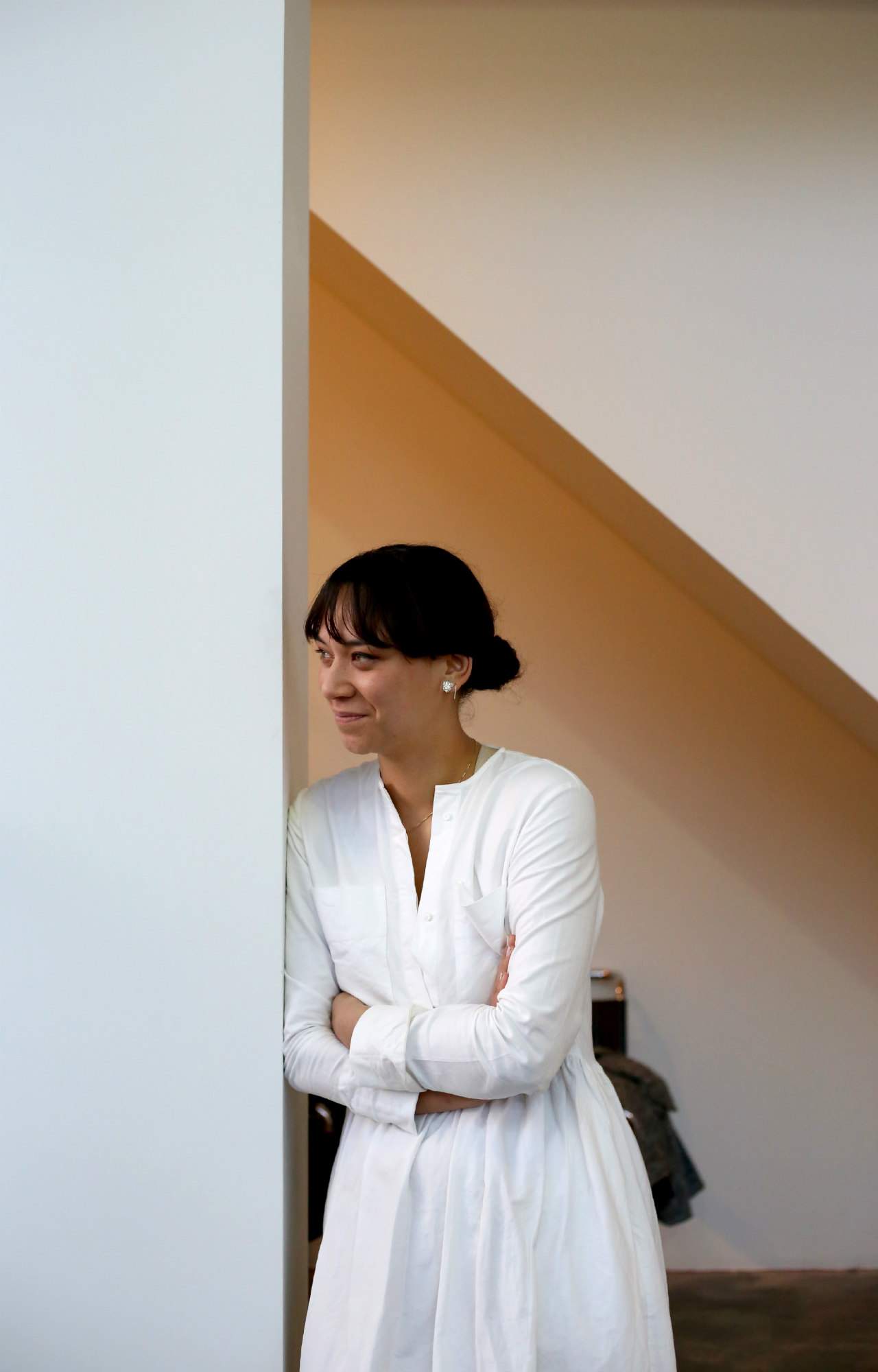 Nadya France-White is ENA, personified. A graphic depiction of her choppy black bob graces the windows of her space on Ghuznee Street, and with the afternoon light streaming on to the racks of delicious garments and Nadya herself in the store most days, it's hard to resist entering her world.
"I was smelling like fried chicken and snacking on too many milkshakes and just covered in delicious shit (delicious, but shit) and I just knew I needed to head back into retail," laughs Nadya of her short-lived foray into hospitality. Working alongside her partner at his restaurant [Five Boroughs, on Marjoribanks], she decided on a venture all of her own creation.
Nadya started formulating her own vision using her knowledge from her fashion design degree and experience working in fashion around the city. "I got to a point where it was like now's the time to do something." Her approach was simple, an outlet that she felt was lacking in Wellington— "a store that showcased more emerging designers, a space that could be used as a platform for young artists, young makers, young creators from both local and international sources."
With this ethos in mind, a month spent in New York City last year was the immersive experience Nadya needed to articulate her ideas into ENA. "Just being in a city like that, it's easy to be inspired by heaps of shit that's going on—an idea of what's there, what's happening, what labels are popping off." Trade shows and meetings with her designers and "building relationships with amazing people" fuelled her interest in creating her store experience.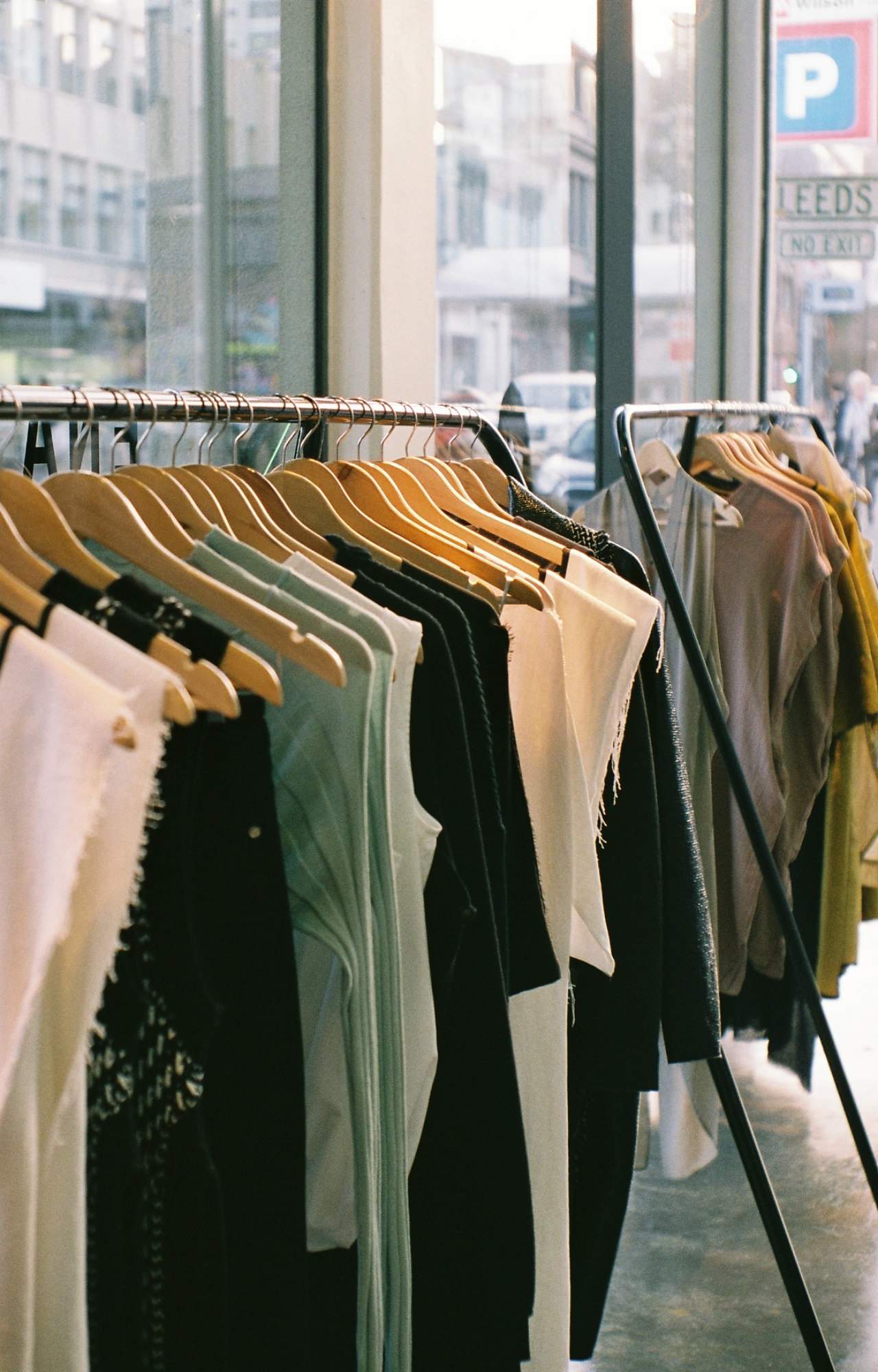 From a curation point of view, Nadya shirked from a particular 'aesthetic' and went with what sparked a reaction with her. Her pieces provide raw connection—whether in the fabric, the cut, the designer themselves, or what they're trying to achieve with the garment. Rather than trying to please her customer, she looks to what she's already following and aware of in the industry. Knowing what's going on, here and internationally just "comes with the love" of fashion, and in this fast-paced industry she's constantly following and engaging with emerging artists through ENA. However, this can be both pro and con—"it's probably the thing I like the least about the fashion industry, how fast it goes, but that's just how it is I think at this point," says Nadya of her buying. Sourcing and purchasing stock needs to be done six months in advance, which proved scary when she hadn't yet found a space when buying her new season in New York.
Her light-filled space on Ghuznee is worlds apart from its former premises as an Indian wares shop. "We gave it a lot of love," laughs Nadya, but the product of that love is truly mindful, a minimal and considered space composed of raw concrete, mirror, light—and a touch of marble allowing a focus on the garments' presence. Raw silks, linens and the softest cottons vie for attention among a muted colour palette. They're thoughtful investment pieces for the modern woman, no matter her age. Young students are as likely to be combing through the racks as older ladies, a quality of ENA that Nadya values. The only thing threading together her customers is a love for interesting, expressive garments. 
The intriguing thing about the formation of ENA is the way in which Nadya is using her store as its own brand, a bricks-and-mortar (or raw-concrete-and-marble) articulation of her ideas and ethos. As she expands ENA, with the launch of her own in-house line due next Winter, this will only become more important. Giving her own creativity a platform makes ENA a mindful, authentic shopping experience, one where Nadya's aesthetic is recognisable and personable—important in  today's society of online representation and connection.
For the moment though, Nadya works on slowly expanding her range of designers as she comes across beautifully reactionary pieces. Beginning with twelve designers, she has extended into skincare, sunglasses and bags as well as her initial stock of clothing and jewellery. Internationally, she houses quite a stable of emerging designers, many of which have high fashion backgrounds. Pari Desai's luxurious knitwear line formed out of a background with Calvin Klein, while CF Goldman worked for Celiné before striking out with her line of beautifully considered cuts and shape of her garments. Atelier Delphine, an LA-based designer looks to fabrics such as the soft linen pieces found in store at the moment, while raw silk dyed in turmeric spice caught Nadya's eye, now hanging on the racks at Ena. New Zealand favourite Penny Sage is also in residence, with her beautiful prints designed by Marta Buda (who also stocks her delicately hand woven tote bags on ENA's shelves).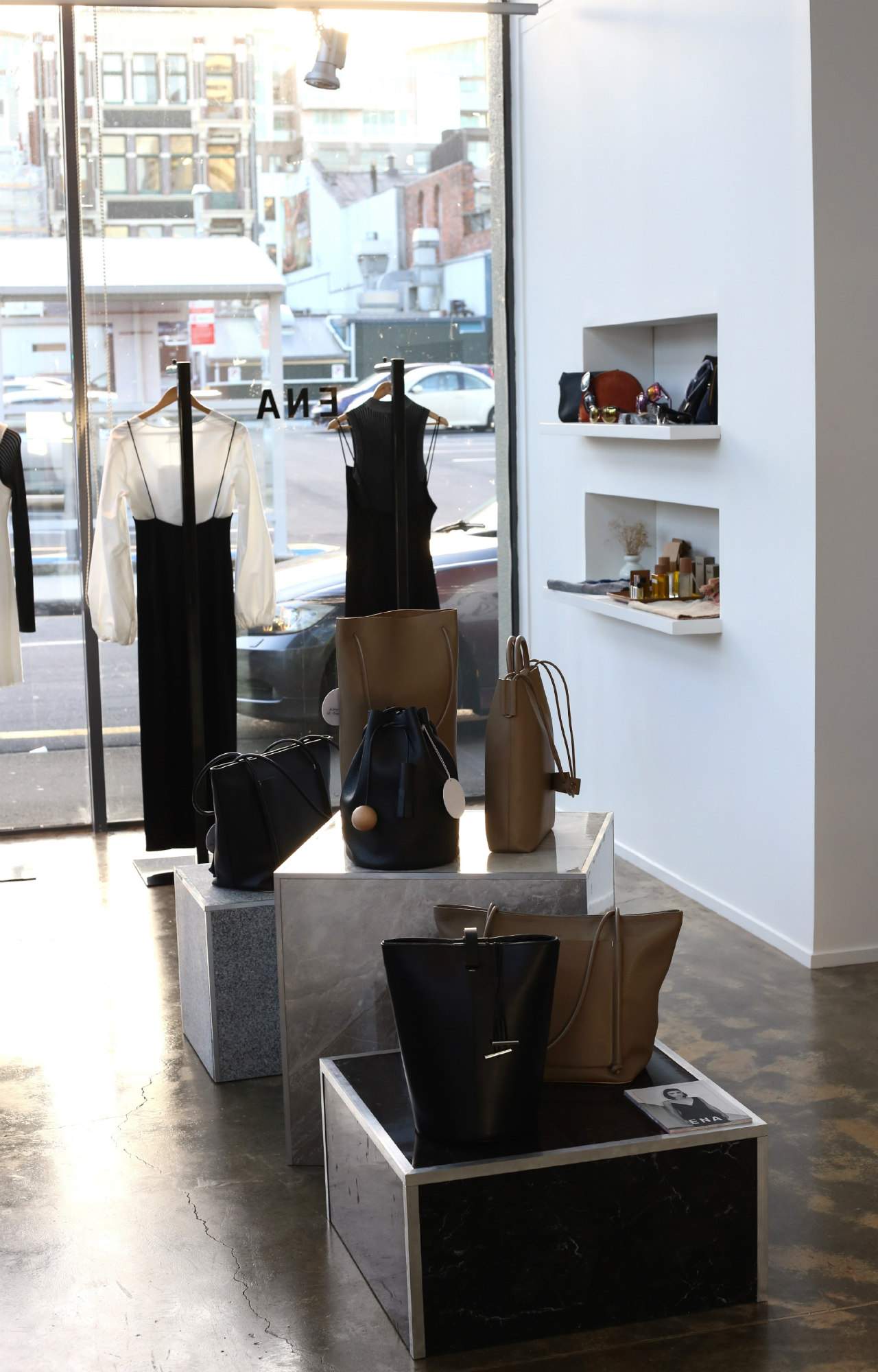 Simply, the store is a love letter to beautifully interesting things. This extends to the other pieces Nadya stocks beyond clothing—Building Block, based out of their Los Angeles showroom shared with a similarly innovative furniture designer is displayed on the marble plinths in the centre of the store ("they're sick," says Nadya of the selection), alongside the glass-topped counter filled with jewels by Holly Ryan, Maripossa and Natalia Peri. Wooden-topped bottles of skincare oils by Martina Organics round out the selection, a wardrobe for any lady. "It just makes me really happy," says Nadya—a beautiful justification, indeed. 
Photography credit: Molly Robson. 
Published on July 28, 2016 by Lauren Harrigan