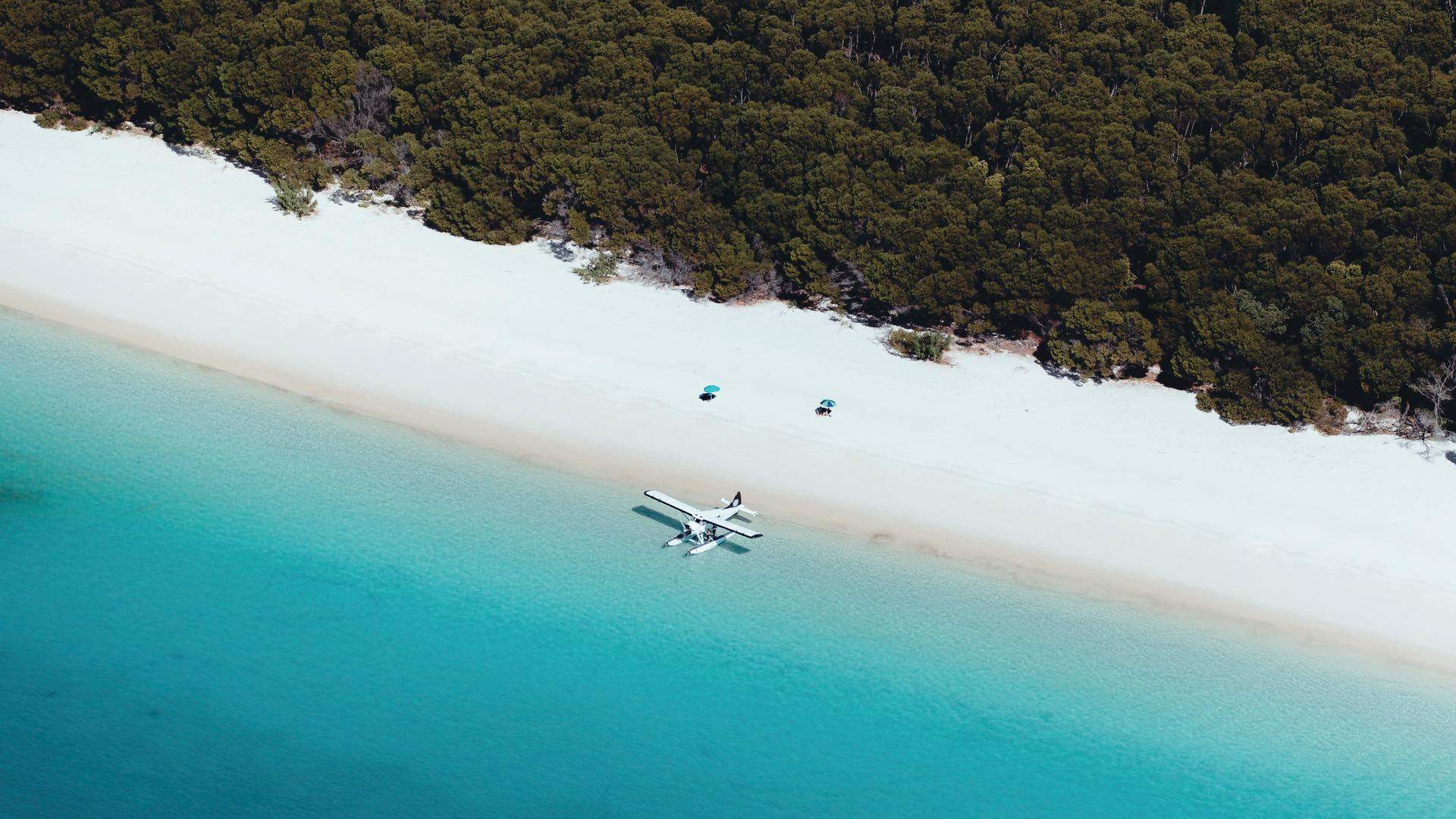 How to Explore
The Whitsundays
Hamilton Island is just the start of this Australian paradise — and if you're up for an adventure, you can sail its clear waters, hike its rugged landscape and camp at secluded island beaches.
There's a moment when you're sailing into Whitehaven Beach when you understand what it's all about. What everyone's been talking about when they talk about paradise. The famous swirling white sands after which the secluded beach is named is downright breathtaking.
If you haven't been to the Whitsundays before — a group of islands located just off the coast of Airlie Beach — you probably have a vague idea of what to expect: blue ocean, white sand. The 74 islands on the Whitsundays are rugged, large, mountainous and covered in bush. They're undeniably Australian, and that's exactly why the Whitsundays is one of our top picks for the best Australian destinations to visit in 2023.
While travelling around islands requires a bit of planning, the Whitsundays are an explorer's dream, and it can be done without forking out for total luxury — whether you get a group of mates together to hire a boat, book a luxe travel package or spend a few days camping on one of the uninhabited islands. Here's how to make the most of it.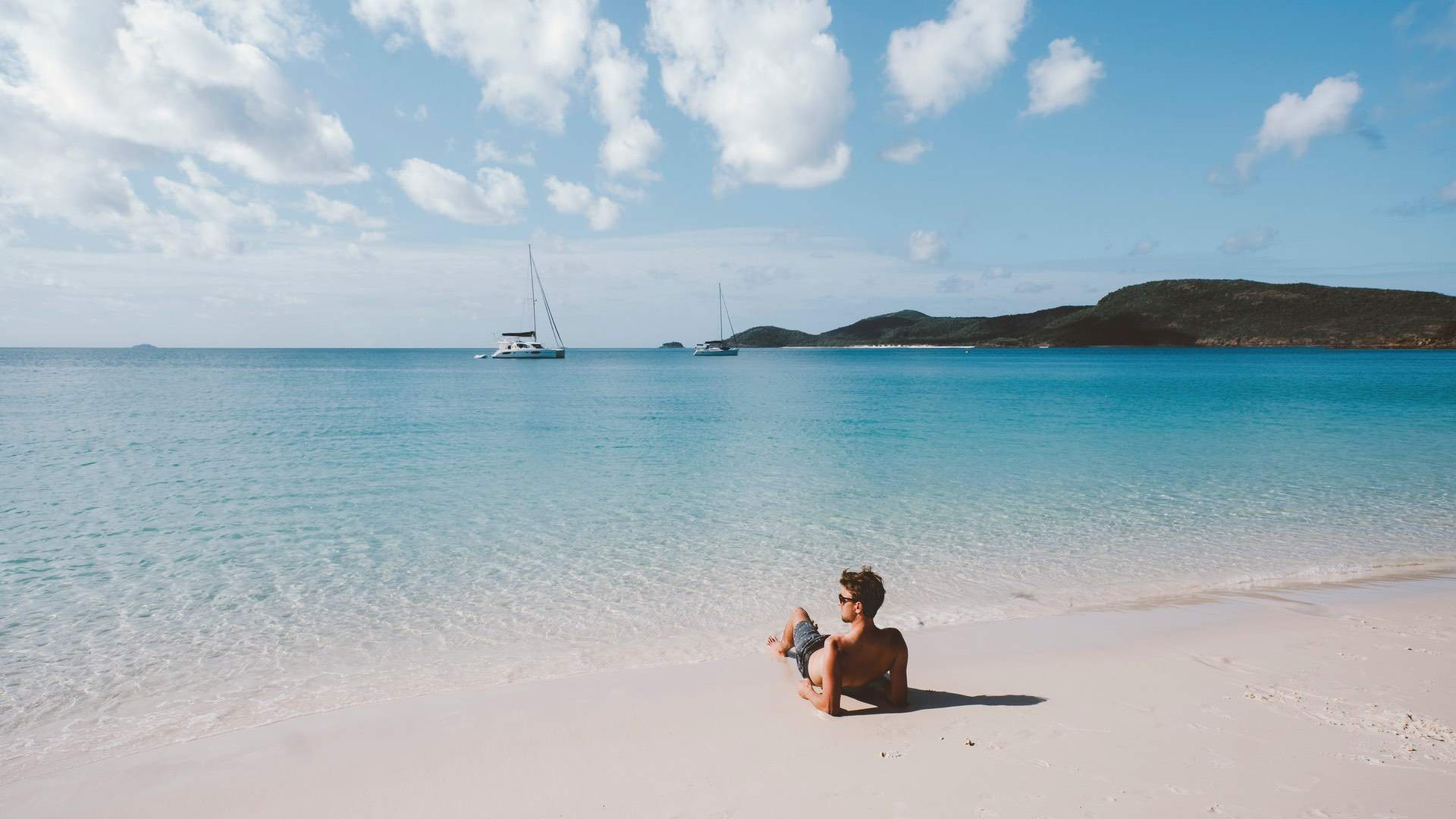 Undoubtedly the best way to explore the Whitsundays is by boat — and if you have a group of mates to split the cost with, you should be able to make it happen. The beauty of sailing is that it gives you the unbridled freedom to whizz from island to island, visit secluded coves and drop anchor wherever takes your fancy. Of the 74 islands, only eight are inhabited, meaning that basically everywhere you visit is your own private beach.
The Whitsundays is also one of the few places in the world where you don't need a boat licence to hire one, as it's protected by the reef and has heaps of sheltered inlets to drop anchor for the night. Go Bareboating, which is based out of Abell Point Marina at Airlie Beach, is the company that lets you actually do that, and it has a pretty comprehensive fleet of sweet water rides (motor and sailing) that you can rent out for a period of time — around a week is ideal to leisurely explore the islands.
You'll need to do an induction before they hand over the keys but, that said, if you have little experience and want to actually, y'know, relax, it would be best to hire a skipper to steer the ship for you. You can still help out with the cool stuff like dropping the anchor and lifting the sails without worrying that you're going to run aground. This'll cost you around $250 extra per night, but it's worth it to wake up with the sun and the sounds of turtles gasping for air, then stargaze in serene silence after the sun goes down.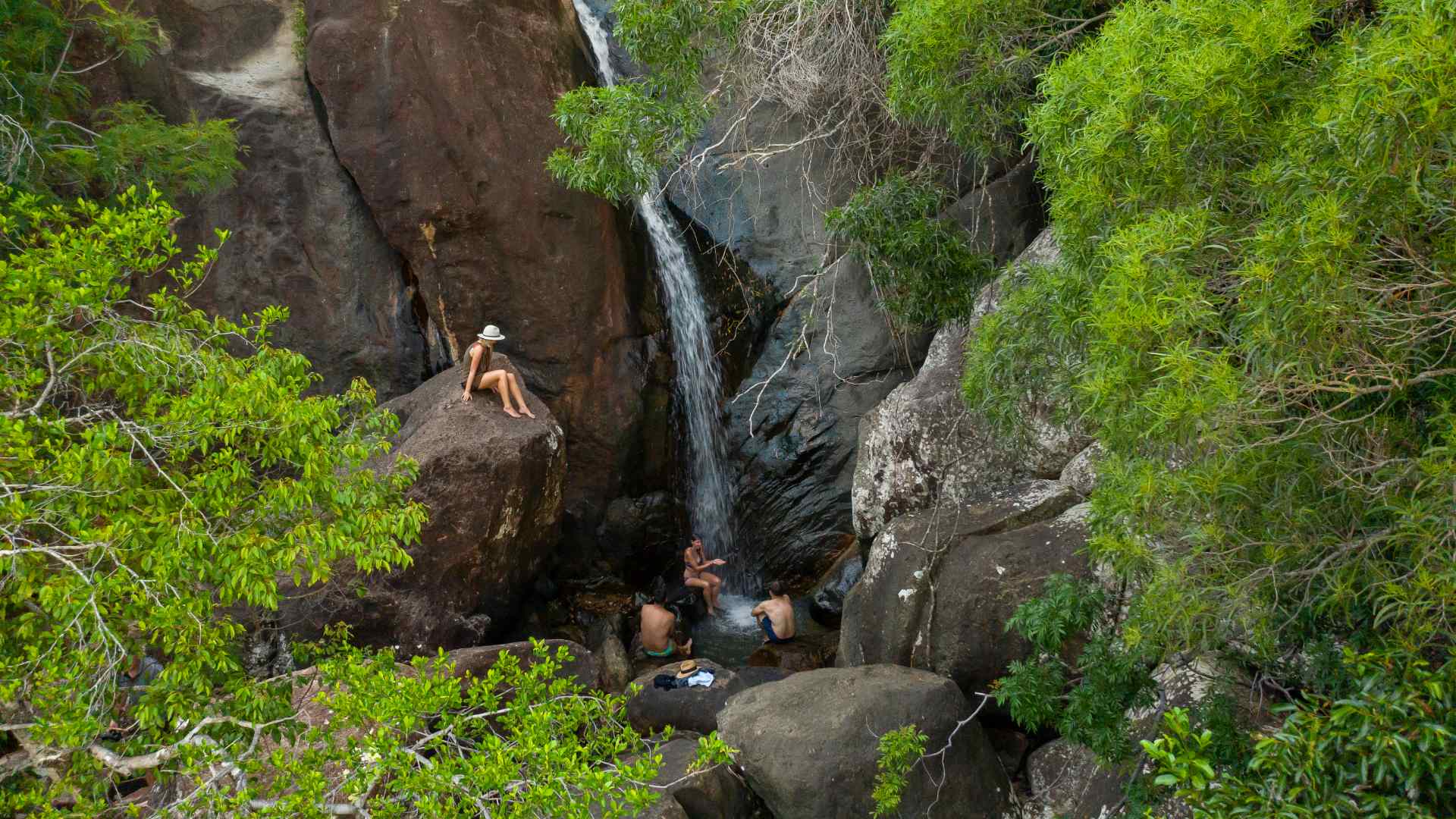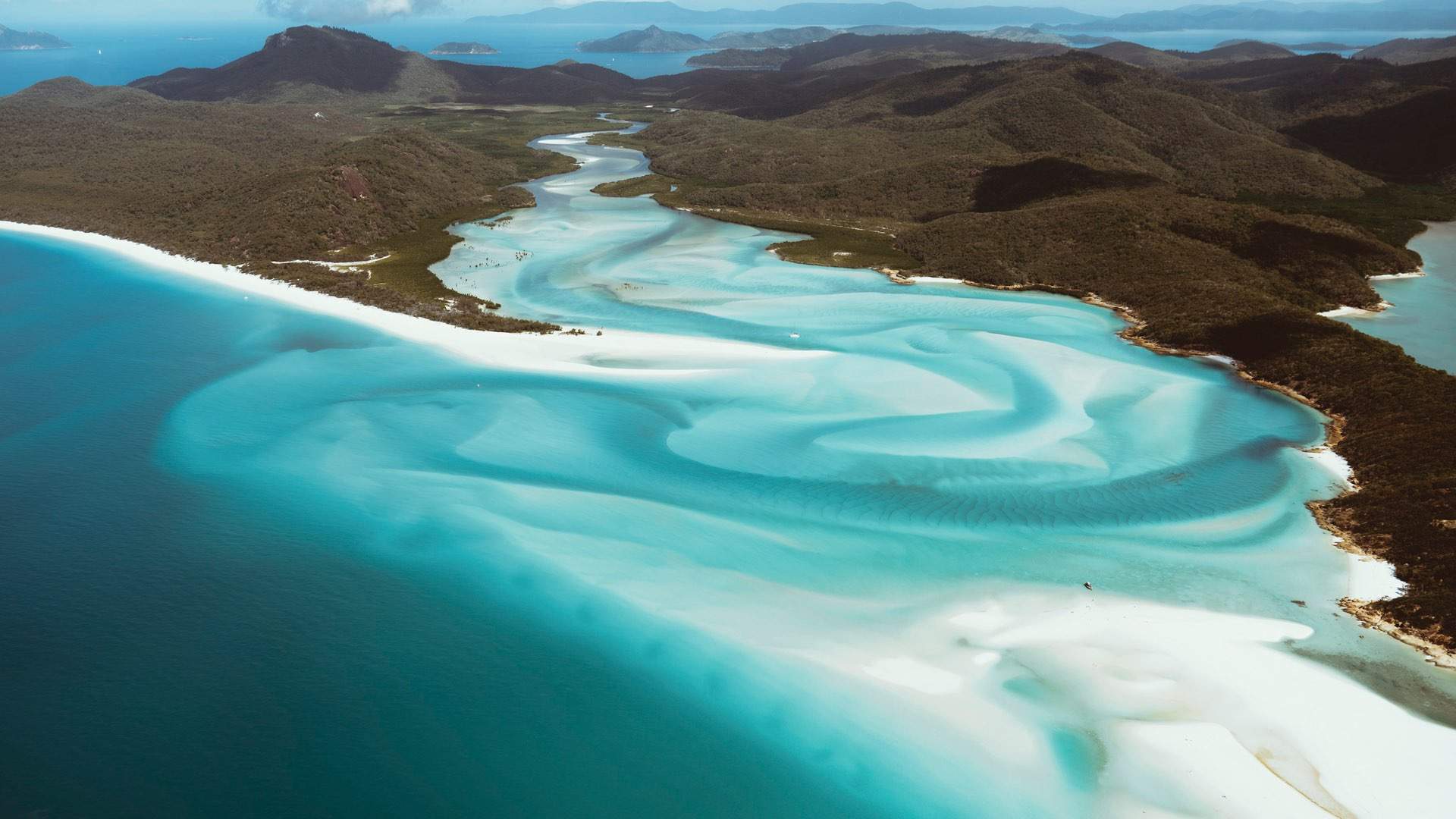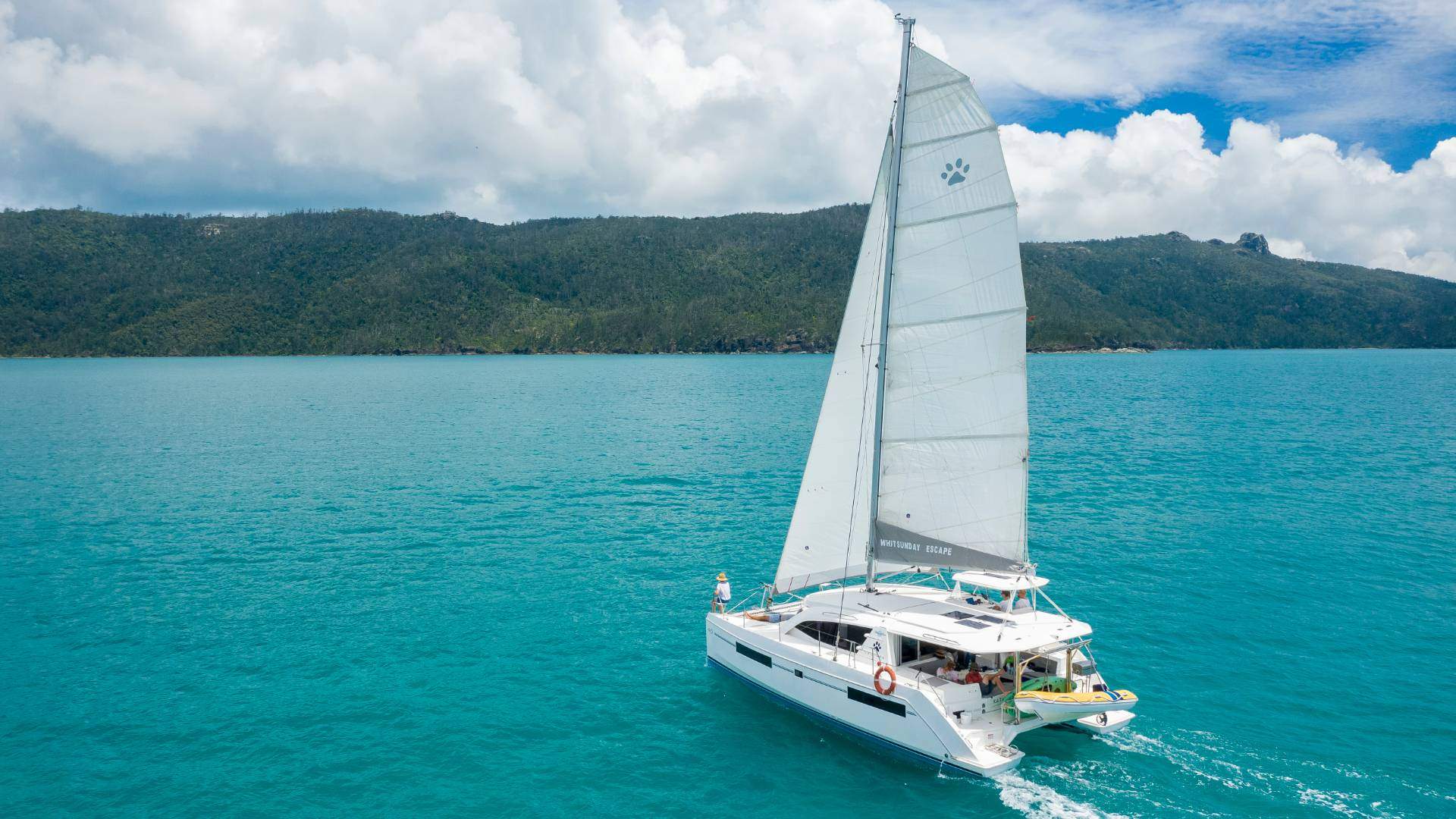 If you can't afford to fork out for a boat for the week, there is a cheaper option — and that option is camping. Most of the islands in the Whitsundays are national parks, and for a fee of $7 per person per night, they'll let you set up a tent on one of the designated camping areas. You can camp right near the main attraction — that is, Whitehaven Beach — from which you can explore the southern end of Whitsunday Island, or various other campsites around the island, all of which afford their own views. Also worth exploring is Hook Island — Maureen's Cove is great for snorkelling.
You can book a transfer to the campsites through Scamper, who can drop you off, pick you up and can also provide you with all the gear you need (from tents to a gas stove). Do note that this is hardcore camping and you'll have to take everything, including your own water. But, as is usually the case, the payoff is that you get an unbeaten camping spot.
There are tonnes of walking tracks across all the islands, which take you into bush, rainforest, tiny coves and top-of-the-mountain spots to look out across the islands. A must-do is the walk up to the Hill Inlet viewing platform at Tongue Point on Whitsunday Island —  here's where you get the killer view over Whitehaven Beach and, if you come at the right time, the swirling sands that appear when the tide changes. You can get here via Tongue Bay and a walk up a short track. If you camp at Dugong Beach you can hike up to Whitsunday Peak, which has some of the best views over the islands.
An important part of visiting the Whitsundays is acknowledging the traditional owners of the land, the seafaring Ngaro peoples. Over on Hook Island, head to Nara Inlet and hike to see rock art and cultural sites. There are a waterfall and rockpool as well.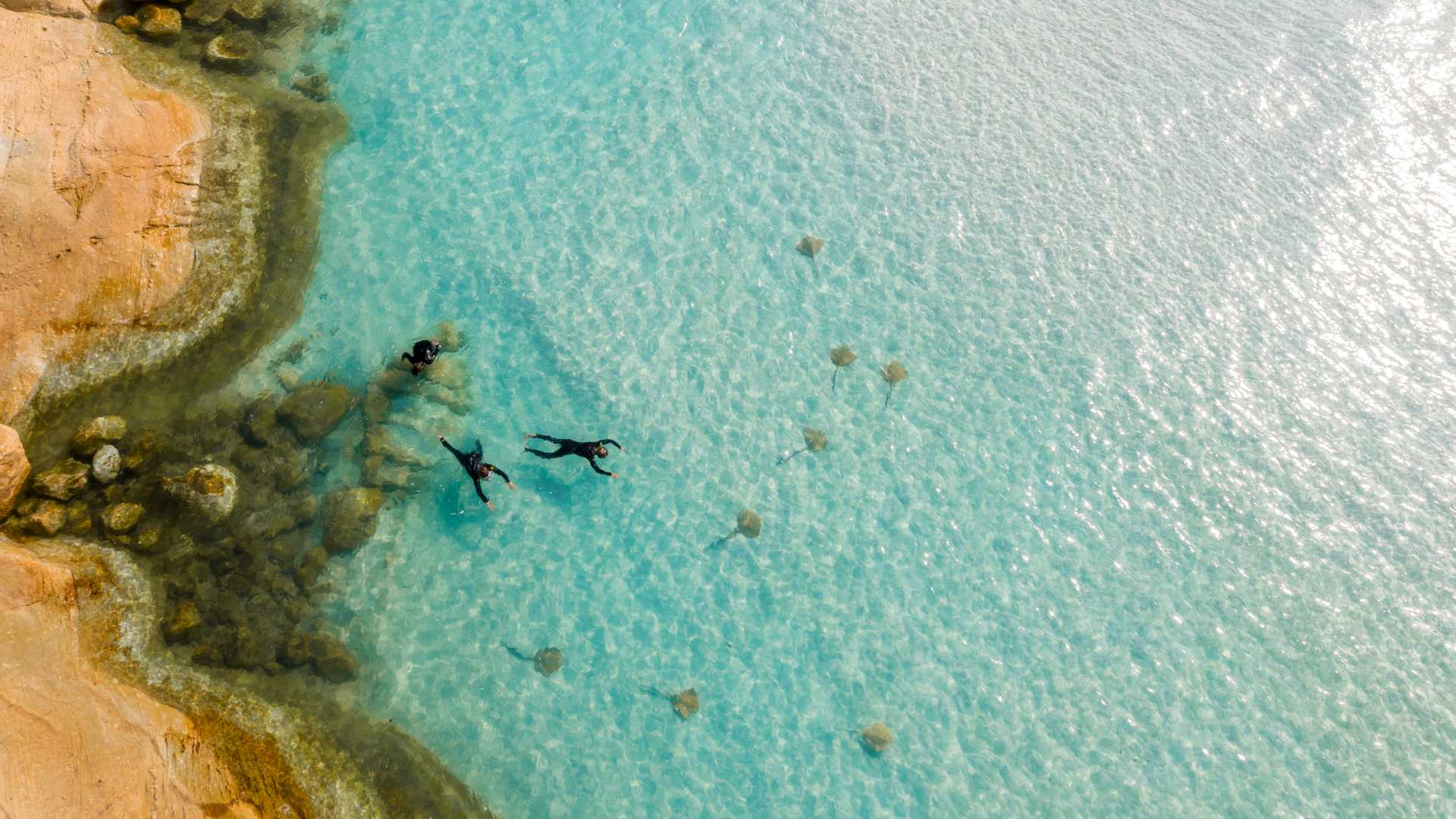 Perhaps the most active, on-the-ground way to explore the islands is via a kayak. Salty Dog Sea Kayaking runs six-day tours to explore Whitsunday, Haselwood and Hook Islands for $2,450 per person. But if a six-day kayaking tour sounds like way, way too much arm-work — and your idea of a holiday is less laborious — you might like to try your hand at kayaking in shorter stints.
Again, a Bareboat will probably have a kayak and you can rent one from Scamper from $50–100 a day — you can even arrange with them to drop you off at one spot and pick you up from another if you're planning on travelling via kayak. It's a great way to explore the coves around the islands that a boat may not be able to get to, in particular Hill Inlet (with the swirling sands). Boats can't sail down there, and it's an absolute must-do if you've got a kayak.
Another must: snorkelling. Finding a good spot to snorkel is really about finding good visibility in quiet coves. One cove south of Whitehaven Beach is a little inlet that has a great, clear view of the reef. You can hire a snorkel mask from the Marina, or organise it when you're booking a camping spot. Only thing to mention is that you might want to loan a stinger suit too. Stingers are teeny jellyfish (they can be as small as one centimetre and you can't see them in the water) and are most present from October to May. You really don't want to get stung by one.
But if you want to remove all the fuss of organising all this yourself, you can book the ultimate Whitsundays travel package through Concrete Playground Trips. Two adults will spend five days at the Mirage Whitsundays resort and take part in a series of guided tours. There's a two-hour sunset sailing cruise, a one-hour scenic flight over the Great Barrier Reef and a full-day Whitehaven Beach excursion. Airport transfers and daily breakfasts are also included. It lets you explore the area in total style without having to work too hard. Relaxation is all but totally guaranteed.
Feeling inspired to book a truly unique getaway? Head to Concrete Playground Trips to explore a range of holidays curated by our editorial team. We've teamed up with all the best providers of flights, stays and experiences to bring you a series of unforgettable trips in destinations all over the world.
All images: Tourism and Events Queensland
Concrete Playground Trips
Book unique getaways and adventures dreamed up by our editors