FOOD & DRINK
A New Boutique Gin Distillery and Garden Bar Is Opening on Waiheke Island
It arrives on the eastern side of the island just in time for the end of summer.
Auckland's island of wine is adding another libation to its name with the launch of a new boutique gin distillery and garden bar. Waiheke Distilling Co. is the new producer opening its doors on Saturday, 23 January just in time for New Zealand Gin Day.
The new kid on the block arrives on the ridge above Cowes Bay (formerly Pikau Bay) from Liz Scott and Glen Cadwallader. The pair chose the picturesque site on the eastern side of Waiheke for its breathtaking beauty and have constructed the distillery so it blends in with its surroundings and reflects the farming history of the area. Waiheke Distilling Co. has been established to sit alongside and meld with woolshed and shearing structures.
The expansive view from the deck spans Rotoroa and Pakatoa Islands and looks further beyond to the Coromandel Peninsula. The garden, which has been developed from former pasture land, is a place to wander and enjoy the distillery's first batch of gins. Distiller and co-founder Glen Cadwallader says botanicals are the heart and soul of Waiheke Distilling Co.'s gins and each variety has its own blend of ingredients.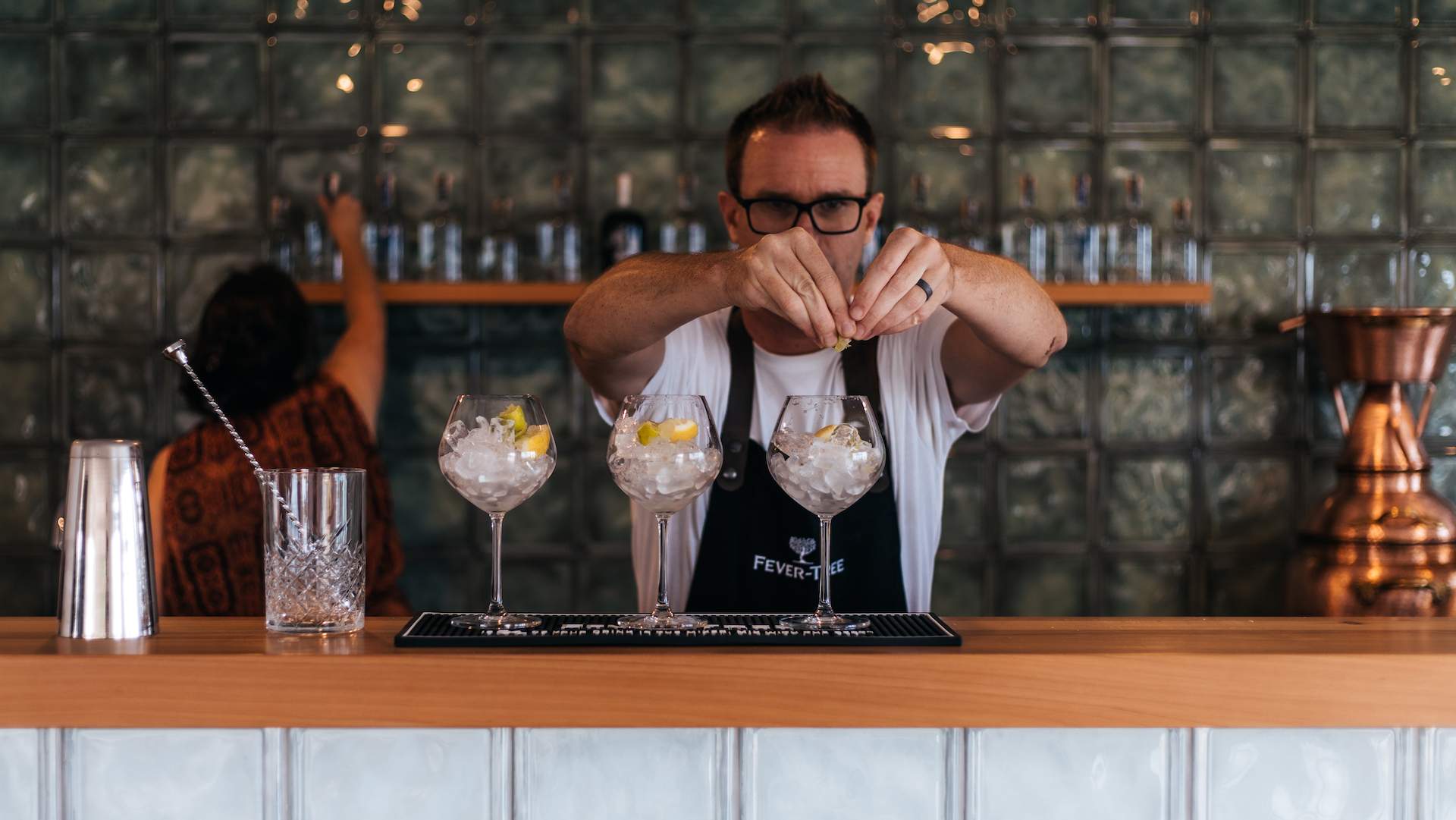 The signature 'Spirit of Waiheke' is a classic dry gin that pays homage to the island, infusing both dried NZ giant kelp and cardamom. Cadwallader says it is best served with tonic and a twist of lime or with a sprig of rosemary for a savoury alternative. The 'London Dry' is a take on the time-honoured cabinet staple, only with notes of lemon, macadamia and pink peppercorn. The 'Red Ruby Gin' is an infusion of ripe New Zealand cherries sweetening the dry gin structure.
In the opening months visitors can sit back in the garden bar with a gin cocktail and picnic basket filled with local produce. The gin and tonic menu pairs WDC craft gins with a range of Fever Tree tonics and garnishes from the garden. Visitors can also order prosecco by the bottle or choose from a range of non-alcoholic drinks.
Cheese and fresh fruit lead the antipasto sharing platters, while further nourishment includes Te Matuku oysters, scotch eggs from Waiheke Scotch Egg Co., and a range of pies using a 'Jelly Tip' pastry. From time to time there will be a cucumber and yuzu gelato from Island Gelato infused with gin and botanicals.
To celebrate the opening, Waiheke Distilling Co. is partnering with mixologists from Ponsonby cocktail bar Clipper for a dedicated frosé menu. The list will feature refreshing flavours like peach and lavender, rhubarb and raspberry, and pineapple and passionfruit.
Seating at the garden bar is limited to 75 and reservations are recommended through the distillery's online booking tool. Following its summer opening Waiheke Distilling Co. will focus on distillery operations until its full re-opening in summer 2021/22.
Find Waiheke Distilling Co. at 258 Cowes Bay Road, Waiheke Island. It will be open from Saturday, 23 January from Thursday to Monday, 10am to 6pm. For more information, visit waihekedistilling.co.nz.
Published on January 14, 2021 by Stephen Heard