FOOD & DRINK
Five Wellington Bars Where You Can Drink Alone with a Book
Get cosy with a paperback and good plonk at these comfy (and relatively quiet) bars.
Five Wellington Bars Where You Can Drink Alone with a Book
Get cosy with a paperback and good plonk at these comfy (and relatively quiet) bars.
Wellington nightlife is one to behold. We are never running short of bars to hop. Craft beer, cocktails, glasses of bubbles — Wellingtonians have well and truly lucked out. However, there is no right way to enjoy an evening (or a day) out at one of our many pubs littered in the city. Short of something to do? Finding yourself in desperate need of some 'me time'? Feel like immersing yourself in Welly culture and enjoying a bevy? Get into your most alternative shirt and pub crawl through Wellington bars you can go to alone with a book. After all, isn't an intriguing book as good as a date?


It would make sense to include the most obvious choice first. The Library is home to numerous books that line the walls and fantastic cocktails that join you at the table. The cosy bar, perched above Courtenay Place holds views of downtown Wellington. With a warm ambiance, The Library is a delightful spot to get into a great novel as well as cinnamon sugar churros ($13). The dim lighting and quiet jazz will have you feeling whisked far from Wellington and closer to New York. The luxury cocktails are a favourite, with Lower Hutt lemon meringue ($25) to tickle the senses as you delve into a book. While the sea salt and caramel fudge martini ($19) echoes the warmth of the bar. The bar also offers a dining experience for the books. For a delicate dinner, focaccia crumbed squid ($11) is a tasty option; tempura tuna ($18) always goes down a treat; perhaps a cheeseboard ($30) to nibble at as you make your way through pages; or Mt Domet Double Cream Brie ($14) for a smaller plate. Make your high school dream come true by getting tiddly at The Library.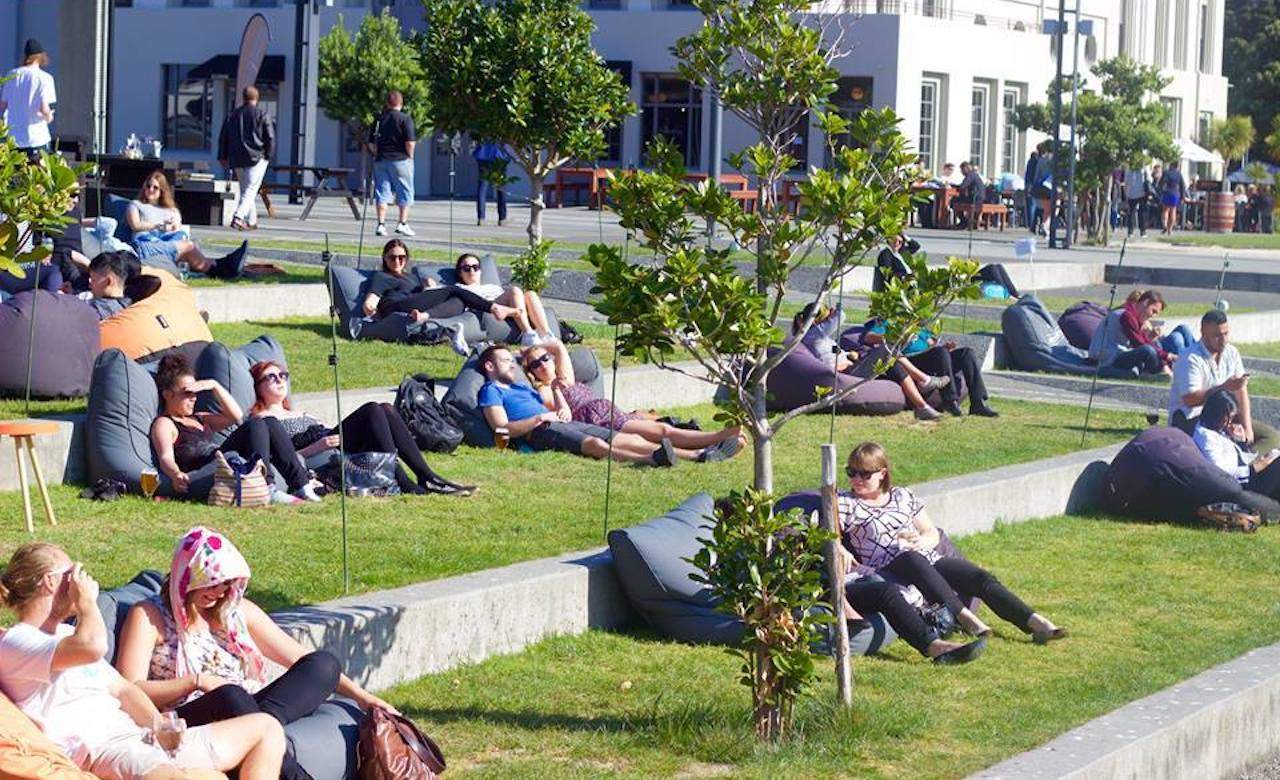 Glistening underneath the glorious summer sun, Karaka Cafe is the place to be. The indoor-outdoor flow will have you returning all year, no matter the weather. But it is rather dreamy to nuzzle in a beanbag with a book sitting on your lap under the sun. Karaka is found on the waterfront, rolling in the gorgeous views and salty sea air. A small home-cation, as it is in the middle of Welly, but will have you feeling connected to nature.
While reading your chosen novel, you'll also be up for te reo Maori lessons in the menu. Each item on the menu is in te reo with the English translation next to it. Karaka has a hefty list of nga waina (wine), nga pia (beer) and nga waipiro (cocktails) to bask in the sunshine. With the copious bevy choices, it may be slightly difficult to focus on the print at hand. The espresso martini ($18) has popped up as a very Wellington drink, with vodka, Kahlua and a Havana coffee shot.
With the cafe being open for drinks from 7.30am (we won't judge), it is a grand spot to enjoy a summer read all day.


If you have ever wanted to feel like you're in a tiny corner bar, perhaps somewhere foreign, then Crumpet is the place for you. The wooden shutters will lock away the world outside and have you drifting somewhere magical. Bring a book to take you a world away from all that is known and try out the unique spot, with its ominous ambiance. Crumpet runs with two strong personalities; a friendly little cafe during the day and a dimly lit, promising, intimate bar as night falls.
Crumpet is most certainly idiosyncratic. The bar doesn't run along the lines that other bars do. It has written its own rule book. There is no actual set cocktail menu. This peculiar place is something special and personal. The staff ask the hard questions by first learning about you and what you like to drink in a more broad sense. A concoction is created behind the gloomy bar and a personalised cocktail is placed before you. The staff combine their extensive knowledge of over 500 cocktails to create a perfect mix for each and every individual.
With the bar being open until 3am, you can literally read and indulge in personalised cocktails all night. What a quirky treat.


Hide away in a corner with a fantastic novel under some serious mood lighting. Tinker with a tall glass of beer from the ever-changing alcoholic menu. Goldings Free Dive is a superb bar concealed at the heart of Hannah's Laneway (Leeds St). The bar isn't married to a particular brand of beer or wine, making the menu a fun guessing game as it changes often. A pro if you're adventurous in your tastings. All you need to know is there's always beer on tap and ever-pouring bottles of wine. Enough said.
As this wee bar is a hidden gem, you too can hide in the dimly lit corners as you become familiar with the pages of a new book. Dependent on the beer, the price for a pint starts at $9 and jugs start at $30. Glasses of wine sit around $10-14. This place also does ridiculously delicious food if you want to shack up and make a solo evening out of it. The ever-so-loved option of chilli cheese quesadilla ($10) is a Mexican vegetarian dream. And I hear the pizzas are to die for, mimicking authentic Italian pizzas perfectly.


What better setting to curl up and read than a lounge? Hawthorn Lounge is a quiet cocktail bar, ideal for a hushed night out that holds reminents to a night in. The interior of the bar resembles a scene from a film noir and has an extremely polite spirit with old fashioned chivalric propositions listed at the front door. With the bar being secluded and almost a well-kept secret, you are set for a night with undertones of gin, vodka or scotch and overtones of quality bartending and an ultimate hideout to read.
The winter drinks menu reads "Seasonal, Warm and Unusual," which perfectly describes the interesting and quirky array of drinks on offer. Poached Date Liqueur Coffee ($17) has hints of Wellington embedded with the Wellington Chocolate Factory Cacao-infused Wyborowa Vodka and poached date liqueur. Furio Rabaro ($17) is a warm, rich cup of rhubarby nut squash and is as essentric as it sounds. Each cocktail on the menu embodies an element of something unorthodox, and that sums up Hawthorn Lounge quite nicely.
Published on April 08, 2019 by Bronte Stevenson