FOOD & DRINK
Five Wellington Bars with Views for Days
Slip into these Wellington bars and soak in the sights.
Five Wellington Bars with Views for Days
Slip into these Wellington bars and soak in the sights.
Whether you're looking for an after-work drink, a scenic spot to take your out-of-town pals or you just want to watch the sunset alone — Wellington has the bar for you. With a selection of bars with views of the harbour, the tops of the city and the South Island, our list of Wellington bars with views for days is sure to keep both you and your crew gazing across the balcony all evening long.


Foxglove offers a daytime coffee spot for those working in the CBD, but quickly transforms into an intimate lounge-style bar at night for those wanting high-end cocktails without breaking the bank. Having moved piece-by-piece from Greta Point, the Heritage Building offers a luxury experience for after-work drinks, those looking for tapas or a quick meal or even a late-night coffee beside the water. As the day turns into night the Foxglove fairylights turn on — it's not hard to find yourself a nook in one of the outrageously comfortable sofas dotted around the bar. Or sit outside on a calm evening with a negroni in hand and watch the boats come in — Foxglove really is the place to be when you want a classy night out without the pricetag.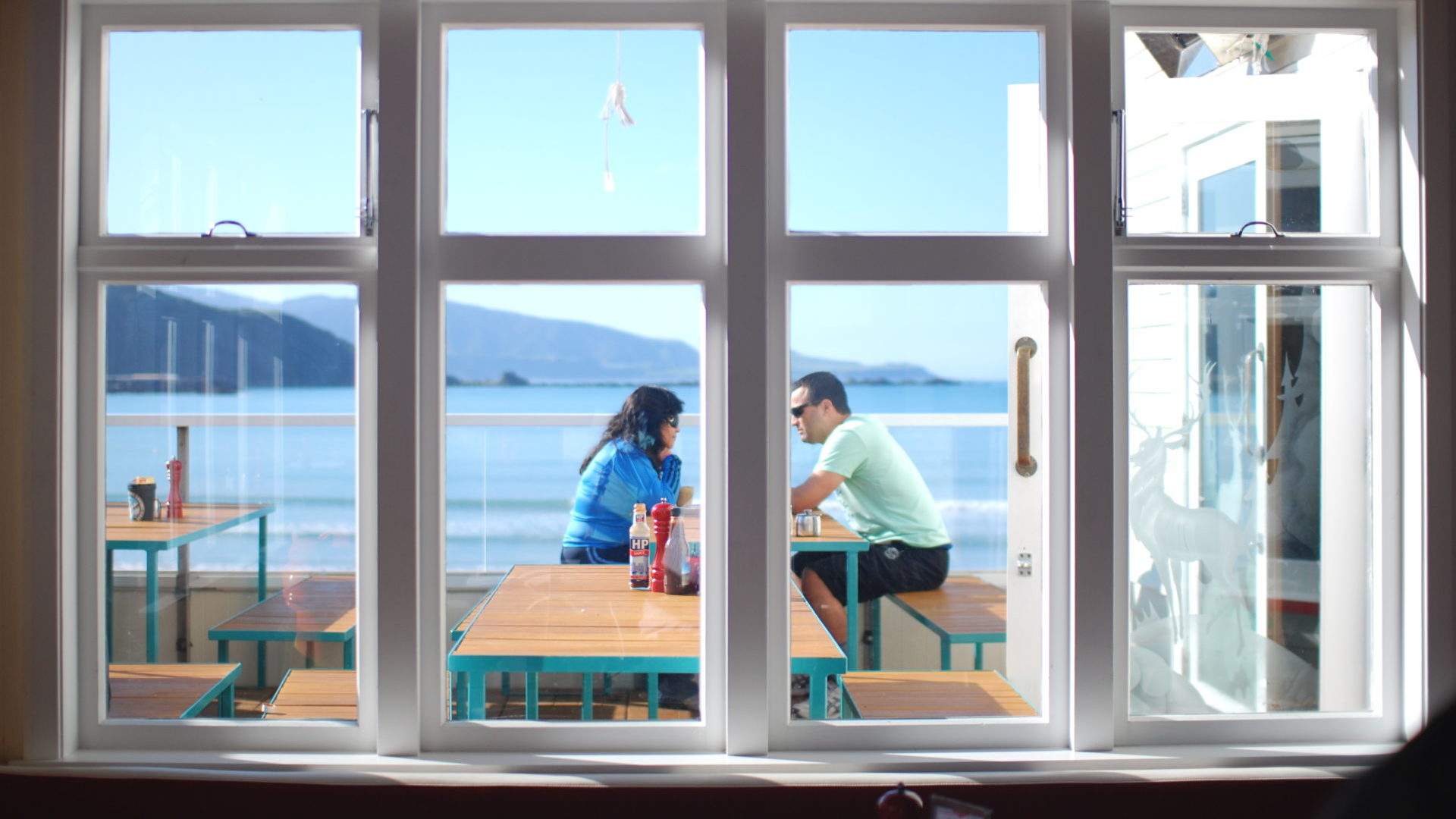 It must be the best spot in town if Harry and Meghan dined here, right? With panoramic views of Lyall Bay (and a little of the airport), the Maranui is a spot you don't want to miss. Priding itself on using delicious local produce for breakfast and lunch, they also serve a great selection of beer and wine — craft beer fans will quite easily make this their regular haunt. Plus, they cater for all dietary requirements, so no one in the gang will ever feel left out. With a retro sunny décor (including a pinball table), there's fun for all the family, big kids included. So if you're ever wondering where to take your prince or princess for lunch and a quick bevvy — try the Maranui, it won't let you down.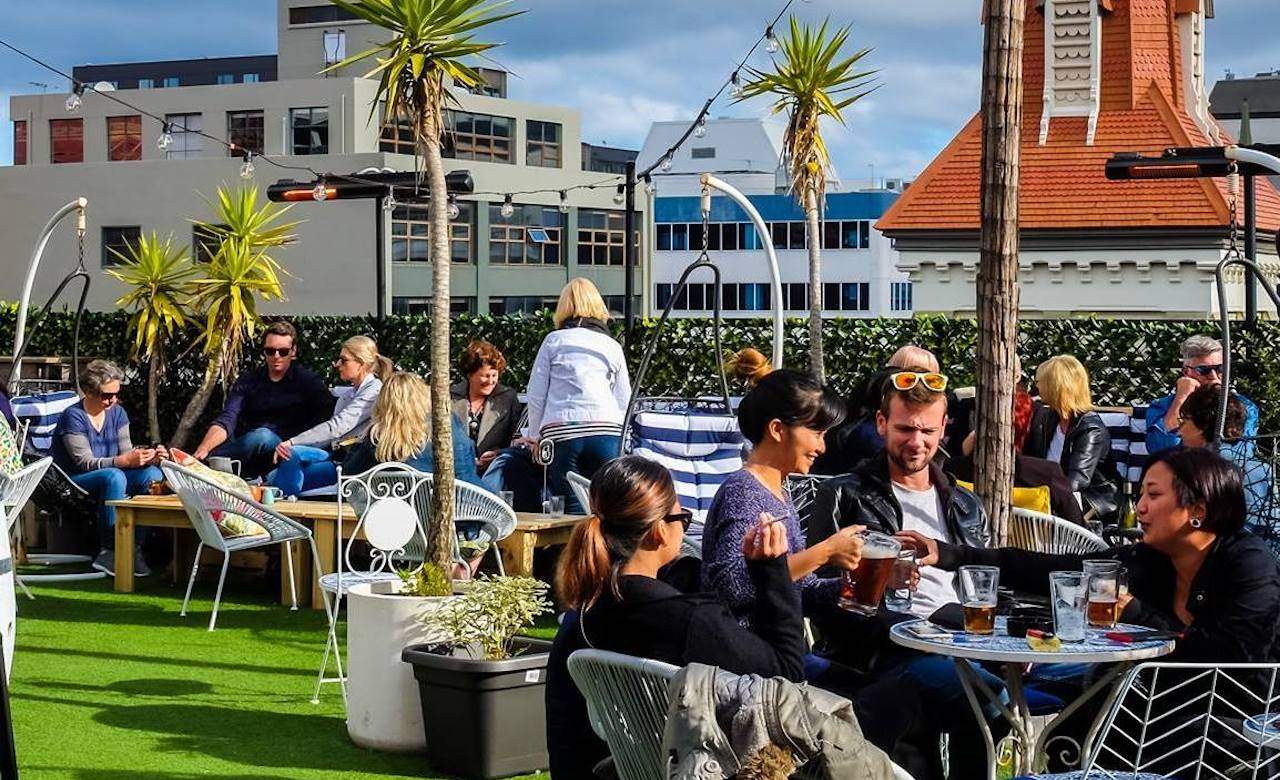 Found on Willis Street, you'll have to crane your neck to find this bar. Perched seven stories up, The Arborist's Rooftop Bar is a one to tick off the summer bucket list. With frozen margaritas as their chosen speciality, pallet furniture, beanbags and astroturf — you and your pals will feel like you're at a really cool backyard party — it's just that chilled out. And the view? Take a look to the side and you'll see most of Wellington's CBD, buildings as sprawled out as you are on those beanbags. It may not be a harbour view, but it's one of the best views of Wellington without paying for a helicopter ride. Sit back, relax, drink a frozen margarita, and enjoy the chill vibes on Level Seven.

A Wellington staple, the Hop Garden is Kent Terrace's secret garden. A home away from home (before most people get home), the intimate bar has been decorated with beautiful foliage to create a peaceful, calming and mindful atmosphere. The view is foliage all around — people are buzzing and happy in-between hanging plants — only in Wellington would you find a greenhouse full of craft beer. The Top Garden is light and airy, perfect for all-weathers, big groups and isn't too far from the bar. Being higher up, it also offers the view of the local surroundings, including the Basin Reserve, Kent Terrace, and (of course) KFC. With so many craft beer and wine choices, the Hop Garden is perfect for a sneaky drink on the way home, a date night to dazzle your loved one, or a night out with the besties — it's an all-round tip-top bar with views both inside and out that'll blow your mind.


Oriental Parade's newest gem, Coene's is part of the Wellington Hospitality Group (like Hotel Bristol and Mac's). This means that by picking up one of their Social Club cards you gain points every time you buy food or drink — what a win. Coene's also has one of the hottest scenic views this side of the Harbour. Watch the sunset, the Interislander speed past, and maybe see a hint of the South Island as you chow down your crispy fried chicken burger with a craftie on the side. So if you're heading down to Oriental Parade for a night of panoramic views and a stunning meal, make sure you've got your Social Club card for a night at Coene's — you don't want to miss out.
Top image: Maranui Cafe.
Published on February 11, 2020 by Florence Cohen