FOOD & DRINK
The K Bar Pop-up Has Landed on Cuba Street
Take a trip back to 1950s New Zealand in this candy wonderland.
The K Bar Pop-up Has Landed on Cuba Street
Take a trip back to 1950s New Zealand in this candy wonderland.
---
Bright colours and happy smiles line the streets of Wellington this week, as Whittaker's opened their very own K Bar pop-up store. The K Bar opens in correlation with the release of their new K Bar chocolate in lime, raspberry and pineapple.
Holly Whittaker and the team brought this idea to fruition in hopes of revisiting a Kiwi classic. Open on Saturday 20 August, the pretty pink girls behind the counter told us people were lining up before the doors even opened. It really is a testament to New Zealand's sweet tooth. Children, grandparents and travellers crowd around with one thing in common, a love for the family owned and operated business, Whittaker's.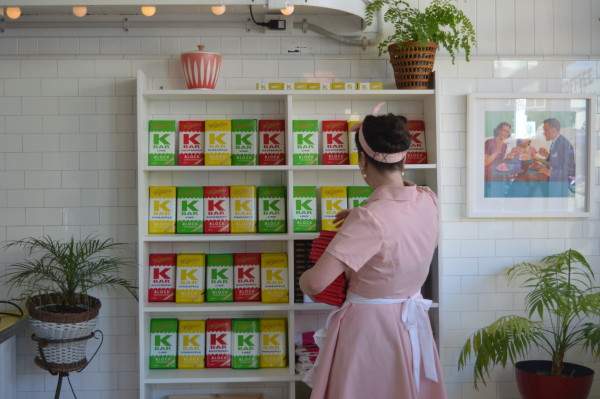 Being that Whittaker's is local to Porirua, Wellington, it seemed only fit to pop K Bar smack bang in the middle of town. The pop-up store at the top of Cuba St will only be there for ten short days. The pastel pink uniforms are the start of a colourful wonderland, take a step into the 1950s. K Bars and Whittaker's chocolate line the walls. While there appears to be a life-time supply of the new K Bar flavoured chocolate there's also milkshakes, truffles, cupcakes and Supreme coffee.
The chocolate, passed around on trays for those waiting, tastes like your classic NZ childhood. It takes the creamy goodness we all know of Whittaker's and dips itself in a little nostalgia. The K Bar goes nicely with Wellington On A Plate, offering foodies a fun trip back in time. Open until late on the weekends, there's always time to experience Whittaker's latest creation in their first ever physical store.
K Bar Pop-up is open from August 20 - 26: Monday - Tuesday from 10am - 6pm.
Published on August 23, 2016 by Madeline Chatterley