TRAVEL & LEISURE
Five Wellness Retreats to Help You Start 2021 on the Right Foot
Unwind for the day or give your body a hard reset at one of these tranquil wellness destinations.
After a year from hell you might be looking to find some balance for the months ahead — and perhaps work off some of those Christmas leftovers. Wellness retreats can be a brilliant way to release stress, encourage better sleep and treat the soul. Our beautiful island nation is home to several escapes where you can simply choose to unwind for the day or give your body a hard reset across multi-day immersion experiences. Here are five wellness retreats that will see you rising with the sun, soaking in outdoor hot tubs and releasing tension with hands-on massage therapy.


Time Magazine listed Camp Glenorchy Eco Retreat in its 100 Greatest Places of 2019. Found just a 40-minute drive from Queenstown in a stunning location between two mountain ranges and the headwaters of Lake Wakatipu, Camp Glenorchy is the perfect destination to escape. Mini wellness retreats are designed to nourish, reset and renew and usually take place over two and four days. Health and wellness techniques can include everything from breath work training and yoga to Pilates and journaling. The camp encompasses a homestead and a full range of accommodation options from individual eco-cabins to multi-bed bunk huts and powered campervan spots.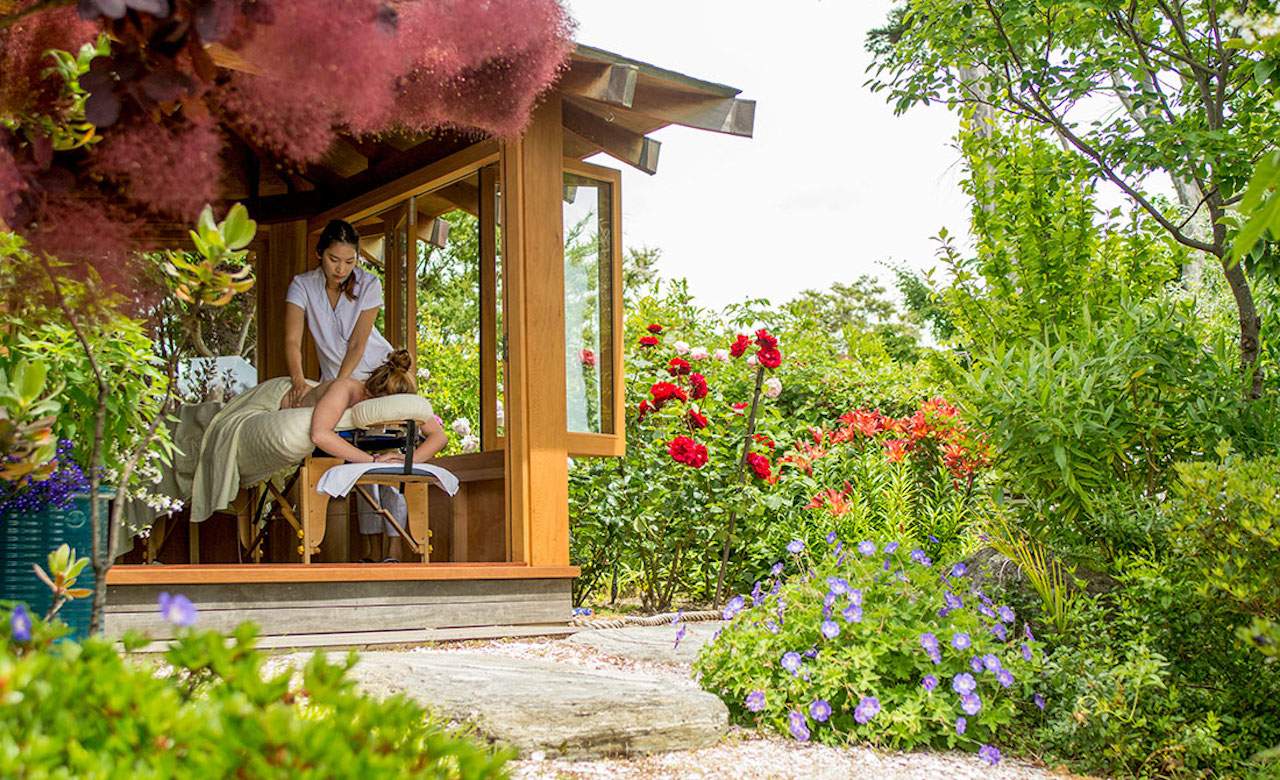 This luxury retreat on the edge of the Abel Tasman National Park was founded by a retired doctor and chef. No surprise, then, that it's known for both its wellness therapies and nutritious Asian-Mediterranean fusion cuisine. With the National Park at your doorstep, the exclusive luxury lodge and wellness retreat offers some the best walking trails in New Zealand, as well as secluded beaches up for exploring. You might decide to stay put and soak in the on-site saltwater infinity pool, or unwind with massage, acupuncture and meditation. Wellness packages range between three to five nights and include cooking classes, day trips by water taxi, daily meditation and massage.


This countryside retreat is nestled amongst rolling green hills in Mangatarata, an hour south of Auckland. The 200-acre organic estate hosts purpose-built therapy rooms and a private cabin for two to four people. Half- and full-day packages offer a range of deep relaxation therapies to help with stress release, anxiety, emotional stress, wellness and better sleep. The retreat is perfect for individuals, couples or small groups wanting to retreat, rest and rebalance. A half- or full-day treatment plan is created after a consultation, which could include bone-deep touch therapy for relaxation and tension release, clinical hypnotherapy, float therapy or time spent in the full-spectrum infrared sauna. Guests have exclusive use of the tranquil healing space, while overnight guests enjoy a welcome hamper filled with local produce and wake up to a breakfast basket.


Wellness traditions meet luxury at Aro Hā. At the multi-award-winning Glenorchy retreat guests might find themselves saluting the rising sun with vinyasa yoga, becoming one with nature on alpine trails and using a variety of practices to elevate the body and mind. Aro Hā's small group programs are based on research that suggests we can fundamentally transform our physical and emotional health through our daily habits. Mindfulness practices will be interweaved throughout your day as you partake in activities from cooking classes to functional strength training. Then, unwind in the infrared sauna before you're called into your daily massage. Retreats range from six to eight days.


Helicopter tours, white water rafting and guided nature walks are just some of the one-off activities you can choose from at Mariua River Retreat. The 500-acre nature estate is found two hours from Nelson and three hours from Christchurch. Private villas and cabins are nestled in native bush, while the luxury property is armed with an outdoor hot tub, Finnish dry sauna, infrared chroma-therapy sauna and access to extensive walking trails. Multi-day experiences are also available, including three-day sessions dedicated to introspective meditation, nutrition, breath work and forest bathing.
Published on January 12, 2021 by Stephen Heard