TRAVEL & LEISURE
Four Ways To Enjoy Vegas Without Stepping Foot Inside a Casino
Find the fun, food and scenic sights beyond the debauchery and bright lights.
Four Ways To Enjoy Vegas Without Stepping Foot Inside a Casino
Find the fun, food and scenic sights beyond the debauchery and bright lights.
The bright lights and debauchery of the Las Vegas strip are fun, but there comes a time when you need some natural sun and nutrients that don't come from a complimentary bowl of nuts. That's where Vegas' whole other identity comes in. This alter ego has a sense of adventure, a taste for quality fare, and of course, is still a little bit wild — aka, it's worth getting to know.
TAKE A SCENIC RUNNING TOUR
If you're looking for a legal way to get high in Vegas, this is it. With the choice to explore a changing range of different areas — the historic side of the strip, downtown, the Valley of Fire and Hoover Dam have all been featured — Las Vegas Running Tours will show you a completely different side of Vegas.
Catering to runners of all levels, this is a chance to see Vegas from a vastly different perspective to most tourists. Guided by Jimmy, who simply loves to run, the tours last 4-5 hours, generally cover four different trails and include pick up from your hotel, snacks, water and some sweet merch.
Our tip: while it's not always on offer, a visit to The Valley of Fire is like travelling to another planet. And given that it's where they filmed Star Trek: Generations, this is no exaggeration. Characterised by multiple tones of red rock formations, exploring this place on foot is pretty spectacular.
ENJOY A DIFFERENT KIND OF DINNER AND A SHOW AT SAKE ROK
Sake Rok takes the concept of dinner and a show to a new level. Professional dancers first, waiters second, the staff jump between taking your order and bursting into an all-singing, all-dancing rendition of some of the '90s greatest hits — think the Backstreet Boys and *NSYNC. When the music starts, all the staff get into it, even the traditionally-trained Japanese chefs in the open plan kitchen. Basically, nobody takes themselves too seriously here.
It may sound kitsch, but if you don't mind things that are a little over the top, this place is a lot of fun — and a great place to start your night. From the graffitied walls painted by local artists to the food itself, Sake Rok is a sensory overload. Classic sashimi dishes get kicked up a level with a dusting of truffles, ordering a sushi platter is a spectacle in itself thanks to a roaring, smoking Godzilla, and the vegan-friendly menu features a crispy rice version of avocado toast. And, for a really good time, get involved with a sake bomb or a punch bowl.
While American serving sizes are usually too much, when it comes to dessert at Sake Rok, it's nowhere near enough. Their specialty honey toast is the love child of waffles and brioche toast, doused in honey and piled with ice cream. It's dense and fluffy in parts, and crunchy on the outside, which means it's the perfect consistency for unnecessarily mopping up every last bit of honey.
ROLL OUT OF BED FOR A QUALITY BRUNCH
In Vegas, you can get anything you want — for cheap and in excess. That includes an $8 rump steak, 99 cent margaritas and the Octuple Bypass Burger from downtown's aptly named Heart Attack Grill, which is just shy of 2 kilograms of meat. What's difficult to find is the kind of breakfast us Aussies take for granted. Luckily, EAT Cafe know that a serving of chicken and waffles that defies nature isn't necessarily the way you always want to start the day.
The kind of place every traveller hopes to find, this is where locals go for brunch. They do pancakes with chicken-apple sausage and maple syrup, a killer BLAT with chipotle mayo, and eggs any style with smoked bacon, chive potatoes and toast. Plus, for those nursing a hangover, the more sizeable truffled egg sandwich with wild mushrooms, chives, feta and bacon will set you straight.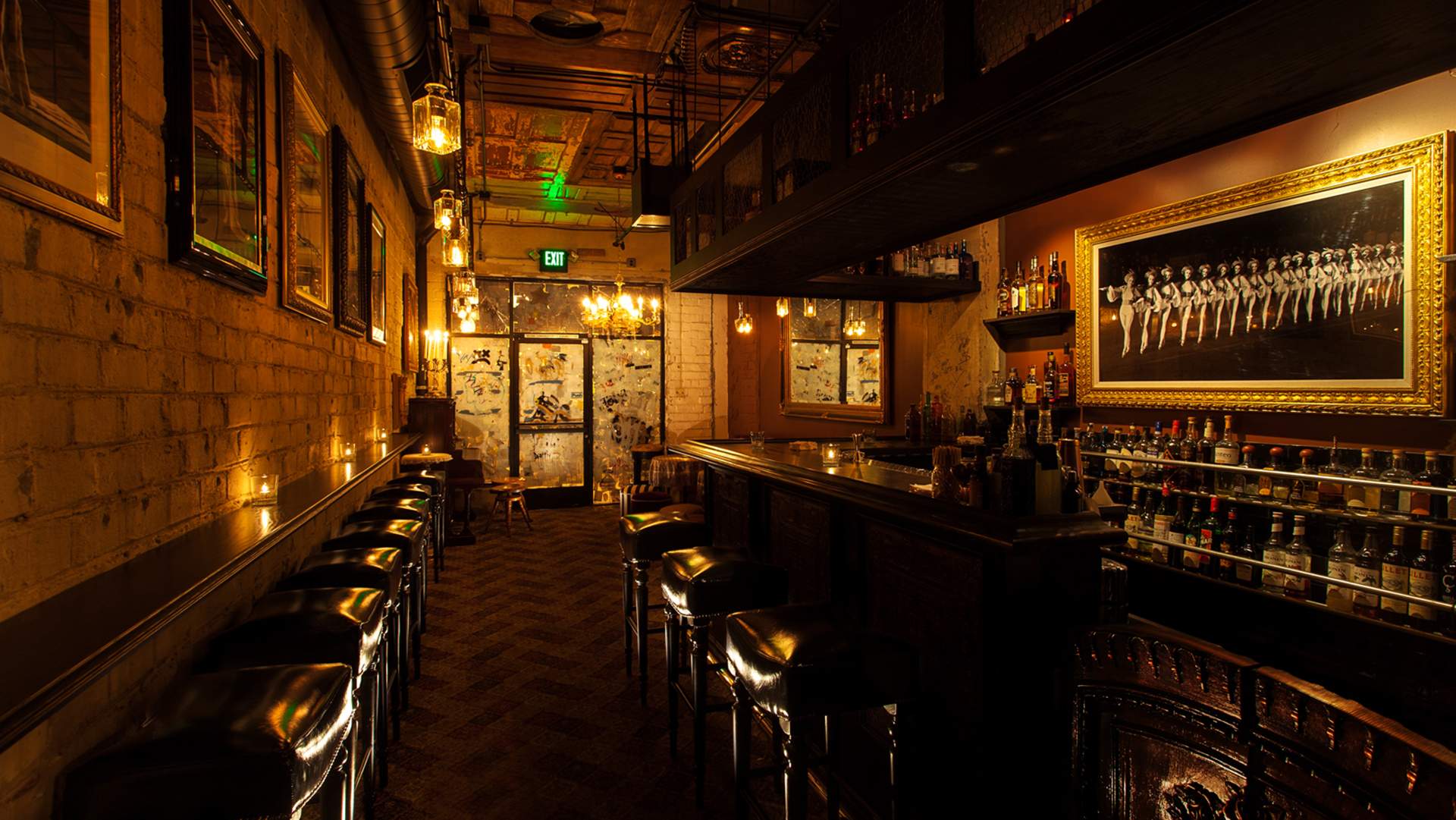 FIND THE HIDDEN SPEAKEASY AT THE COMMONWEALTH
For some, The Commonwealth is a rooftop cocktail bar overlooking downtown Vegas. But for those in the know, it harbours a speakeasy under its floorboards. And while it's not the best kept secret — the number to book a table is listed on the website — once you're in, The Laundry Room feels like the real deal. Resembling an underground bunker adorned gilded artworks, a wooden bar and top-notch spirits, you can easily imagine the city's upper echelons enjoying countless salubrious nights here. Not much has changed, but now they have a rotation of flavoured popcorn to snack on.
If The Laundry Room really had stepped out of times gone by, you'd expect the drinks to be served strong and straight up, but thankfully that's not the case. The cocktails here befit the ornate setting. Served in traditional crystalware, the green chartreuse and fresh honey lemon sour with muddled strawberries may appear a light choice, but that's until the blowtorch comes out to top it off with an absinthe-torched rosemary sprig. And if you're after a beverage with impact, go the Mighty Tiki Joe. Topped with the cap of a Gifford Caribbean pineapple, this sweet and substantial mix of light and dark rums, ginger liqueur, lime and pineapple juices with mint and habanero bitters makes a grand entrance — it comes out smoking.
Main image: Thomas Wolf
Published on September 02, 2017 by Alexandra Middleton