DESIGN & STYLE
Google, Tourism and Ziplining Helped Save and Restore This Rotorua Native Forest
A Rotorua-based ziplining company is restoring virgin native forest.
A series of flukes and tourism saved a small virgin native reserve on the outskirts of Rotorua. Almost a decade ago, while Rotorua Canopy Tours founder James Fitzgerald was working at another Rotorua tourism company, an American tourist walked into his office and asked if they do 'ziplining' in New Zealand. A quick Google later and James had a business idea. Armed with a handful of basic zipline photos, he marched to the Department of Conservation office to ask permission to set up a ziplining course at Dansey Scenic Reserve, just a few kilometres out of Rotorua.
The forgotten, virgin, native forest reserve's existence was an absolute fluke, having been set aside as a pretty scenic corridor and entry point for tourists travelling to Rotorua by train to visit the famous Pink and White Terraces back in the 1800s. Mount Tarawera erupted and destroyed the attraction before the railway was fully built, but the railway was still finished and the reserve remained protected — these days it's one of a few virgin forests in our country; New Zealand only has about 5% percent virgin native forests left.
James initially found the 500 hectare reserve after a bit of trawling on Google Maps, but after seeing the reserve (which had almost no native birds around, was ridden with possums and rats and in need of some serious TLC) in the flesh, he decided, together with co-founder Andrew Blackford, that the company also needed to have a heavy focus on conservation. "It was DOC land that was untouched and uncared for. I've only met a dozen people who had ever walked in it prior to us. There was no access, no walkways, no facilities; just a derelict, forgotten, unknown reserve. For DOC it was considered low priority land. But it was a fully intact native ecosystem — the opportunity to showcase this spectacular forest to the world was obvious," Fitzgerald said.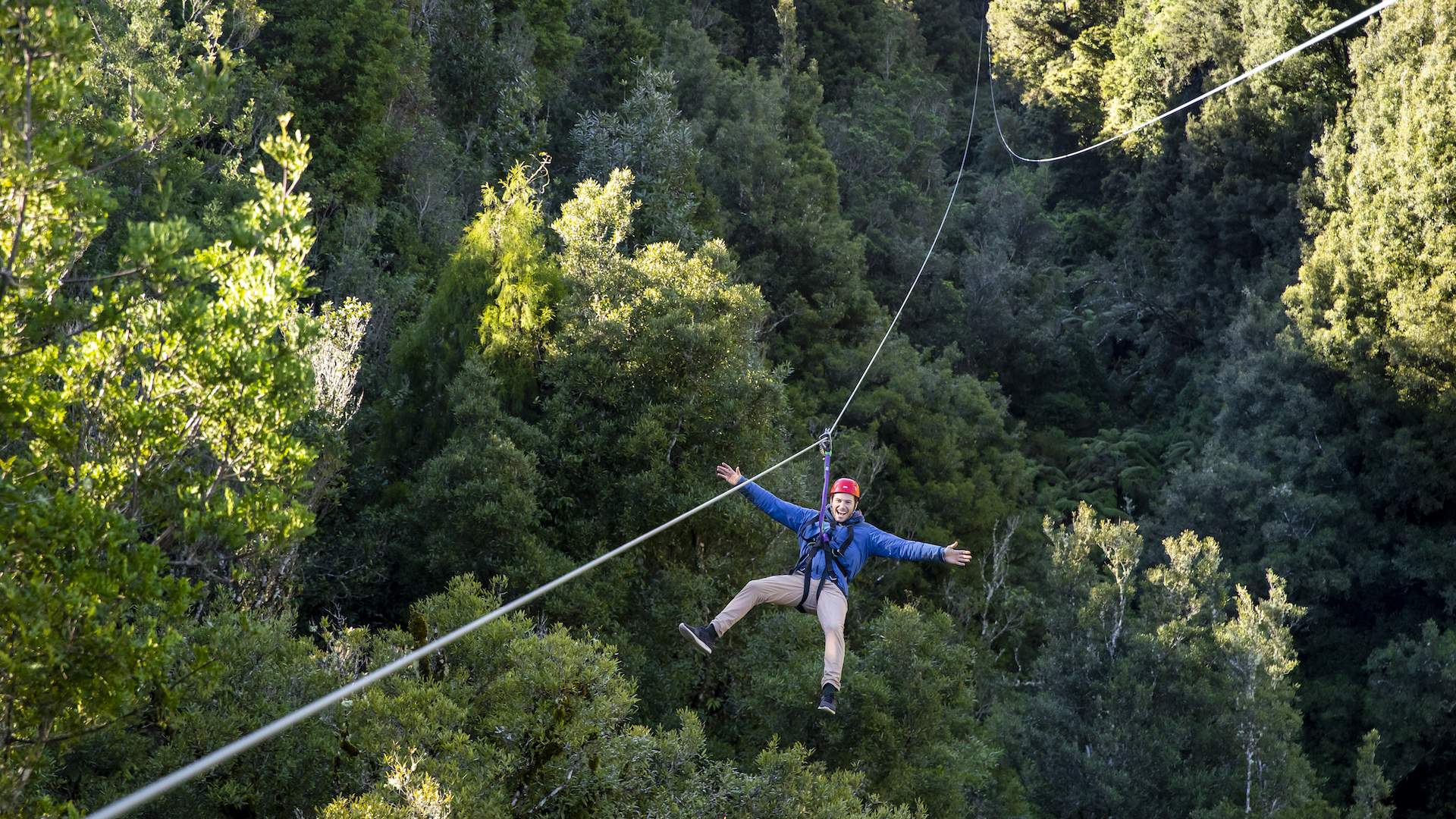 Four years after his first faithful google, New Zealand's only native forest zipline canopy tour, The Original Canopy Tour, was opened to the public in 2012. Their first fully paying customers were a motorhome couple bribed with pizza to try it out. From there the Canopy Tour company grew to a point where they were seeing 170 pairs of feet flying across the treetops per day over the summer period, and were awarded the Supreme Award at the 2016 New Zealand Tourism Awards.
In the years following their opening, Rotorua Canopy Tours also stayed true to their aim of conserving and restoring the native forest, starting the first ever private partnership with DOC in New Zealand. Through their joint project with DOC, the Canopy Conservation Trust, more than $300,000 has been contributed to the reserve's restoration. Currently the entire reserve is lined with 650 traps and the company have estimated that over 280 hectares of the reserve have achieved a predator-free status.
This July, Rotorua Canopy Tours opened another treetop tour, The Ultimate Canopy Tour — a three and a half hour ziplining experience which includes a 400-metre zipline, a 50-metre high, suspended cliff walkway and an 18-metre controlled abseil. The construction took twelve months and cost just under $2 million. The company's continued expansion will see more money flowing into the conservation of this little reserve as well as into the hands of DOC to continue work on restoring and protecting forests around New Zealand, as well as setting the example for other tourism companies aspiring to do some good through their businesses too.
The Ultimate Canopy Tour is open now. Visit Rotorua Canopy Tours for more information and to book your high-flying journey through the trees.
Published on July 26, 2018 by Laetitia Laubscher