When the days get dark and you feel alone, what do you do? OneWave don't claim to have all of the answers, but what they do claim to have is a reason to talk about it.
We got up sparrow's fart in the morning and got into our Fluros at Maori Bay, Muriwai Beach. The weather wasn't great, in fact, it was atrocious. But the weather didn't seem to matter. We were alive, wet, and talking about stuff that needs to be talked about more.
After surfing in a renown Mud Bay washing machine, we all rinsed off and had a coffee at the local Muriwai cafe Sand Dunz. TVNZ had done their interview (must watch), and now it was our turn to catch up with our mate Grant Trebilco, who is fighting funk one fluro at a time.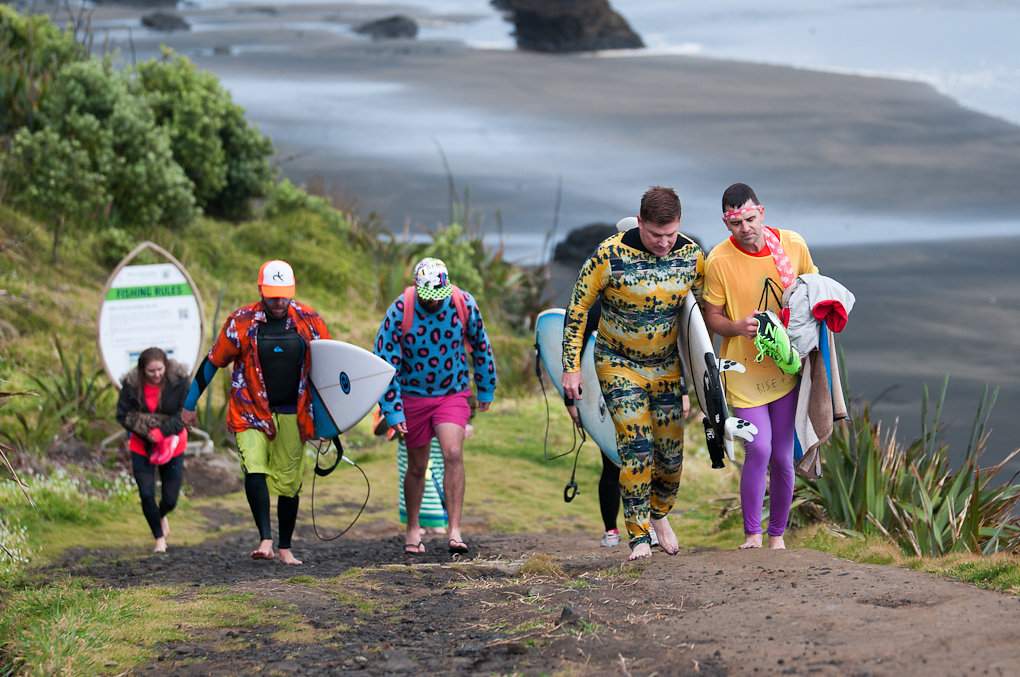 Talk us through OneWave and how it all came about?
OneWave is a non-profit surf community tackling mental health issues with a simple recipe: salt-water, surfing, good mates and Fluro Friday's. Since March 2013 every Friday has become Fluro Friday. At 6.30am we dress up in the brightest fluro outfits we can find and surf/swim/do yoga at sunrise to raise awareness for mental health. We also recently launched the OneWave Surfing Experience - a 12 week learn to surf program for people experiencing mental health issues.
How it started? 
After a week partying at the Australian Surf Open 3 years ago I ended up in hospital and was diagnosed with bipolar. When I got out of hospital I moved back home to Mount Maunganui and it was surfing with my family and mates that helped me the most. I remember getting this one good wave and it was the first time I had smiled in so long. Sometimes OneWave really is all it takes. The ocean was also the first place I told my friends about having bipolar. The support and understanding they showed me was unreal and I will never forget it. This was the inspiration behind launching OneWave. I wanted to share this recipe of saltwater therapy and start as many conversations as I could about mental health to help any one stuck in a funk. When I moved back to Australia, we were not sure how to launch OneWave and then on Friday, March 22, 2013 I randomly decided to get up at sunrise, throw on a shirt and tie and go surfing solo at Bondi to get people asking questions about mental health. That was OneWave's first 'Board Meeting' which 4 weeks later became 'Fluro Friday' and 2 1/2 years later there has been Fluro Friday's at more than 60 beaches Worldwide, run by locals who are passionate about the ocean and raising awareness of mental health in their community.
Some brave legends joined you at Muriwai last Friday in some typical west coast weather. What does it mean to you to have Fluro Friday launched in NZ?
Yeah it was a wild day at Muriwai last week, so I was amazed by the legends that got out of bed early and made the trip to Muriwai to be part of Fluro Friday and raise awareness for mental health. NZ is where it all started and will always be home, so it was unreal to be back in NZ getting fluro with my family and best mates. These guys have had my back no matter what, so it's amazing to come back and hang out, go surfing and make sure they know just how much they have helped me when I needed it most. We have held Fluro Friday's before at Mount Maunganui, Takapuna, Waihi and Dunedin, so hopefully we can keep it going in Muriwai and start it at other beaches in NZ, because the more people we can get in the ocean and the more conversations about mental health the better.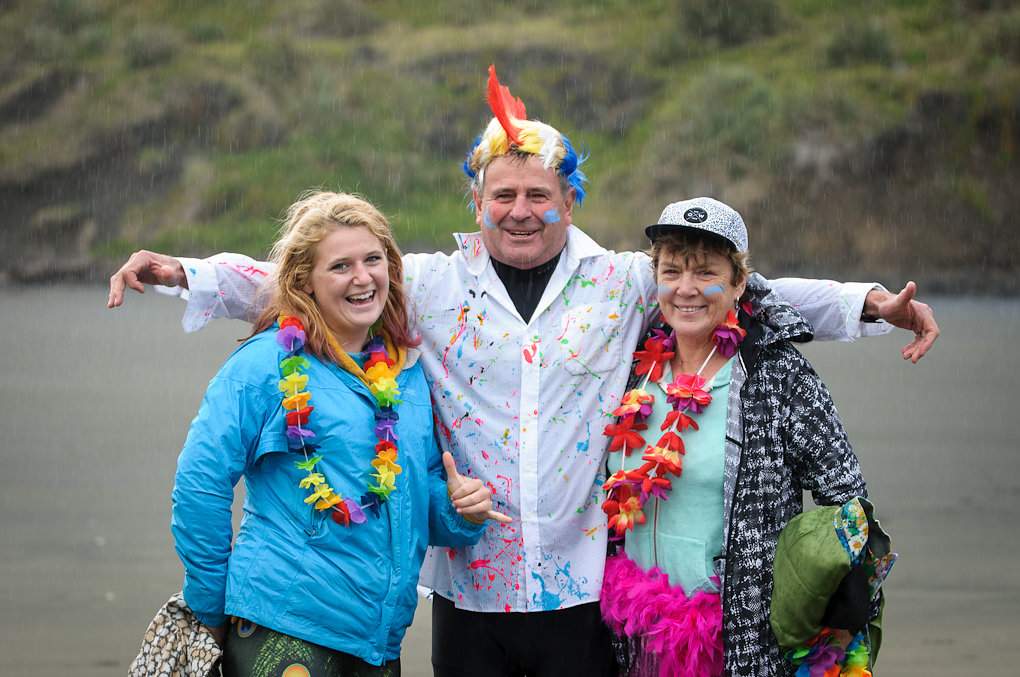 Community is a big part of achieving this goal. For someone wanting to create a community to have conversations about mental health, what advice do you have?
Yeah community is the key to everything we do. It's all about people. We want to give people hope they can beat mental health issues by creating a community connected by the ocean
Every community is different but some of the things that have helped us are:
Start with a story - people want to know why you so what you do? For us that was sharing my story about being diagnosed with bipolar and then how saltwater therapy and helped get me out of a funk.
Be authentic - Find a way of making your community different and always keep it real. For us that was raising awareness for mental health in a fun and light hearted way through Fluro Friday's.
Make it fun - people will come down to support a cause but they also want to have fun so why not combine the two.
Inspire others - After sharing my story we asked other people to share there stories at Fluro Friday's and online. This helped them open up and helped them through helping others. This has then inspired others to share their stories.
Make it easy for people to start communities in their local area - for us that has mean't providing a simple start up kit for people wanting to set up Fluro Friday at their local beach and providing them all the support they need.
Look after people - people are giving up there personal time to be part of a community. Make sure they know what a difference they are making and how many people they are helping in their local community. Can't beat the feeling of helping others.
Social media is a very powerful tool for a community - Instagram has been unreal for inspiring people to start Fluro Friday's at their local beaches and sharing their story. Facebook has been really good for organising events.
What has been some of the biggest challenges establishing a non-profit?
Ummm where do I start…I didn't even know the difference between a non-profit and a charity when we started. I have spent hours chatting to lawyers trying to work out the best way to setup OneWave. I think the biggest challenge for us is trying to retain the community feel but having the right structure setup behind it to ensure that we can make it sustainable and help more people. We were running for the first 2 years as a non-profit community and the focus was totally on raising awareness of mental health and we didn't fundraise. We setup as a non-profit last year because we recently launched the OneWave Surfing Experience - a 12 week learn to surf program for people experiencing mental health issues. This program requires funding so we wanted to setup as a non-profit to make this sustainable. This is all new to us,  so we are constantly asking people who run their own non-profits and charities for advice. Jimmy from Live More Awesome has been a legend from the start and always helps us when we are lost, which is quite often…because the non-profit World is pretty damn confusing and we are constantly learning.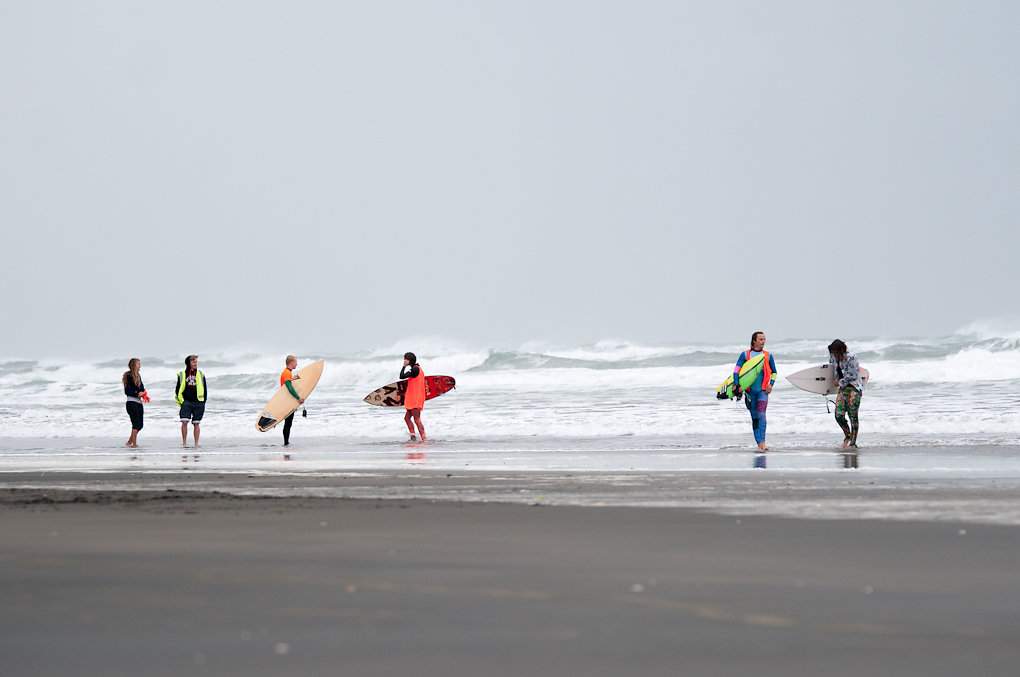 You would have come across some inspiring stories. Any that stand out?
Yeah we get to meet some brave amazing humans. On Friday at Muriwai I finally got to meet Lucy Kelly, an absolute legend from Muriwai who sent me an inspirational email 2 years ago. She had been through some really difficult times with mental health conditions and one day she saw a OneWave post of people surfing in fluro. She thought shit this looks fun and then read more to find out what it was all about. When she saw it was about raising awareness for mental health she thought shit there are people just like me, finally I'm not alone, so she started surfing in a fluro wetsuit every Friday. Last Friday she shared her story to 30 people at Fluro Friday which was so damn brave and awesome.
What could the government be doing to further increase the awareness and support of Mental Health in NZ?
What we are currently doing is not working as we are losing so many people to suicide. The government needs to help start as many conversations as possible about mental health. They need to better support mental health initiatives like Live More Awesome which are starting conversations about mental health in a fun way. They need to make it easier for new mental health initiatives to get off the ground.
We beat Australia over the weekend in the RWC Final. Are there any initiatives they do in Australia that sees them come out on top over NZ in the support of mental health issues?
Haha yep it was awesome to be home to see the boys win the final. To be honest I think that Jimmy was ahead of the game launching Live More Awesome in NZ. One stand out in Australia in the last 2 years is ABC creating a full week dedicated to mental health TV and Radio coverage, which has done massive things for mental health awareness in Australia.
Your home break is the Mount, but have spent most of your time in Bondi. What are some of the things you enjoy about Bondi?
I have lived in Sydney for 6 years now and spent 4 years in Bondi. It's a really fun place to live, crazy sometimes but you never get bored. You have the beach/city vibe all in one. Lots of good people from all over the World which is epic. The only thing is the crowds in the surf are hectic and it's not the best waves, but you can travel South Coast or Northern Beaches for waves in an hour so you can't complain.
Was really impressed with the words you said to the Muriwai group last Friday. Have you always been a natural public speaker?
Thanks mate! No not all all, I used to hate public speaking at School and I still get nervous every time I do it. I think the thing is when you're sharing your personal story and you know that by sharing you could help someone share their story about mental health, you just talk from the heart and are super passionate.
What is the plan for OneWave? Where to next?
We currently have 17 beaches Worldwide that are doing regular Fluro Friday events. We are aiming to increase to 30 beaches in the next year to create communities where we share the recipe of saltwater therapy and fluro. We currently have two OneWave Surfing Experience's running in Bondi and Newcastle. We aim to expand these 12 week learn to surf programs to 10 beaches in the next year. We want to start as many conversations as we can about mental health in a fluro kinda way.
Thanks for having me bro!
To find out more about the OneWave community, head to onewaveisallittakes.com
PHOTOGRPAPHY: Sarah Alice
Published on November 10, 2015 by Kyle Bell