Skiing, Partying, Tunes and Bungee Jumping: Why Queenstown's Snow Machine Is a Must-Attend Fest
It may seem like just another festival on the surface, but repeat customers know this five-day blowout is so much more than that.
Most kids love a school camp — the sense of camaraderie, having a giant sleepover with your best friends and doing fun things that you wouldn't experience at home. But these feelings are usually captured between the ages of ten and 17, and can be hard to replicate once you're an adult with responsibilities. Thankfully, Snow Machine is here to flip that idea on its head.
Snow Machine is a five-day extravaganza dedicated to playing hard and partying harder, with the New Zealand leg set across the mountains of picturesque Queenstown. Here, adventure- and music-loving folks ski all day and party all night.
What was 2023's fest like between Tuesday, September 5–Sunday, September 10? And why is Snow Machine more than just another festival? Here's everything that you need to know.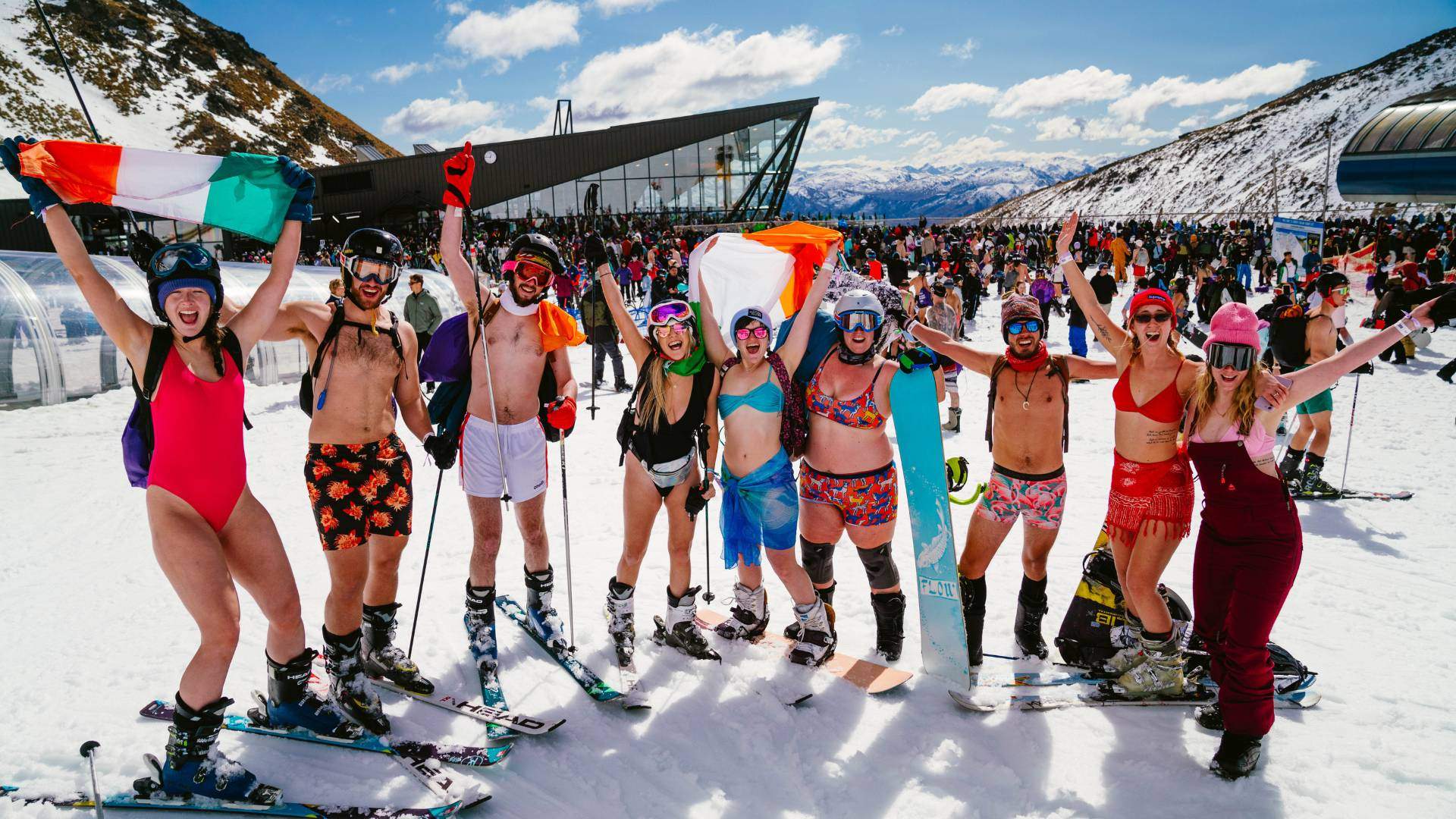 WHAT IS SNOW MACHINE?
Snow Machine is so much more than a multi-day concert. Instead, it creates an institution of fun that has punters returning year after year. The sense of community is something that the team behind Snow Machine are experts at, and is incredibly important to festival creator Chris 'Muz' Murray and fellow director Quentin Nolan.
There's nothing that Muz loves more than a serious hat, fun costumes and bringing people together, and he's combined these three passions in the Machine festival series. Snow Machine takes place in Queenstown and Japan, Dream Machine in Bali and Wine Machine throughout Australia.
Muz's personal goal for each Machine is to "exhaust" his patrons in a good way, with the five-day schedule jam-packed with everything that Queenstown and a fest has to offer — whether it be skiing down The Remarkables half-naked, indulging in a Fergburger or zipping around Shotover River on a speedboat, festivalgoers can choose to do as much or as little as they like.
For Snow Machine 2023, tickets started at $929, which covered the bulk of an attendee's expenses — including accommodation (which is available in different tiers), a five-day ski pass at The Remarkables and Coronet Peak, access to the party areas on each mountain, and a ticket to the main Snow Machine arena each night. These are just the basics, with patrons able to add any of the other experiences that Snow Machine has to offer, such as after parties in Queenstown clubs, a VIP long lunch halfway up Coronet Peak and a recovery cruise at the end of the week to top it all off.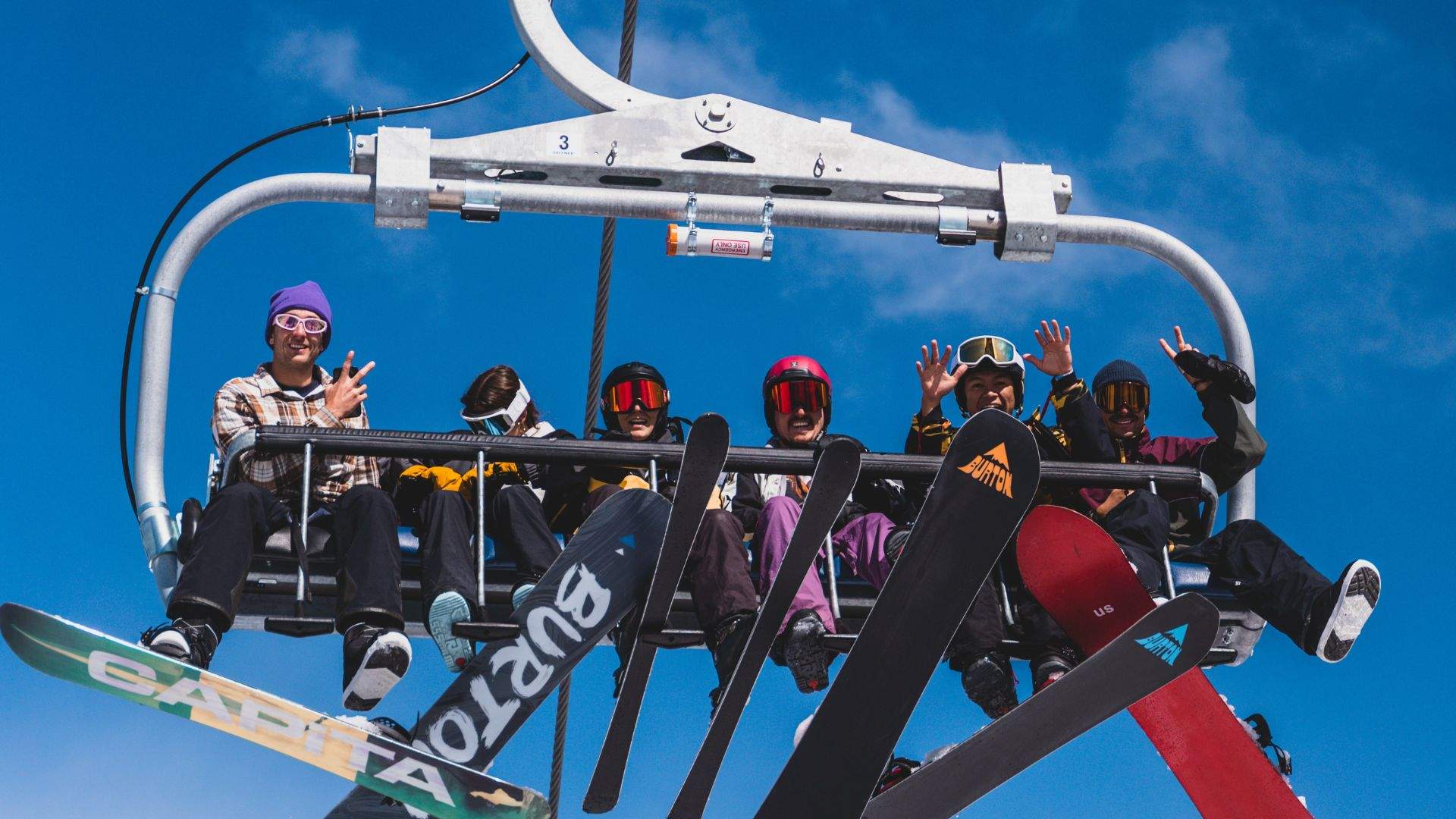 FIVE DAYS AT THE MACHINE
Snow Machine's 2023 Queenstown schedule started small and built up throughout the week, with each day busier than the previous. The festival officially kicked off on Tuesday, September 5 with an opening party at Kawarau Bridge Bungy. Local DJs took to the decks as punters got the week started with a dose of adrenaline — and one guy set the tone for the upcoming days by taking the plunge in his birthday suit.
Wednesday, September 6 was the first day up the mountain for many of the patrons, as DJs and artists started their rotation of sets throughout both Coronet Peak and The Remarkables, with each mountain having two stages. That night was the first of many side parties at Canyon Brewing, a brewery just outside of Queenstown with stunning views across the Shotover River. These side parties continued each night, with after parties taking over three Queenstown nightclubs.
The next two days were the most jam-packed of them all, with the main festival arena swinging into action and the infamous Polar Bare (emphasis on bare) taking place. As you may be able to glean from the title, this is a ski run like no other, as punters strip off to ski down The Remarkables wearing anything from a brightly coloured bikini, a mankini or even some fancy lingerie. Just one rule rang out over the loudspeaker on the day: "the lifties will not let you on if you're naked".
Friday saw one of the more exclusive events take place, a VIP long lunch. Before 2023, it had never been open to the public — and this year's sold out instantly. The ski-in, ski-out experience featured a three-course meal and endless rosé thanks to Whispering Angel wines, as enjoyed at long tables adorned with pink decor and lined with fur-covered seats.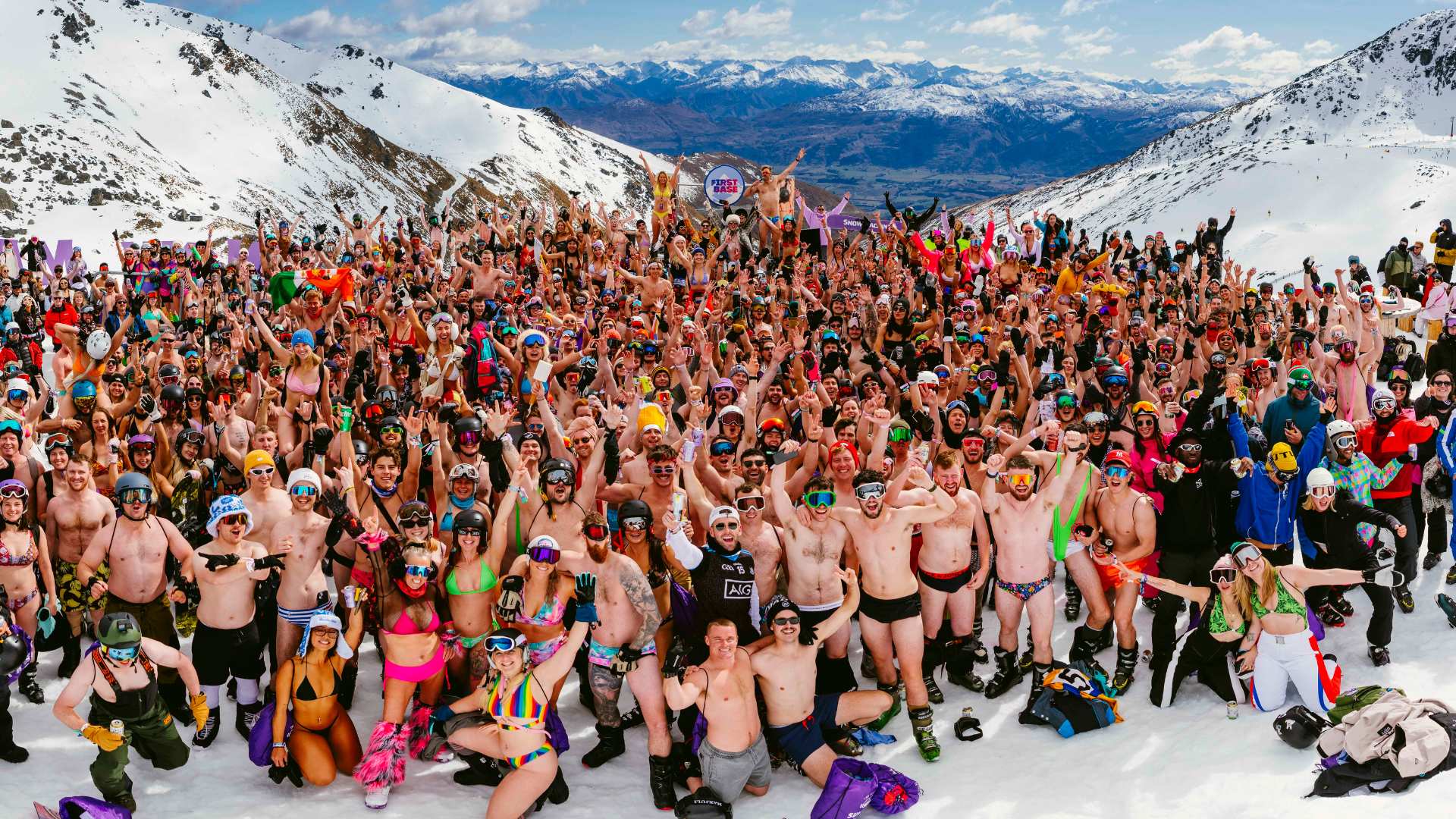 SNOW MACHINE'S MAIN ARENA
The main arena, assembled near Queenstown Airport, was open for business as of Thursday night, with Hilltop Hoods and Shapeshifter drawing the biggest crowds. For those who wanted a little more luxury in their festival experience, Snow Machine offered VIP tickets, which included access to an impressive two-storey marquee with rustic fake fires, comfy couches and — perhaps most importantly in a festival environment — very fancy toilets.
Everyone's favourite social media lads The Inspired Unemployed were on the scene to oversee their Better Beer pop-up, a lager that they launched in New Zealand in 2022 and were shilling successfully to their adoring fans, with Red Bull vodkas and Odd Company RTDs joining the drink selection. To soak it all up, festivalgoers had multiple food trucks to choose from, with options including pizzas, kebabs, Chinese savoury pancakes and dumplings.
That evening was even bigger than the last, with New Zealand's national treasure Benee owning the night with her set, and almost getting lost in the crowd when she attempted to crowdsurf in the middle of a song. Peking Duk closed out night two, with the Aussie duo always ready for a party and bringing the crowd along with them, screaming at the audience to get on each other's shoulders despite security being vehemently against it the previous night.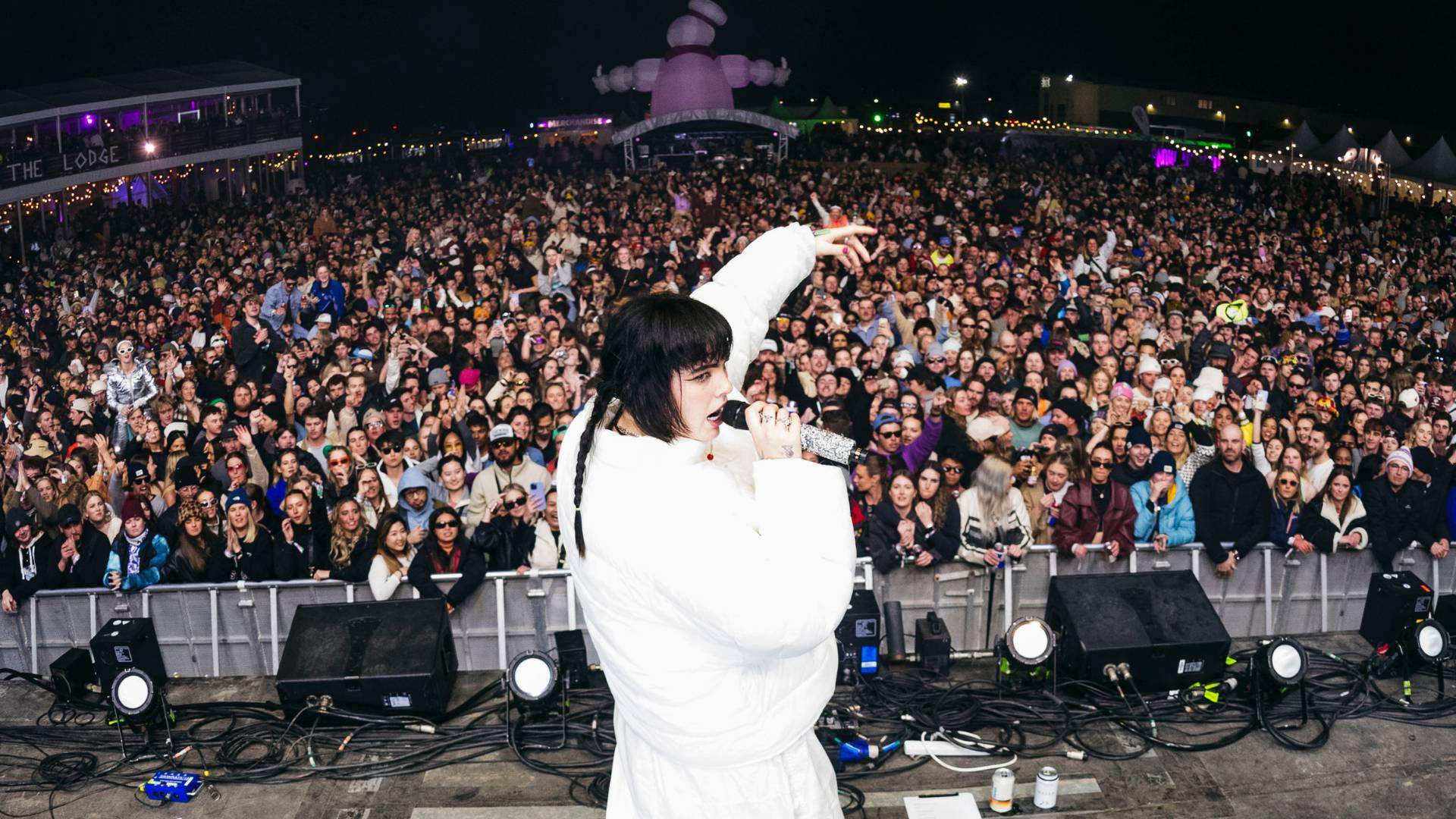 WHY SHOULD I GO?
Muz's message of bringing people together doesn't just include the patrons themselves, but the crew who puts it all together. This huge group of fun, like-minded and kind people are doing it all just to make sure that people have a good time — and, wandering around the festival grounds and up the mountain, you can see that they've passed that test with flying colours.
There's no doubt that nostalgic sense of camaraderie has been achieved, as festivalgoers run into each other on the ski chairlift and the mosh pit, surrounded by their party people all week. That feeling is why so many of the punters are repeat guests, because that vibe is hard to appreciate before seeing and feeling it for yourself.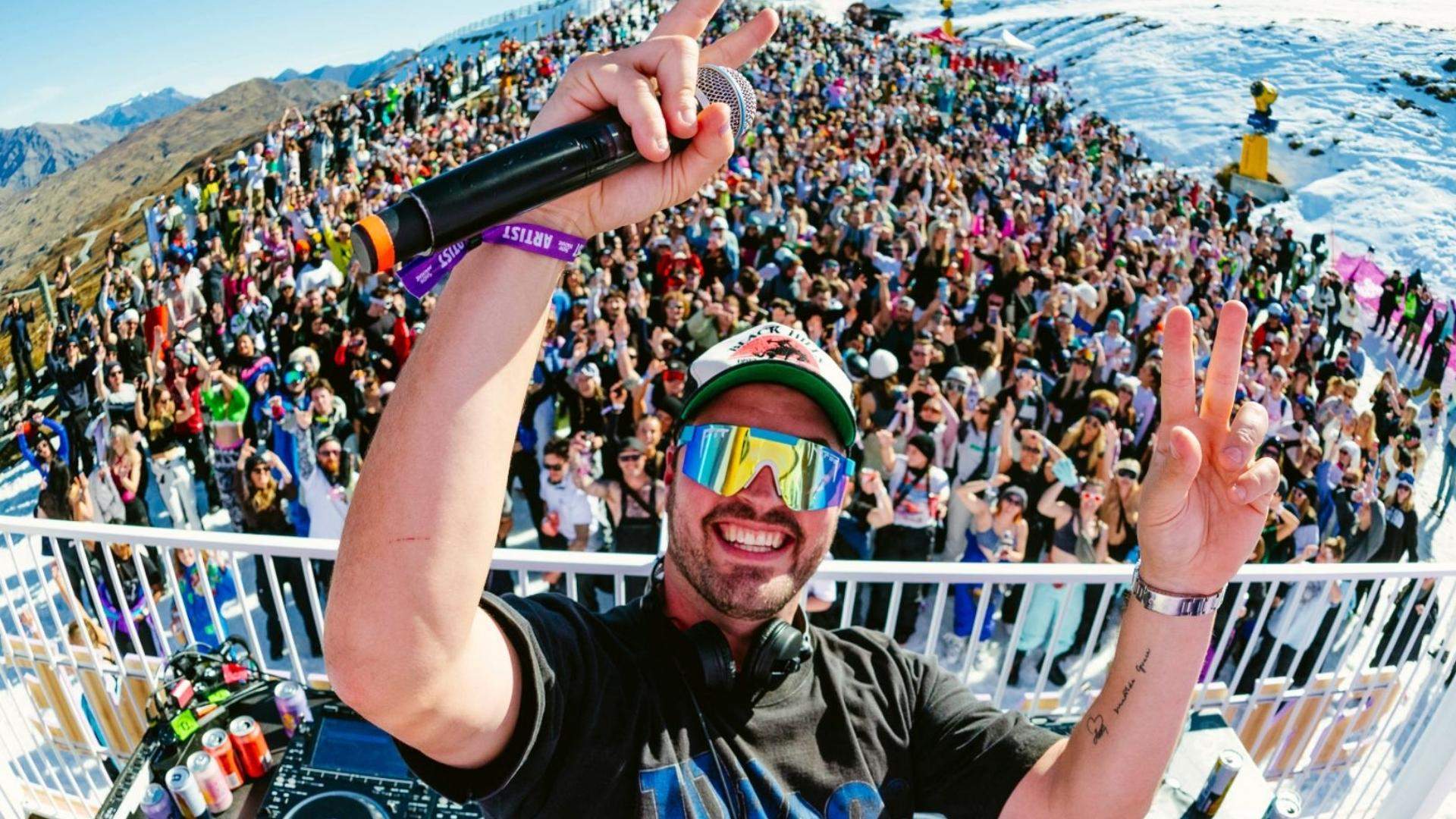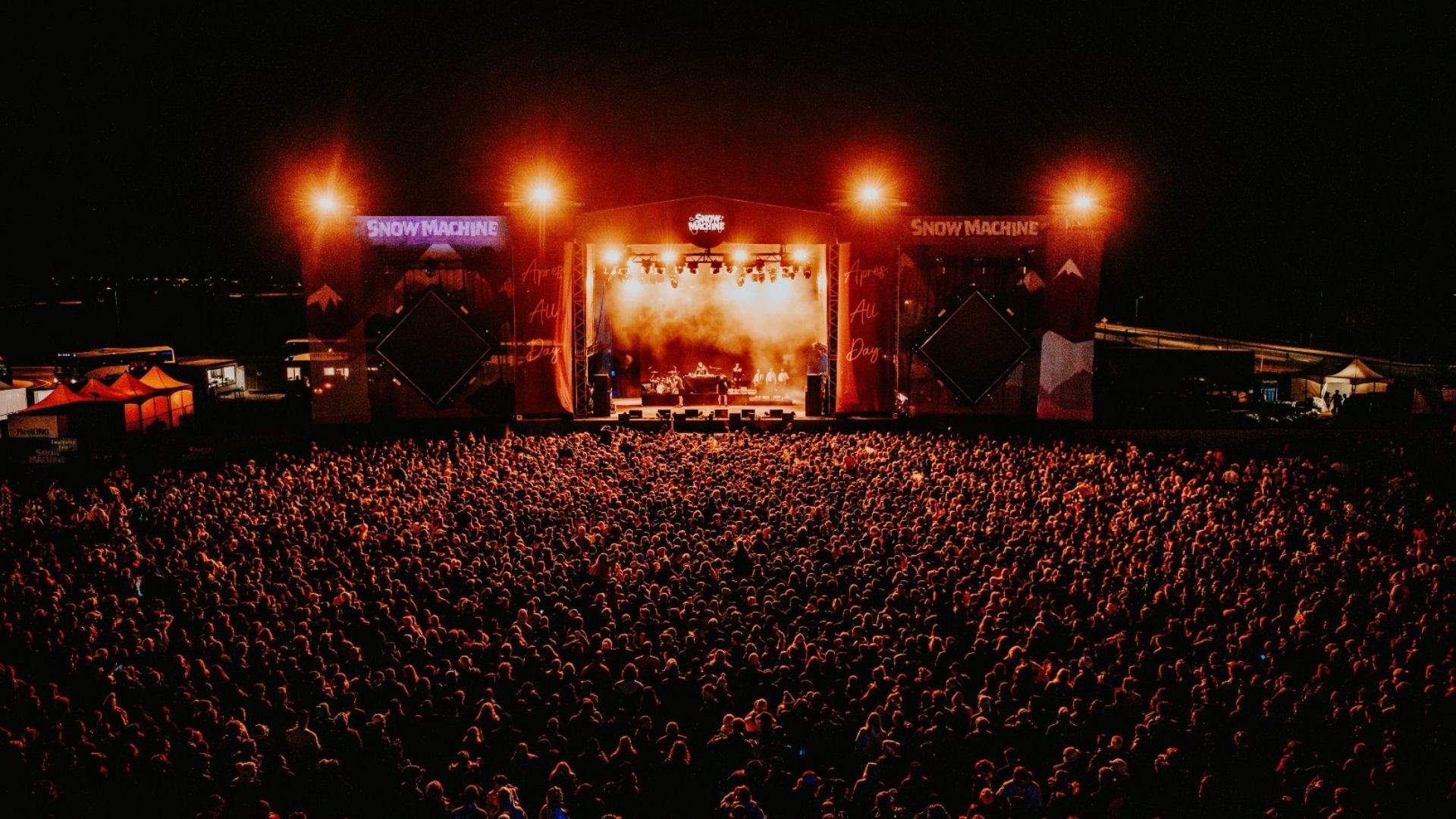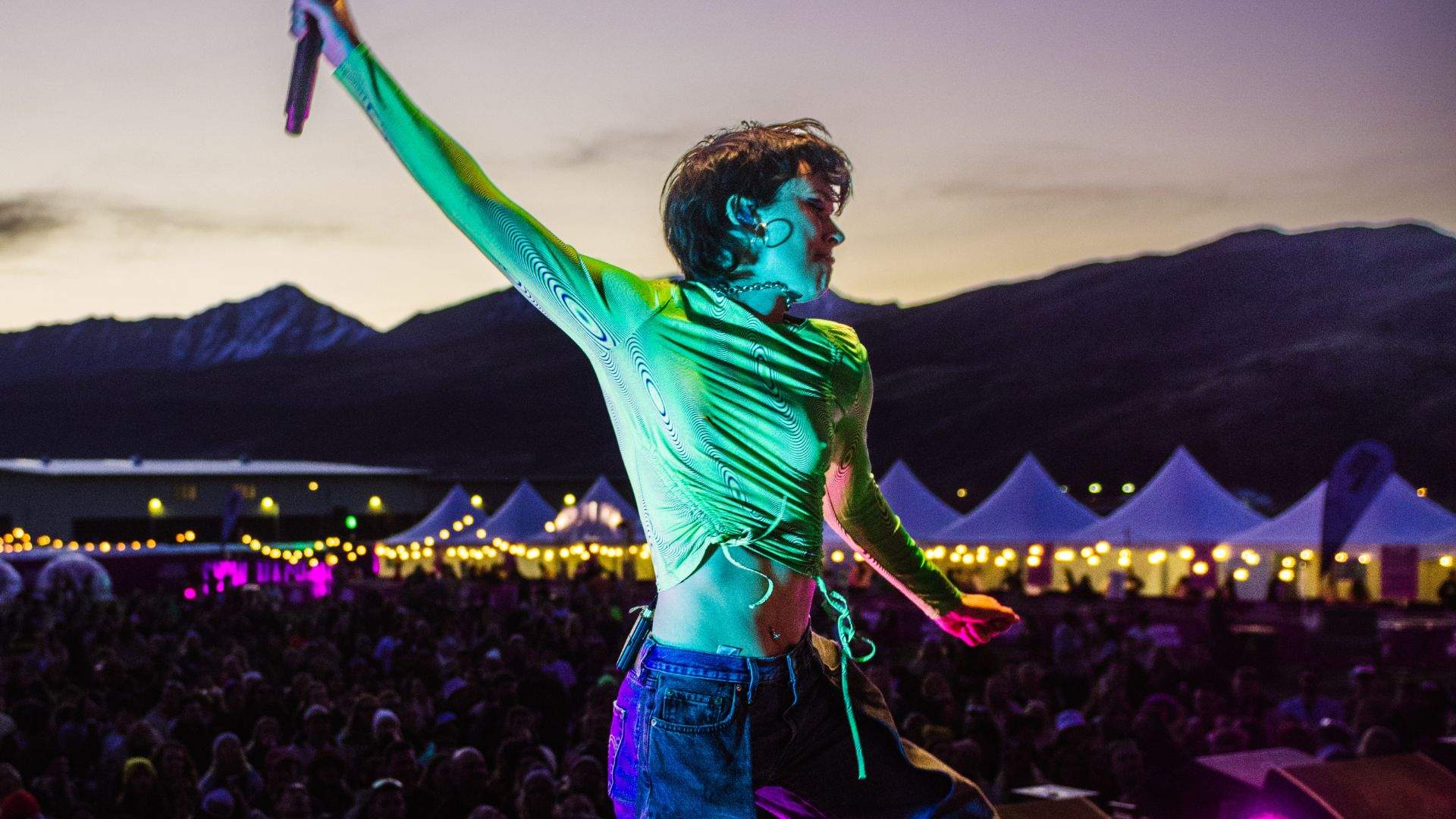 Snow Machine Queenstown 2023 ran from Tuesday, September 5–Sunday, September 10 in Queenstown, New Zealand. Head to the Snow Machine website for information about Snow Machine Japan, and keep your eye out for early-bird registration to Snow Machine Queenstown 2024. 
Images: Chris Kay / Pat Stevenson / Han Lowther / Daniel Hilderbrand.
Concrete Playground Trips
Book unique getaways and adventures dreamed up by our editors