New Zealand charity Live More Awesome recently went ahead and did the unthinkable. They went and created the World's Biggest Waterslide, just west of Auckland near Bethells Beach. A crazy outlandish idea. Why would you do it? Surely there is better things to be doing with your time and money? Well after reading the below letter from Dan and Jimi from Live More Awesome, you will begin to understand why.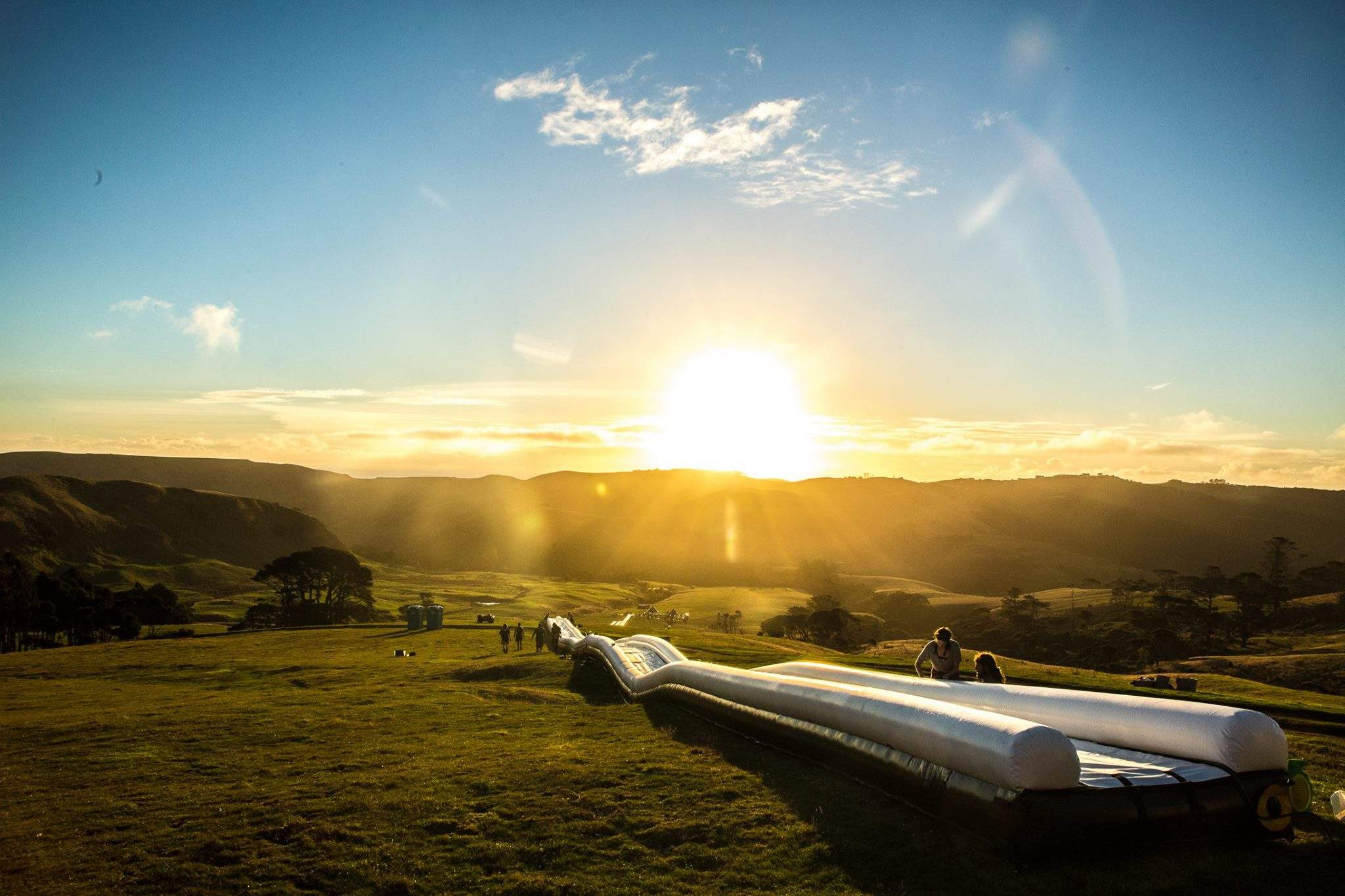 I would like to tell you a story about the last six months in the life of LMA, Jimi and Dan...
Pretty much everything went wrong. We had money promised, we lost the money. We had sponsors, the sponsors backed out. We had a location, then we didn't have a location, then we got another one, then that fell through too. Stuff broke; trucks, cars and waterslides. Yes, you probably don't know, but two weeks out from the event we broke two sections of the waterslide.
People came, people went. Stuff was meant to happen, then it didn't. People said they were going to do things for us, then they didn't. Other people went around the country causing drama at water slide events over and over again, people thought it was us and yelled at us for it, over and over again. Dan and I ran short of money because we couldn't do our normal jobs like we wanted to. We had no money for marketing because we have no funding. Not very many people signed up to fundraise because they thought we were those other guys who had created a bad experience for people. Not a lot money was raised and just today we received a big bill for that we had no idea was coming.
The stress hurt our souls. And relationships. Tears were shed.
There is a lot more that I don't need to write down but let's just say that pretty much everything that could have gone wrong over the last six months has gone wrong.
Here are my lessons from this:
Stop. Breathe. Soothe, don't solve.
In the end everything worked out beautifully because we let it. We let anger pass. We let frustration pass. We let sadness pass. We let disappointment pass. Then, we let the answers come to us... We came up with them, we worked to find them and we allowed amazing humans to come and help us. Over and over again they showed us love.
In the end we created THE. WORLD'S. BIGGEST. WATERSLIDE. Sometimes I have to spell it out to myself just to make sure I understand the magnitude of what we have done.
Out of shit. We made that slide out of problems and troubles. Just like life. There is no 'easy life', EVERYONE has stuff go wrong, not just us, everyone. It is simply how you deal with it, how you overcome it and how you lean on the people around you for help.
If I, and we, had let any of what we deemed to be major setbacks effect us, then none of this amazingness would have ever happened.
We held an amazing event with no problems and many, many happy customers. We helped a lot of people with depression, anxiety and mental health issues, we also generated a lot of discussion around mental health... We know this because you tell us your stories, you lift up our hearts just as we did yours. We each make a difference in each others' lives. That is community.
Thank you to us, for learning, for evolving and for not giving up, and thank you to everyone else for your love and support. As individuals, it's very hard to make a difference - as a community, we can change the world.
Jimi & Dan.
If you wish to help out or find out more about the cause, please head to the Live More Awesome website.
Published on April 09, 2015 by Kyle Bell