ARTS & ENTERTAINMENT
Artist Carsten Holler Builds Giant Slide in Germany
Off-hours at work just got significantly more fun.
This artist refuses to stop sliding. Longtime lover of the playground staple, Carsten Höller has been bringing slides into his work since the '90s. Now he's installed a colossal freestanding slide at Swiss furniture company Vitra's campus in Weil am Rhein, Germany. Off-time just got a whole lot better for Vitra residents.
Höller's latest piece, straightforwardly named Vitra Slide Tower (2014), stands at a whopping 100 feet tall. It's also a clock. Why not.
"I think it would change our lives if we could slide more," Höller told the New York Times. True that, imagine sliding from bed to work instead of that dastardly train trip. You're feeling a cheeky second morning coffee but you work in a walk-up? Sliiiiiide. You're running late but the nearest bus stop is at least twenty minutes down the hill thattaway? Sliiiiiide. You despise the Goo Goo Dolls but your housemate just cranked their Party of Five-friendly '98 single? Sliiiiiide.
Höller has been using slides in his work since 1998, from the Berlin Biennale to his hugely popular 2007 work Test Site in the Turbine Hall at London's Tate Modern. More recently, Höller installed a spiralling tube slide through all four floors of NYC's New Museum as part of his stunning 2011-12 takeover exhibition Experience. You'd jump in here...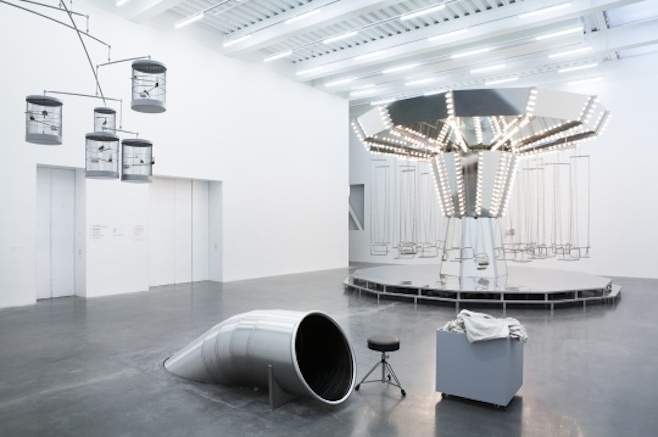 ... shoot through here...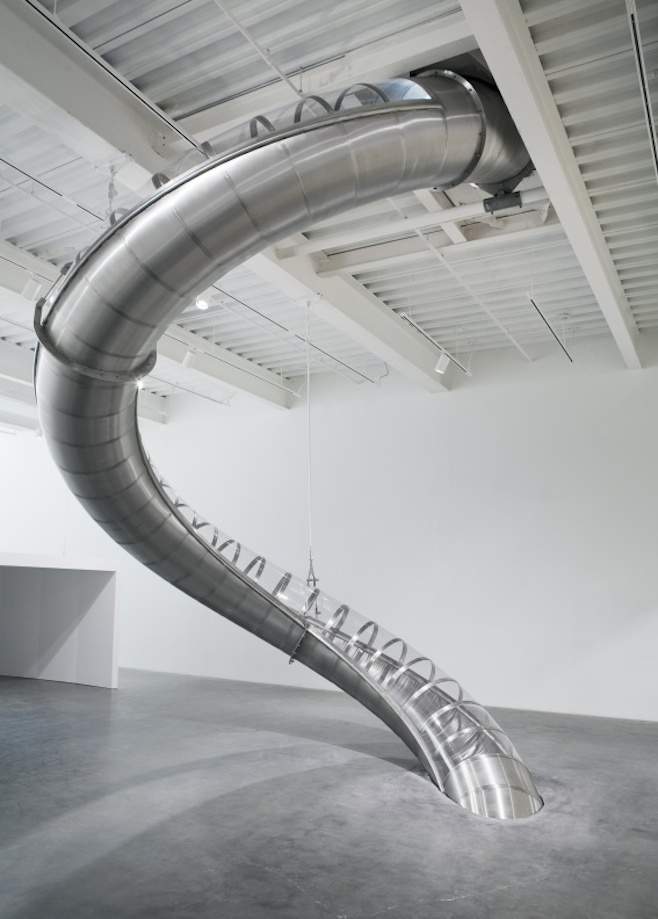 ... end up here.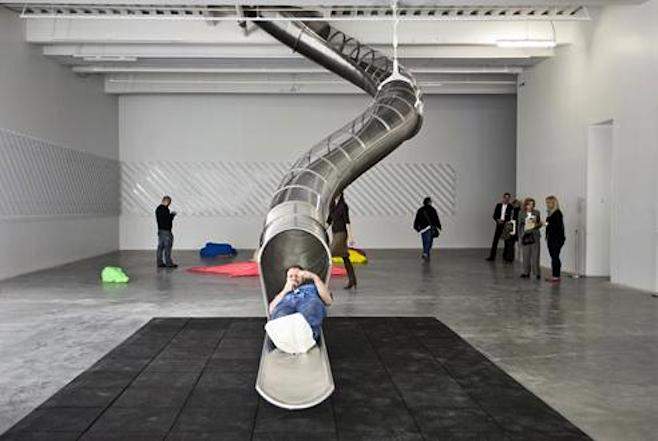 Then race back up stairs, push the kiddies out of the way and ART AGAIN!
But there's more to sliding than "WEEEEEEEEE!" Höller more eloquently quotes French sociologist Roger Caillois in his New York Times interview, seeing structures as more than their functional ability to transport things — creating what he calls a "voluptuous panic" during sliding.
Höller's love for sliding is reminscent of the time a UK artist decided to build a giant Slip N Slide through Bristol, primarily because he was jaded by how people move from A to B. Either way, dudes know how to party.
Via artnet and New York Times.
Published on June 20, 2014 by Shannon Connellan