Six Must-Visit Swimming Holes in Auckland
Cool off at an inner-city waterfall, a North Shore hidden gem or a crystal lake surrounded by mega sand dunes.
It's a surefire way to win "coolest friend" when you show someone a secret swimming hole for the first time, and luckily, living in New Zealand, we're not short of options. With the mercury hitting tipping point in recent weeks, it's about time you get sorted with some fresh water swimming holes. As an added bonus, these beauties are all within arm's reach of the CBD. 

After Jane Campion's Oscar-winning film The Piano made Karekare Beach internationally popular back in 1993, the falls have been gaining more attention each year due to the stunning walk through the forest to find the hidden fresh water swimming hole. The height of the waterfall is supposedly 25 metres and you can find it after just a short walk from Lone Kauri Rd into the forest. There's even a picnic table so you can take long exposure photos of the falls (great for Instagram) or stop for a bite to eat.

While Karekare Falls is off the beaten track, Kitekite Falls (be sure not to confuse the two) is more well known and popular on the tourist trail. Don't worry, there are never hoards of visitors crowding your shot but you may make a new friend or two. Also it's just a short walk from Piha, so start the day with a hike and some fun swimming amongst the waterfall, and finish it with fish and chips at sunset on the wild west coast beach.

Head out towards Te Henga/Bethells and you'll eventually come across the Lake Wainamu Track. Hike along the stream until you reach the stunning lake, surrounded by mountains and sand dunes. Lake Wainamu is gorgeously refreshing to swim in on a hot day and has the most beautiful crystal clear water. Don't forget to take a boogie board or some cardboard to slide down the dunes if you're up for some kidult fun.

With a six-metre curtain of cascading water, this inner-city waterfall is absolutely jaw dropping — and only a hop, skip and a jump from downtown Auckland. The "hike" (we use the term loosely) to the falls is around 15 minutes return from Oakley Creek Reserve Walkway, also known as Te Auaunga. It's probably the most accessible swimming hole in Auckland and you can even catch a bus there, taking you from the city hustle to a magical waterfall in minutes. How Kiwi is that?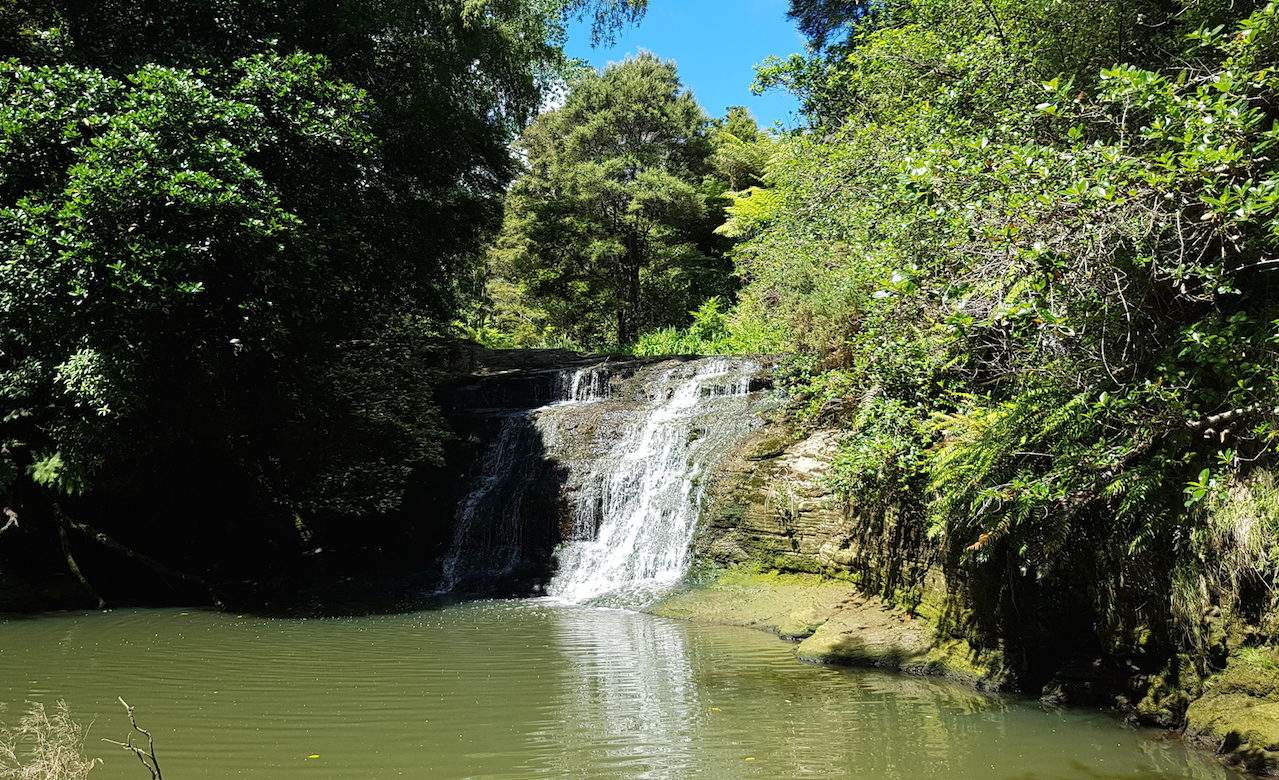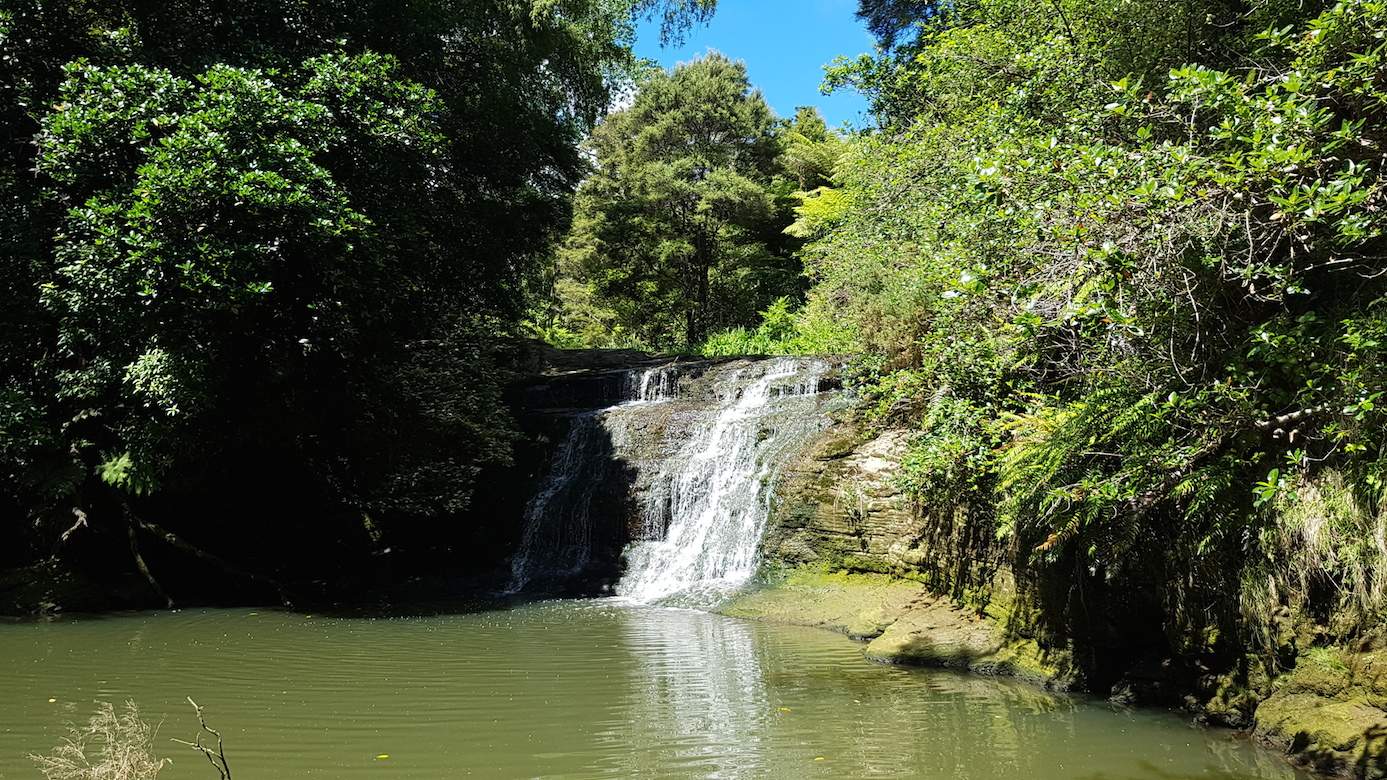 Located on the North Shore in Albany, Lucas Creek really is a hidden gem. This is one of the most easily accessible swimming holes and waterfalls around Auckland, and it's a real shame not many people seem to know about it. A short 20-minute drive from the city centre, the track to the falls is paved and has no steps so is suitable for wheelchair users and prams.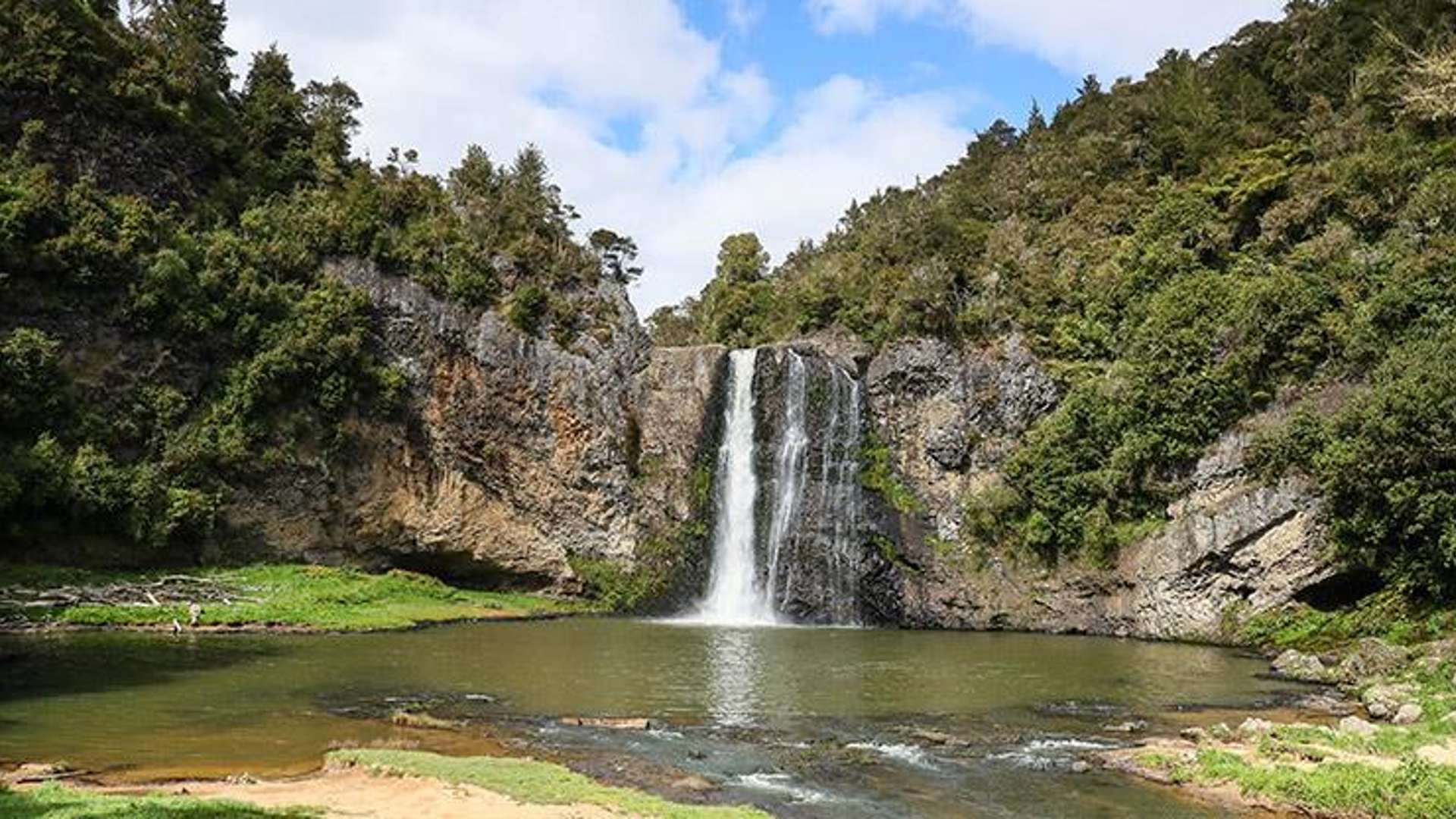 The waterfall at this popular swimming spot 45 minutes south of Auckland is one of the tallest in the region — it stands at a whopping 30 metres high. If you recognise this plunge pool it's because it reached international fame after being featured on Xena: Warrior Princess. This is a particularly popular spot for locals, but be careful: the water can be deep and chilly, with some rocks hiding under the surface. It's a refreshing place for a plunge on a hot day, but you also need to tread carefully. If you'd rather admire the falls from land, enjoy a picnic at one of the tables nearby.

Note: The original version of this article recommended taking a dip at Warkworth's old cement works. The site is now closed due to algal bloom and high E.coli levels. Due to low rainfall levels, toxic algae can be present in rivers during summer. Check out the Can I Swim Here page on the 'Land, Air, Water, Aotearoa' website for weekly river warnings.