ARTS & ENTERTAINMENT
NY Graffiti Landmark 5Pointz Is Dead; Long Live 5Pointz
Long Island's iconic graffiti landmark has had an overnight ninja whitewash.
The art form of graffiti, one of the four sacred pillars of hip hop culture, has suffered a blow this week after Long Island City's epic aerosol art landmark, 5Pointz, the cathedral of cool, was whitewashed overnight. Who are the culprits that would destroy such a monument? Who would dare to deface creative defacement? None other than the building owners themselves, Jerry and David Wolkoff (which I choose to misread as Walkoff, as in, "It's a walk-off").
Also known as the Institute of Higher Burning, 5Pointz has for years drawn graffiti artists and appreciative crowds to Long Island City, and it's in good company, MoMA's PS1 being the other creative landmark in the area. 5Pointz curator Meres One had plans to turn the site into a museum and educational space, which certainly would have been both fitting and awesome, but those plans were dashed by the owners' envisioned residential redevelopment.
The Wolkoffs have big plans for the site, hoping to erect a double high-rise apartment complex serving young New Yorkers and empty nesters. Is it another case of irreplaceable cultural riches sacrificed on the altar of corporate greed? Probably, although the Wolkoffs do pledge (via Twitter, anyway) large walls available for future graffiti art.
In an ironic twist, the graffiti artists who painted 5Pointz did so with permits, but the whitewashing ninja attack was carried out completely sans permit. Thus, traditionally legal and illegal forms of public mark-making appear to have swapped places in this particular case.
After months of local 5Pointz loyalists striving to get the building complex listed as a landmark in a last-ditch attempt to save it from being demolished, its fate now seems sealed. What is perplexing to everyone is why the Wolkoffs had to go and stealthily paint over the artwork, using police protection, in the small hours of the morning, rather than allow it to meet its end with dignity. It takes a sufficiently large and unguarded canvas, and a big creative community, to make something like 5Pointz. Hopefully its ilk can exist again.
Check out the full report and all the devastating photographs at Hyperallergic. Below: 5Pointz in happier days.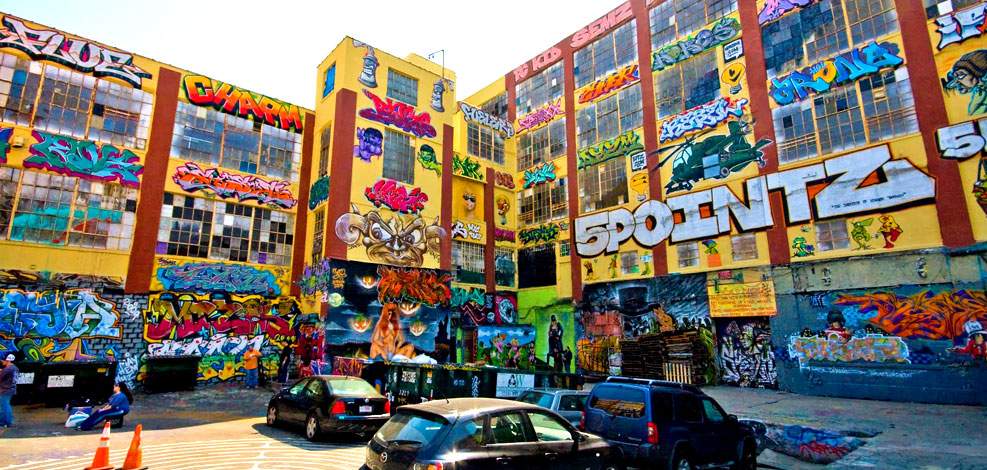 Published on November 20, 2013 by Shirin Borthwick