ARTS & ENTERTAINMENT
This Abandoned Underground Mine Is Now a Trampoline Wonderland
This is the stuff dreams (and nightmares) are made of.
In what's unsurprisingly being deemed the first of its kind, an abandoned slate mine in the Llechwedd caverns of Wales has recently been converted into an amazing trampoline playground. Featuring neon lights, huge bouncy netting, and awe-inspiring natural surrounds, this is one fantastical deathtrap that will be well worth all the hours of therapy it will inevitably necessitate.
Though it officially opens next week (July 3) Bounce Below is the stuff dreams are made out of. Particularly those dreams where you wake up falling inexorably to your death. Of course, we kid. This underground wonderland has been well fitted out with safety precautions — we're just lashing out because we're bitter about being on the wrong side of the world to experience it. And, with three levels of incredible trampolines and a spiral slide measuring 20 metres in height, there's an awful lot to be jealous about.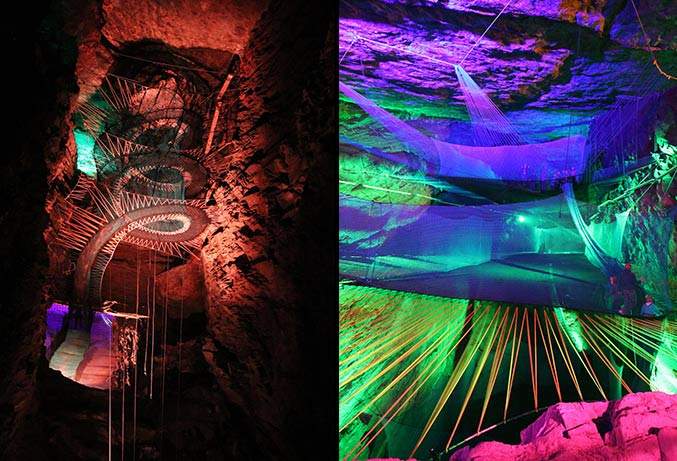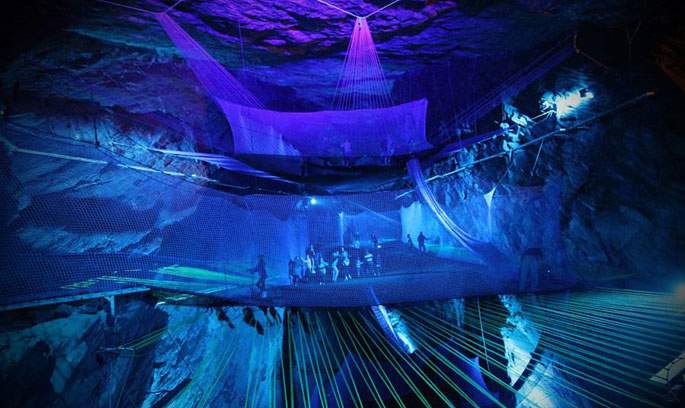 Far from your average cave tour, thrillseekers and historians visiting the seemingly unpronounceable small town of Blaenau Ffestiniog, North Wales can spend one hour bouncing around these unconventional caverns for a mere £15. Equipped with hard hat and matching overalls, both kids and adults alike can explore the many levels of bouncy bliss while enjoying the creepy serenity of being trapped underground.
With the recent announcement of a a giant boobie bouncy castle at the Museum of Sex in New York, it seems like bouncing is the new hip activity around the world this week. If you need us, we'll be practicing our double-bouncing techniques at home while waiting for this giant novelty trend to hit Australia and New Zealand.
Via Huffington Post.
Published on June 28, 2014 by Meg Watson