ARTS & ENTERTAINMENT
Eight New Books to Read While You're Spending More Time Indoors
Explore the underbelly of 1980s Queensland, enter a fictional dystopian world or learn how to get your money sorted.
Why is it that we look to books for comfort in times of need? Literature has a beautiful path of communication and leading us into new worlds. In a time when many of us are going inwards, there are a handful of books that can guide us through. Here, that could mean exploring the underbelly of Southeast Queensland through the eyes of a teenage drug dealer, entering the dystopian world of a Man Booker Prize-winning author or learning how to get your bank account sorted. Where possible, support your local independent bookstore through these uncertain times and enjoy the world of literature.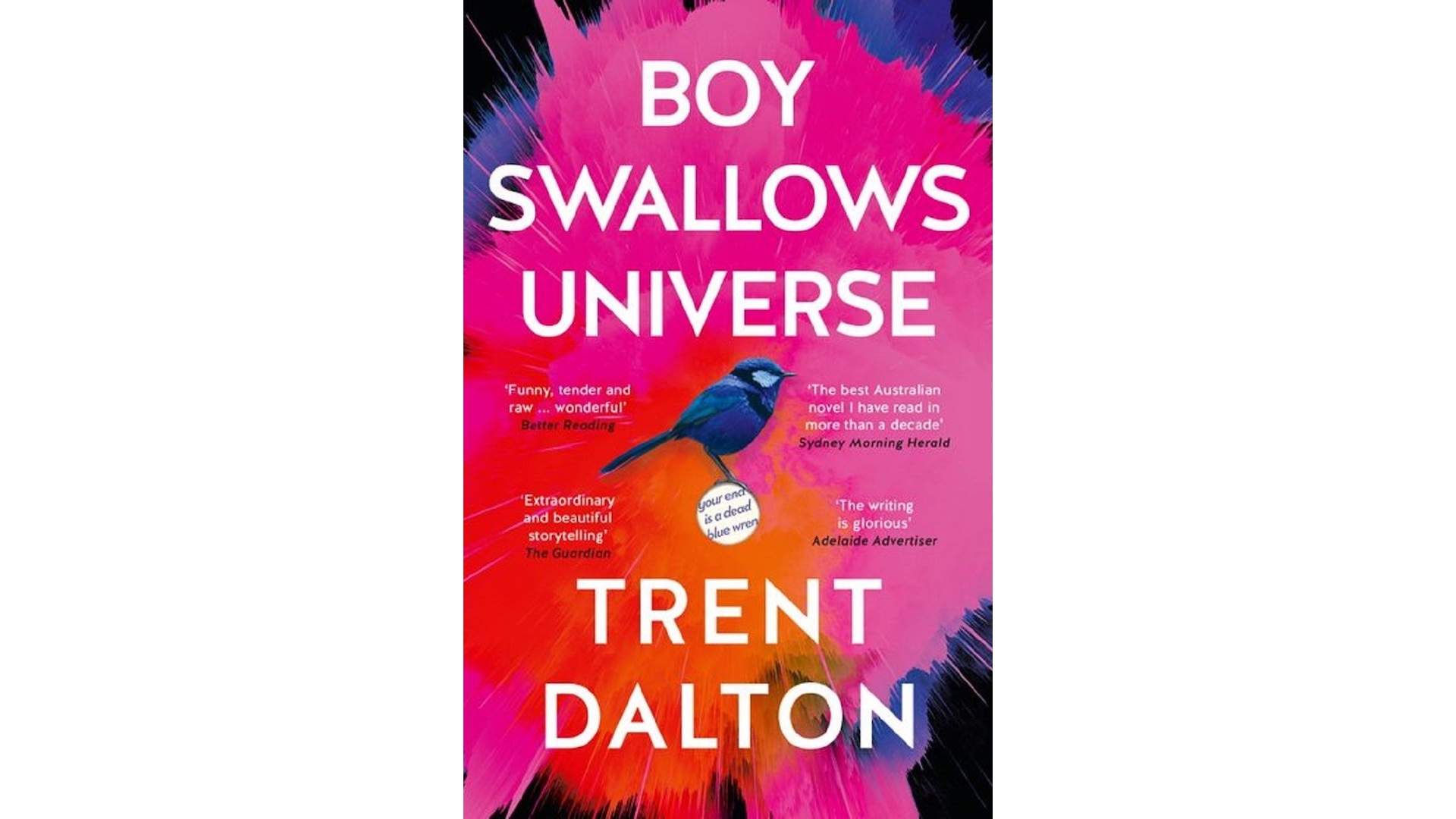 BOY SWALLOWS UNIVERSE BY TRENT DALTON
Trent Dalton's groundbreaking debut novel lives up to the accolades on its cover. The Courier Mail journalist explores the underbelly of Southeast Queensland through the eyes of a 12-year-old heroin dealer, who's best friend is a 60-something escaped convict named Slim. Something unusual happened while reading this exquisite piece — I had an urge to scribble on the pages. Do yourself the biggest favour yet, and devour Boy Swallows Universe in one sitting.


THE TESTAMENTS BY MARGARET ATWOOD
Right now the universe is experiencing something that even Margaret Atwood couldn't have predicted, but this recently released sequel to The Handmaid's Tale predicts a dystopian future that doesn't seem too far off if we don't clean up our act. The Testaments comes 35 years after the Canadian author's novel that sparked the hit TV series we can't get enough of. The novel picks up 15 years after the events of The Handmaid's Tale and alternates between the explosive testaments of three women from the Republic of Gilead. If you've felt yourself on the outskirts of good literary conversation of late, reading the winner of the 2019 Man Booker Prize from cover to cover will throw yourself right into the midst of it.


EXPECTATION BY ANNA HOPE
If your anticipation for the next Sally Rooney novel is wearing thin, Expectation is for you. Regularly compared to Rooney's cult hits Normal People and Conversations With Friends, Anna Hope's recent release embraces a raw and real approach to relationships. Expectation is a novel of the highs and lows of friendships — how they can dip, dive and rise again, and the way we somehow find our place among it all. It follows the ten-year timeline of best friends Hannah, Cate and Lissa from a shared world of art and activism, romance and revelry to flailing careers and faltering marriages. 


TALES FROM A FINANCIAL HOT MESS BY FRANCES COOK
There are books that you slowly warm to. Then there are books that you know are going to change your life before they jump off the shelf at you. This one is the latter. The New Zealand Herald journalist Frances Cook's debut guide found it's way into my life with divine timing. Books have the power to change your life, and Tales From A Financial Hot Mess was no exception. It offers an opportunity to adopt a new way of being and sort your money shit. Learn new skills and turn the relationship with your bank account on its head (or tails). Money is a difficult, awkward and anxiety-inducing conversation to have, but within the first few chapters of this handy guide your financial stresses might just fly free. Budgets just became beautiful.


WHERE THE CRAWDADS SING BY DELIA OWENS
It may not be the freshest release, but Where The Crawdads Sing is the book on everyone's tongue and Kindle search list. It has been noted as the coming of age story of the 2010s and a delicate novel with poignant reminders of our fragility. Delia Owens reminds us that we are forever shaped by the children we once were and that we are all subject to the beautiful and violent secrets that nature keeps. This debut novel was even a New York Times bestseller for 58 weeks. It's not the newest book on global shelves, but it's slowly making it's way from North Carolina to our shores.


THE XX BRAIN BY DR LISA MOSCONI
The XX Brain explores one of society's most debilitating conditions: dementia. Dr Lisa Mosconi draws on scientific research and theory to develop an approach for women to prevent disease and improve brain health. The graphs are emotive and the theories are compelling. The flow is engaging even if you failed high school science, and Dr Mosconi's credentials are astounding. Understanding that the brain of a woman is different from that of a man is crucial in saving lives when it comes to dementia, and The XX Brain gives us the tools to do just that.


CILKA'S JOURNEY BY HEATHER MORRIS
If Heather Morris' The Tattooist of Auschwitz gripped you like no other, then her followup, Cilka's Journey, is the next step on this path. Based on the true story of a woman who survives Auschwitz, it features the same unforgettable tone and strength that taught us all the meaning of survival is inviting. Morris' novel teaches us that sometimes life isn't handed out fairly, but it's how we deal with hardship that shapes who we truly are. A must read for cosy days indoors and an excuse for letting all those bottled emotions run free.


KNOW MY NAME: A MEMOIR BY CHANEL MILLER
Content warning: sexual assault.
You may not know her name, but her assailant's will leave a bitter taste on your tongue. The case of Brock Turner was one that rose to international news, but we never heard his victim's story. She became just that, Emily Doe, the unknown victim who's intimate inner workings of her life were splashed across headlines. But she is so much more; a survivor, a fighter, an artist and a writer. She is Chanel Miller and with Know My Name she reclaims her story.

FYI, this story includes some affiliate links. These don't influence any of our recommendations or content, but they may make us a small commission. For more info, see Concrete Playground's editorial policy.
Published on March 24, 2020 by Tess Patrick