ARTS & ENTERTAINMENT
SBS Announces First Ever Asia-Pacific Eurovision Song Contest
And Australia is up for hosting the first one.
SBS Announces First Ever Asia-Pacific Eurovision Song Contest
And Australia is up for hosting the first one.
Man the glitter cannons, crank the human-sized hamster wheels and blast the oversized wind machines; SBS has just announced it's developing a version of the Eurovision Song Contest for the Asia Pacific region. Yep. HOLY. CRAP.
Announced today, the Australian broadcaster has signed an exclusive option with the European Broadcasting Union (EBU), the owners of Eurovision, to establish an Asian version of the contest. And guess who's up for hosting? AUSTRALIA. Really.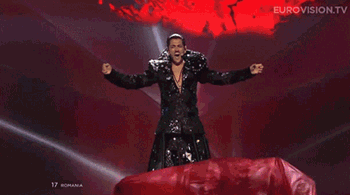 According to SBS, the inaugural event would be hosted by Australia in 2017 (next year, my giddy aunt) and would then travel to other countries in the Asia Pacific. Like the Eurovision Song Contest proper, the Asia Pacific event would allow countries to showcase their songwriting and performing talent. Think about it, from J-Pop to K-Pop to Bollywood, this is perfect territory for Eurovision.
"As the official broadcaster of Eurovision for over 30 years, SBS is pleased to explore the opportunity to bring an event of this calibre more closely to our shores, strengthening the multicultural ties in our region," said SBS managing director Michael Ebeid. "Asia Pacific has a spectacular music culture and the perfect next step to extend the Eurovision brand, bringing its hugely popular appeal beyond Australian audiences and to the wider region."
Capitalising on the undeniable global success, crazy, crazy production values and epic scale of Eurovision, this brand new (and insanely close-to-home) event would bringing together up to 20 countries from the Asia Pacific region to compete in one live annual grand final.
SBS and Blink TV will spend the next few months talking to potential sponsors, commercial partners and regional broadcasters to bring the event to life by 2017. With the potential to attract an estimated one billion viewers across the Asia Pacific region, we're pretty sure these'll be positive chats.
No pressure, Dami Im.
Image: Thomas Hanses (EBU).
Published on March 21, 2016 by Shannon Connellan