FOOD & DRINK
The Ten Best Markets in Auckland
Farmers' markets have been going through a kind of renaissance in the greater Auckland region of late and rightly so.
Markets have been going through a kind of renaissance in the greater Auckland region, and rightly so. Not only are the prices often a bit cheaper than what you'll pay at the supermarket, but going local also offers fresher produce and a more social and relaxed way to shop. Having a yarn with the vendors about their products, helping yourself to samples of speciality dips, cheeses and breads, listening to live music and taking in the aromas are all part of the experience. From the inner city to the outskirts of Auckland, and everything in between, we've picked the best markets in Auckland. Some are all about food while others offer a combination of food and crafts. Night markets are, of course, big at the moment too but we've decided to leave them out of the discussion for now, trying to choose just ten day markets to recommend was tricky enough. So here are the ten best reasons to ditch the supermarket this weekend and get amongst the growers and producers.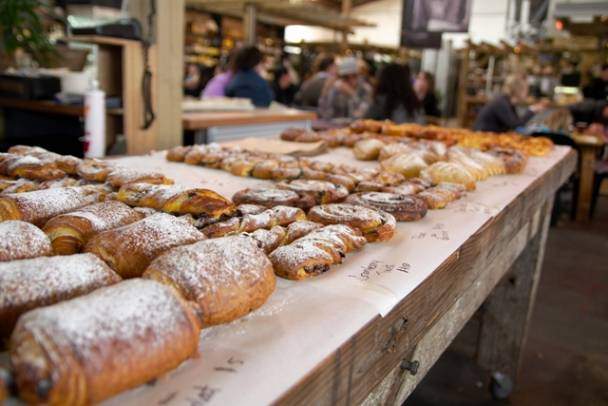 69 St Georges Bay Road, Parnell When: Saturdays 8am - 1.30pm; Sundays 9am - 1.30pm This market comes in at number one because it has a little bit of everything from potatoes to ganache, and the quality is top notch. It also happens to be pretty conveniently located for city dwellers. As much fun as it is to make a half-day trip out of going to a market, this is one you can head to in the morning and still have most of the day free. Much of the food is French and Mediterranean inspired but there is a little bit of everything. Come here for fantastic French bread; you'll find baguettes, pain au campagne, kumara or potato bread and sourdough among other classics at La Cigale. When you arrive, head inside grab a coffee and an almond croissant, pull up a chair at the communal tables and soak in the atmosphere. If you feel like something savoury try a roll made with traditional ham off the bone or go for my favourite snack of macadamia nut-encrusted fresh fish or scallops from the Cathedral Cove Macadamias stall. You'll also find an array of imported French cheeses and Ripieno handmade ravioli here, both a bit pricey but well worth it. The other great thing about this market is the main fruit and vege stall. It stocks a huge array of produce and is always fresh and tasty. Free parking is provided but prepare to wait if you arrive after 10am.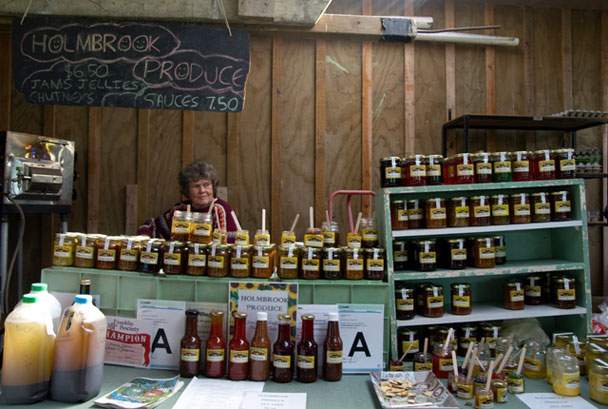 Clevedon Showgrounds, 107 Monument Rd, Clevedon When: Sundays 8:30am - 12pm Set in the gorgeous Clevedon countryside this market is a smorgasbord of fresh quality produce from around the area. This is where you'll find Curious Croppers tomatoes, a favourite among Auckland's fine dining chefs. These black, red, yellow and white flavoursome toms bear no comparison to insipid supermarket varieties. Clevedon also sells loads of seedlings and fresh flowers, Culley's award-winning chilli sauces and organic apple, pear and grape juice. The heritage vegetable seeds stall is a great find for anyone with green fingers and inside there's the Clevedon Valley Buffalo Mozzarella Company, the Salmon Man and organic meats. If you're feeling peckish, grab a hay bale or picnic table and try the always-popular bacon and egg baps or the Argentinian empanada. Photo credit: Ben Crawford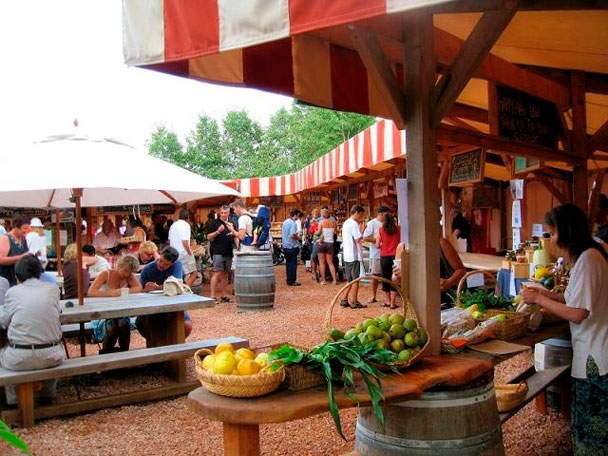 Matakana Valley Road, Matakana When: Saturdays 8am - 1pm Luscious produce from the area fills the stalls – fruit and vegetables, delicious home baking, Italian-style sausages, divine organic chocolate, fine wines and boutique herb-infused olive oils, locally-brewed beer and the all-important morning coffee with live music as an accompaniment. Friendly locals help you through your Saturday with plenty of samples and festive flair but be warned, this market is popular and fills up with people early. Among the more unusual market stalls you'll find Mike's Sharpening Service, take in your blunt knifes and he'll make them as good as new. If you feel like an injection of good health, try one of the brightly-coloured Go Raw Smoothies, the green option is utterly delicious. Slightly pricier than the other alternatives and no doubt further away but Matakana offers the premium market option, and hey, the parking's free.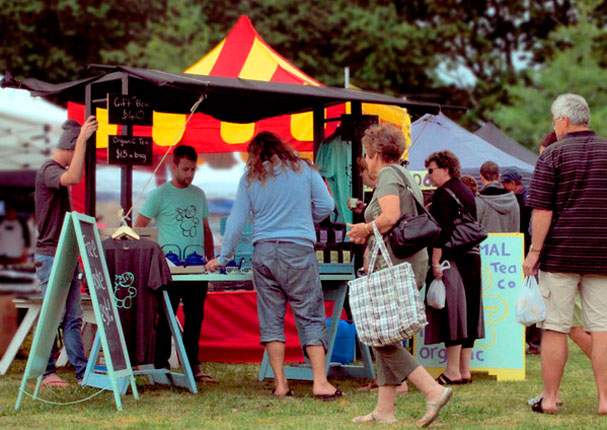 2 Mahoenui Valley Rd, Coatesville When: First Sunday of the month, 10am - 2pm Come here if you're after quality crafts, second-hand goods and lunch. This is the best market I know for crocheted baby clothing and rugs as well as quality wooden furniture at pretty reasonable prices. You'll also find old-fashioned crockery, vintage poster art and a good selection of plants and hanging baskets for sale. As far as food goes, there's plenty of options but I almost always opt for the pizza from inside the hall. It's $3 a slice (bargain) and comes laden with roast veges. It even impressed my carnivorous friend who made a comment along the lines of: "It's so good, you don't even realise it's vegetarian". One thing to note about this market is there is no cash facility. A few of the stallholders take cards but it's mostly a cash-based market so stop off at an ATM first. Parking is free (if you're lucky) on Mahoenui Rd, but otherwise for a gold coin donation you can park in the paddock a bit further along the Coastesville-Riverhead Highway.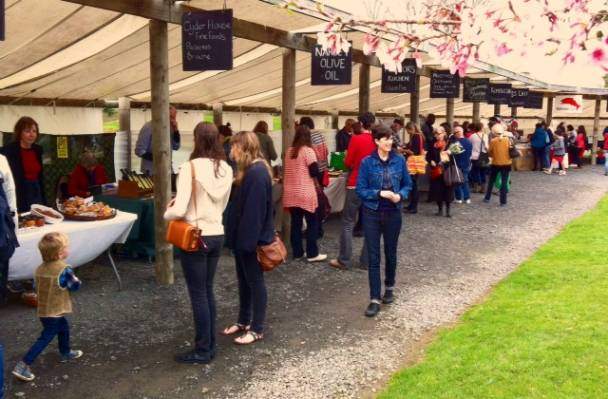 99 Parrs Cross Road, Oratia, Waitakere City When: Saturdays 9am - 12pm At the foothills of the Waitakere Ranges and set besides the Artisan Wines vineyard, Oratia Farmers' Market is another great country market. If you are planning on heading west for the day, this is the perfect place to pick up some picnic nibbles. The cute wooden structures with small blackboards announcing the stallholders' company names give an old-fashioned and inviting feel to the place. This is one of several markets you'll find NZ Cheeseman's top notch handmade cheeses. Other highlights include Earthbound honey, plenty of fresh produce, smoked fish, flowers, fresh spring rolls from Kay's Asian Herbs and Food and Hakanoa handmade ginger beer. Once you've explored the stalls, sit on one of the benches in the centre of the market or on the grass under a tree, and do as the locals do: enjoy the live music with a coffee and a pastry. Free parking is provided.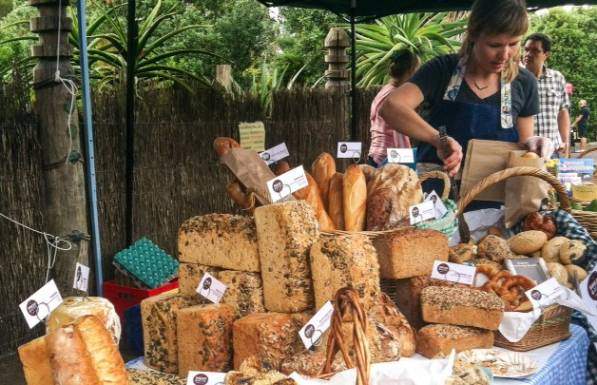 Grey Lynn Community Centre, 510 Richmond Rd. On the last Sunday of the month, the market shifts to Literacy Aotearoa car park at 449 Richmond Rd. When: Sundays, 9am - 12:30pm Sustainability is more than just a sales pitch here. The last time I turned up at the market I was redirected to Auckland Zoo where the stallholders had set up shop for the day to support palm-oil-free food during Orangutan Caring Week.  Among the 25 odd stalls there's lots of organic produce and seedlings, a vegan food stall and composting bokashi buckets from Grey Lynn 2030 Waste Away. If you've got a surplus of fruit and vegetables in your garden you can bring them along and for a $3 fee sell them at the market. Bread and Butter Bakery offers tempting pastries and breads, of which the walnut loaf has to be my favourite. Among the sweet delights on offer are the Jam Pak'd Pies apple and custard tarts and the mango lassi at Indira's Indian Food. Actually everything at this heavenly spiced stall is amazing. Try the take-home curries or the pakoras served with tamarind chutney. There's plenty of parking on the  surrounding streets.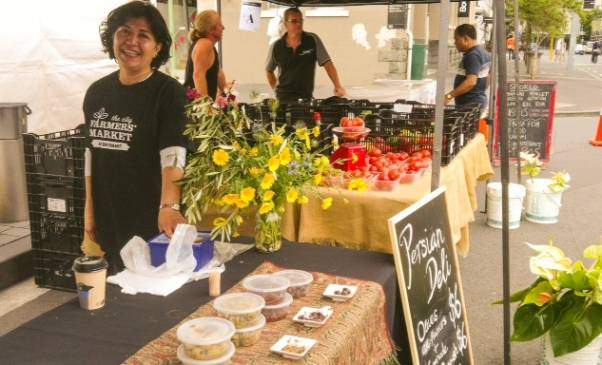 Te Ara Tahuhu Walking Street, Britomart Precinct When: Saturdays, 8.30am - 12.30pm Tucked in behind Britomart Station, this market is a haven for city dwellers. Aside from the great selection of seasonal fruit and vege, you'll find a good array of international stalls here. From the pastry selection at Philippe's Chocolate and French Pastries to Argentinian empanadas and Japanese Tako Yaki. The highlights for me are the Persian Deli's olives marinated in walnut and pomegrante molasses, and the spicy Israeli hummus and superb falafel from The Chilli Factor. The only slight hassle for those of us who don't live in the city is parking. The good news is market shoppers qualify for a special rate of $6 parking at Britomart Car Park, just remember to bring your parking ticket to the market to have it validated. Or save yourself the trouble and take public transport.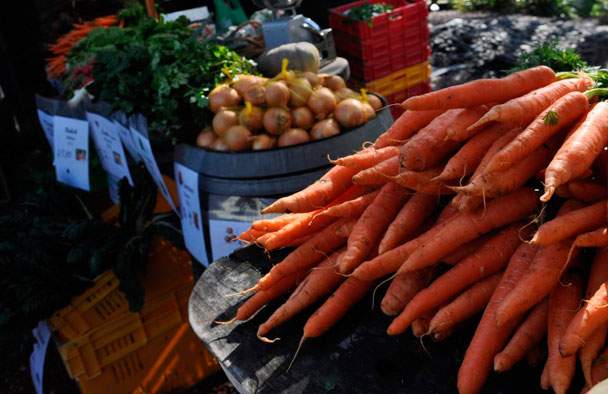 Avondale Racecourse, Ash St, Avondale When: Sundays, 6am - 12pm If it's grown in the ground or on a tree and you can eat it, you'll find it at Avondale Market. This market was founded in 1972 and lays claim to being the largest one-day market in the country. If you've never been here before, you're in for a revelation. Walk past the discount DVDs and underwear stalls and you'll soon be in the market proper, selling every conceivable fruit and vegetable in a multitude of colours and varieties. But what this market offers aside from quality, is Pacific and Asian produce at half the price of what you can get it for from the supermarket. There are taro, papaya and watermelon the size you remember as a child, a huge array of Asian greens, chillies, plump eggplants of various shapes and sizes and fresh tofu. The pungent aroma of coriander hits you at every corner. This is the mecca of fruit and vege markets in Auckland. Parking costs $3 but considering how much you save on the food, it's a bargain. It gets really packed though so I'd recommend arriving at around 8am to 9am.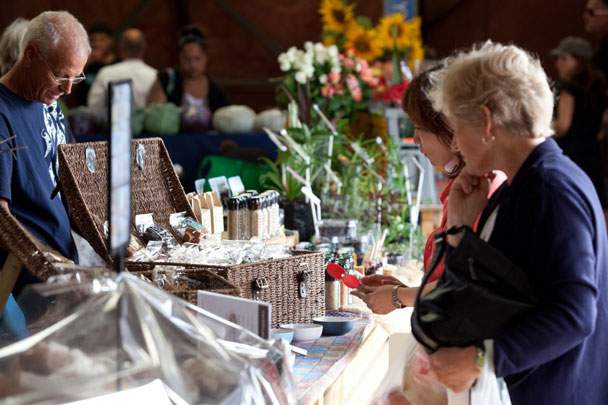 Hobsonville Point Wharf, Hobsonville Point When: Saturdays and Sundays, 9am to 1pm I must admit I'm not usually a fan of large subdivisions but I'm happy to say I was pleasantly surprised by what I found at this one. Hobsonville Point has a lovely indoor market, meaning you'll never need to worry about getting rained on here. It sells itself as a 'real foodies market' and I'd have to say it lives up to its reputation. Treats here include the multi award-winning Rockhaven Estate olive oil - their mandarin-infused olive oil is deliciously tangy on salad greens, authentic French pate and terrine and Naaz Indian curry paste. Also look out for Iranian Payam Parhodh selling spicy and sweet dips from his home country under the company name Payamnz Middle Eastern Foods. My favourite of his dips is the mirza ghasemi, which is similar to babaganosh but sweeter. (No doubt that has a lot to do with why he's dubbed it 'Lady Killer').


Sandringham Community Centre, 20 Kitchener Rd When: Second Saturday of each month, 9am - 12:30pm Sandringham Farmers' Market has less of a variety of stalls compared to other markets but if you're local to one of the surrounding suburbs, it's still well worth the trip. Mount Eden's Olafs breads and pastries are here each month, as well as The Cheeseman and plenty of fresh produce and herbs. Musical Knives offer tasty salads and ready-made meals to take away and inside you'll find Artisan Italian Desserts, Italian Cheeses, Argentinian empanadas and Turkish dips and bread. This is a great market for families too. It's size makes it virtually impossible to lose one another and kids can entertain themselves at the playground out the back while parents are busy perusing the stalls.

Published on November 28, 2013 by Karina Abadia