ARTS & ENTERTAINMENT
Five Memorable Lessons We Took from Wes Anderson's Grand Budapest Hotel
Futura is dead, and Jeff Goldblum makes legal jargon sound surprisingly erotic.
With Lacoste tennis dresses donned, twee baked goods in hand and Famous Friend bingo card at the ready, we checked into Wes Anderson's newest and wildly anticipated new pop-up book of a cinematic endeavour, The Grand Budapest Hotel. Murder, art theft, pastry and Adrien Brody's moustache — Anderson serves up his most diabolical, zany undertaking yet, using every trick in his own book.


FUTURA IS DEAD
Looks like Anderson has relinquished his hold on his longtime minimalist typeface go-to Futura, handing the reins to Lorde and Vampire Weekend and opting for a more weighted, slab serif font called Archer. Often featured in credits sequences of old Italian films, Archer is described by developers Hoefler & Co. as "sweet but not saccharine, earnest but not grave, Archer is designed to hit just the right notes of forthrightness, credibility, and charm." Film schools worldwide will undoubtedly be mass-installing the new typeface immediately.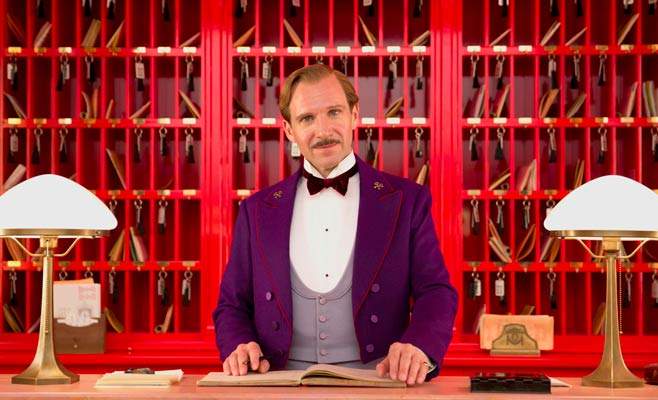 POLITENESS GETS YOU EVERYWHERE, EVEN OUT OF JAIL
Sporadically reciting romantic poetry, giving lectern-delivered philosophical orations to the hotel staff about guest rudeness, serving up mush in prison with five-star finesse, Ralph Fiennes solidifies himself as downright godly in his role as M. Gustave, the flamboyant, charming and silver-tongued concierge of The Royal Budapest Hotel. Winning as many friends as he makes enemies, Fiennes sees Gustave balancing art theft, jailbreaks and cologne appreciation with breezy, theatrical conviction. Goes to show, a little complimentary affection will get you everywhere, darling.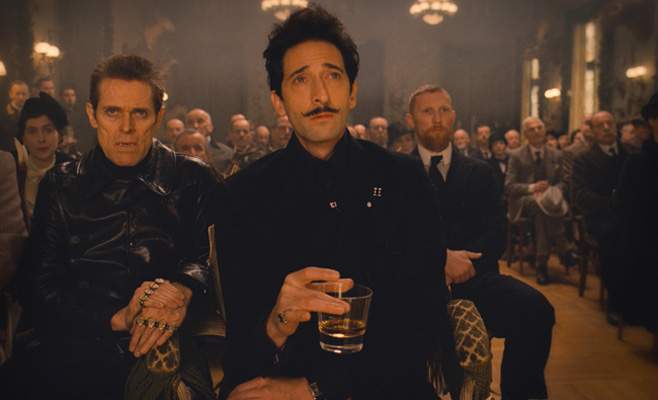 CELEBRITY BINGO MEANS A TOPNOTCH CAST
A well-known fact, Anderson has accrued quite the crew of illustrious buddies simply by sticking with familiar faces all career long. Zissou-Tenenbaum-Rocket leads Bill Murray, Owen Wilson and Jason Schwartzman have stepped back from the top spots for cheer-inducing pop-ins and supporting roles, making way for the new Wanderson Posse of Edward Norton, Tilda Swinton and Adrien Brody. Prompting constant outbursts of "Ohhh, it's that guy!" from cinemagoers, we've come to actually wait for Anderson's flurry of crafty cameos. Once again, Anderson's cohort of well-liked celebs play dress up and wear All The Moustaches, with every screen guru from Tom Wilkinson to Jude Law and Harvey Keitel making their fleeting moments count. Now with added newbies Lea Seydoux and Saoirse Ronan, being in a Wes Anderson cast is now the hottest bill around.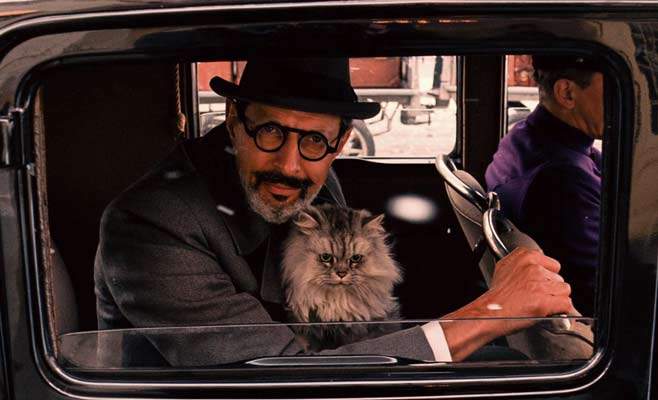 JEFF GOLDBLUM MAKES LEGAL JARGON SOUND UNBELIEVABLY EROTIC
Jur-is-diction. Ex-ec-u-tor. If Jeff Goldblum wasn't mystical and unnervingly alluring enough, he's gone and landed himself one of his most potentially meme-worthy roles to date, with circular, thick-rimmed spectacles to boot. Using flashcards to describe a murder scene without taking one eye off the camera, dumping his dead Persian in a trashcan and being chased through an art museum by Willem Defoe aren't nearly as exhilarating moments as Goldblum simply reading the contents of a last will and test-a-ment.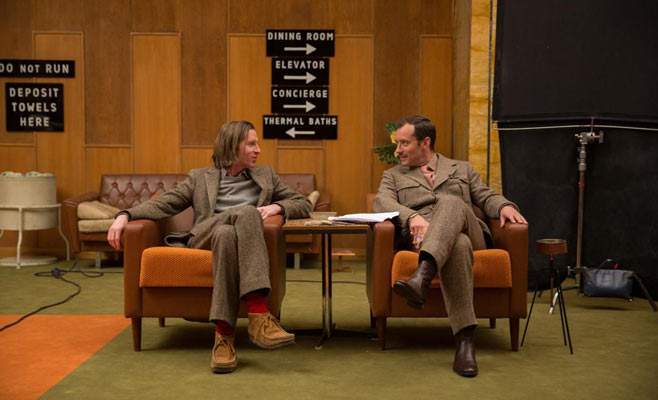 IF IT AIN'T BROKE DON'T FIX IT
Meticulously premeditated and artful mise en scene, idiosyncratic scripting, perfectly flawed and outlandishly eccentric characters and a ukulele-fuelled soundtrack have become a formidable formula for Anderson, slowly developing into an extreme form of his own genre. After being royally reprimanded by critics for Moonrise Kingdom being a little too cute for their liking (heartless bums), TRBH sees the Twee King back on form with all the artful weirdness of The Royal Tenenbaums peppered with The Life Aquatic's epic storybook set detail and The Fantastic Mr. Fox's jolly good humour. With super zooms, painted landscape backdrops, frontal character portraits, horizontal tracking shots and whole lot of font, Anderson seems more settled in his own style than ever. And that's quite alright, darling.

The Grand Budapest Hotel opens April 10.
Published on April 08, 2014 by Shannon Connellan