We're all up in cat cafes. We've lined up for cat video film festivals. Now your insatiable need for quality feline time without actually owning one has reached peak internet-happy headline — a new London start-up is planning to open the world's first ever cat cinema. Yep. Cat cinema.
Great Kitten — possibly the most puntastic business name since Thai Tanic — is the grand crowdfunding project of mid-20s legends Paula Siedlecka and William Piper. Not only a cinema where you can cuddle up to a cat while taking in a film (really) but also as cafe and cat shelter (slam dunk), Great Kitten is looking for dosh on IndieGoGo to fund the idea you wish you came up with first. The goal is £120,000 (about $235,646), which seems pretty achievable with the amount of crazy cat lovers online. They're looking for a spot in Crouch End in London, hoping to deck it out like a wintry log cabin — fireplaces, hot cuppas and all.
"Working in London for 18 months, we saw first hand the demand for constant innovation within London's entertainment scene," say Siedlecka and Piper on their IndieGoGo page. "As animal lovers with a flair for business, seeing the global popularity of Cat Cafes got us thinking — how could we add a twist to an already successful concept? Simple — we add a cinema."
Now you won't have to cry all over your date through Infinitely Polar Bear.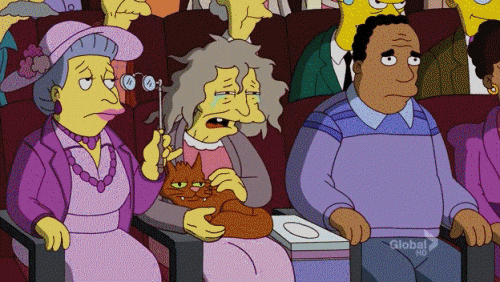 So what can you expect to be watching with your furry armrest? According to their IGG page, Great Kitten will be screening around ten films every week. While exact titles haven't been confirmed, it's not going to be all cat-themed, but sure, we're hoping some feline-inspired movies first-up — definitely The Aristocats, perhaps Catwoman, probably not Pet Sematary. Ticket prices have been set at $19 to $24 and you'll get to book in a one or two hour-long snuggle with one of the shelter's more people-friendly resident kits. One-hour cat-patting tickets will cost around $9 to $11 , and two-hour slots about $15 to $19. Sure, it sounds a tad brothelly, but these are rescue cats getting much-needed pats.
Great Kitten isn't just a novelty trend concept though. The team are planning to invite children and adults who struggle with mental health issues (such as depression and anxiety), physical disabilities or life-threatening illnesses, for all-expenses-paid cinematic cat cuddle sessions and cakes and tea and all round loveliness. Very cool.
Throw Great Kitten some dosh over here.
Image: The Shiznit — Antonio Banderas stages 'special screening' for Puss in Boots at Montreal's 2014 International Cat Film Festival. Hopefully what you can expect from Great Kitten, Banderas included.
Published on April 07, 2015 by Shannon Connellan