ARTS & ENTERTAINMENT
Hobsonville Point Is Now Home to a Five-Kilometre Public Art Trail
Head northwest and experience larger-than-life public artworks along the edge of the Waitematā.
Northwest suburb Hobsonville Point has come a long way since it served as a defence airbase for the Royal New Zealand Airforce. The master-planned community is home to sustainable housing developments, coastal walkways and the multimillion-dollar Catalina Bay retail and hospitality precinct.
The Didsbury Art Trail is the newest addition, allowing visitors to experience larger-than-life public artworks along the edge of the Waitematā Harbour and through local parks. The trail covers five kilometres of mostly flat, easy terrain, winding from the ferry wharf, past the former RNZAF officers houses, across both east and west Sunderland bridges and back via the Te Onekiritea Point rifle range.
For those looking to make the most of their visit, the dedicated Didsbury Art Trail audio podcast offers insight into each of the 12 works, including commentary from the artists themselves.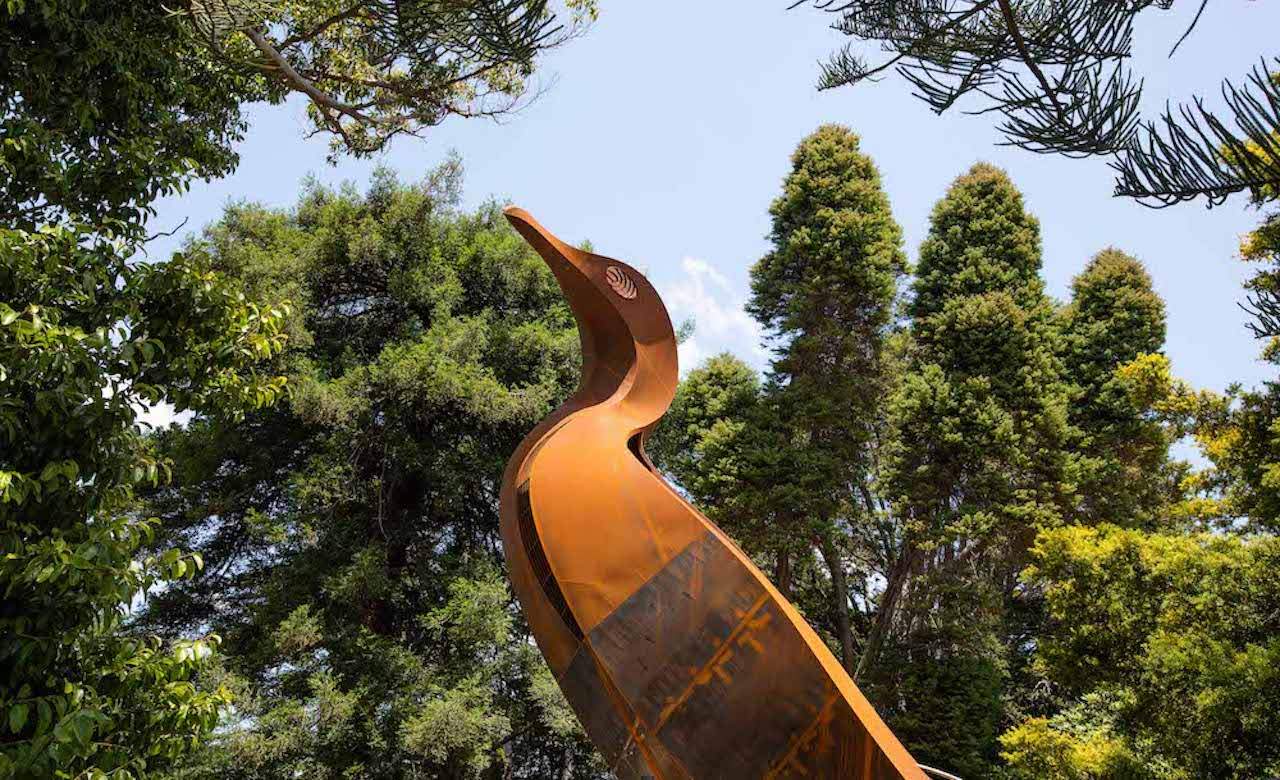 Set on the edge of the ferry wharf, Virginia King's Hinaki / Guardian is a symbolic eel-trap with the form of a female figure. Elsewhere, Estuarine by Louise Purvis is a nod to Hobsonville Point's waterways through tubular scoria-filled baskets; the Launch Road pohutukawa tree has been bombed with hyper-colour acrylic wool; and John Reynolds' Tiwatawata takes its cue from 19th century illustrations of Māori demarcation poles with 108 beams charting a straight, dark line through the park.
Philipp Meier has two pieces on the trail, including the ten-metre-high pied shag sculpture, Te Kanohi o Te Manu, on Harrier Point and a collection of steel seedpods found in the Hobsonville Point Park playground.
The historic Rifle Range has been given a second life as an amphitheatre for performances and community events. The bullet holes scattered across the stage hint at the history of the heritage site which served as a machine gun range for armed forces.
For more information about the Didsbury Art Trail and to download a map, visit hobsonvillepoint.co.nz/didsbury.
Images: Hobsonville Point.
Published on February 25, 2020 by Stephen Heard