Put on your thinking cap and start sleuthing through all of the internet. Converse are hosting a series of amazing A-list gigs in Melbourne, Sydney and New Zealand, and they're hiding tickets where you'll least expect them. So far we know that The Vines — who are all about the freebies lately — and Bloods are playing a free show somewhere in Melbourne on Wednesday, October 22; Remi and Collarbones are hitting up Sydney the following night; and a fresh lineup is heading over to New Zealand soon after. Oh, and we have your first clue.
Converse sneakily posted an ad on Seek this morning for a casual "fist pumper". "This temporary, one night only, position is open for a front row fist pumper at a free gig," the ad read. "The successful applicant will show a willingness to party in the front row of the mosh pit ... [They also must] appreciate the epic sounds of bands, The Vines and Bloods". In case you haven't worked it out already, this is your ticket.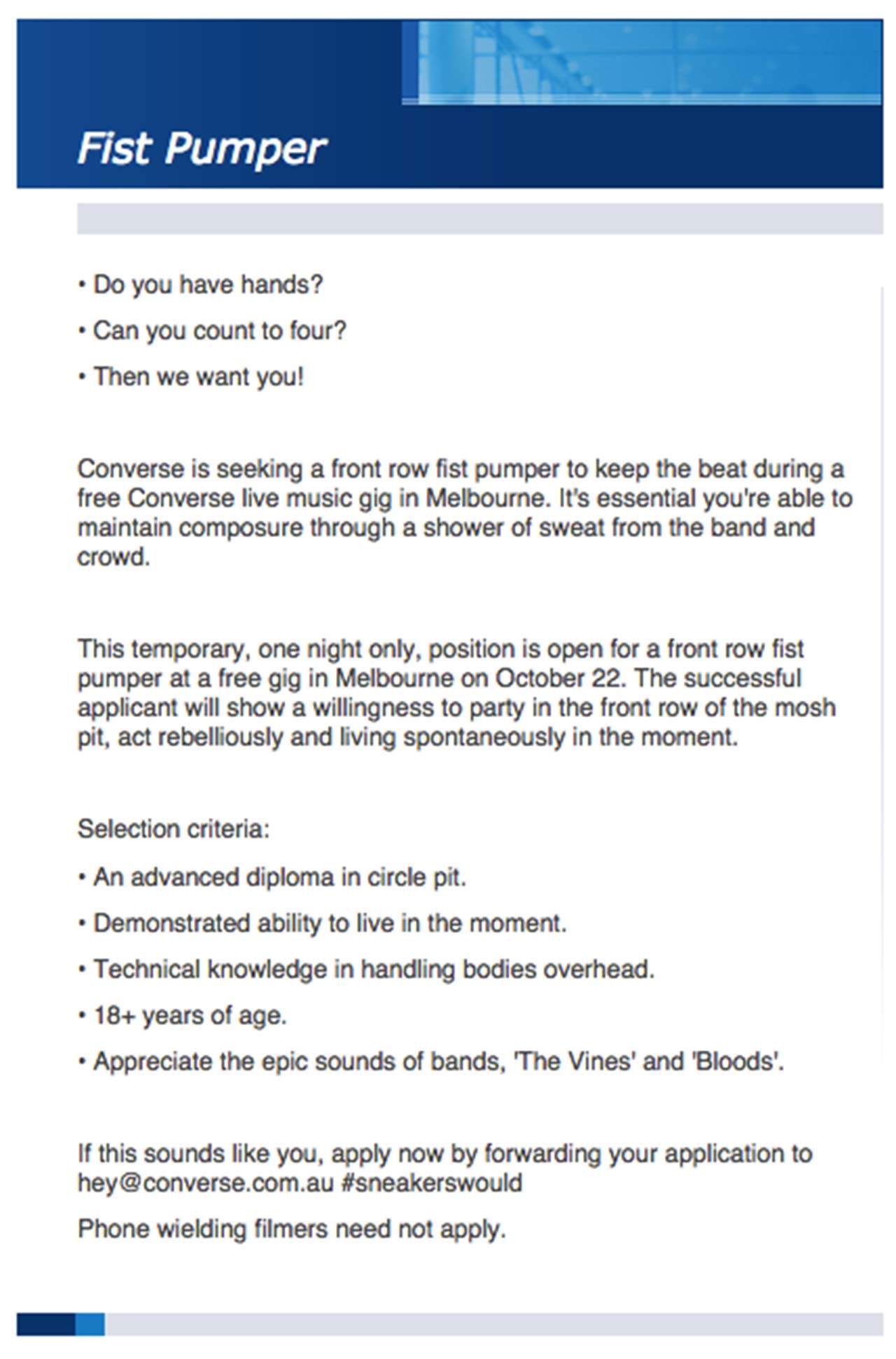 If you're from Melbourne and maintain any of the above characteristics, we highly recommend applying for this job. They're currently taking "applications" for the position at [email protected], but maybe trade in a full cover letter for a few photos of you in the mosh. This is possibly the only time making a resume link to your Facebook photos is a good thing.
If you're hanging out for news about Sydney and New Zealand, we can't help you quite yet. When the campaign was launched last month in Europe and the UK there was a big focus placed on spontaneity, so you'll have to be pretty alert. Make your plans soft and let your friends think you're flaky; it'll be worth dropping everything when you're front and centre of a free show rubbing it in their faces.
Published on October 09, 2014 by Meg Watson