Rose Byrne and Seth Rogen's New Buddy Comedy 'Platonic' Is Perfectly Cast — and a Great Hang
They made an ace pair in 'Bad Neighbours' and 'Bad Neighbours 2', and they're just as entertaining together in Apple TV+'s new comedy.
Sometime in the near future, Rose Byrne, Seth Rogen and filmmaker Nicholas Stoller could easily join forces on a new rom-com. In fact, they should. Until then, buddy comedy Platonic makes a hilarious, engagingly written and directed, and perfectly cast addition to each's respective resumes. Reuniting the trio after 2014's Bad Neighbours and its 2016 sequel Bad Neighbours 2, this new Apple TV+ series arrives on Wednesday, May 24 to pair Australia's comedy queen and America's go-to stoner as longterm pals who are never anything but mates — and haven't been in touch at all for years — but navigate a friendship that's as chaotic and complicated as any movie romance. That's an easy formula; however, there's nothing by-the-numbers about watching the show's stars bicker, banter and face the fact that life doesn't always turn out as planned together.
Smartly, Platonic doesn't try to be a romantic comedy. It doesn't set its two protagonists on a path towards coupling up and, while one of the most annoying on-screen questions there is does earn a mention, the series isn't really asking it. Ignoring the precedent set by When Harry Met Sally and a wealth of other rom-coms both before and since — openly satirising it, actually — Platonic knows that men and women can easily be friends, instead exploring what happens when two former besties have gone their own ways, then come back together. Platonic also knows that reconnecting with old pals is always tinged with nostalgia for the person you were when they were initially in your life. And, it's well-aware that reckoning with where you've ended up since is an immediate side effect. There's nothing like the blast from the past that is slipping into a decades-old dynamic to make you take stock, and to provide the spark you might need to move forward.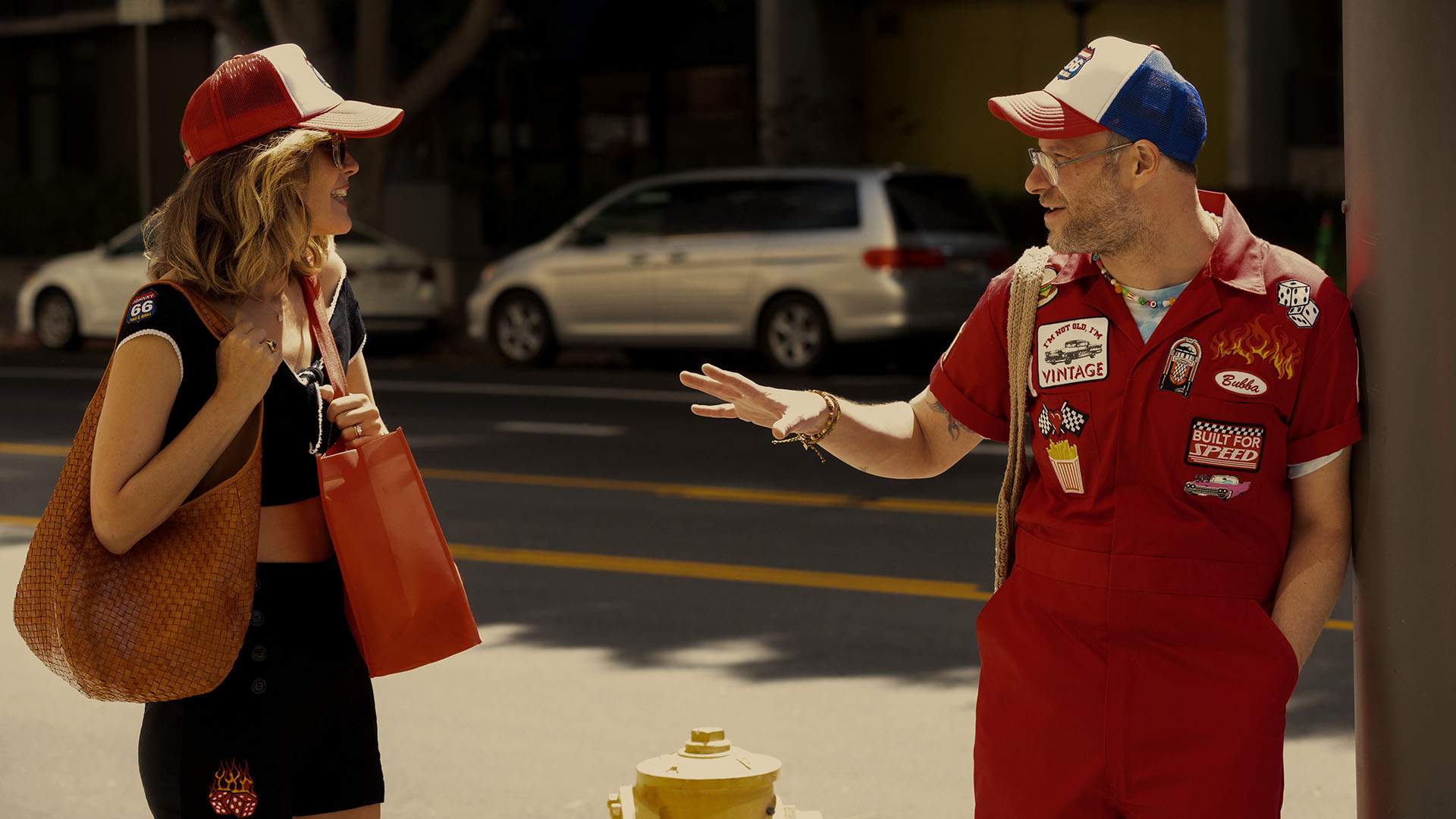 Sylvia (Byrne, Seriously Red) reaches out to Will (Rogen, The Super Mario Bros Movie) after hearing that he's no longer with the wife (Alisha Wainwright, Raising Dion) she didn't like, an opinion she didn't keep to herself. She's also a suburban-dwelling former lawyer who put work on hold to become a mother of three, and can't help feeling envious of her husband Charlie's (Luke Macfarlane, Bros) flourishing legal career. Her old BFF co-owns and runs an LA brewpub, is obsessive about his beer and hipster/slacker image, and hasn't been taking his breakup well. They couldn't be in more different places in their lives. When they meet up again, they couldn't appear more dissimilar, too. "You look like you live at Ann Taylor Loft," is Will's assessment. Sylvia calls him "a '90s grunge clown." Neither is wrong.
Created by Stoller with his spouse and creative partner Francesca Delbanco, as two-season Netflix comedy Friends From College also was, Platonic reteams Sylvia and Will at turning points, and gives them inescapably sitcom-style broad troubles and struggles. She's frustrated with domesticity and responsibility day in, day out, even with fellow school mum Katie (Carla Gallo, Happiest Season) frequently by her side. He gets into full midlife-crisis mode, including dating the younger Peyton (Emily Kimball, Daisy Jones & The Six). Indeed, on paper the two characters and their arcs sound like unhappy housewife and manchild 101. Thankfully, that's just Platonic's scaffolding. As well as astutely sending up the whole "can men and women be friends?" nonsense, this series unpacks well-worn character stereotypes, fleshes them out and bounces them off of each other — as the Bad Neighbours movies did with young parents and the fraternity next door, and amusingly.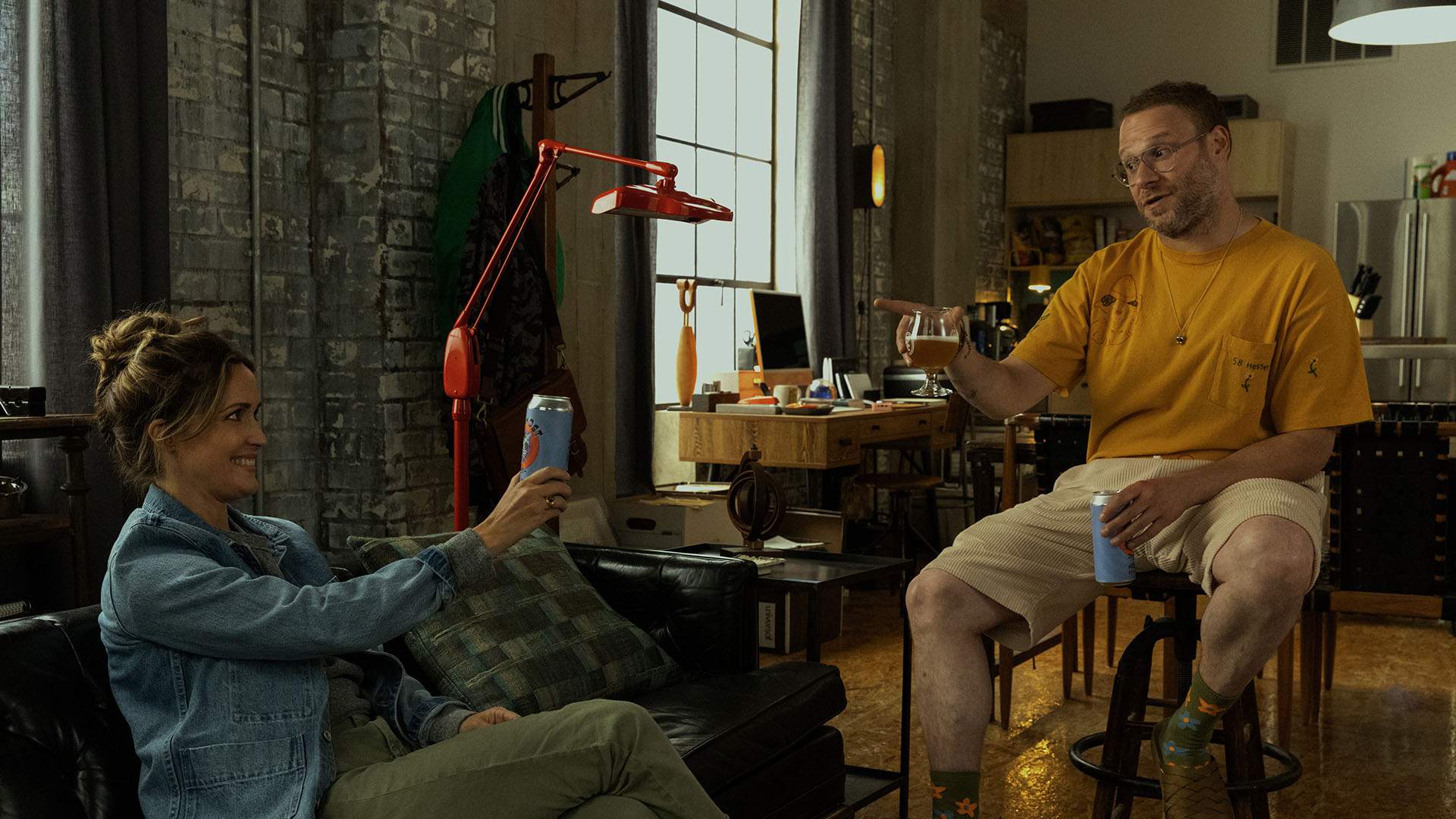 Art clearly isn't imitating life in Sylvia and Will's specific details, but its stellar lead casting makes them feel emotionally authentic. Byrne and Rogen are reuniting themselves, of course, and capitalise upon their evident buzzing real-life chemistry as friends and colleagues. Stoller and Delbanco mightn't have come up with the premise purely to get their stars sharing the screen again, and to give them all an excuse to knock about, but that's the vibe, too. That isn't a criticism; Platonic works because Byrne and Rogen are such joys to watch together, and because viewers want to spend ten half-hour episodes watching them spend time together. It's a hangout series itself, because that's what it's audience gets to enjoy — and its leads make for charming company.
Both play to their respective comic strengths, genuinely share the series, and take Sylvia and Will on resonant emotional journeys (while also finding laughs in iguanas, wild nights out, e-scooters, UFOs, ridiculous beer flavours and more). Platonic is always thoughtful, a pivotal trait that applies not only when Byrne and Rogen are together — or when they're just as ace in they solo scenes — but everywhere. Sylvia isn't stuck in a cliched bad marriage. Charlie isn't dull or awful. Family life isn't painted as either rosy or boring, or simple. Will's newly single existence has its ups and downs, and Will himself can be both juvenile and perceptive. And lengthy relationships, whether they're romantic or platonic, are seen as the ebbing and flowing experiences that they are, requiring not just sparks and a rapport but commitment, understanding and effort.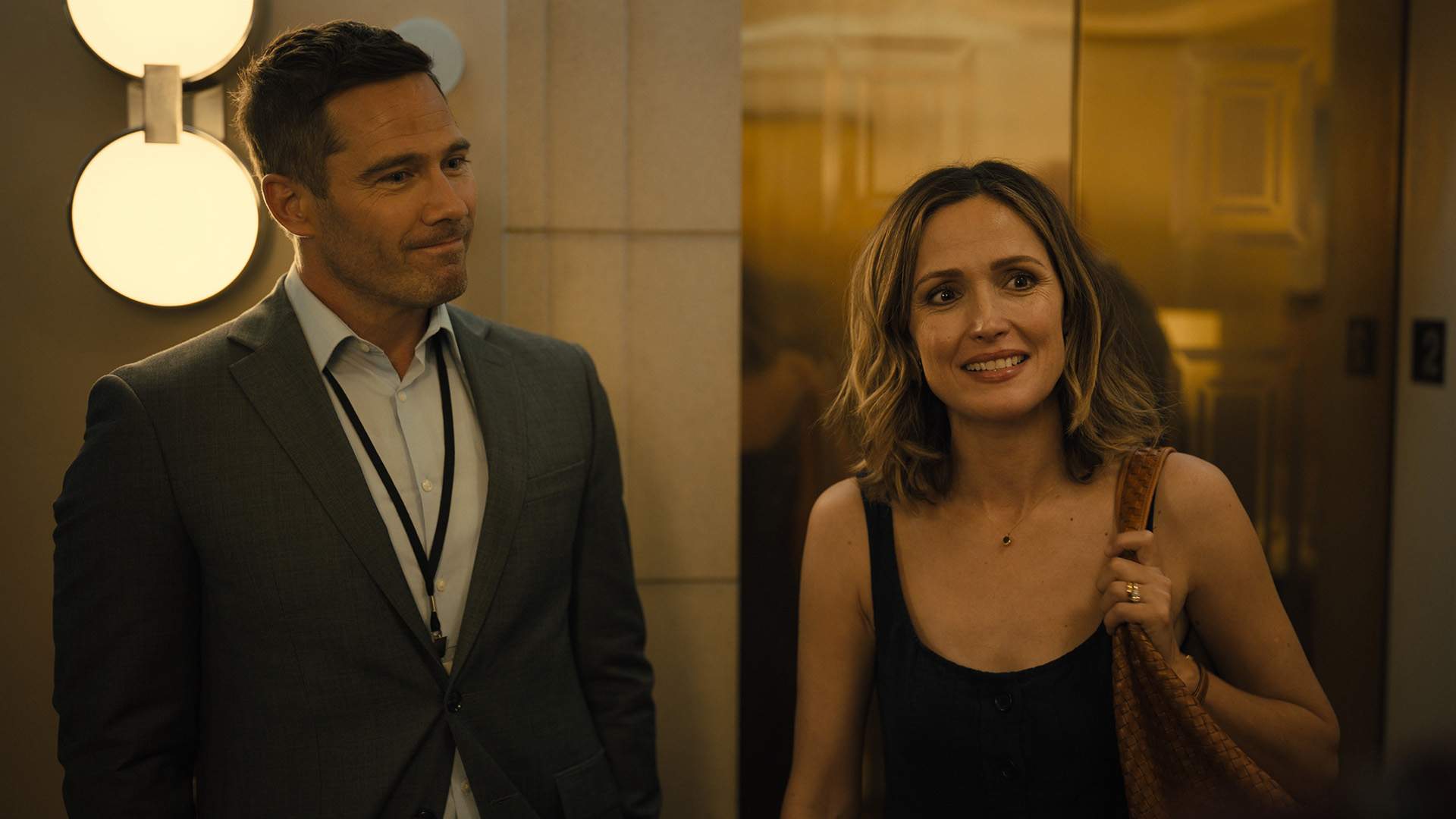 It's a show about a reunion. It reunites two winningly matched talents, and also reteams them with the filmmaker who first unleashed their combined magic (and mayhem) on-screen. Trust Platonic to keep the theme going with Stoller's Bros star Macfarlane, who is sensitive and warm as Charlie, and with Rogen's always-welcome Undeclared co-star Gallo. It's no wonder that there's such a sense of comfort in each of the show's key performances — or, again, that it's so easy to hang with. Unless they're overtly courting cringing, great comedies know that cast charisma is as crucial as comic timing; this boasts and thrives with both.
If Byrne, Rogen and Stoller don't reconnect for a rom-com next, or find another season of Platonic in them, then any situation that brings them back together will do. Byrne and Rogen's odd-couple setup is that energetic and entertaining — argumentative but affectionate, too — and they make that delightful a pair. Plus, Byrne's other Apple TV+ series, the excellent Physical, will end after its upcoming third season, and no one should be forced to miss her comedic presence for long. On- and off-screen, Rogen clearly can't, and no one watching Platonic will ever want him to.
Check out the trailer for Platonic below:
Platonic streams via Apple TV+ from Wednesday, May 24.
Concrete Playground Trips
Book unique getaways and adventures dreamed up by our editors