DESIGN & STYLE
Floating Bike Path Could Have Cyclists Riding on the River Thames
None of the cars; all the view.
It's clear that more Londoners want to ride their bikes more often than ever before. In fact, between 2001 and 2011, the number of them cycle commuting to work doubled. The problem is, though, that the city's rabbit warren-like infrastructure doesn't always mean there's enough room for two-wheelers, taxis and regular vehicles to share the road harmoniously.
A $1.4 billion, 24-kilometre cycle super highway, initiated by Lord Mayor Boris Johnson, has made many a journey much smoother. But, to many bicycle-inclined minds, it's just the beginning. Earlier this year, architect Lord Norman Foster put forward SkyCycle: an elevated, car-free bike path that would see cyclists cruising around above London, E.T.-style (kind of).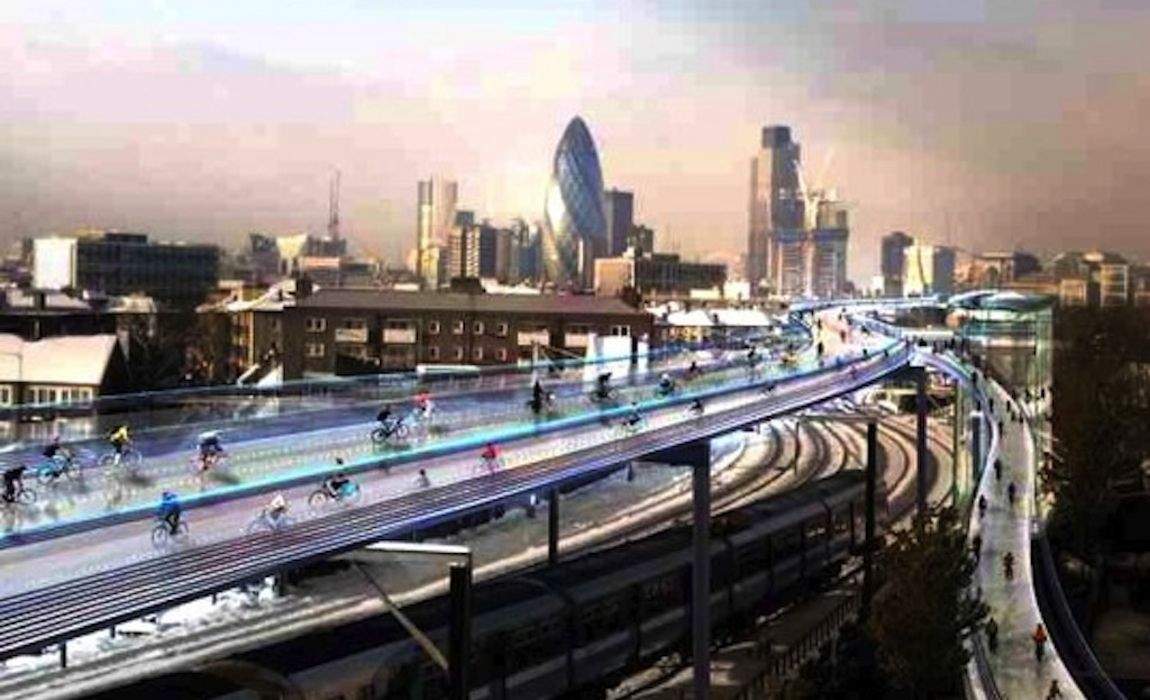 And now, there's a new proposal in the works: the Thames Deckway. It's a 12-kilometre long cycle path that would float on the River Thames. Created by a group of engineers, architects and artists who've named themselves the River Cycleway Consortium Ltd, it would start at Battersea in the West and stretch all the way to Canary Wharf in the east, sitting quite close to the river's south bank. So it would be well out of the way of the barges, ferries, rowers and paddlers who travel along the primary navigation channel.
Cyclists would be able to hop on and off the route at various points via embankment ramps, where kiosks would offer refreshments in the way of snacks and beverages. The path would cater, not only to commuters, but also to those out for a leisurely recreational ride, and would be designed to rise and fall according to tidal changes. To minimise potential dangers, an elaborate system of sensors and satellites would alert the land-bound world to threats and hazards.
"London needs to think outside the box of conventional solutions to solve its deep-seated traffic and pollution problems," a spokesperson said in a media statement. "The Thames offers vast, untapped potential to ease and improve London's infrastructure problems. What is needed is imagination to unleash it."
The Consortium, which was established by London-based artist Anna Hill and architect David Nixon, and includes engineering company Arup and Hugh Broughton Architects, would need to raise 600 million GBP from private investors to put the plan into action. Cyclists would be charged 1.50 GBP per ride, to go towards maintenance.
Via Dezeen.
Published on October 03, 2014 by Jasmine Crittenden