DESIGN & STYLE
The Ten Best Menswear Stores in Auckland
Men, we've hunted down the best of the best, the creme de la creme of thread-selling stores in Auckland. Now all you must do is gather.
in partnership with

For more features like this including articles, news and reviews suited for the modern man, head to the LYNX Black Gentleman's Guide to Auckland.
Shopping can be cumbersome. Not only do you have to pay to get your park pretty much anywhere you go and then time your trip according to the extortionate meter rates, you also have to have a sense of foreknowledge of where you'll find what you need - because having to take a hike all the way down High Street over to Britomart (and an uphill return with heavy bags in tow) is never favourable. Nor is interpreting what is actually meant by the euphemistic "just wear something nice tonight, okay?".
So, we've staged an intervention. Nevermore do you have to struggle with the bullshit. Below is our list of the best of the best, the creme de la creme of menswear stores in Auckland, stores where you practically cannot go wrong in getting anything off their hangers (just make sure it fits properly etc.). Easy.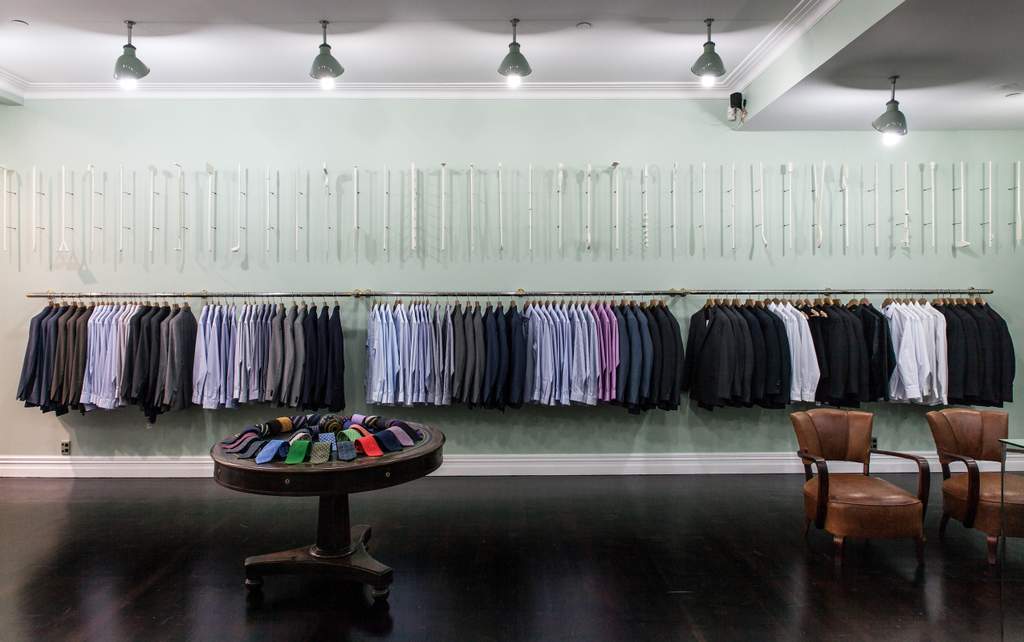 If you want a suit you should get it from Crane Brothers. The brand knows their suits and they do them well. There isn't a local brand better at fine-tailoring, hand-finishing and bespoke-fitting, and they won't let you leave the store looking any less than gentlemanly. The fit-out will be an investment, because you get what you pay for and all of that, but it'll be worth it.
Every self-respecting man needs a decent suit.
2-4 High Street, Auckland CBD


The menswear label that has taken over New Zealand streets, and is taking its first (and promising) steps into international waters, I Love Ugly, was established by designer Valentic Ozich. Taking off after their low crotch chino "Zespy" became a crowd favourite nationwide, the brand now stocks all outfit elements, from clothing to accessories to hats. They've even got a decent cologne under their belt (no pun intended, but they do actually stock belts too).
2-8 Osborne Street, Newmarket, Auckland


If you're going to shop at Fabric you've got to be prepared to invest. But it will be an investment, because their stuff is high quality and will last a lifetime. There will be be something that you love, whether you're in the market for streetwear, casual-wear, denim or formal-wear. Pick up some Citizens of Humanity denim for the streets and a Frank & Eileen shirt for date night. They've also got Diemme shoes which are rad and you probably won't see them on anyone else's trotters in the city.
3 High Street, Auckland


This shared shopping space is a new concept for Auckland, but one that seems to be working. Each shop has its own segment, but they are all sort of thematically connected, so the brands flow into each other and there isn't a weird jarring feeling when you move from one shop to another. You'll find designers like Jimmy D, Taylor and you can even pick up some wheels from Tokyo Bikes whilst you're there.
78 Mackelvie Street, Ponsonby


The Wellington boutique famous amongst the fashion-forward for stocking great international brands, mixed with coveted local labels and a few quirky cool knick-knacks here and there, has opened its doors in the big smoke. They sell both women's and menswear, footwear and accessories, and if you've left finding a full outfit until the last minute, the staff are pretty good at dressing you from head to toe in one go. You'll pull some international brands that are hard to find from the racks, including Danish brand Avec, L.A. based shoe label Keep, and clothes from the London-founded Folk.
86 Ponsonby Road, Ponsonby


The Takapuna institution gets brownie points for having a cafe (Coffee General Tearooms) down the bottom that brews a really great cuppa joe. Also, guys don't even have to venture up the stairs, or stray too far from the barista, because the menswear mecca is on the ground floor. With a selection of stock from Black Box, including big names Stolen Girlfriends, Bassike and Ksubi, as well as a more comprehensive men's department that stocks the likes of Topman, Grenson and Saint James, you can't leave the place empty handed.
10 Northcroft Street, Takapuna


Made is one of the only stockists of the French brand APC in New Zealand. It is minimalist in its look, with basic, clean cut shirts bearing simple patterns. They do Japanese selvage denim jeans that are slimmer in the leg than your usual raw denim, so they don't swamp the wearer a la Kriss Kross circa '92. Their clothes are made to fit, properly, and they look really great.
30-32 Customs St East, Britomart


We've never had a French Connection in New Zealand, so this is an exciting new opening*. The brand is an oldie but a goodie - it was founded in 1972 by designer Stephen Marks who wanted to create widely appreciated, good quality apparel. He got more than he bargained for because along with clothing for both genders, they sell toiletries, opticals, accessories, shoes and homewares. They do coats well.
Nuffield Street, Newmarket


If you're into the minimalist look, then AS is your place. Their initial mission was to make quality blank apparel for others to print their own designs onto. Nothing's changed. They still create plain clothing that lasts, and you're welcome to have their apparel printed with your own designs, but the fresh look is in and there is a huge market for plain tees that AS Colour just so happens to do better than most.
1 Mount Eden Road, Eden Terrace


If you're over on the shore, consider stopping in at Sly Guild. They do streetwear that feels raw, urban and young. It's locally made, stitched in-house, so you know you're getting the highest NZ quality made apparel. Founded by three born-and-bred Auckland brothers, the brand is all about function, craftsmanship, and timeless style. It's a relatively new brand, started in 2010, but they killed it at Fashion Week 2014 and the've already got some celebrity admirers, so all signs point to success for Sly Guild.
461 Lake Road, Takapuna



Credit: The Shelter - Pennant and Triumph
Published on May 22, 2015 by Diana Clarke