Five Stunning Locally Made Jigsaw Puzzles for When Boredom Strikes (Again)
Got too much time to kill? Instead of flicking on the TV, give these beautiful, brain-tickling gems a go.
Over the past two years, we've already spent too much time burning through our streaming queues, so simply settling in for a stint of TV has lost a bit of its lustre. And, there's also the fact that our day-to-days are pretty well dominated by screens anyway. From waking up and checking the weather/news/Instagram to then packing our days with staring at a computer at our nine-to-fives, sitting on the loo watching TikToks and cooking the recipes we view on iPads, it's no wonder we've got screen fatigue. So, put that remote down and treat yourself to another way to kill time: a jigsaw puzzle. Yep, it's time to get analogue.
For many of us, 2020 and 2021 were the years of hobbies and home activities. So, no doubt you already have a jigsaw or two lying around — which means you're in need of fresh puzzle talent. Or, you might've resisted the recent trend, only to now realise that you missed out on some wholesome, puzzle-piecing times. Either way, we're here to help.
Here are our five puzzle picks for when boredom next hits like a tonne of bricks — whether you just have a few spare hours, you're spending time in isolation or you feel like you've watched every streaming series there is to watch.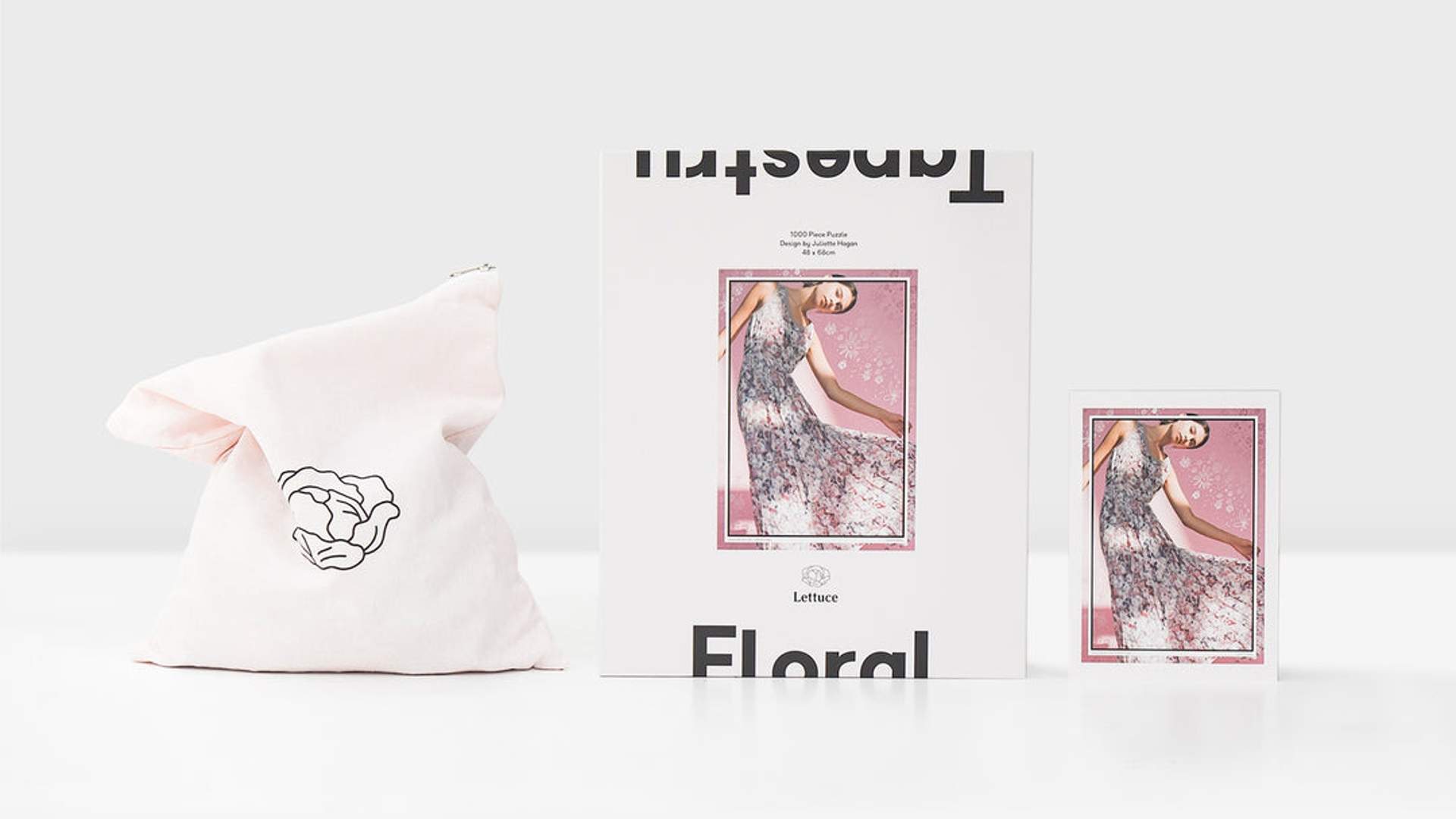 LETTUCE
Made right here in Aotearoa, these locally-designed and oh-so-chic puzzles not only provide an excellent way to fill your hours, the result is pretty enough to be framed and hung in your living room, bedroom or bathroom. Yay, more iso projects! Whether you opt for florals, art scenes or a map of Auckland's volcanoes, each of these stunning puzzles available from Father Rabbit is designed by a notable Kiwi name or brand. If you're a fan of a blooming floral scene, opt for this blush-pink scene from Blush florist founder Kelly Karam, using her favourite blooms including heliconias, dahlias, zinnias, cone flowers, basil and scabiosa. Or if you're a fashion darling, celebrate iconic New Zealand-designer Juliette Hogan with this 1000-piece puzzle designed by the lady herself. All Lettuce puzzle pieces come in a chic fabric bag for safekeeping and the cardboard used for both puzzle and box is a mixture of recycled and sustainably grown timber.
Buy via Father Rabbit's website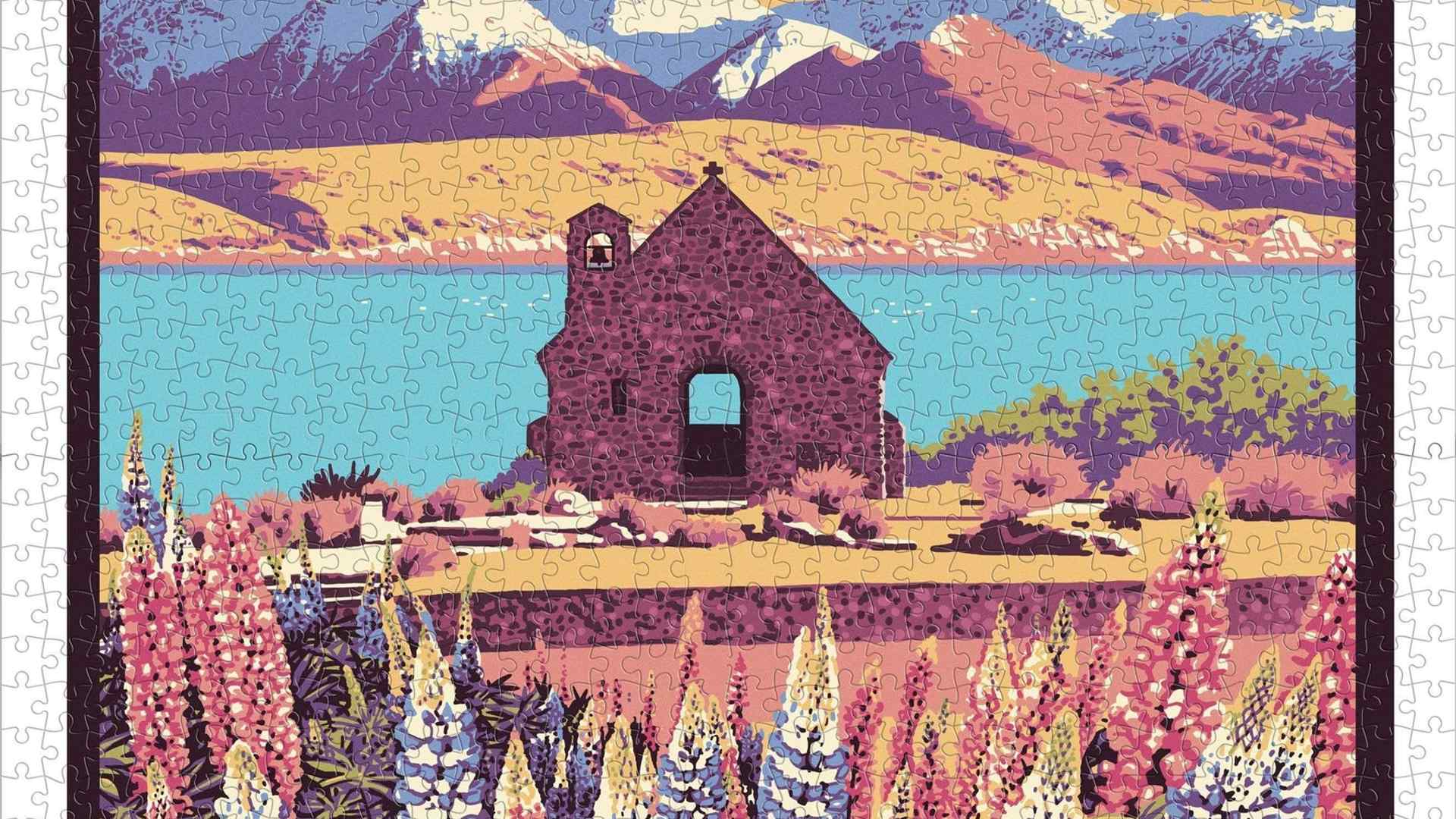 SHOWCASE PUZZLES
Missing the world outside your house? Bring Aotearoa's stunning landscape into your lounge with one of these puzzles designed by local illustrator Ross Murray. Our pic for those of us missing the South Island is this colourful rendition of the iconic Church of the Good Shepard against the backdrop of Lake Tekapo, yes, with the beloved lupins firmly in season. Puzzles from Showcase are great for those trying to puzzle in houses with rambunctious children, pets or flatmates — those plastic pieces keep the scene together without backing so it can be picked up and can be moved, plus are water resistant so don't stress about spills. Puzzle in peace, people.
Buy via the Showcase website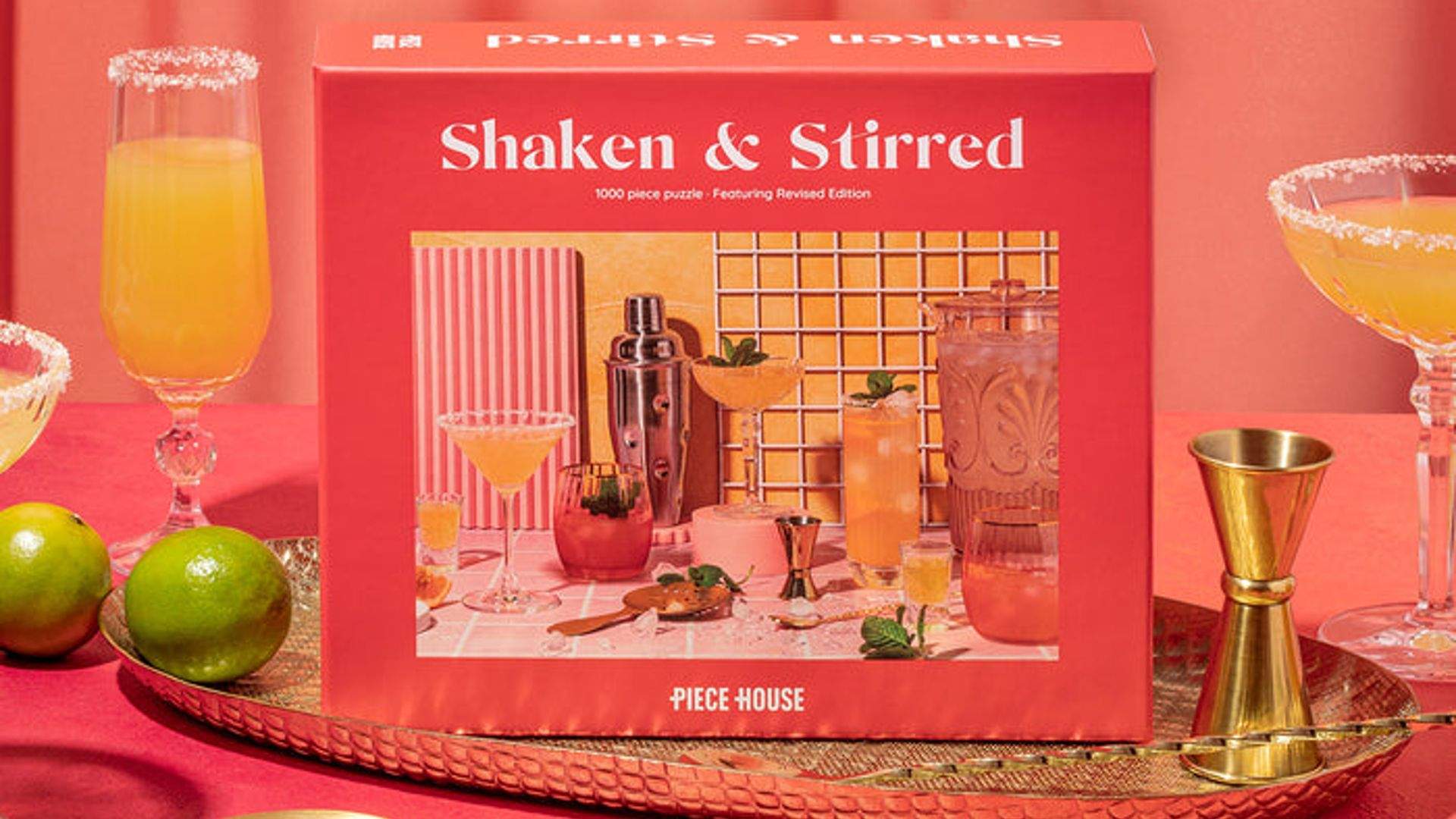 PIECEHOUSE
These stunning 1000-piece puzzles make perfect gifts for those who might be struggling in iso — or just as a gift for yourself, of course. Each showcases the work of an aspiring NZ female artist and $1 from every sale is donated to the Mental House Foundation.  Are you a cocktail connoisseur? Try your hand at Shaken not Stirred by New Zealand artist Nikki Astwood — as a bonus, each puzzle purchase comes with a free cocktail stirrer, so you can enjoy a Negroni while you work. Or if you're dreaming for days on the beach once isolation is over, go for Oasis Found by artist Bonnie Brown, which gives all the vibrancy of summer holidays at the beach with none of the mixing and mingling.
Buy via the Piecehouse website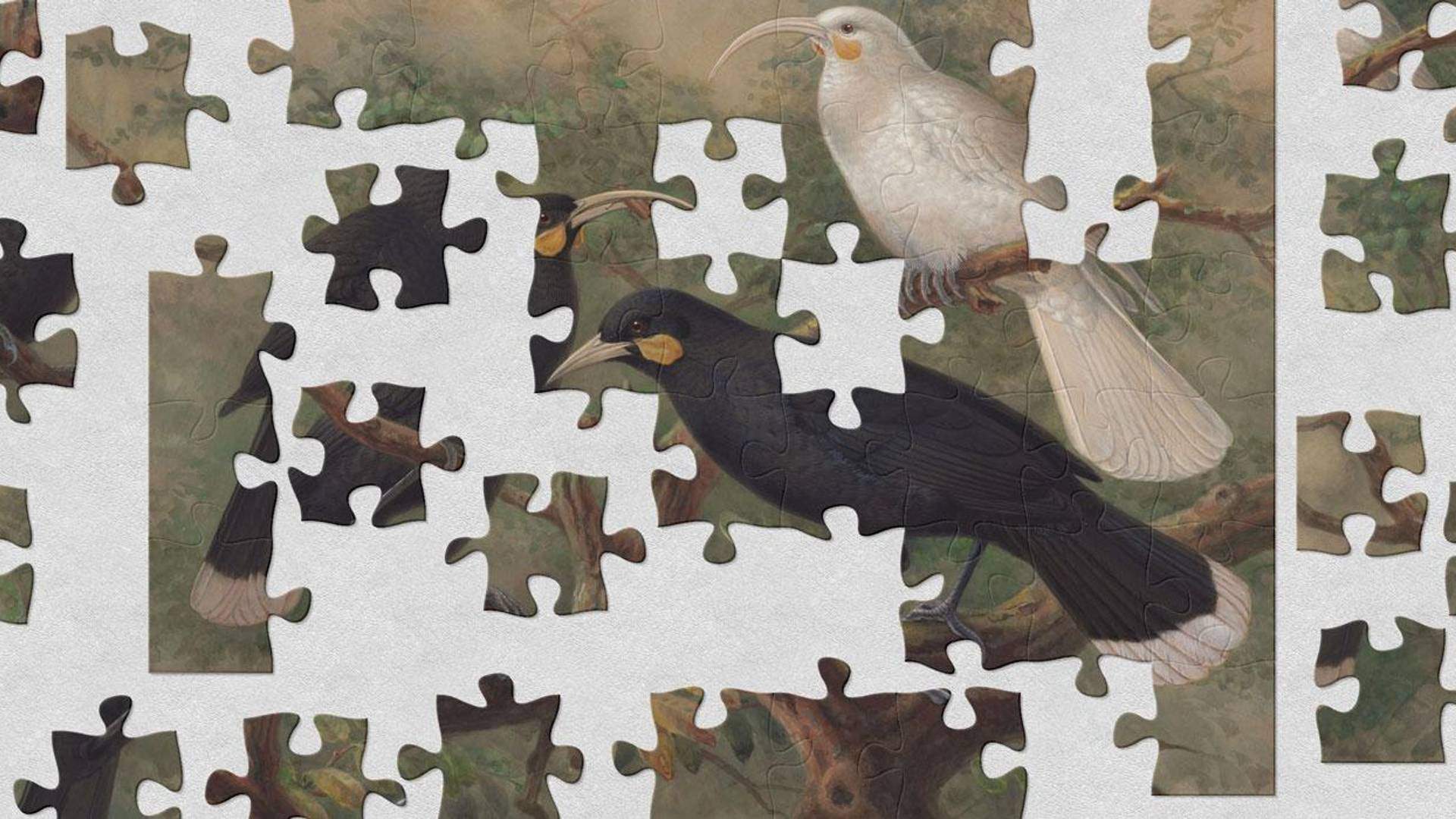 ONLINE PUZZLES
We know, we know — we told you to lay off the screens. But these digital jigsaws come in handy if you're an absolute puzzle fiend who can't wait till your next one arrives in the post, or you're a try-before-you-buy kinda person. Either way, these art-filled gems are sure to fill many hours (and save you some cash).
First up, Wellington's Te Papa museum has some killer online puzzles so you can digitally put together masterpieces such as Gordon Walters' Makaro or  Roland Searle's Group at a Picnic. Or, check out some online puzzles from our friends across the ditch. The National Library of Australia website has complete online puzzles using its extensive art collection, with everything from art by Ellis Rowan to Australian birds.
Head to Te Papa and the National Library of Australia websites for some free — and wait-free — puzzling adventures. 
PATHWAY
Ever wanted to do a puzzle with your pooch's face on it? Or your partner's, or perhaps even your own? (Hey, we're not here to judge). Pathway Puzzles creates bespoke puzzles using any high quality photographs you give them - you can choose from 30, 40 or 100-piece options. If you're having to isolate away from a loved one, send them your face in 100 pieces and remind them that you love them. Or perhaps race your partner to complete a puzzle of your respective faces — we're not saying whoever finishes first clearly loves the other more, but we might also be kind of saying that.
Buy via Pathway's website
Top image: Lettuce jigsaws via Father Rabbit's website
Introducing Concrete Playground Trips
Book unique getaways and adventures dreamed up by our editors