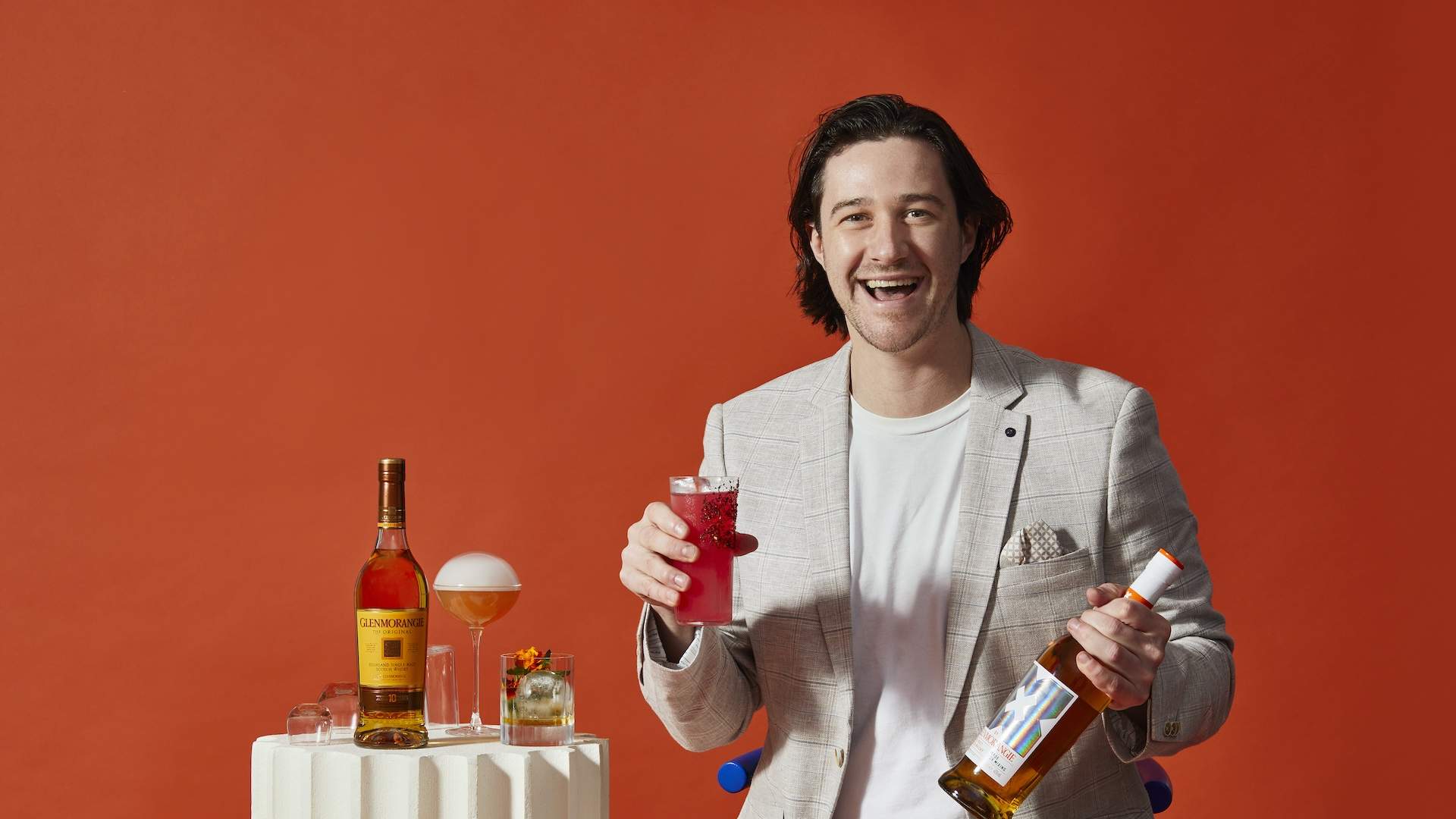 Spirit Specialist Kurtis Bosley Shares Three Unexpectedly Brilliant Whisky Cocktail Pairings
We got all the intel on the best bites to accompany three standout whiskey concoctions (and nabbed the recipes for the drinks too).
When you reach for your favourite pour of whisky, it's rare that you'd have a cocktail in mind. On the rocks, neat, as a nightcap — maybe the odd sour. But, the playful folk at Glenmorangie have made it their mission to shake that up. Your whisky cocktail habits, that is.
Here to impart the knowledge is Kurtis Bosley, Moët Hennesy's resident spirit specialist. The award-winning bartender and drinks consultant works closely with Glenmorangie, delving into its far-reaching range of whiskies and creating sips that leave drinkers amazed.
"At Glenmorangie, our motto of 'what if' allows us to question every aspect of whisky creation and consumption," Bosley shares. It is the most forward-thinking, creative and inclusive whisky in the market today — we are Willy Wonkas of the whisky world."
The dreamers of the dreams, Glenmorangie sports many stellar drops. And, if you were an onlooker at the recent Delicious and Wonderful World, we're here to help you get in on the action. Working around two delicious drams — The Original and X by Glenmorangie — the three following recipes will see you recreate the stellar sips from the evening. Plus, read on to find out how you can get a slice of the pie (read: deliciously fruit dessert) that KOI's Reynold Poernomo made for the night.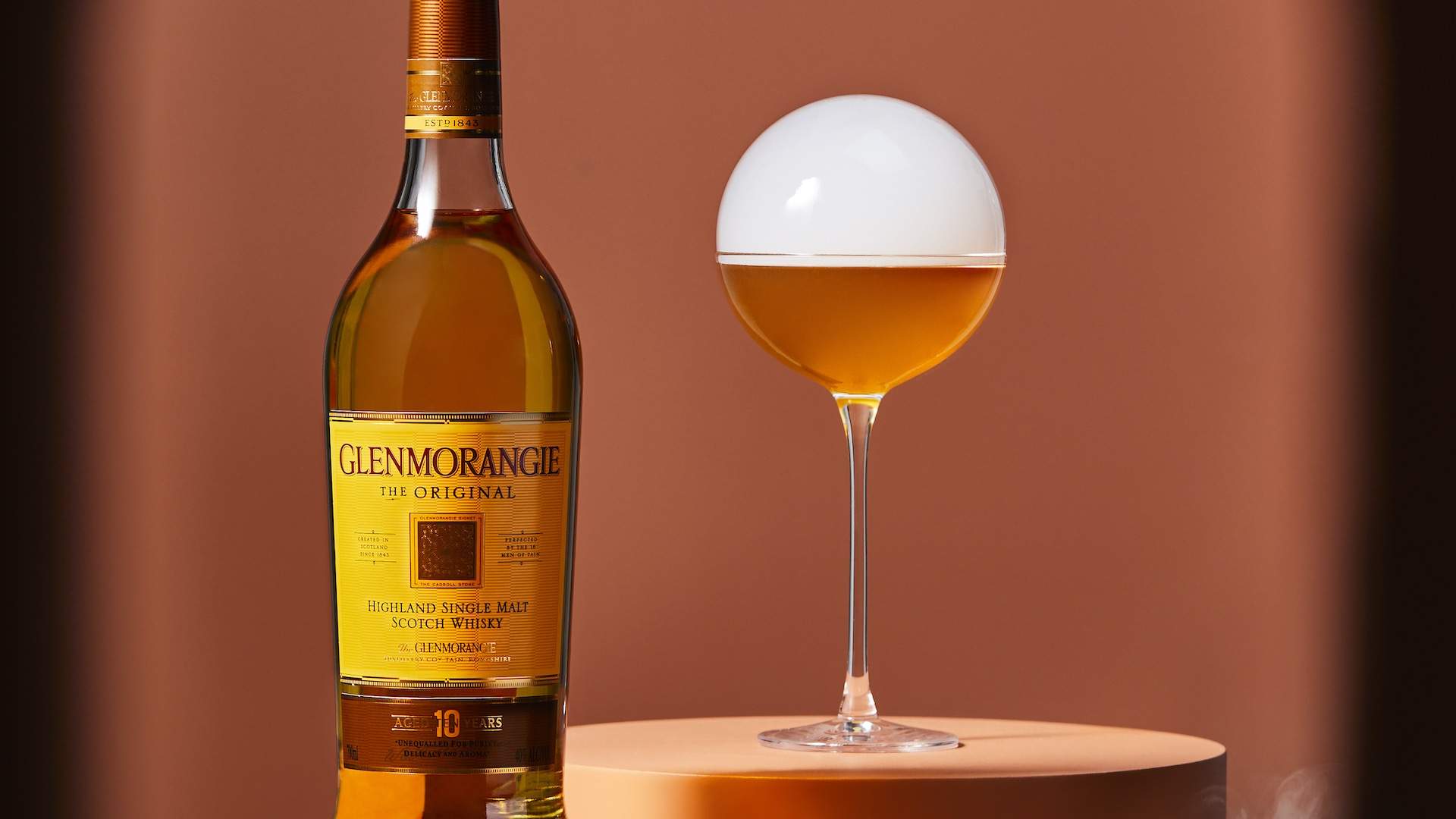 Pair a
citrus-forward cocktail with a fruity dessert
Meet What If, Bosley's architectural masterpiece that marries the brilliance of Glenmorangie's The Original with the sour notes of yuzu. "At Glenmorangie," Bosley notes, "we look to create a time and place in each expression that we can transport you back to." And what better place to travel via a sip from this martini glass than the joyful times you jumped into birthday cakes and Christmas pavs.
"The sweetness of the dessert will perfectly offset the sour in the cocktail," Bosley continues. "Something fruity is ideal to allude to the nuanced flavours of the drink."
Invite your loved ones, fill many a cup and serve alongside a fruit-topped dessert. Or, better yet, if you're a Sydneysider, head to KOI Dessert Bar and nab yourself Pear of Honey. Reynold Poernomo has put his sugar mastery front and centre with layers of honey maple cream and sponge wrapped around mellow notes of pear and ginger — all topped off with roasted milk chocolate ganache and a muscovado feather. Honestly, it will outperform any dessert you make at home.
WHAT IF
– 40ml Glenmorangie Original
– 20ml mandarin juice
– 20ml yuzu juice
– 10ml sugar syrup
– 2 dashes peach bitters
– orange peel to garnish
Add all ingredients into a shaker and shake hard with ice. Double strain into a martini glass, top with the orange peel and serve.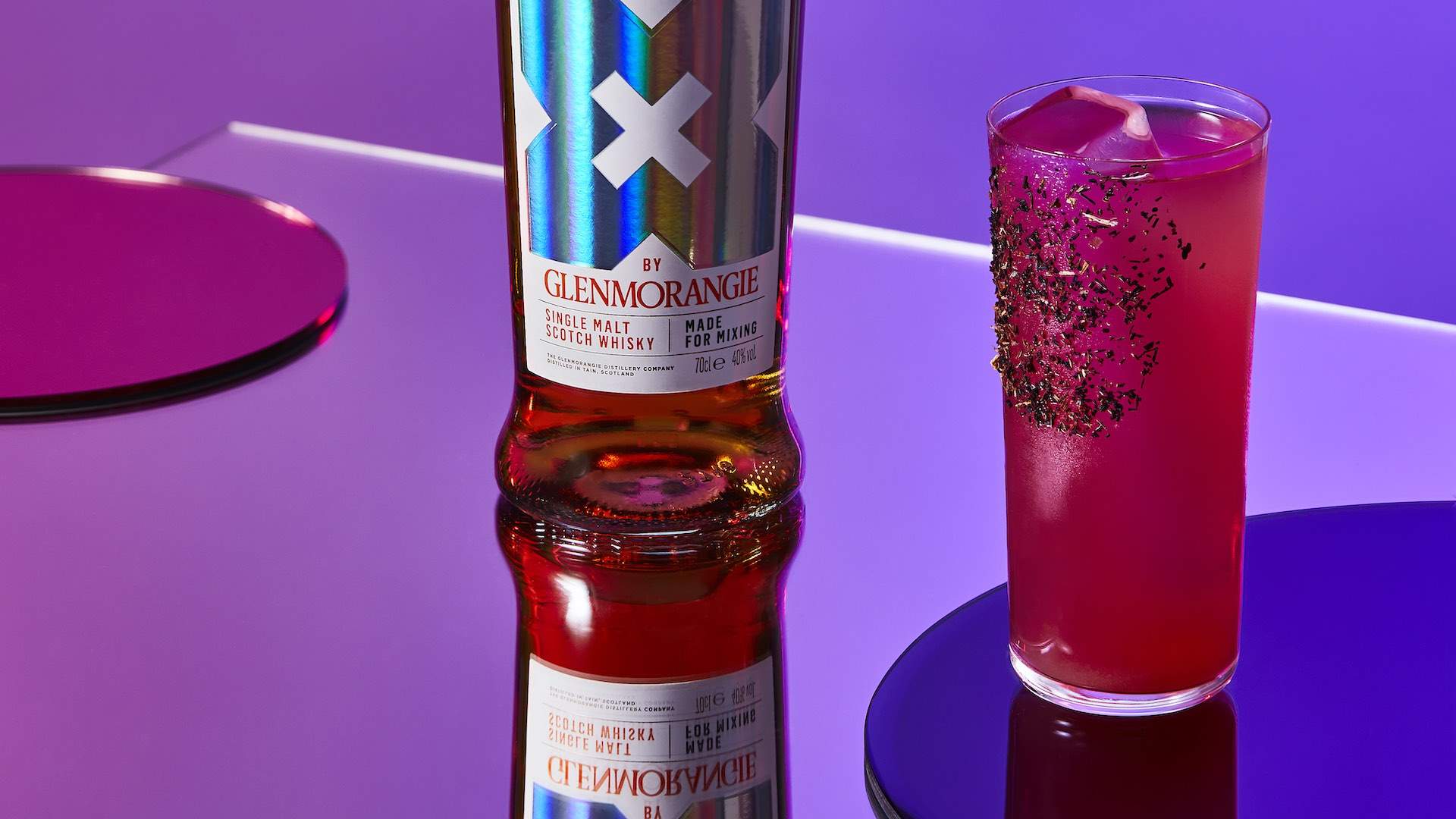 Pair a
Honeyed High Ball with something spicy
This tall berry-coloured highball is the Wide Eyed Wonder. What's perfect alongside? "Served ultra chill, the softening honey and berry notes of this cocktail work amazingly with spicy food, the acidity of kimchi or wings," Bosley states.
Make a batch of the sip laced with X by Glenmorangie and then serve alongside any dish with ample heat. Cut through the spice of a warming curry, slurp it up alongside pasta with fresh chilli or drink it as you chopstick up dumplings doused in fiery chilli oil.
WIDE EYED WONDER
– 40ml X by Glenmorangie
– 10ml Amontillado sherry
– 10ml honey
– 4 muddled raspberries
– 5ml lemon
– Soda water to top
– Ground tea leaves to garnish
Build all ingredients into a highball glass, then top with soda and ice. Sprinkle ground tea leaves on top and serve.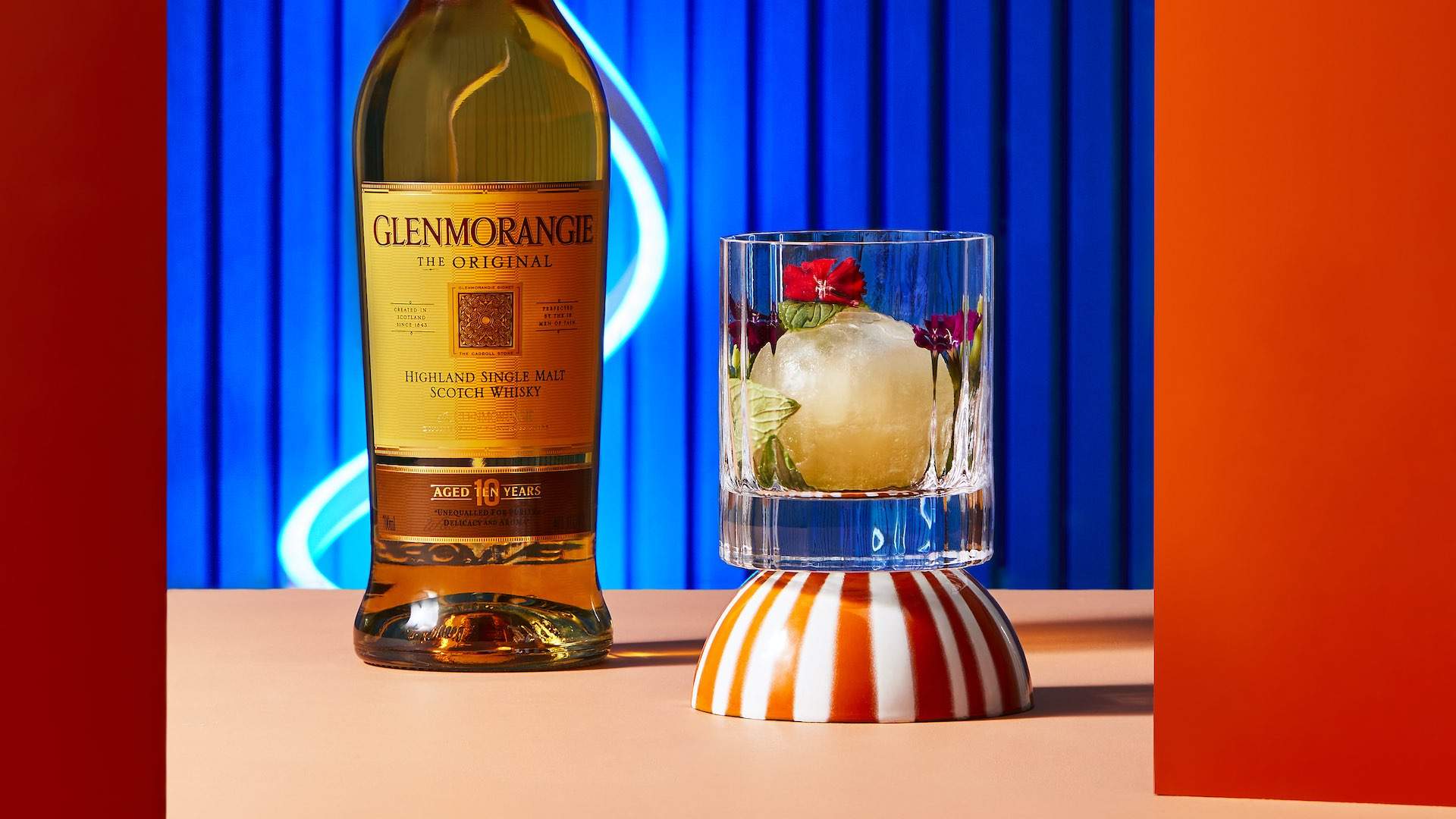 Pair a
Classic with a classic
While neither one in this duo is unexpected in its own right, as a pair they fit the brief — unexpected and brilliant. Introducing Single Malt & Strike, a smoky variation on a classic stiff drink. It's got a double dose of whisky — a healthy serve of The Original and the renowned smokiness of Ardbeg 10 Year Old.
And what to put with a classic? "Meat, oysters or cheese," Bosley recommends. Much-loved classics that do all the heavy lifting without much effort. "The hint of smoke found in the whisky adds a new layer of flavour to each pairing," Bosley continues. But, if you want to step it up, serve the double alongside a charred leg of lamb topped with herby chimichurri or stylise your oysters and serve them kilpatrick.
SINGLE MALT & STRIKE
– 40ml Glenmorangie Original
– 10ml Ardbeg 10 Year Old
– 20ml passionfruit syrup
– 30ml fresh lime juice
– mint to garnish
Add all ingredients to a shaker with lots of ice, then shake hard. Double strain over fresh ice into a double rocks glass. Top with sprig of mint.
We often lean in to food as the headline act when entertaining, but with these perfect pairings you can whip up a winning cocktail to complement your culinary efforts. "At home, whisky has you covered," Bosley finishes. "In a stirred-down old fashioned, balanced sour or sparkling highball, whisky has all the layers and complexity you could need."
To find out more about the delicious and wonderful world of Glenmorangie, head to the website.
Imagery: Tanya Zouev (Cocktail imagery and hero), Unsplash (food imagery)
Concrete Playground Trips
Book unique getaways and adventures dreamed up by our editors