FOOD & DRINK
Eight Over-the-Top Dishes You Should Treat Yourself to in Auckland
From burger cookie cakes to oversized pizza and a six-stack chicken schnitzel tower.
Eight Over-the-Top Dishes You Should Treat Yourself to in Auckland
From burger cookie cakes to oversized pizza and a six-stack chicken schnitzel tower.
---
You've been to the gym three times this week, brought your own lunch to work every day and managed to steer clear of the office drinks trolley. You've made it to Friday and your halo is positively glowing. It sounds like you deserve a totally over the top, calorific and just plain unhealthy dinner on the couch in front of the telly. We've rounded up top over-the-top dishes you can order takeaway or have delivered direct to your door. Because well, you deserve it.


GLAZED DOUGHNUT BURGER FROM SNEAKY SNACKY
In the heart of K' Road, this humble burger joint is not like the others. This one is for the doughnut lovers, the deep fry fiends and the die-hard saturated fat fans. Their signature dish is the original glazed doughnut burger ($13). Packed with a wagyu patty, kimchi fritter, a slab of cheddar cheese and the pièce de résistance, a dash of sriracha sauce. If chicken is more your thing, the hot chicken doughnut burger ($12.50) comes highly recommended. If you're thinking, 'what's with the doughnut?'. Trust us, the sugary glaze on that fluffy dough really cuts through the oil and offers a taste sensation. This OTT eatery is great to round out your week. Life is all about balance right? Sneaky Snacky is closed on a Monday, so don't make that your cheat day.


KING OF CONES FROM GIAPO
It's no secret that Giapo is hell bent on reinventing the humble ice cream. The Auckland ice creamery has already changed the way we interact with cold treats thanks to hot cross bun-impaled waffle cones and an entire menu of unlikely pairings inspired by comfort foods from around the world. Now, putting the research and development space on Gore Street to good use, the Giapo team has created a gigantic new ice cream fit for two (or more) people. Dubbed the King of Cones, the colossal creation features a tower of puff pastry, measuring over 60 centimetres tall. The cone is baked in the oven and shaped in a carefully customised mould, before being filled with layers of whipped cream, chocolate and hazelnut spread and coated almonds. The soft serve of Christchurch hazelnut and chocolate is gently swirled on top, with a dollop of dark chocolate and truffled almonds.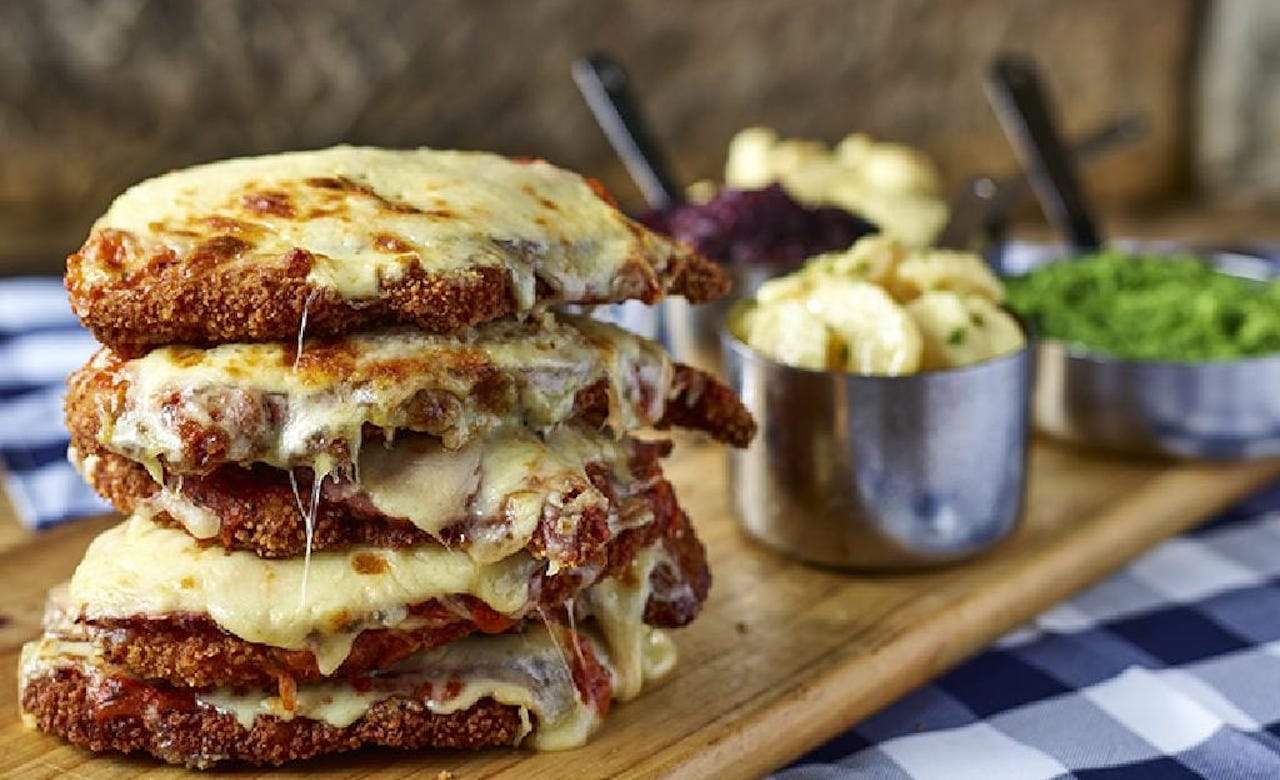 THE SCHNITZELMEISTER FROM THE BAVARIAN
Schnitzel is a key component at the country's first outpost of The Bavarian restaurant and bar. The German-style beer hall has eight on offer, from your classic veal wiener schnitzel to the traditional chicken jägerschnitzel topped with mushroom sauce and the cheese-topped parmigiana. For the ultimate feast, The Schnitzelmeister is a six-stack, super-parmi chicken schnitzel tower, and any customer that can finish it in under one hour with side dishes will roll out the door without a cheque. Pair your OTT feast with a traditional litre-sized stein of beer. There are 20 on tap to choose from, including German mainstays like Löwenbräu, Stiegl and Hofbräu. The bar is also be armed with an 18-strong schnapps list.


We class this one as OTT because the portions are so dang big, and the food is so dang delicious. KK Malaysian is an unassuming restaurant on Manukau Road in Epsom. The large vege curry laksa ($24) comes in a bucket (just about) and the large mee goreng ($20) will feed a small village. Order up large in a group so you get to sample as much from their menu as you can. The absolute best part about KK Malaysian is that there is free delivery. Too good to be true? Almost. The catch is you have to live within a three-kilometre radius of the restaurant. If you live further afield, the delivery charges start at $8.50. Note, it is closed on a Monday, so if you have a hankering, you'll have to get your roti and nasi goreng fix elsewhere.


Everyone knows of Ben & Jerry's, but did you know you can order it from Uber Eats if you live in or around Auckland city? This is the perfect pairing to a rom-com marathon, the end to a stressful week, or just for your average Tuesday. An ice cream lover's dream. We recommend the make-your-own sundae ($14.99). Good luck choosing between the delectable flavours. The list begins with A Cookie Affair, Chocolate Therapy, Coffee Coffee BuzzBuzzBuzz! and it goes on. Your sundae will be topped with either brownie, cookie or banana pieces as well as sauce, whipped cream and sprinkles. Need we say more? Another solid OTT option is the Wich ($11.99). Your choice of ice cream sandwiched between two freshly baked choc chip cookies.


Open from Tuesday to Saturday, Moustache should be your first stop if you are craving homemade cookies. This cookie establishment is a brilliant Kiwi business, and one that includes a travelling cookie bus. If you're spending a rainy Saturday on the couch, give the edible cookie dough a try ($13). It's ready to eat straight out of the tub, or if it makes it that far, roll it out and bake it in the oven. The assortment of freshly baked cookies are always a winner. They come in delicious flavours such as Snickers bar, cinnamon donut and Oreo marshmallow ($3.50 each). As well as classics, Moustache is famous for its off-the-wall and alternative birthday cakes. But who said they're just for birthdays? We solidly back the three-layer, nine-inch choc chunk cookie cake ($60) and the crazy burger cookie cake ($49). These delights are available to order direct from their website, or from Uber Eats.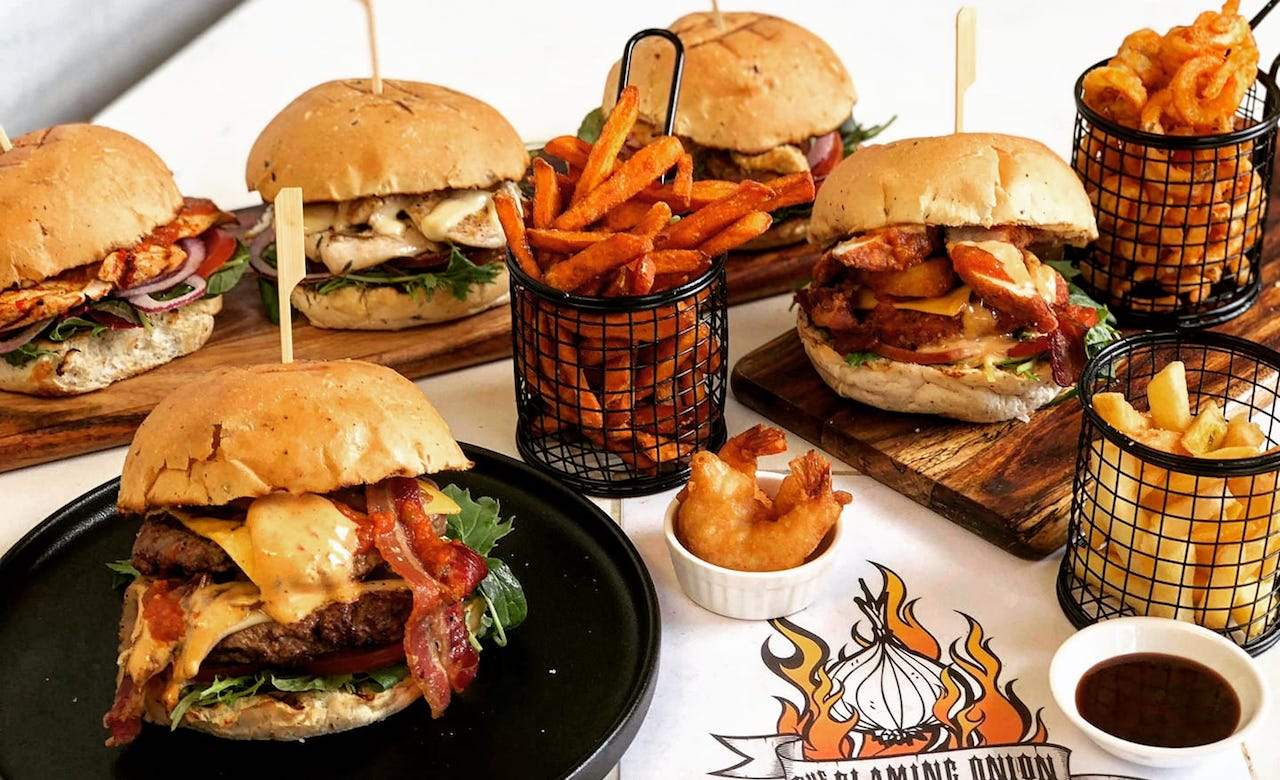 24 KARAT-TOPPED PREMIUM BURGER FROM THE FLAMING ONION
The Flaming Onion serves up some of the best (and biggest) gourmet burgers on the North Shore. The joint's bold and boisterous lineup includes a selection of over-the-top burgers involving everything from grass-fed wagyu beef to roasted duck breast, truffled mushrooms, butter chicken mac 'n' cheese and tempura onion rings. What's more, every Premium Burger can be upgraded with pure 24 karat gold leaf as a topping.


AUCKLAND'S BIGGEST PIZZA FROM PROPER PIZZA
Proper Pizza marketing spiel claims that it creates pizzas "that no New Zealander has ever seen nor tasted before." Pizza purists will likely choke on their chewy wood-fired crust when they discover that the pizza joint has a pie topped with yoghurt and strawberries. Born out of Kosova, the Auckland outpost can be tracked down on O'Connell Street in the CBD. Elsewhere in the toppings department you'll find everything from pepperoni and black truffle to iceberg lettuce, Marmite, apple crumble and Ben and Jerry's ice cream. Size-wise, you can take your pick from 20, 30, 40 and 60-centimetre pizzas. The latter is advertised as Auckland's biggest pizza.
Published on November 21, 2019 by Ruby Romanos