The Seven Best Big Breakfasts in Auckland
Your Sunday morning refuge.
---
Crunchy golden hash browns, perfectly cooked poached eggs, a few strips of God's gift to breakfast (bacon), a fried tomato and perhaps even some sossys on the side. Those are the classic ingredients of an age-old Kiwi tradition — the balm on your wounds during dusty Sundays and too-early mornings: the big breakfast. Throughout Auckland you'll find countless iterations of this iconic morning fix, but the following eight establishments do it the best.


This Sandringham mainstay makes you feel at home as soon as you step in the door. A bright green feature wall draws your eye, exposed bulbs hang from the roof and bright cushions adorn a long bench along the wall. But what really impresses is the food. The Okra Breakfast ($21) is the highlight of the morning menu, featuring all the staples: clover honey-smoked bacon, eggs any style, a delicious kransky sausage, their infamous house-made hash browns, mushrooms and tomato relish. This is a classic Kiwi brekkie, cooked to perfection in homely surrounds. Not a bad way to start the day.
Okra, 161 Sandringham Road, Sandringham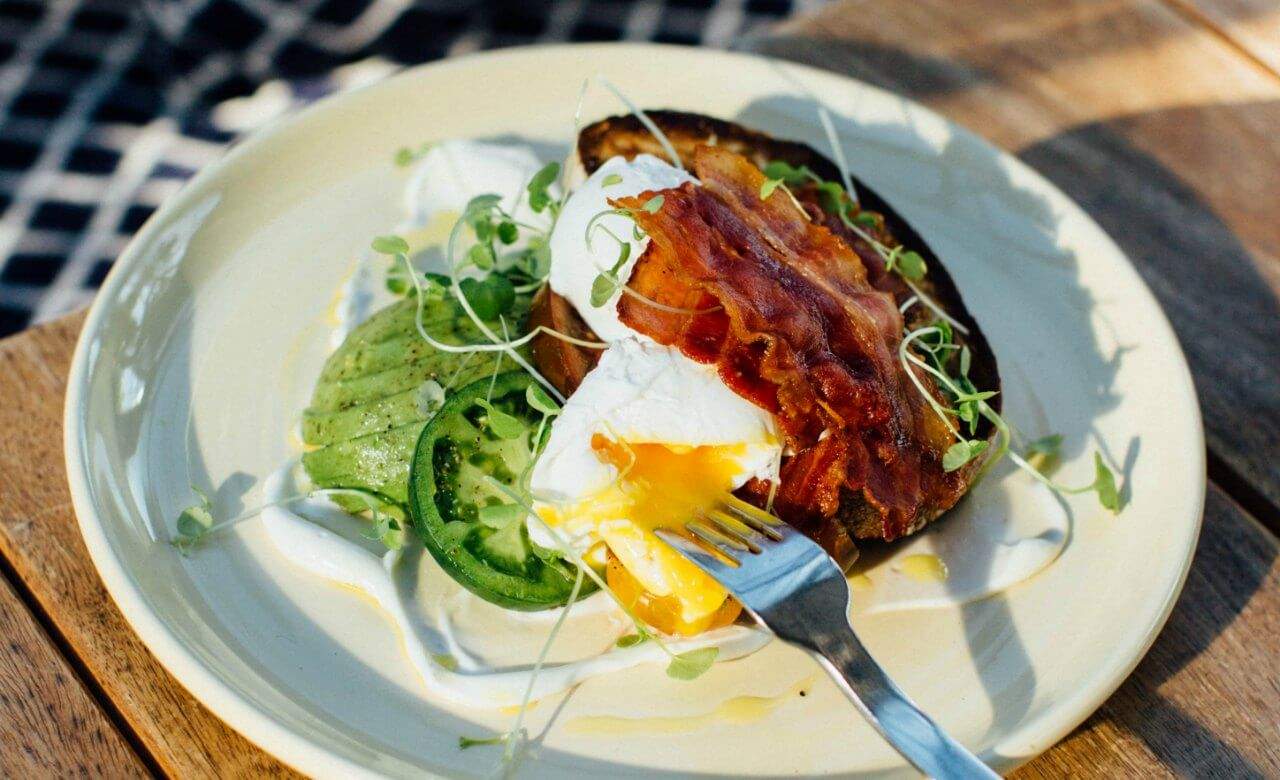 It's called The Complete because it will unquestionably complete you. Fresh heirloom tomatoes sit alongside avocado, free range eggs (get the poached) and the streaky bacon of your dreams. What really lifts this above your average big brekkie is the mind-blowing whipped feta dousing the entire dish. This is a slightly sophisticated iteration of a Kiwi breakfast for the discerning morning diner — not a plate of grease.
Odette's City Works Depot, 90 Wellesley St West, CBD



With an old lime green Countdown to its left and a school arcade at its rear you'd be forgiven for thinking Spilt Milk didn't have much to offer. But contained within you'll find some of the most delightful café fare you'll ever sample.
The menu is crowned by a bloody good big brekkie. You'll receive a large helping of everything you'd expect, all topped with nam jim — a spicy, tangy Asian dressing that enlivens this otherwise conventional meal. If you're not in the mood for a feast try the Eggs Benny Deluxe.
Spilt Milk, G/1197 Great North Rd, Point Chevalier


The Big Fill tastes, looks and smells like something your mum would fry up - but improved by the spot on execution and consideration of a trained and talented chef. The bacon is cut thick and bursts with flavour, while the agria rosti will wipe the floor with any potato snack in Auckland. Plus, in an unconventional yet welcome twist, it comes with a succulent slice of pork belly.
21 Graham St, CBD



The Grill (Takapuna Beach Cafe)
Few things soothe a hangover better than feasting upon bacon with the sound of waves lapping in the background. Grab a table on the deck if the weather's fine and enjoy this beautifully plated brekkie feast, complete with agria rosti, bacon slab sausage, eggs and pain cereal (fret not, pain cereal isn't some sort of torturous breakfast grain, it's just a delicious fancy bread). Accompany this seaside feast with a mango and coconut smoothie and you're on your way to a top notch day.
Takapuna Beach Cafe, 22 The Promenade, Takapuna



In lush garden surroundings in the centre of Mount Eden, you'll find The Garden Shed — a laid-back eatery, complete with rural vibes, lush courtyard garden and a cracking big breakfast. This meaty masterpiece is served on fancy plank, and features all the staples as well as some more unique ingredients. There's a spicy pork sausage, black beans in spicy tomato sauce and several juicy slices of portobello mushroom, all of which combine to form a homestyle feast that will satisfy any hunger.
The Garden Shed, 470 Mt Eden Rd, Mt Eden


The Return of RAD's breakfast is absolutely effing rad — bacon, rosemary lamb sausages, eggs, rich and creamy feta with basil and vine ripened tomatoes, all served on freshly baked bread of the day. What's more — it's all free range. If you've grown a conscience along with an appetite while out creating your hangover then this is the perfect brekkie to balm your wounds. Plus it doesn't hurt that RAD's baristas make some of the best coffee in all of Aotearoa.
The Return of RAD, 397 Mt Eden Rd, Mt Eden


Published on November 03, 2016 by Ben Tutty