FOOD & DRINK
Eight Auckland Bars with Top-Notch Drinking Snacks
For when you don't want a full meal and feel like something more sophisticated than a bowl of potato wedges.
You know that feeling; you're out with friends having a post work drink and your stomach starts rumbling. It's too early for dinner but your belly doesn't care. Thankfully there's no need to down your beverage and rush off home as these Auckland bars have got you sorted with tasty oddments for you to enjoy alongside your beer, wine or cocktail.


If ever a bar existed just to serve the perfect bar snack, Bedford Soda & Liquor would be it. Serving up the best meatballs (and vegetarian balls), tater tots and onion rings this side of the Pacific, both the Ponsonby and Takapuna offer a chilled place to hang out in the afternoon and evening, and you never have to worry about getting the munchies here.


XUXU, AUCKLAND CBD
Snuggled conveniently next to Britomart train station, Xuxu is an Auckland institution, serving delicious cocktails and dumplings. Even if you think you're not hungry, you'll find yourself with total FOMO as you watch the dumplings being cooked from the open kitchen. At only $12 for six delicious dumplings you might as well treat yourself. Xuxu is open for lunch and dinner during the week and from 5pm on Saturdays.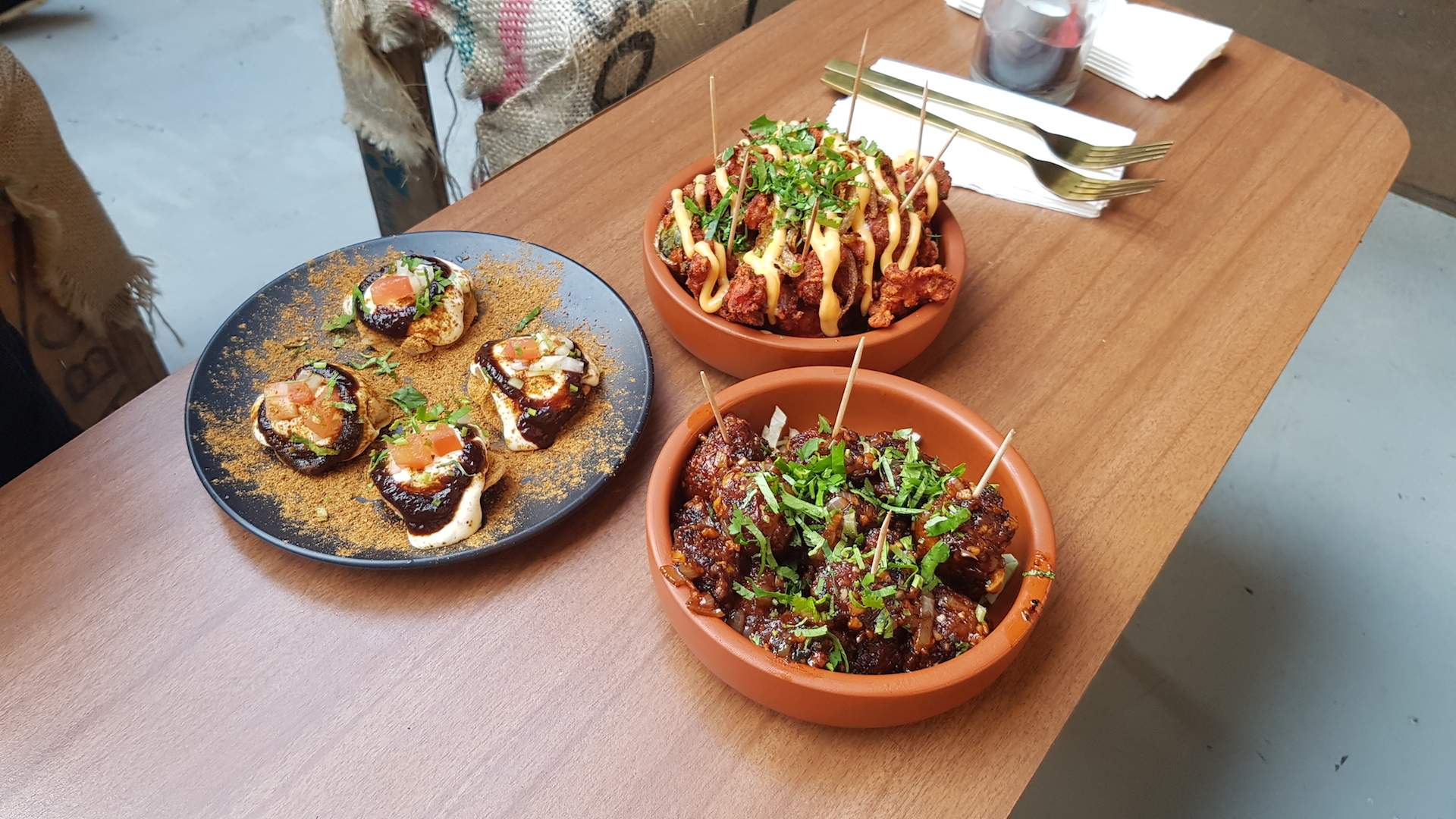 What started as a hangout in the garage of Sammy Akuthota's family restaurant has evolved into one of the most popular drinking spots in the city. The Sandringham outpost of Satya Chai Lounge is purposely full of mystique. Coffee sacks and plants line the roof, rugs cover the walls beneath mismatched lumber, long hand-crafted benches and stools run down the narrow space and the fridge is bursting with craft beer. The menu is perfect for sharing, featuring mouthwatering drinking snacks like dahi puri, chicken 'Kurryage', and the ridiculously addictive Manchurian vegetable dumplings.


You may already know The Jefferson is an amazing whiskey bar, but did you know it also serves up some of the best snacks in the CBD? Hidden down Fort Street, The Jefferson is a fantastic place to drink in. It's also a great place to be in when hunger strikes. The Tasty Bites menu is perfectly formed and you get a lot of bang for your buck. The salt and pepper squid ($10) and cheeseboard ($18) are recommended as a perfect accompaniment to your whiskey cocktail.


Owned by Mexican-born sommelier Edmundo Farrera, La Fuente Wine & Mezcal operates as a wine bar and 'shoppe', where customers can taste wine and mezcal on-site, as well as buy it to enjoy later. The intimate space down Snickel Lane is the first bar in the country to devote itself to Mexico's indigenous spirit. La Fuente will offer around 30 variations of mezcal from Oaxaca, Mexico with entry level, artisan and ancestral categories on offer. The beverages on offer are complemented by a small menu of Mexican-inspired dishes and bar snacks. Here you can pick up three kinds of mezcal, three bites and one beer for $70. The menu includes tapas dishes such as cured salmon tostaditas, cheese croquettes, squid ink crackling and guacamole with handmade tortillas.


Step inside the fairy lights to the Gyspy Tea Room, Grey Lynn's well-loved corner bar. Not only does it have an interesting selection of craft beers, wines and cocktails served in teapots, but it also has an Amuse-gueules snacks menu that will make you want to forgo dinner. The garlic pizza bread ($8) is divine and the pizzas are great value to share (or not) at $16 a pop.


It looks like a speakeasy from the outside, with the interior hidden behind two draped curtains, but once inside, GG X Flamingo is pure tiki bar — Indian style. The cocktails and beer selection are fantastic, but the snacks served from the impeccable Satya Chai Lounge next door are out of this world. Try the paneer aloo faakkers (like a cheesy, gooey hash brown) and the masala fries, you won't regret it.


What's better than drinking snacks? Free drinking snacks. Every day from 5–6pm, Gusto at the Grand puts on a complimentary spread of delicious bite-sized snacks. The lineup during Aperitivo Hour can include everything from pea, mint and ricotta bruschetta to provolone cheese, porcini mushroom arancini and olives. And you can enjoy a complimentary bite as long as you're having a drink in the bar during this time.
Published on June 06, 2019 by Janine Smith