FOOD & DRINK
Summer Concert Prep: How to Fill a Picnic Basket With Fat Freddy's Drop
Plus, win tickets and a picnic package for their upcoming show at Villa Maria.
Fat Freddy's Drop will descend on the country's most awarded winery, Villa Maria, on January 14, 2017 spreading their relaxed brand of hi-tech soul around the natural amphitheatre— which just happens to be located inside the crater of a 20,000 year-old extinct volcano.
While the vino will be flowing courtesy of Villa Maria, punters are encouraged to bring some sustenance to keep the good times rolling. It's no secret that the seven-piece are huge food nuts; they're as equally known for their signature paua wonton recipe, carting local seafood on tour, and their own food-centric tag line 'the band that eats together, stays together' — as they are for their blissed-out summery vibes.
It's only fitting that as crowds assemble for the one-off event, we ask Freddy's sax man Chopper Reeds (Scott Towers) for a few tips on how to fill the appropriate summer concert picnic basket. He responded with this favourite recipe and a wine match to boot.

What are three things that should be in every picnic basket?
Ice: there's nothing worse than warm beer or sweaty cheese.
A bottle opener: you don't want be responsible for everyone missing out on the wine.
A couple bottles of sparkling water: keeping yourself hydrated means you stay in the game for longer... and it's handy for cleaning up that inevitable lunchtime spill on your favourite white t-shirt.
We've heard the band has a habit of shipping kai moana on tour. What does the FFD backstage rider look like in the food department? 
We always request two things — something uniquely local and roast chicken.
Do you or the band have any pre-stage eating rituals?
My usual ritual is to try and NOT eat anything in the last few hours prior to playing. Full stomachs, saxophones and two and a half hours of jumping about are not a good match.
Which FFD song would best accompany your grilled peach and prosciutto salad?
'The Camel' — it's a nice long one so you get to sit back and enjoy both the song and the salad.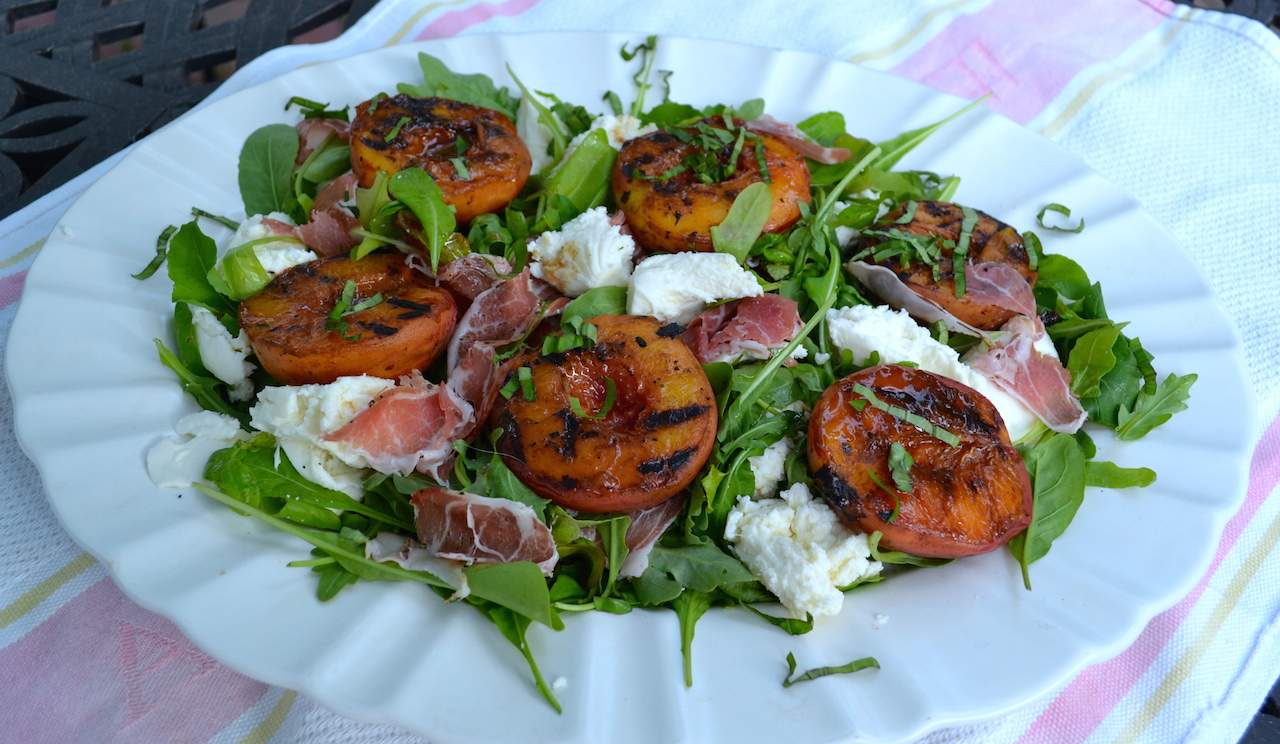 Chopper Reeds' Grilled Peach & Prosciutto Salad
Ingredients
6 x peaches
Good quality olive oil
2 x 125 g balls of buffalo mozzarella
12 x slices of prosciutto
1 x lemon
Sea salt
Black pepper
A few handfuls of rocket
Fresh basil
Method
Preheat your oven to 200 degrees celsius. Halve peaches, remove stones and place cut-side up in an oven tray. Drizzle with olive oil, sprinkle with salt, and roast for 20 minutes, or until charred and sticky.
Put peaches into a serving plate. Tear buffalo mozzarella into chunks and dot over peaches. Curl prosciutto slices over plate and then add rocket and torn basil leaves. Squeeze lemon juice over the whole plate, liberally dress with olive oil, season with salt and pepper and serve.
Pair the dish with Villa Maria's Ohiti Gravels Arneis, a wine "displaying the delicate characters of honeysuckle, almond and peach, entwined with subtle mineral complexities on a long and dry finish."

Published on December 21, 2016 by Stephen Heard