The A to Z Guide to Healthy Eateries in Auckland Part Two
Guilt-free food for every dietary requirement.
Paleo, cal, gluten,
New trends guide me to health,
My body is a temple.
There is no questioning the emergence of a global awareness when it comes to health, nutrition and better living – an awareness that has (thankfully or not, depending on your Facebook friend list) erupted into mainstream popularity.  New trends in clean eating, diets that call for regimes beyond simple calorie counting, and a continuous stream of research that indicates 'perhaps eating products hosed in pesticides ain't the best idea' have all contributed to this phenomenon, followed (or perhaps matched) by the eateries, takeouts, restaurants and other dining establishments embracing it in their offerings.
While it is by no means the norm, there exist a great many undiscovered oases and well-known locations that either specialise in the healthy eating field, or have a particularly suitable ethos when it comes to making body-wise choices whilst grabbing a bite out.  Some may surprise you, some you'll likely never heard of – but we can guarantee all have a delicious selection of things to gorge on that will leave you satisfied, yet lacking in lingering guilt.
And don't just take our word for it – to ensure a scientific and nutritionally sound approach for your A to Z of healthy eating in Auckland, we've teamed up with nutritionist Danijela Unkovich to provide honest advice on the good and the great when it comes to guilt-free eating in the SuperCity – from paleo to raw, from gluten-free to vegan, organic to whole-food and a whole plethora in between.
To see part one of our guide, click here. To see part three click here.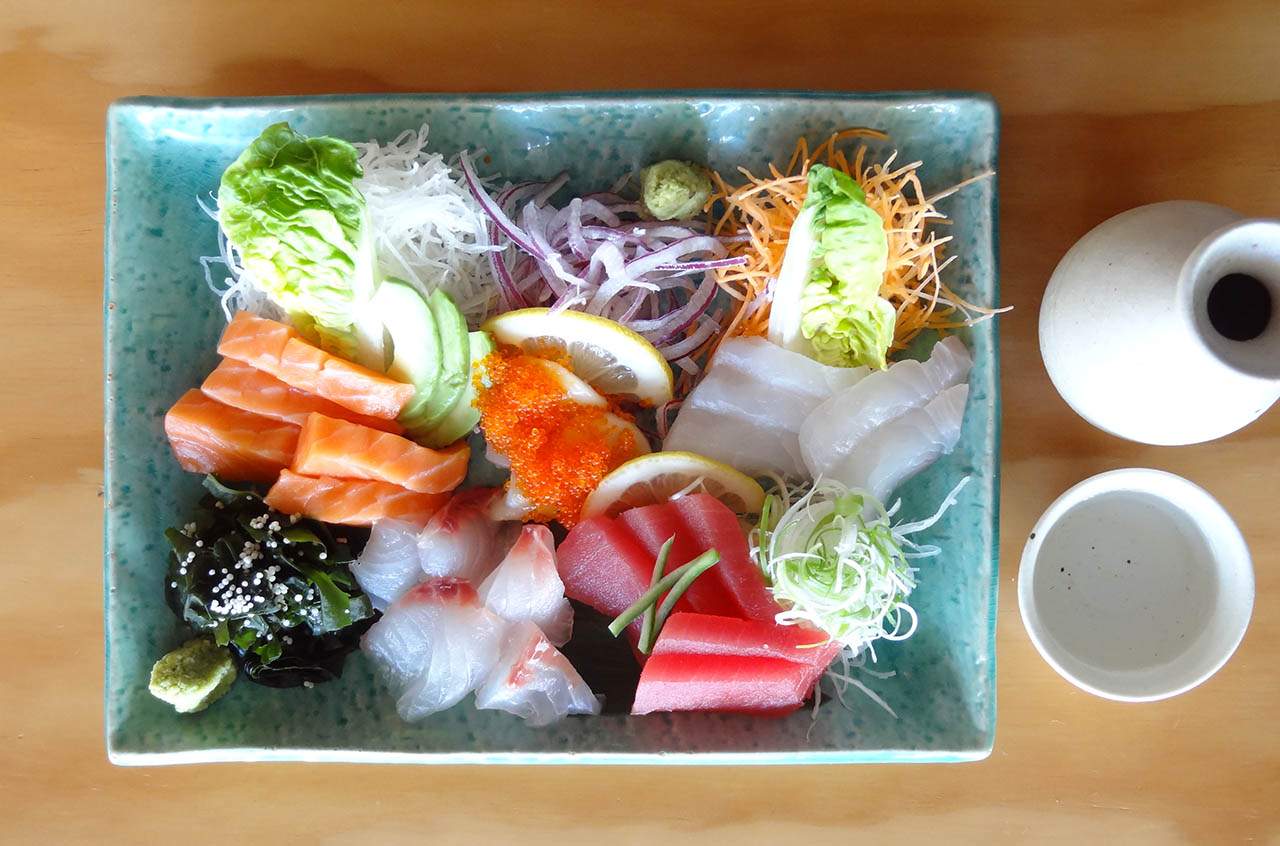 In a relatively short period of time, Janken has developed a reputation for healthy, well-balanced Japanese cuisine which delivers outstanding flavour. Inhabiting a small space on Jervois Road, its minimalist interior is funky and inviting, an atmosphere complemented by a friendly team who ensure you always feel welcome. Offering both lunch and dinner service, you'll find a mixture of the classic (dashi snapper), to the succulent (crockpot chicken Japanese style) to the contemporary (bun-less mushroom burger) - the general trend being no matter your choice, you'll find it a good one. Sides and meal accompaniments are osozai, meaning homely style healthy side dishes like Mum used to make, the salads done in traditional Bhuddist cooking style and the desserts exclusively macrobiotic. Need we go on?
Why: Owner Masami Ono says, "Janken offers a fusion style menu. Our ethos is to use organic, fresh produce to deliver delicious, healthy and environmentally friendly choices. We offer gluten free, vegan, and vegetarian options; and macrobiotic desserts. We carefully choose free farming produce such as free range chicken, free farm pork and organic beef."
Suggested delicious healthy dish: Crockpot chicken with organic miso soup.  A macrobiotic dessert if you're feeling naughty.
Nutritionist thought: Committed to providing a healthy Japanese dining experience, Janken's versatile menu offers a selection of nutritious and well balanced dishes, while utilising as many locally grown, organic, and free range products as possible. Their seriously delicious dessert menu abides by the macrobiotic dietary approach, so they don't contain any eggs, white sugar, or dairy, and are also free of gluten and are vegan-friendly.
158 Jervois Road, Herne Bay


Kokako décor oozes cool. Once an old post office, the refurbished café is light and airy, dotted with many upcycled pieces, fresh flowers, herb pots, and ample corners to settle in, creating an ambience of character with a relaxed vibe to match – perfect for lazy Sunday brunches or the ritualistic weekday afternoon coffee break. An enduring favourite among locals and Aucklander's alike, Kokako is well known for their extremely popular fair trade coffee and ethically made products. They serve up a varied vegetarian menu, and have a deliciously tempting cabinet of sweet treats, cakes, loafs, and muffins - yum. We're big fans.
Why: Managing director Mike Murphy says, "Kokako has its foundations built on an understated vegetarian and vegan food offering that is accessible to all. We have always tried to source as many organic ingredients as possible and make these the hero of each dish. Our focus is on using whole grains such as organic spelt flour which is used for our muffins and a range of gluten- and dairy-free options on both the a la carte menu and cabinet offering. We try to make it easy for those who have food intolerances to dine at Kokako and all of our staff are well versed in helping customers choose something that suits their needs."
Suggested delicious healthy dish: Courgette and Chilli fritters with radish, watercress, pinenut and cumin feta salad.
Nutritionist thought: The sustainability aspect of the business is evident throughout the café, from their committed supported to using fair trade ethical products (both their own and other locals), sourcing local fresh ingredients for their menu wherever possible, and even the upcycled cafe décor – it's fantastic. Kokako's menu is accommodating to many different dietary requirements with plenty of vegan, vegetarian, gluten- and dairy-free options available. Coffee lovers get excited - their fair trade organic coffee is ridiculously good too.
537 Great North Road, Grey Lynn


One of the holy grail eateries when it comes to healthy cuisine in Auckland, the spectacularly successful Little Bird Unbakery has quickly become one of Auckland's most established go-to health spots. What sets the Bird apart is its inventive and innovative approach to raw food – it's fresh and inspiring, creative and daring, but most importantly damn tasty. Utilising only the highest quality, raw and organic ingredients, the chefs at Little Bird have crafted some utterly exquisite dishes across their extensive kitchen menu and sweet treat cabinet, which will totally knock the socks off even the most skeptical of folk. The cabinet itself deserves special mention – filled with an array of delectable creations, from fudgy brownies to rich creamy cheesecakes, these sweet treats are guaranteed to provide 100% taste bud satisfaction, with 0% guilt. The only downside – the café is almost always buzzing, so chose your dining times wisely or you may struggle to get a seat.
Why: Unbakery-er Jeremy Bennett says, "Although most of the food at the unbakery is raw, we don't get too hung up on strict rules. We try our best to make great tasting dishes from the best available ingredients. Everything we make is also gluten free, vegan, without cane sugar and as organic as possible. We are always experimenting with new ideas and techniques, like nut cheese, coconut bacon, hand-rolled buckwheat noodles, home brewed kombucha… healthy food doesn't need to be bland, or boring!"
Suggested delicious healthy dish: Anything and everything.
Nutritionist thought: A true haven for healthy dining, Little Bird celebrates food in its purest and most natural form. They have created an incredible health conscious menu, emphasizing nourishment through the utilisation of fresh nutrient-dense ingredients. All food served is organic, free of gluten, dairy, refined sugars, and soy, and almost entirely raw and vegan.
1 Summer Street, Ponsonby


Down a secluded drive and wrapped in leafy greens is Mondays, an all-natural, always-good Kingsland cafe created by two notable healthy-eating bloggers (Eleanor Ozich from My Petite Kitchen, and Hannah Horton from Health Yeah). The small and gorgeously appointed eatery splits between a sun-drenched courtyard and cosy interior. Seats are at a premium - the exceptional quality of food ensuring a steady flow of health-conscious eaters and those simply seeking something delicious. Their cabinet is chock-a-block full of gluten-free desserts and raw, guilt-free goodies, whilst the menu offers a selection of incredibly attractive and larger clean options - from salad bowls to spelt flatbread toasted sandwiches, smoothies to a papaya boat filled with brazil nut jaffa granola.  Either way you'll be living the clean and satisfied life.
Why: Co-owner Hannah Horton says, "At Mondays we have two passions. Firstly, it's about simple, honest and wholesome food that tastes insanely delicious. And secondly, we love to inspire our customers to live balanced, connected & abundant lives. Our menu is packed with nourishing local produce and is designed to satisfy our vegan, paleo and 'just-wanna-be-healthy' friends too!"
Suggested delicious healthy dish: Beautiful Buddha Bowl with a Goodness Green Smoothie (kale, spinach, celery, kiwifruit, pear, banana, Spirulina, goji berries and bee pollen - whew!) on the side.
Nutritionist thought: Their menu celebrates the use of fresh, nutrient dense wholefoods, which they so beautifully utilise to create some exceptionally yummy and nourishing dishes that are full of flavour and taste. They stock a range of gluten-free, dairy-free, refined sugar-free and vegan-friendly foods, with a variety of seasonal salads and nutritious smoothies on offer. It's such a little gem of an eatery.
503 New North Road, Kingsland


This cutesy little takeaway cafe is situated within health supermarket Naturally Organic's newest Northridge branch out in Albany. Taking up a small corner in their bustling healthy foodie haven, they have on offer a tempting drinks menu including a variety of smoothies, fresh juices, and herbal teas, along with your standard cafe drinks fare, made using organic single origin coffee - with quinoa milk optional. As for food, there's a delicious range of cakes, slices, brownies, parfaits and bliss balls (everything of the health variety of course). Only downside is the lack of seating, so be prepared to order and take away.
Suggested delicious healthy dish: Dreamy cacao shake - banana, cacao, cacao nibs, almond milk, almonds, medjool dates, coconut, coconut water, coconut oil, and chia seeds.
Nutritionist thought: Such a yummy selection of smoothies and juices made with delicious combinations of fresh, seasonal organic produce and nutrient-dense ingredients - talk about healthy fuel on the go. Their delicious food cabinet is packed with goodies that will cater to a range of individual dietary needs and preferences, including gluten-free, vegan, raw and dairy-free foods. I especially love how their selection of sweets showcases how yummy healthy treats can get, whilst still being nourishing for you.
Shop 23, 100 Don McKinnon Drive, Northridge Plaza, Albany


Whether you're up bright and early after your morning bikram yoga class, or if your bodies just in need of some serious TLC after last night's antics, make sure to stop in at Parnell's La Cigale Markets every Saturday and Sunday morning to catch The Organic Mechanic. Witness the boys churn out the freshest (and damn tasty) organic vegan superfood smoothies to the market masses and marvel at the tastes they create. Their carefully crafted smoothies are packed full of nourishing ingredients, with each smoothie created with a specific area of health and wellness in mind. They also offer a selection of other health tonics to fit your dietary needs, whether that be ginger-infused kombucha, nut mylks, and the mother of all detox elixirs - wheatgrass shots. And while you wait for your smoothie make sure to have a chat with the lads…they're a super passionate bunch about all things to do with health, wellness, and environmental suitability and are a veritable fountain of health information – and we dig that.
Why: One of the lads behind this natural masterpiece, Graedon Parker, says: "From the food that we source, grow, and eat - to the menu we serve at La Cigale, we make sure everything we do is based on the wisdom of Hippocrates - 'Let food be thy medicine, and medicine be thy food'. We pride our smoothie and healing elixir menu to be some of the most powerful forms of medicine that the human body can digest. It is through our own experience that we have learned that eating the right food, and living in more accordance with nature can provide a life free and devoid of diseases like cancer and heart disease - and that prevention is truly the only sure way to beat them."
Suggested delicious healthy dish: Anything and everything they sell.
Nutritionist thought: I'm a massive smoothie fan - not only can they be total powerhouses of nutrients, but blending the whole produce ensures they come with a healthy fibre intake too. The OM boys have put together a delicious selection of smoothies and drinks using a combination of organic and spray-free produce and carefully considered ingredients, that when combined not only taste amazing but are brimming with health benefits.
La Cigale Markets on weekends, Parnell


Pure Food Kitchen is a mecca for those seriously serious about clean eating. Featuring predominantly takeaway cabinet food (wait for it...), but also paleo-friendly gluten-free bagels with a variety of health-conscious fillings, and epic smoothies, it can be a little hard to know what's on the menu. There are staples, but the owner Dawn likes to throw something new in the mix everyday - and good on her. They say trust must be earned, so be confident knowing this eatery has secured ours - the cabinet serves up all manner of goodies like salads and clean sweet treats, but where the establishment truly shines is their pie offering. You heard us health-fans, we're talking clean-eating paleo pies, made on-site every day and second to none. Try the pulled-pork with a mashed kumara topping. Healthy eating does not get better than this, and if that wasn't enough, believe us, everything else on offer will be.
Why: Owner Dawn Folkard says, "My own personal health issues prompted me to adopt a clean eating lifestyle. I had major issues and was looking down the barrel of surgery. I was unable to find clean food that was affordable and convenient, so I started cooking everything myself. I discovered there were a lot of people like me out there who were looking for accessible and affordable options so decided to try and meet that need."
Suggested delicious healthy dish: Pulled Pork & Bacon mini pies, topped with kumara and with a gluten-free base.
Nutritionist thought: With a totally approachable menu to the unsuspecting public (think healthier takes on pies, brownies, bagels…), Pure Food Kitchen is all about ditching processed foods, refined sugars, preservatives and additives, and instead utilizing fresh and simple wholefoods to create some seriously tasty foods (their pulled pork and kumara pies are ridiculously good). They cater across a selection of dietary needs/preferences whether they're gluten-free, grain-free, or paleo.
2A Hakanoa Street, Grey Lynn

To see part one of our guide, click here. To see part three click here.
Words by Will Seal and Danijela Unkovich.