FOOD & DRINK
The Five Best High Teas in Auckland
Miniature sized food, pretty plates and china; what else is there in life, really?
The Five Best High Teas in Auckland
Miniature sized food, pretty plates and china; what else is there in life, really?
---
Miniature food, pretty plates and china; what else is there in life, really? As winter has set upon us, why not grasp hold of want-to-be spring season and embark on an afternoon spent sipping a good cuppa (after the bubbles, of course) and indulging in some decadent sweet treats, usually set upon a well decorated table. Read on for five of the best high tea experiences on offer in Auckland.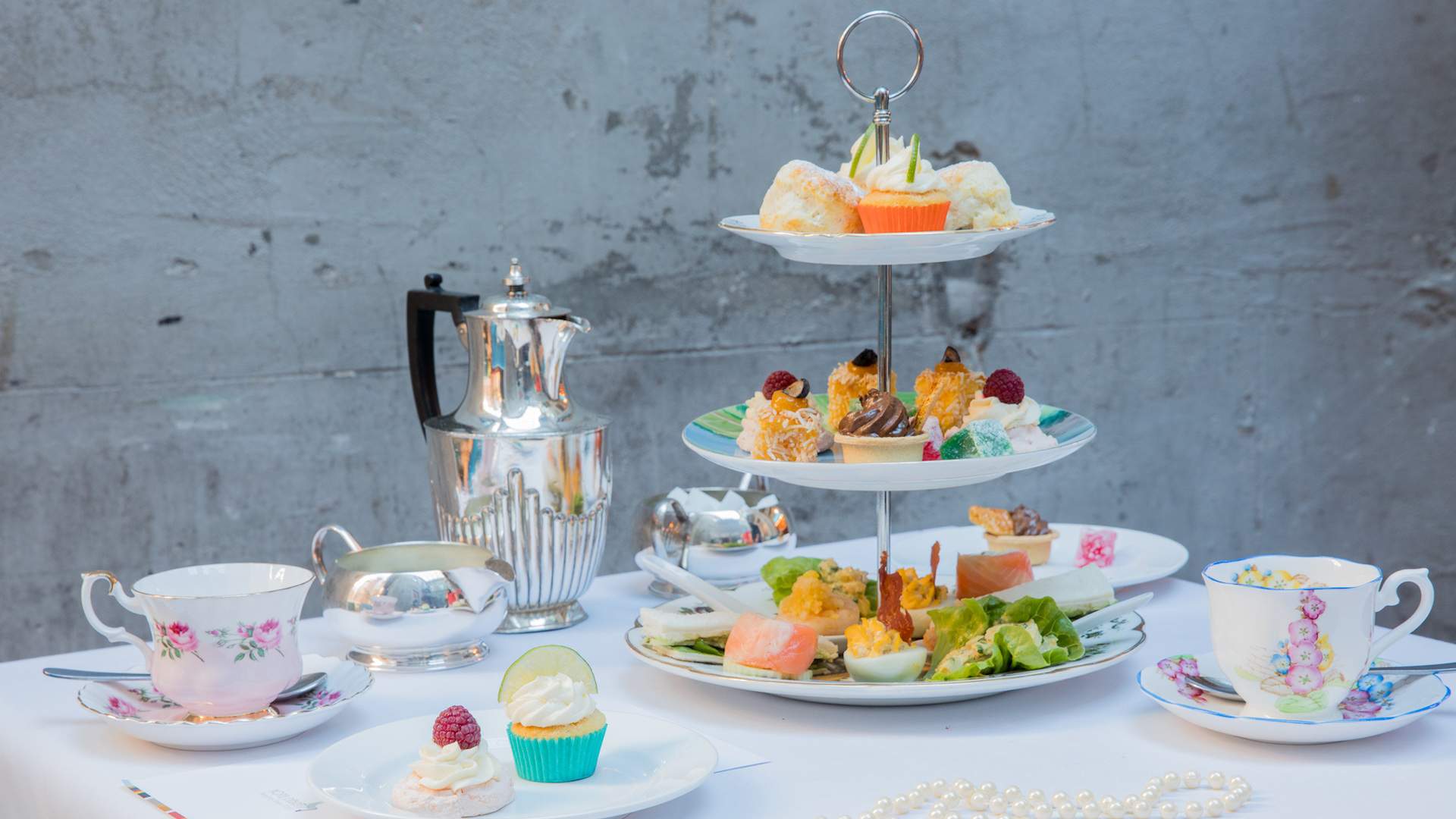 Known for its stunning decor, creative cocktails and delicious food, Hotel DeBrett was sure to make the list with its Roaring '20s-themed high tea. Only available between 1pm to 4pm on weekends, the selection is a favourable one to take the place of both lunch and dinner. Serving up signature cocktail to start is the perfect way to kick off a high tea. The treats on offer are creative, modern and most of all tasty. The savory selection with a revamped take on smoked salmon pinwheels, deviled eggs and classic prawn cocktail is the perfect warm up for the main affair: the sweet treats. A high tea certainly doesn't exist without scones, and Debretts lemonade versions are cake moist and served with the most delicious jam. Other options include tiny lamingtons, Champagne knox dainties and jaffa mousse and hokey pokey tartlets. Overall Debrett's makes for the perfect spot and at a reasonable $55 per head. To complete the theme, the dress code is 'Flappers and Dappers' are can be complemented by 1920s packs filled with faux pearls, elegant headbands, demure long gloves and bright feather boas.
2 High Street, CBD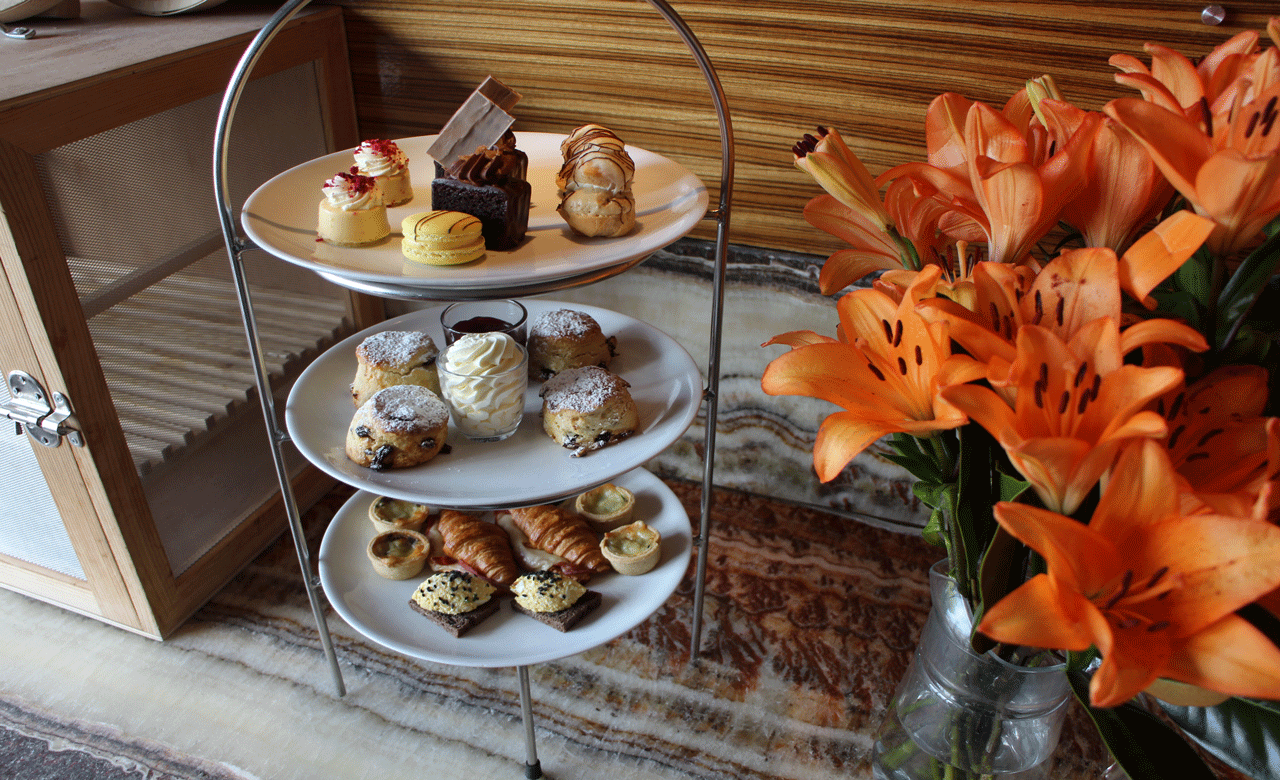 This little ditty was equally enjoyable. With a selection of fine finger delights masterfully presented to us in their dining room by the waiter, namely Lava, with the option to take your tea outside if the weather permits. Sofitel is a great choice for the fancy fineries. Taking high tea a little more French as expected with ham and cheese croissants (petite of course, because everything tastes better bite sized or near to) and a little mango macaron ticked the fine patisserie aspect off the list, alongside hazelnut profiteroles to finish off the French themed treats. Not to limit the experience, the leek and mushroom quiche was perfectly baked and as I can never quite go past fresh smoked salmon, the salmon and lemon creme fraiche on a blini were definitely one of my favourites. The scones were perfectly delicious with fresh whipped cream and jam and I think no high tea is complete without something indulgent and chocolatey with was of course available with the glazed valrohna chocolate mud cake. This entire selection, with champagne of course, will set you back $59 in total.
21 Viaduct Harbour Avenue, CBD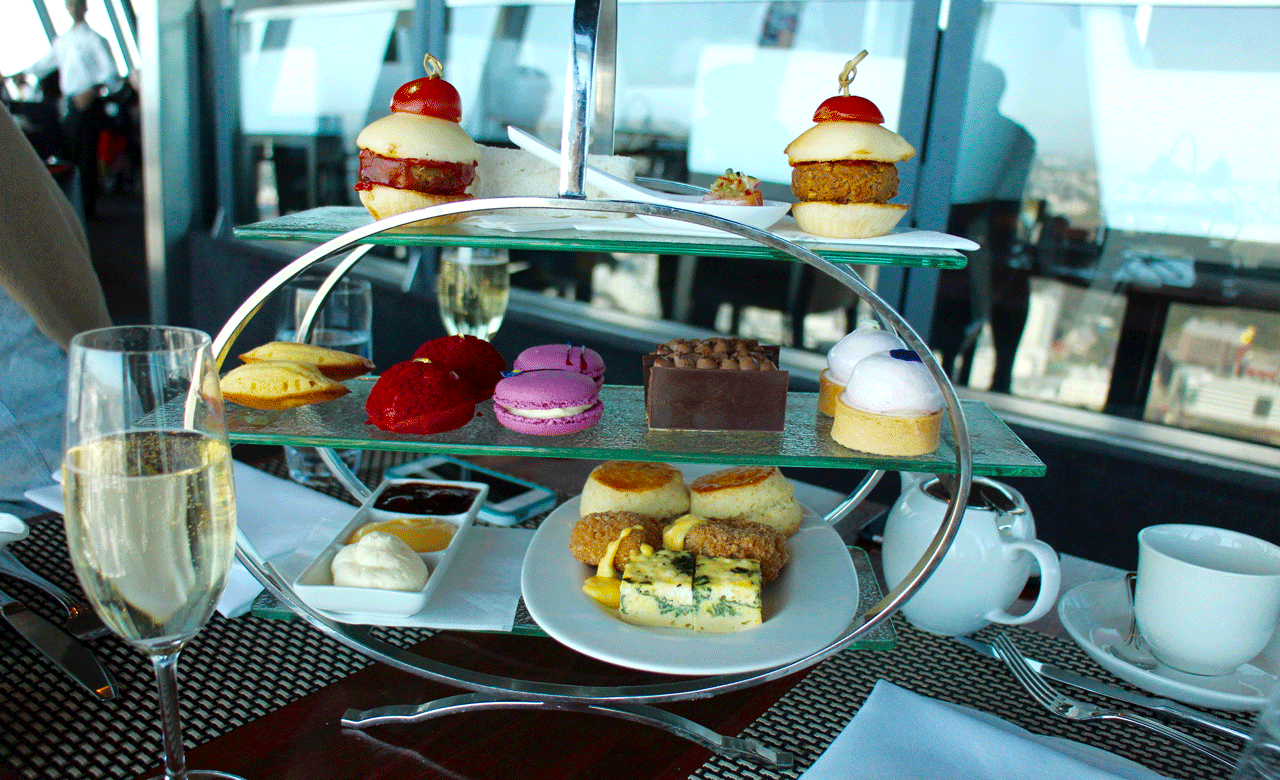 SkyCity is known for having a delicious selection of places to eat around the area, it's only fitting that one would indeed include a high tea in their mix. Orbit gets their name from the rotational aspect of the restaurant and is the perfect spot if you literally are after panoramic views of Auckland. We were lucky enough to have a picture perfect day to sit back and enjoy this selection, whilst looking outwards to the city. Taking a modern twist, the custom designed three-tiered stand is a fresh way to present this classic offering. To start with the waiter asks if there is any dietary requirements, which in our case there were. With a simple switch from mini lamb burgers to mini falafel burgers we were away with the rest of the feast. Crumbed stuffed mushrooms were a delicious addition alongside goat's cheese pumpkin and feta quiche. The main event, once again is of course the sweet selection, scones with cream and jam is always a must and that macaron snuck its way in once again, this time with cassis and mascarpone making up the flavours. The strawberry and vanilla choux puff was my personal favourite, closely followed by the orange madeleines. The total cost to get this feast is $45 — Champagne not included but can be ordered additionally.
Victoria Street & Federal Street, CBD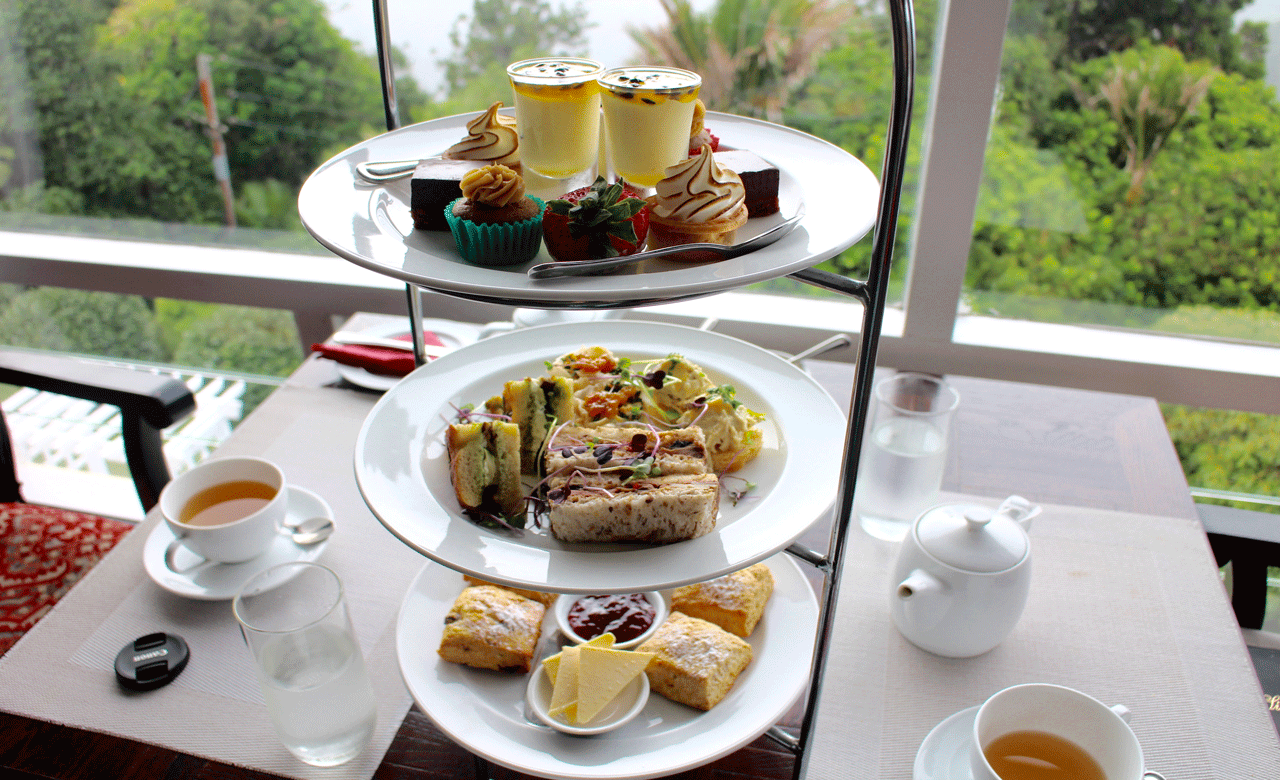 Although not in Auckland central, the Waitakere Estate is well worth a trip out of the city to take in some nature and a few cups of tea. The venue itself is the perfect spot, feeling like your paying a visit to some relative with a gorgeous country house and a great selection of finger foods. This high tea is the more rustic of the lot but with a fine selection of savouries on offer. Roast beef and Mediterranean veg sandwiches are the perfect way to start off. Followed by a manuka smoked salmon slider — again with the salmon, so I was a happy chappy there and curried chicken tartlet. Two types of scones was a nice addition, one Turkish raisin and the other being orange and vanilla, was a creative taste component to the traditional. The sweet selection had an array of flavours, from citrus and refreshing with a passionfruit mousse and lemon tart to a much decadent chocolate bite and mocha cupcake. The whole section here is a very reasonable $39 per person not including bubbles which can be ordered separately.
573 Scenic Dr, Waitakere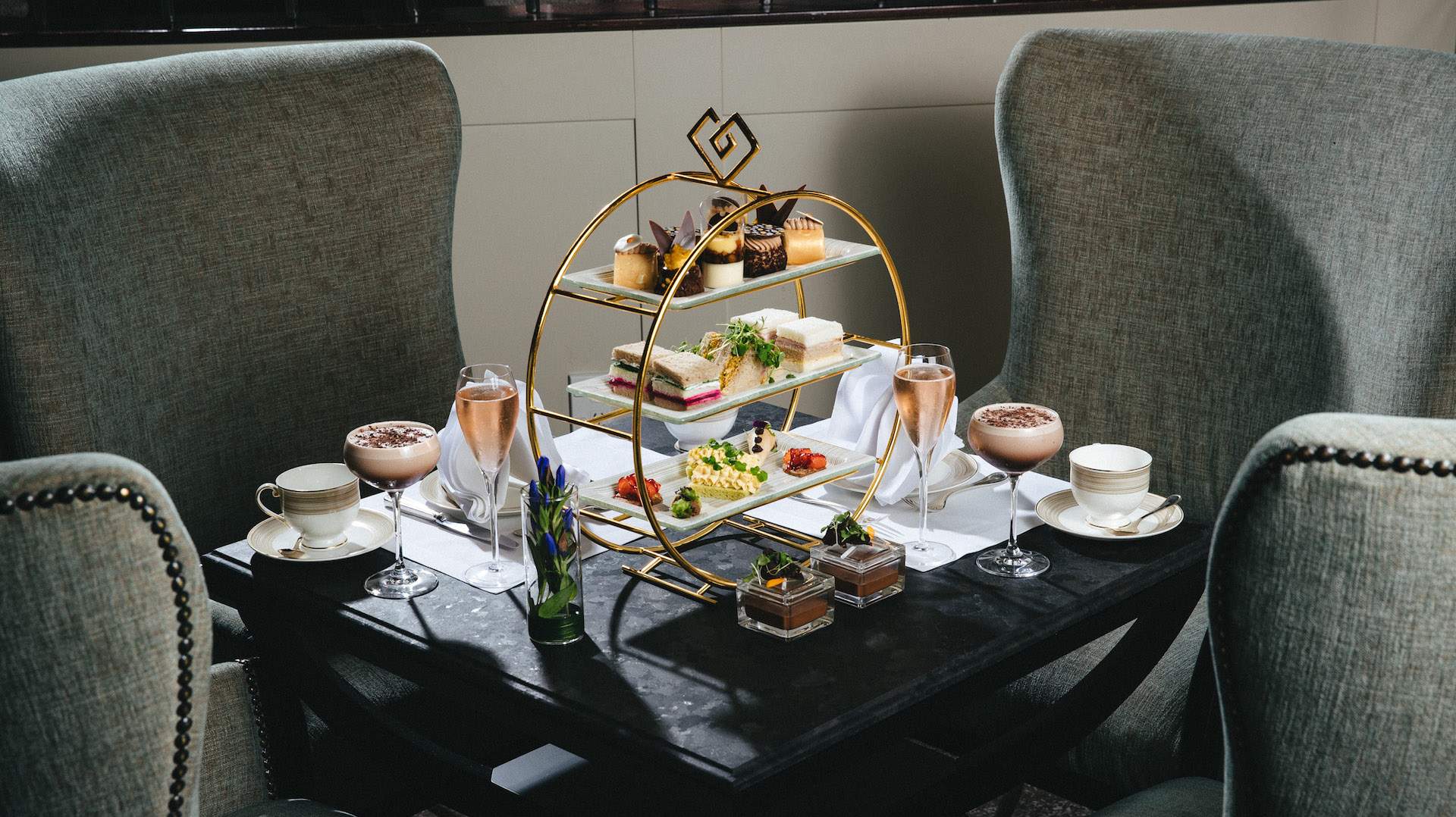 I may have left my personal favourite until last. Cordis Auckland has the full high tea experience. Complete with harpist to set the mood, Champagne options and the largest selection of tea I think I have ever seen, the entire occasion left nothing to desire. A perfect balance of sweet and savoury, the selection in the image above is not even all that was on offer. With additional plate of scones and more cakes for after the the three tiers is gone, it's safe to say we left will extremely full bellies and needing a nap. The savouries were decedent and creative, with classic sandwich options to tie it all together. My personal favourite being the truffled potato tartlet and the simple but delicious egg sandwich. The scones came with two types of homemade jam, and were fresh out of the oven. The sweet treats seemed to just keep on going, with persimmon cupcakes, mini beetroot and chocolate panacotta, and fejoa blanc mange - which was refreshingly delicious complete with edible pearls. One highlight was the less traditional Oreo cake pop, which stood rather cutely at the top. Cordis Auckland will however set you back approximately $84 per per person, with Champagne — depending on if you enjoy the delights on the weekend or during the week.
83 Symonds Street, Grafton

Published on June 02, 2016 by Margaux Black