FOOD & DRINK
Ghost Street Is a Soon-to-Open Chinese Restaurant From the Cafe Hanoi Team
You'll eventually find the restaurant down two flights of stairs in the Britomart precinct.
Comensa, the hospitality group from husband-and-wife team Krishna Botica and Tony McGeorge, already own an empire of award-winning Asian-inspired restaurants in Auckland. You'll likely already be familiar with Cafe Hanoi, Saan and Xuxu Dumpling Bar. This Tuesday, April 27 will see the pair open Ghost Street — a subterranean restaurant adjacent to The Hotel Britomart and beneath the recently relocated Cafe Hanoi.
According to Botica and McGeorge, Ghost Street is a reimagining of "the hole-in-the-wall eateries than run along Beijing's famous food street of the same name." Down two flights of stairs and through a bamboo screen, diners will find a concise menu offering seasonal dishes from throughout the country, with a particular emphasis on food from the western cities of Chengdu and Xi'an.
At Ghost Street that means shared plates with punchy, pungent and earthy flavours. The food development has been a team effort with ideas and refinement coming from chefs Quan Cui and Suet Yu Wong, while a research trip throughout China was guided by Hamish Ingham, the former executive chef of Sydney's Billy Kwong.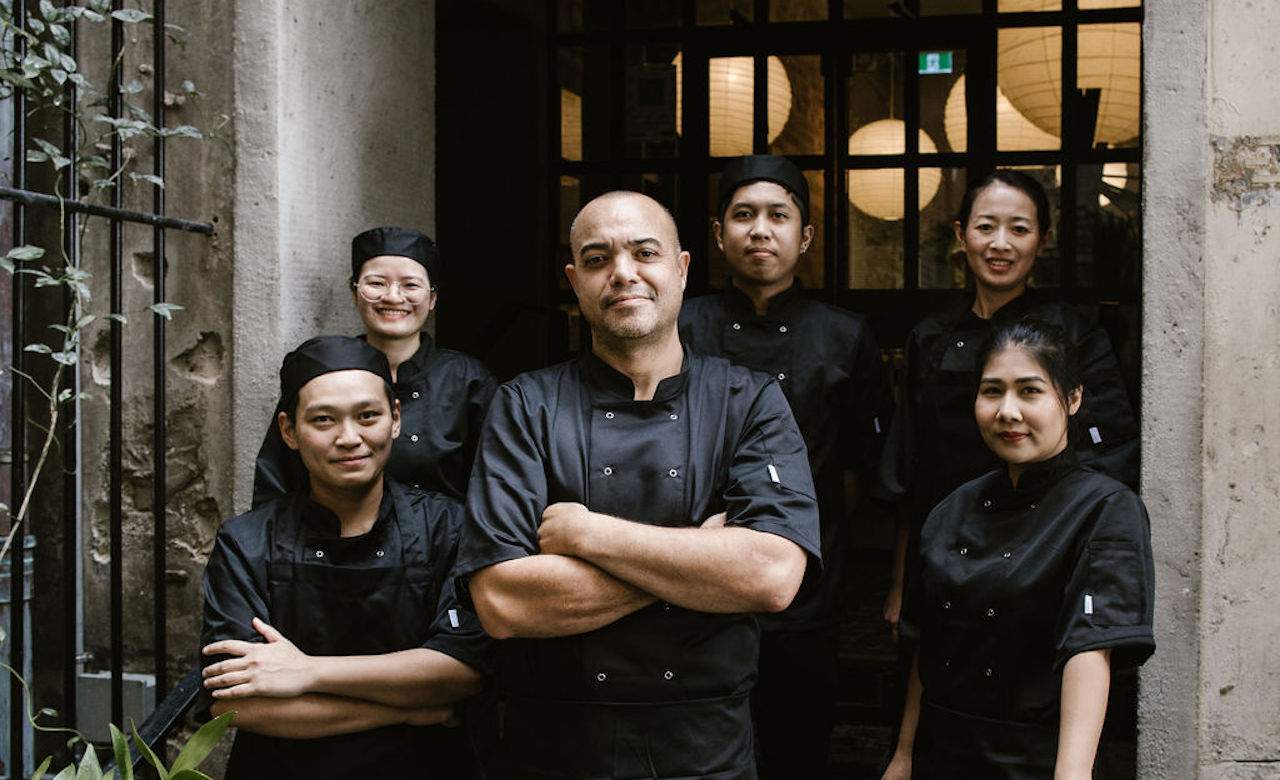 Ahead of the opening, signature dishes led by Cafe Hanoi executive chef Nathan Houpapa and head chef Khai Yee Khor chef are being tipped as hand-pulled biang biang noodles, scallop wantons with Sichuan chilli oil and 'Typhoon Shelter' soft-shell crab. The drinks menu will also incorporate Chinese flavours, including a Sichuan pepper negroni, lychee martini and house blend green tea.
The interior, from the main dining room to 44-seat private dining area, has been designed by Cheshire Architects and is said to reflect the history of the 130-year-old space with black cement tiles, recycled timber tables, hessian cushions and elm stools.
Find Ghost Street on the Basement Floor at 27 Galway Street, Britomart from Tuesday, April 27, 2021. It will be open from Monday to Wednesday, 5pm until late, Thursday and Friday, 12pm until late, and Saturday and Sunday, 5pm until late. For more information and to make a booking, visit ghoststreetakl.nz.
Images: Anna Kidman.
Published on April 21, 2021 by Stephen Heard