FOOD & DRINK
Six Auckland Cafes for When You Need a Late Afternoon Coffee Fix
These coffee spots are always buzzing — and you will be too after a twilight caffeine hit.
It's 4pm on a Sunday, you're in desperate need of a snack to get you through to dinnertime but just can't find a decent cafe? It seems all the usual spots shut shop at 3pm, leaving you circling the city aimlessly, with hunger setting in.
We have rounded up a few of the best cafes that stay open late into the afternoon so you can discuss the weekend's antics over a cuppa with a friend. These Auckland hotspots offer good coffee as well as an array of tasty cabinet food.


FRASERS, MOUNT EDEN
Frasers is the cafe that never sleeps, or so it seems. It is a Mount Eden institution and has been around for what feels like forever. Frasers is always buzzing with people, whether it's the early morning coffee crowd, the three-course dinner rush, or brunch with the family. Even on a late Sunday afternoon there seems to be a wait for a table. This gives you plenty of time to decide between the legendary lemon meringue pie, or the famous Bailey's cheesecake. Open 7am to 11pm on weekends, Frasers is the place to be if you are looking for a pre-dinner dessert.


THE APOTHECARY, HOWICK
Nestled in the heart of Howick village, The Apothecary is a lively spot, with good coffee and great cabinet food. The ratio of caramel to biscuit base in the chocolate caramel slice is commendable, and the kid's freakshakes look to be a labour of love. If you've already reached your coffee quota for the day, they have kombucha on tap to balance out the sweet treats on offer. The Apothecary stays open until 11pm Wednesday to Sunday, so is a great place to recharge after exploring the east coast beaches and coastal walks.


AMANO, BRITOMART
Spanning Britomart's historic Altrans and Quay buildings, Amano is the perfect combination of classic Italian fare and inner city chic. The in-house baked goods are what dreams are made of, and range from buttery truffle croissants to decadently rich chocolate hazelnut tortes. Amano is a bright and airy spot, perfect for an afternoon catch up over coffee. Sit on the stools at the counter and watch the bartenders work their magic or park up by the window and do some serious people watching. If it's too late in the afternoon for a caffeine hit, why not get a glass of prosecco to round out the week. Open seven days, 7am until late.


AMPERSAND EATERY, ORAKEI
Situated in the fairly new Orakei Village with Hobson Bay on its doorstep, Ampersand Eatery is a great destination for groups large or small. The pièce de résistance is the all-weather heated deck with views across the bay. Ampersand has limited cabinet food, but great coffee and an ever-changing wine list. The kitchen's dishes are works of art, and while there is free-flowing sparkling water, the creamy ginger lattes come highly recommended too. Farro Fresh is conveniently located next door, so drop by on your way out to pick up a few groceries for dinner. Ampersand Eatery is open from 7.30am to 11pm on weekends.


TAKAPUNA BEACH CAFE, TAKAPUNA
Overlooking the water and with plenty of parking nearby, Takapuna Beach Cafe is another one of Hip Group's successes. The ideal place to stop after taking the dog for a run around on the beach, Takapuna Beach Cafe boasts a range of cabinet food, fresh juices, extensive all day menus, and of course their award-winning gelato selection. Our personal favourites are the creamy lemon curd yoghurt or the liquorice ice cream. It can get quite noisy inside, so you may want to nab a table outside in the afternoon sun. Takapuna Beach Cafe is open until 6pm, Monday to Sunday.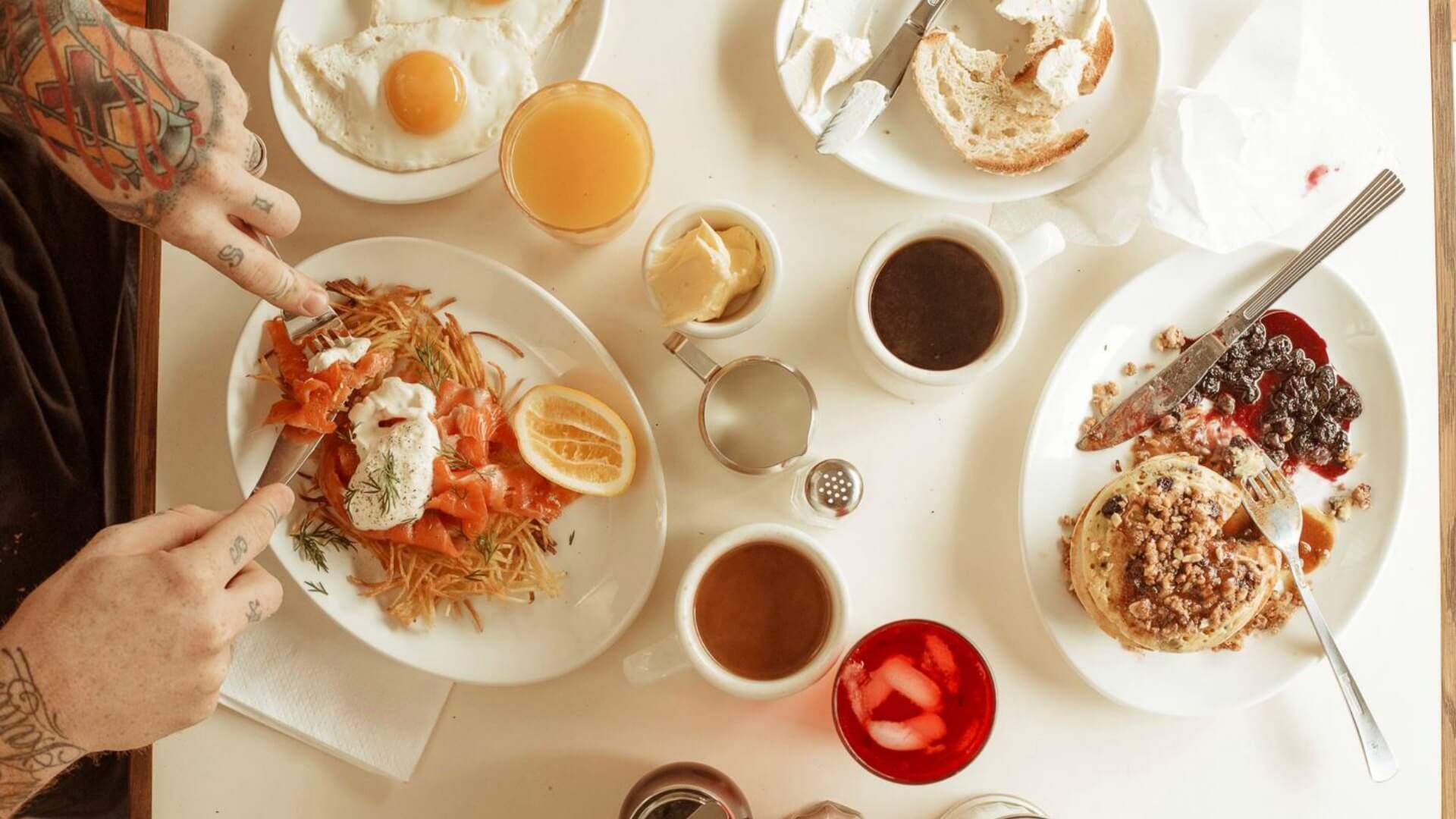 FEDERAL DELICATESSEN, AUCKLAND CBD
Al Brown's take on a 1930s New York delicatessen is humming at all times of the day and night. This all-American diner offers up some of the best late night food around. If you head here on a Sunday afternoon, you will be treated to bottomless coffee, friendly wait staff and a great range of food. Our picks are the chicken salad sammie (request the secret, not on the menu grilled cheese edition), the dessert pie trio out of the cabinet, and if your sweet tooth allows, top it off with a kid's 'chimney sweep' (a chocolate and peanut butter mini milkshake). Federal Deli is open late all through the week and from 7am to 10.30pm on Sundays.
Published on October 10, 2019 by Ruby Romanos