FOOD & DRINK
Ten Breakfast Options for When You Don't Feel Like Eggs on Toast
From early morning pasta to Japanese-inspired waffles — stepping out of the box for breakfast isn't so scary after all.
Ten Breakfast Options for When You Don't Feel Like Eggs on Toast
From early morning pasta to Japanese-inspired waffles — stepping out of the box for breakfast isn't so scary after all.
Picture this: you wake up on a Saturday, sun streaming through your window, already super-pumped for the weekend ahead. It's an extraordinarily good day and we all know you should start things off right — most important meal of the day, and so on. Sure, eggs on toast are tried and true, but how about stepping outside the box with some new flavours? Here are ten breakfast picks for when you don't feel like eggs on toast. We promise you'll elevate your day from great to exceptional.

THE HUNTER - L'OEUF
The creamy balsamic portobello mushrooms at L'Oeuf are the kind of meal you dream about overnight and wake up salivating for. Served with spicy chorizo, rosemary, gently toasted sourdough and the perfect amount of truffle oil – this dish is undoubtedly all-time.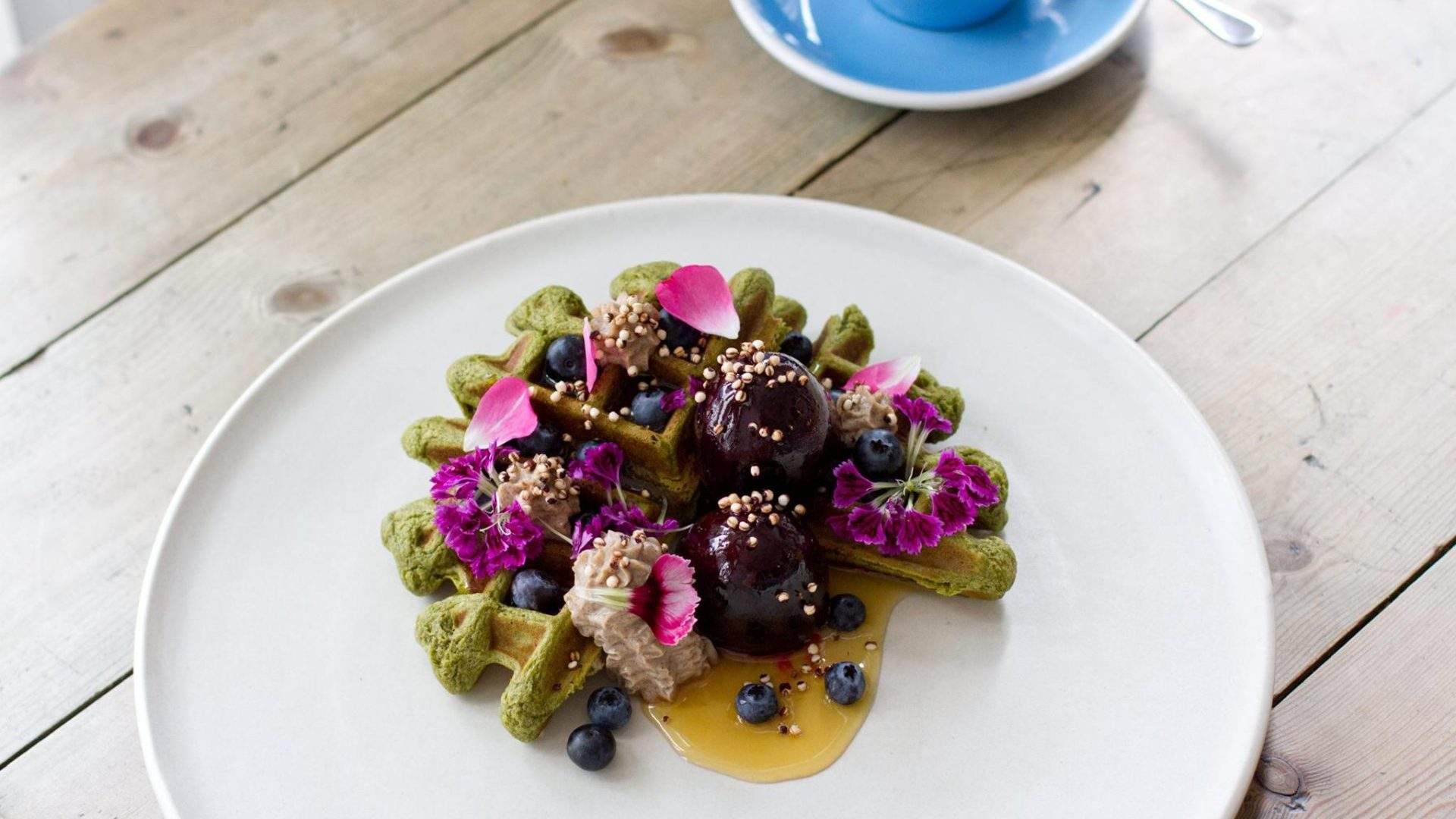 MATCHA WAFFLES - KOKAKO
The fact that they serve some of the best coffee in the city might have influenced our decision to mention this Grey Lynn outpost, but they must be commended for doing the iconic waffle justice. Japanese matcha elevates the sweet dish, which currently comes accompanied by strawberry and blackberry compote, coconut whipped cream, honeycomb and maple syrup.

Occupying a vine-covered bunker off the beaten city-fringe track, there's so many things to like about Queenie's, the best of which just might be their Turkish Eggs. Perfectly poached every time, the eggs adorn a vibrant dish singing with Arabic flavours thanks to aromatic baba ganoush, yoghurt, hot chilli butter and toasted Turkish pide.

Each of the perfectly formed offerings at this dedicated sandwich store deserves a mention, however we have to award them with one of the most tasty vegetarian offerings around. Dedicated to creating everything from scratch, the team at Fort Greene's The Vege One comprises grilled eggplant, haloumi, pomegranate and rocket. The sandwich is always evolving so you're always in for a treat.

BREAKFAST PASTA - AMANO
As well as flaunting a can't-go-past pastry selection, Britomart eatery Amano makes eating pasta for breakfast entirely acceptable. Try the fresh-made spaghetti with tomato, olive and fried egg — you'll never go back to boring old breakfast classics again. For something entirely different try the chicken liver with poached egg. Finish your experience with something from the sweet selection — there's everything from madeleines to almond croissants and cinnamon morning buns.


At City Works Depot café/bar/florist/plant nursery The Botanist you'll find all kinds of boundary pushing breakfast items. Chef Ryan Pearce is the brains behind the breakfast vision that includes numbers like an early morning coconut panna cotta with roasted fruit, oat and coconut crumble and mango jus. Savoury fans are also in for a treat with inventive options like beurre noisette potatoes topped with pork belly, blue cheese, mushrooms and a perfectly runny fried egg, and kahawai cakes.

From 9am at Ponsonby's Orphans Kitchen you can order a steaming bowl of Vietnam's favourite soup. The soul-warming Tan's Organic Chicken Pho is named after Vietnamese sous chef Tan Nyugen, who has been a member of the Orphans crew since they opened. One for a rainy day in paradise.

COURTNEY'S FLUFFY HOTCAKES – BESTIE CAFE
Extra points for being located in one of the coolest little nooks Auckland city has, consistently good is an understatement for Bestie and we can't go past Courtney's Fluffy Hotcakes. Made with love, salted caramel ice cream and toasted almonds, we recommend going all out and adding bacon – just make sure you've kept the next hour open for accommodate the ensuing food coma. For something savoury, try the chorizo flatbread.

Feeling shady on a weekend morning? La Cigale's take on the traditional croque monsieur will see your stomach sing. So much more than your average cheese toastie, the French weekend market has mastered this cheesy art form, oozing in béchamel sauce with heavenly ham, lightly grilled bread and, if you're in the mood, topped with an egg to repent for last night's misdeeds. Paired with an exquisite coffee and stepping out of the box for breakfast needn't be so scary after all.

FITNESS BOWL - CATROUX
A glorious mix of heavenly haloumi, Aoraki smoked salmon, sauerkraut, raw cashew cream, fresh orange, rocket, turmeric nuts, seeds and a poached egg, Catroux's seasonal brunch menu is mouth-wateringly good – but it's the gluten-free Fitness Bowl that won our hearts. Mastering the delicate mix that is lightness and sustenance, this dish will position you perfectly for a busy day.

Published on February 08, 2018 by Katharina Charles