The Best Restaurants for Big Groups in Auckland
These spots are large (and rowdy) enough to host all your mates for dinner.
Gathering together the people you love is something special, whatever the occasion. It can also be a logistical challenge, to put it lightly, trying to find a place that everyone can enjoy. In order to help you out next time you're at the helm of a group get-together, we've compiled a list of some of the best restaurants suitable for groups in New Zealand's largest city. These picks include something for everyone, so you're bound to hit the sweet spot even with many different tastes and preferences.
With the exception of Kiss Kiss all of the below take bookings, so you can rest assured there will be space for you. If you have a group more than 6–8 it pays to call ahead in advance, however most places will accept larger bookings and can also host functions. This is not the day you'll be turned away to roam the streets, friends in tow. We've got your back.
Found smack bang in the middle of Ponsonby comes a restaurant that can cater for large groups and will leave everyone well and truly satiated. Bringing the best of American food to New Zealand's shores, Miss Moonshines is the place to go for meaty and veggie goodness. With colourful cocktails, a variety of plates that can be shared and mains that put new meaning in 'slow cooked barbeque', this eatery is a sure fire winner for you and your group.
CIBO, PARNELL
What was once an old chocolate factory is now Cibo, and while the sweet scent of cacao no longer lingers in the air, at this Auckland haunt you'll find many delectable treats for you and your group. Offering alfresco dining in a private courtyard, Cibo is an elegant choice ideal for those balmy summer nights. On the menu you'll find dishes that reflect the seasons, with fresh produce prepared in ways that bring exotic to the familiar.

Set in an old villa in the heart of Freemans Bay, and decorated with Japanese artworks and bamboo screens, Nishiki is one of Auckland's best Japanese BYO restaurants. The staff are unbelievably polite and the oversized menu has a picture for every food item — handy if you've had one too many buttery chards. Go with the chicken karaage. BYO wine corkage will set you back $7 per bottle.
Epicer, translating as 'to bring spice to' is a fresh take on Indian food. Including sharing plates, cocktails and wine matchings, the chef uses ethically sourced, sustainable ingredients to create eye-catching dishes that are packed with flavour. While you may want your meal all to yourself, having a group is also a great chance to try a range of dishes, from kathal achari to goat handi.
The Cav is not your usual pub, combining Kiwi atmosphere with a touch of luxury. With plenty of space and bountiful booze and food, this spot is a go-to for a night out with your friends or family. Whether you're after lunch or dinner, or even just a few drinks and snacks, this venue has got you covered. The pub has a range of craft beers and gastropub fare from chef Eugene Hamilton.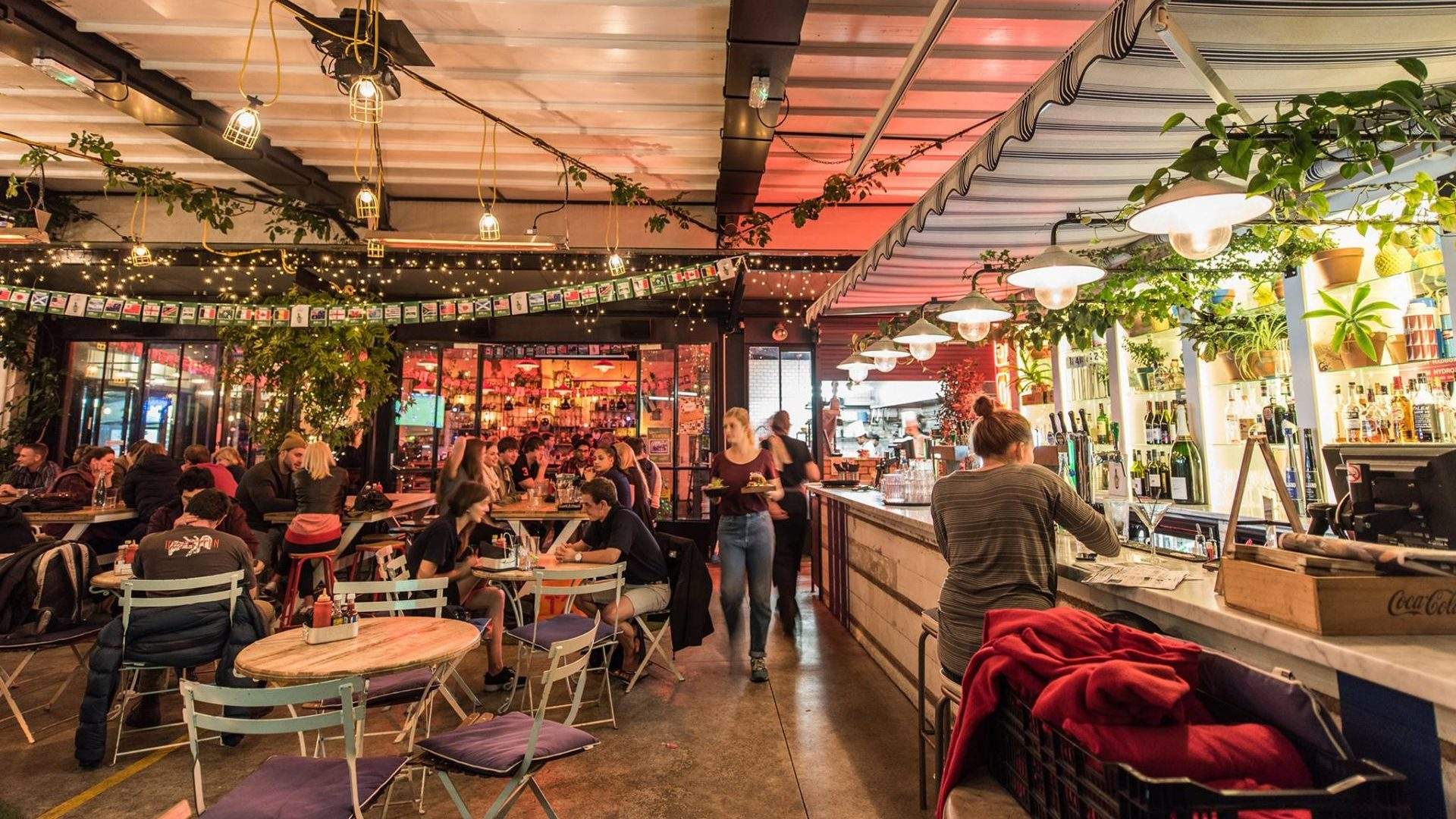 Formerly an old Honda motorcycle shop in Kingsland, Citizen Park is a restaurant and bar that brings delicious food all year around but is definitely worth a stop by as the days and nights get warmer. The food strikes a middle ground of being classy yet comforting, with a mix of dishes sure to woo even the pickiest of eaters. The menu includes a variety of options such as Sunday roast as well as Mexican staples, burgers and wings.
Looking for quirky, cool and tasty as heck? You've found it. Kiss Kiss Eatery blends Asian fusion inspired by Thai cuisine with popular culture, ensuring you and your crew have a unique evening experience. Known for its specials and loud lights and decor, this is a great culinary experience to share with company. The eatery doesn't accept bookings, so if you've got some pals in tow we recommend to try a weeknight or pick a time earlier in the evening.

Another Kingsland favourite, Canton Cafe offers the quintessential rowdy group experience. Open late, this joint is always packed with characters, armed with cheap bottles of white and bellies full of kung pao chicken. The servings of delicious Chinese food are massive, so you're going to want to bring a large group to share and be ready to mingle with diners at neighbouring tables. The ultimate spot if you're after somewhere to kick off your night.
With Mexican fare without any faff, quirky decorations adding a bit of colour to the mix, special deals throughout the week and the ability to host groups, The Mexican Cafe makes it to our list. The margarita jugs pack a punch in the best way possible and the food is tasty, easy eating. The menu includes many options for those who don't eat meat or gluten, and there is also a section for dishes to share.
La Zeppa combines Mediterranean tapas-style food with a spacious patio lit by hanging lanterns and DJs on the weekends to have you grooving. The relaxed location is a top choice for those summer weekends when you want to take a load off and spend some time with people you care about, without having anywhere to be.

If you're serious about communal Italian dining, then Pane e Vino is the spot for you. Following a long, pizza-less three months waiting for the restaurant's relocation, the sit-down BYO restaurant can now be found across the street inside the iconic brick building at 1 Williamson Avenue. Its charming location near Ponsonby Road, means you're spoilt for choice when you want to continue your night with more libations. And the neighbouring Glengarry and Countdown will assist with your bottle purchase if you intend to BYO.
Located along K' Road in St Kevin's Arcade, Gemmayze St has ample space for big groups. The Lebanese-inspired restaurant operates serveral tables in the arcade where groups of seven or more can enjoy the banquet-style menu. Called 'jeeb', which means 'bring' in Arabic, the set menu includes an array of Middle Eastern dishes from the kitchen designed to feed and satisfy even the hungriest being. Items on the $65 per head menu include smoky baba ghannouj, fattouche, grilled cos with buffalo curd, and falafel.
Concrete Playground Trips
Book unique getaways and adventures dreamed up by our editors