FOOD & DRINK
The Team Behind Culprit and Lowbrow Have Opened a New Lounge Bar in the CBD
Find this elevated version of a cocktail bar on the corner of Wyndham and Queen Streets.
Already well-known for their contemporary take on yum cha and high-end fast food, the team behind Culprit and Lowbrow are now bringing their effortless pizzazz to the bar scene with the opening of an intimate cocktail joint.
Directly across the road from Culprit on the corner of Wyndham and Queen Streets, Kyle Street and Jordan MacDonald's Little Culprit is perfectly planted for those seeking a tipple before or after visiting the pair's first born. The venue also stands on its own two feet, and Ministry of Architects have done a wonderful job transforming what used to be a public restroom. The bar has two distinct spaces. At street level, guests can sit and watch bartenders create old and new classics, while the lower lounge section is an intimate space ripped straight from the set of Mad Men.
Inspired by the hotel bars of yore, the lounge is all low ceilings and heavy velvet curtains, which can be opened or drawn depending on the mood and group size. Further, plush leather booths can swivel —bundling the space up for couples or opening it up for parties of 30. A handful of tables will eventually spill out onto the sidewalk to catch the afternoon sun.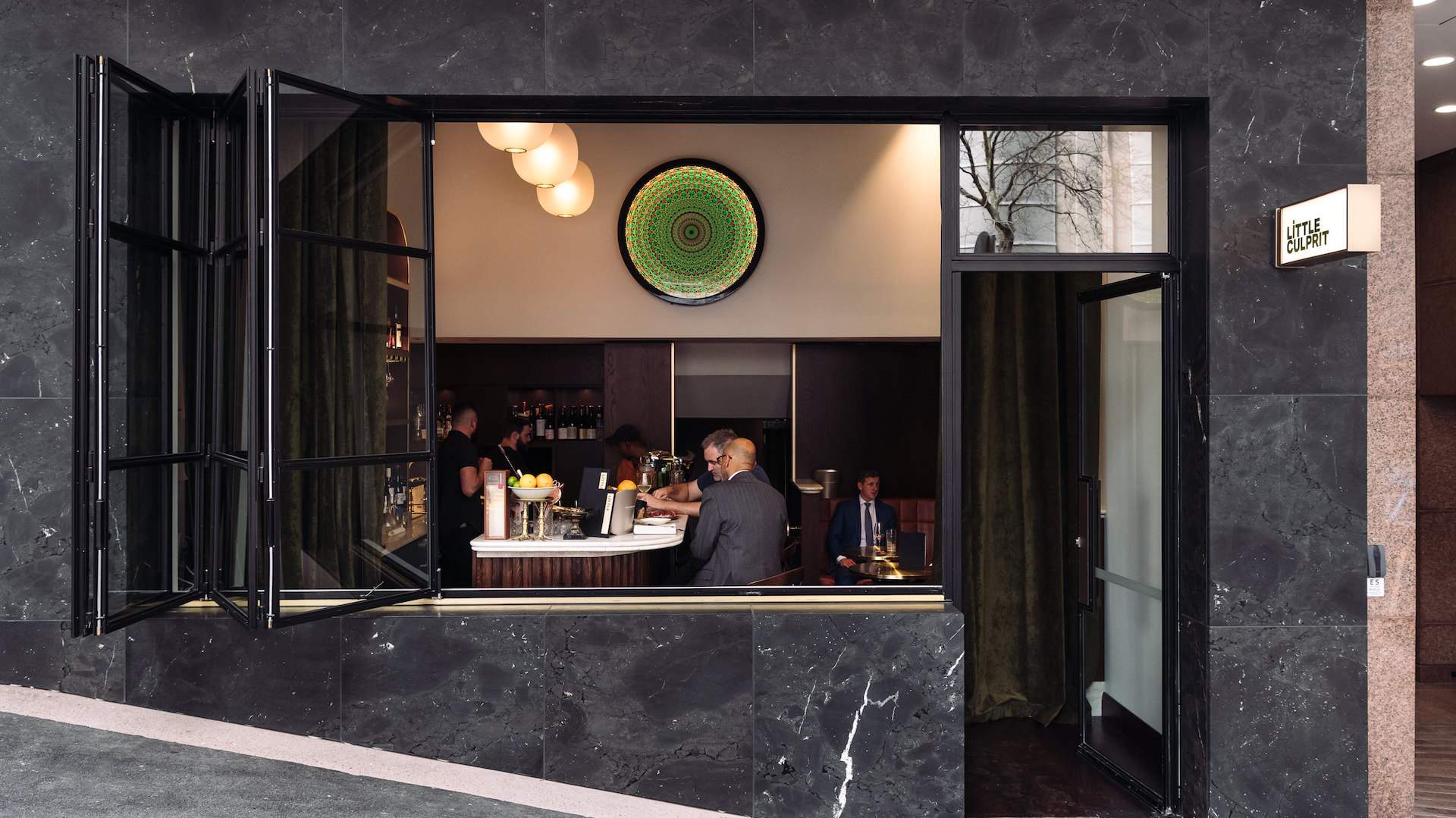 This elevated version of a cocktail bar includes a balanced drinks list that runs with the seasons. In its opening week the list is led by fruit-based cocktails, from a refreshing kiwifruit and tamarilo punch to a beverage made with smoked black doris plum, whisky and spiced pear. Under the Little Classics banner you'll find enhanced traditional cocktails — like a punchy miso old fashioned washed with nougat and white chocolate. And if your tipple isn't on the list, bar manager Needham Woodward will sort you right.
While Street and MacDonald are new to the bar scene, what they do know is how to create a vibe and a strong point of view. A teeny on-site kitchen also lets the pair flex their culinary muscles. A grazing menu featuring charcuterie, sashimi and oysters (carpet-bagged, wasabi-foamed and watermelon-topped) complements the daytime hours, while late nights look more like toasted sandwiches pressed in a waffle machine and criss-cut fries with onion ranch dip.
Little Culprit is set to be the pair's last opening for a while. Whether it's Monday afternoon or Saturday night, head here for strong cocktails, elevated drinking snacks and the clean and timeless aesthetic.
Find Little Culprit on the corner of Wyndham and Queen Streets in Auckland CBD. It's open Monday to Friday from midday until late, and Saturday from 4pm until late.
Images: Josh Griggs.
Published on October 23, 2019 by Stephen Heard