TRAVEL & LEISURE
You Can Now Order an Uber Submarine to Explore the Depths of the Great Barrier Reef
You can now get a 'scUber' on demand — if you've got a spare $3000.
You Can Now Order an Uber Submarine to Explore the Depths of the Great Barrier Reef
You can now get a 'scUber' on demand — if you've got a spare $3000.
Not content with becoming a fixture on Australia's roads, and possibly taking to the skies as early as next year, Uber is now hitting the water at one of the country's greatest natural features. If you've always wanted to cruise the Great Barrier Reef by submarine, now you can now book one via the Uber app.
No, this isn't a joke — but it's definitely a marketing stunt. Aptly named scUber, the new service — which will be available between Monday, May 27 and Tuesday, June 18 — is a collaboration between Uber and Queensland's state tourism body. Of course, diving down deep via scUber is incredibly pricey at $3000 for two people. But if you're particularly flush with cash and have always dreamed of seeing the reef this way, now you can. According to research by Tourism and Events Queensland, plenty of people have this exact experience on their bucket list.
Your big stack of bills gets you a trip to the southern Great Barrier Reef's Heron Island from May 27, or to north Queensland's Agincourt Reef off the coast of Port Douglas from June 9. You'll be picked up from your location by Uber, naturally — although you'll need to be in Gladstone, Cairns, Palm Cove or Port Douglas. Then you'll be taken by helicopter to either scUber destination, where you'll jump inside the submarine and dive under the water for an hour. Afterwards, you'll head back to your original pickup spot.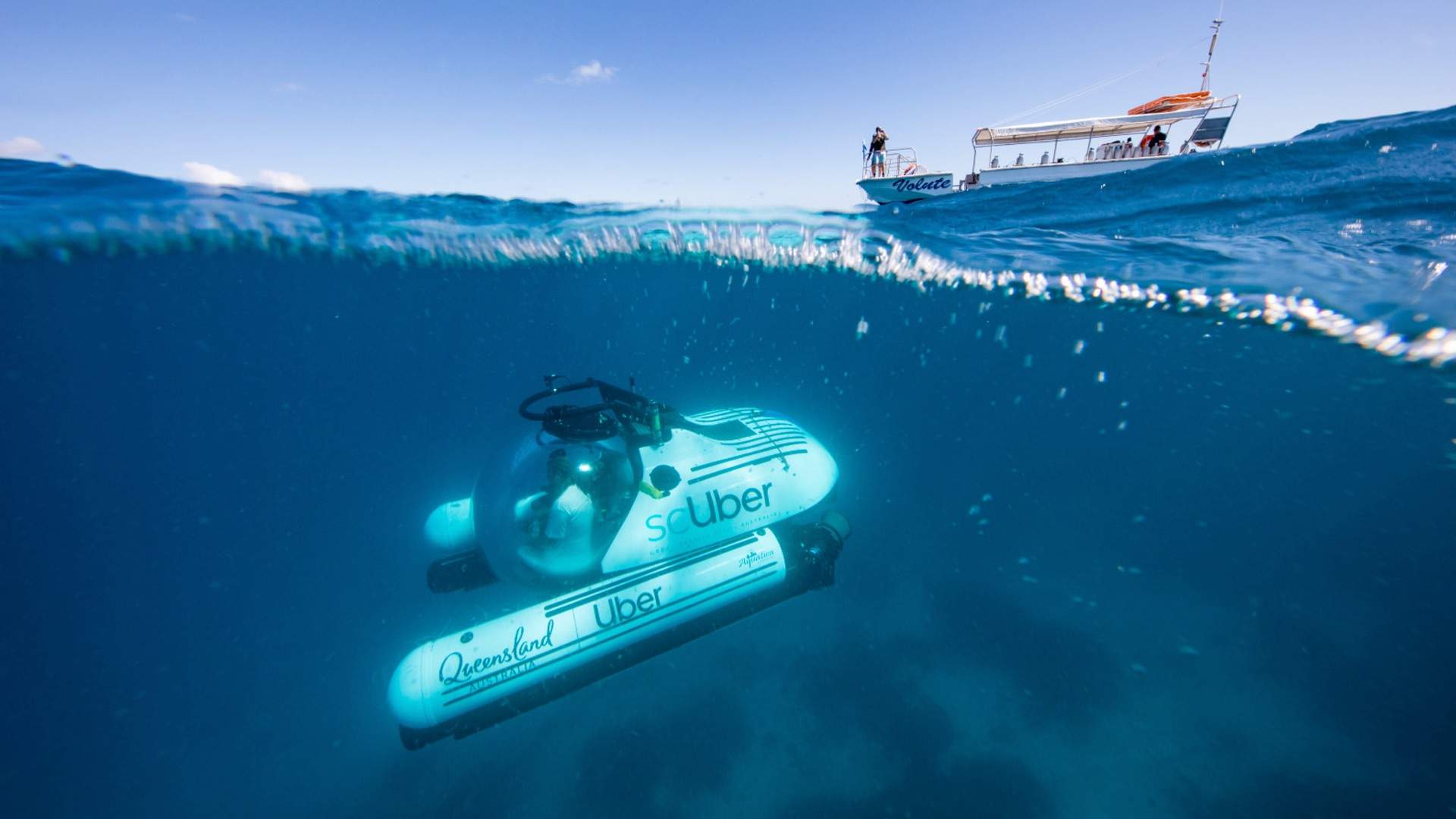 The submarine actually holds three people — someone who knows what they're doing will be going down with you. They'll take you deep, down to 30 metres, where 180-degree views await. Obviously, there are a few other drawcards: you don't have to learn how to dive or get a license, and you won't get wet.
Uber will also be partnering with Citizens of the Great Barrier Reef as part of scUber, donating $100,000 to the protection and conservation organisation, as well as the equivalent value of every scUber ride purchased.
And, in conjunction with Tourism and Events Queensland, it's giving away a scUber package complete with flights and five nights accommodation — which is open to eager folks not only from Australia, but from New Zealand, the USA, Canada, the UK and France too. You'll need to enter by 1.59pm, Australian time, on Monday, June 1.
scUber will be available from Monday, May 27 to Tuesday, June 18 in Gladstone, Cairns, Palm Cove and Port Douglas. For more information, visit scUberqueensland.com.
Images: Tourism and Events Queensland. 
Published on May 23, 2019 by Sarah Ward