FOOD & DRINK
Auckland Restaurants Where You Can Dine at the Bar
Take a seat up front, whether you're dining solo or finally having that long-delayed catch-up.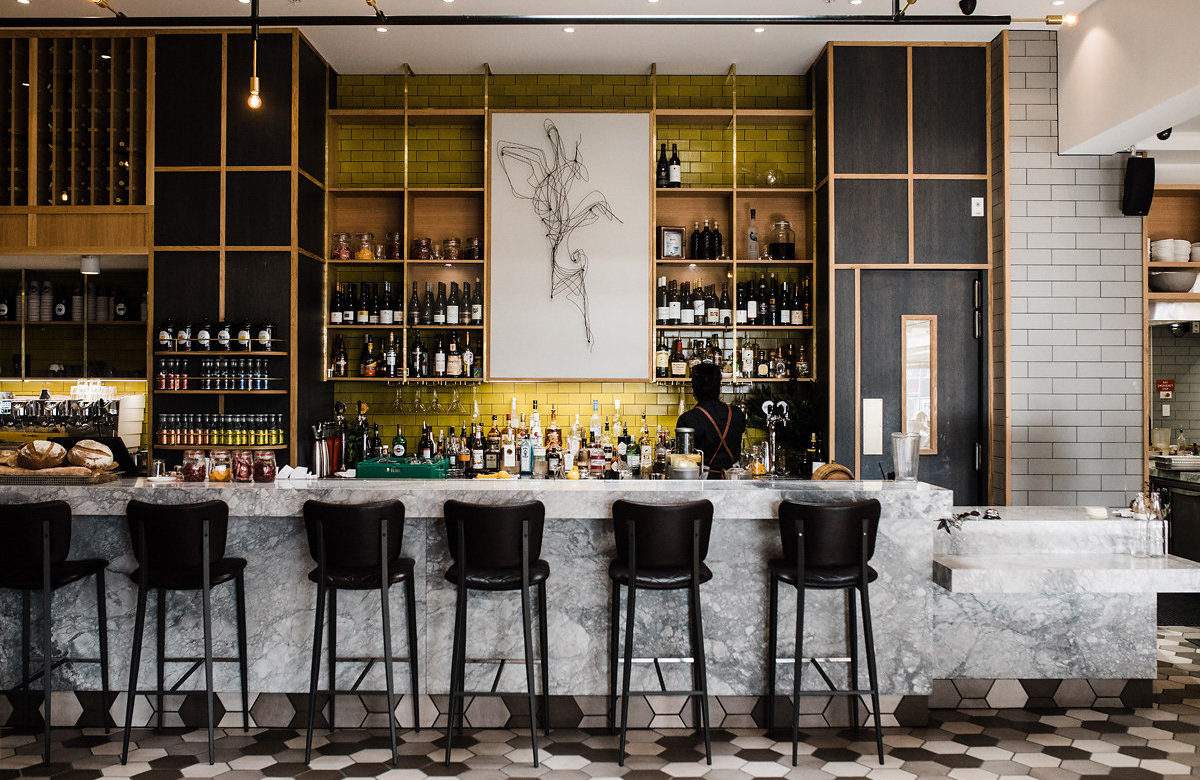 Perching at the bar with a robust negroni, not sharing a parmesan-laden bowl of fresh cacio e pepe is a largely unpretentious dining experience that cuts to the core of hospitality. Perfect for solo dining or a delayed catch-up with your long-lost friend, this type of dining had been lacking in Auckland until recent years. Nowadays, Aucklanders aren't so intimidated with dining solo, sitting right in front of the chef, and foregoing a strong-backed seat for a humble stool. These restaurants and bars will let you pull up a pew in front of the action, and won't judge you on a table for one.
Image: Anna Kidman, Giraffe.
Food & Drink

This new all-day eatery is the latest opening from the team behind Orphans Kitchen and Daily Bread.

Food & Drink

Korean-style fried bird lands in Ponsonby Central.

Food & Drink

This boundary-pushing cocktail bar is an extension of Herne Bay's popular fine dining restaurant.

Food & Drink

This new Kingsland restaurant specialises in the flame-seared cooking style of aburi.

Food & Drink

This Kingsland pizzeria is led by a former desk jockey with a 200-year-old dough starter.

Food & Drink

This Asian-inspired newcomer is the debut solo effort from award-winning chef Stuart Rogan.

Food & Drink

A family-run gastropub that serves up pizza and craft beer.

Food & Drink

A fresh and inviting noodle house serving Japanese classics and something called 'hell ramen'.

Food & Drink

A shucking great new addition to the Auckland waterfront.

Food & Drink

From the creators of Major Sprout comes this new Asian-fusion café.

Food & Drink

This Simon Gault-led eatery is delightful in both name and nature.

Food & Drink

Turkish street food comes to life at this intimate Ponsonby establishment.

Food & Drink

If a sun-drenched rooftop bar and two lane bowling alley is what the doctor ordered.

Food & Drink

The inner-city bakery has been transformed into a full-fledged restaurant, offering quite possibly the freshest pasta experience in New Zealand.

Food & Drink

A bloody delightful local pub with plenty of charm and an English twist.

Food & Drink

A 10/10 local worth visiting even if you're not a local.

Food & Drink

There's something just a little different about this Al's branch.

Food & Drink

This sanctuary is the gateway to a great night.

Food & Drink

Phenomenal food and a wine list longer than a Game of Thrones novel.

Food & Drink

The Korean-inspired burger joint has our tick of approval.

Food & Drink

Globe-trotting comfort food in a holiday environment.

Food & Drink

An oriental smokehouse from the city's bastions of east-meets-west.

Food & Drink

Between the lively chat, the excellent dishes and plotting how to run away with all the tableware, we had a wonderful time.

Food & Drink

One to try for dumplings that rival those in Tokyo.

Food & Drink

Non Solo Pizza ("not just pizza" in Italiano) is, well, a lot more than just pizza.

Food & Drink

Cassia is a must-visit new twist and fresh take on a cultural offering that has become a steadfast element of New Zealand dining.

Food & Drink

An ancient style of cooking that literally means 'grilled bird'.

Food & Drink

Chop Chop Noodle House is a re-enactment of a downtown Tokyo hole-in-the-wall eatery.

Food & Drink

Gusto is a place to enjoy the finer things in life – good food, wine and company – with vigour.

Food & Drink

A pub's pub with forward facing pub food and proper pints of frosty bliss.

Food & Drink

This is one restaurant that could really change your perception of Chinese cuisine.

Food & Drink

Contemporary Japanese restaurant Masu proves a culinary force to be reckoned with.

Food & Drink

Just as the Mekong River traverses the borders of Southeast Asia, so does the menu of Ponsonby's newest restaurant, Mekong Baby.

Food & Drink

It seems to me Bellota is best enjoyed slowly, with good company and plenty of time to digest to make room for the churros.

Food & Drink

Another epic Kingsland restaurant - Taiko is boss.

Food & Drink

Boisterous, welcoming and completely natural, most definitely characteristics we have come to associate with the infallible Al Brown.

Food & Drink

It takes a fair amount of innovation, creativity and flair to develop the hottest eatery in the rapidly expanding Britomart complex.

Food & Drink

Situated on Upper Queen St, Tanuki's Cave promises to be an unexpected and inexpensive Japanese dining experience.

Food & Drink

Ebisu offers a Japanese dining experience with a relaxed New Zealand feel.
Tap and select
Add to Home Screen
to access Concrete Playground easily next time.
x