FOOD & DRINK
A Guide to Not-for-Profit Cafes and Restaurants in Auckland
Where to find good food, good coffee and those who are just generally doing a bit of good.
A Guide to Not-for-Profit Cafes and Restaurants in Auckland
Where to find good food, good coffee and those who are just generally doing a bit of good.
---
While we agree Mum and Dad's is still the best not-for-profit restaurant around — and one where you're always guaranteed a table — it turns out Auckland has a few other establishments of the generous kind. So for those of you with a conscious conscience, here are five eateries that work hard to put soul into more than just the food.
EVERYBODY EATS
Fact: everybody needs to eat. Also a fact: not everyone can afford to. So, every Monday night between 6 and 8pm anyone — whether they are a well-paid professional or currently homeless — is welcome to sit down to a three-course meal, prepared by a team of volunteer chefs from well-known Auckland restaurants. Everybody Eats is an initiative started by Nick Loosley, owner of Bay of Islands restaurants The Gables and Hone's Garden, that allows people to pay what they can afford for a meal — and if that happens to be a grand total of zero that's okay. Currently operating out of St Kevin's Arcade's resident Lebanese eatery Gemmayze St, the plan is for the host restaurant's team to tag in and out with the other good people from Bird on a Wire and The Cult Project. Patrons who have been able to pay a bit more, have provided the means for takeaway containers to be bought, so one meal can turn into two for others less fortunate. The initiative has been running for less than a month, but Everybody Eats plans to be a permanent fixture in Auckland's socially conscious dining scene. With such a beautiful alternative to food going to waste within the hospitality industry, we hope they stick around for good.
Shop 16, St Kevin's Arcade, 183 Karangahape Road, Auckland Central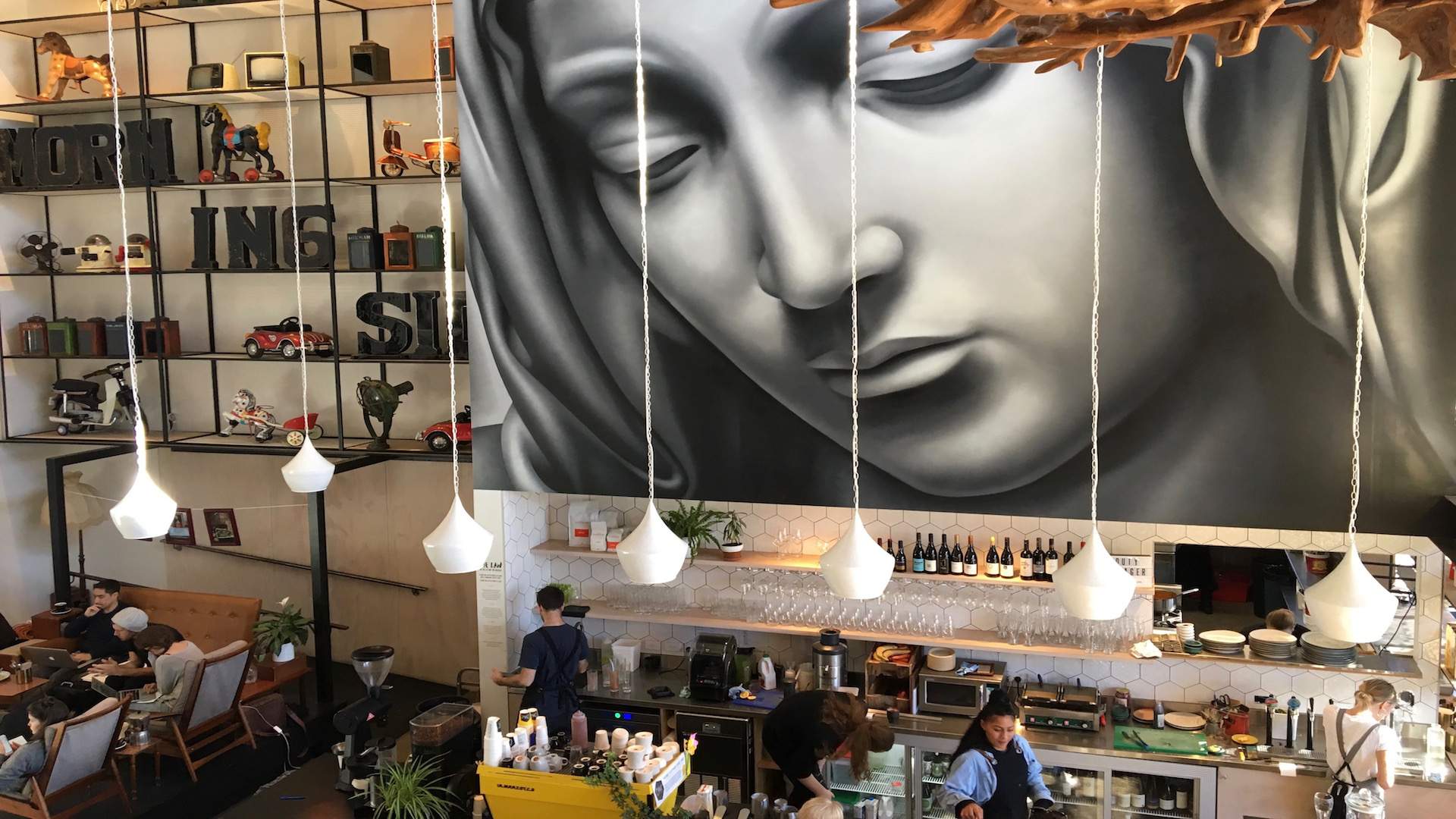 These guys have arguably turned the not-for-profit café model into a thing of beauty. They have created a space that feels effortlessly welcoming, where you will find damn good food and fair trade Supreme coffee. Yet this café brings people together for more than just a flat white — or glass of wine, being that they're now licensed and open Thursday through Saturday evenings. Crave's best attribute is the fact that they direct their pennies straight back into making Morningside a better place to live. The café — furnished with an eclectic mix of furniture collected and refurbished from opshops — provides a place for the diverse ways in which people build a sense of community. They act as an event space for gatherings such as live podcast recordings, meetings of all kinds are held in one of the two for-hire boardrooms and 'The Library' area's shared table is frequently inhabited by students and freelancers. On weekends, the kitchen has orders for their Benediction — Crave's idea of the café staple, with hickory-smoked hollandaise and crispy dauphinoise potatoes in place of the usual English muffin — on repeat. If you can, buy an extra coffee and they'll put it on hold for someone in the community having a bit of a rough time with their mental health. This place truly is what community feels like.
6 Morningside Drive, Morningside
You'll wake up before you've even taken a sip of smooth caffeine at this little neighbourhood local. The bright patchwork of paint on the shipping container that's been given a better life as the home of The Waterview Coffee Project (TWCP), is sure to knock you out of your morning daze. This little spot on Daventry Street runs on that rare fuel known as 'for the love of it' and serves fair trade, organic coffee and cold drinks year round. More than that though, it serves as a magnet for attracting the kind of neighbourhood where people actually know those who live down the road from them. The container coffee shop acts as the local community noticeboard, and is the site of market stalls, kids' events and outdoor concerts during the summer months. Once you've ordered from the friendly face behind the till, take a seat in one of the green vinyl armchairs under the plants climbing over the walls. Or, if you're accompanied by small humans, wander down to the new Waterview Reserve and let them reign free at the skate park, BMX track and playground designed in consultation with local primary school kids. TWCP is open in time for the school run during the week from 7am-12pm, and from 8am-1pm on weekends.
29 Daventry Street, Waterview
Sometimes the best way to fix a bad day is offloading your woes to a friend over a cuppa. At Merge Café on the great leveler of life that is Karangahape Road, strangers find friends — and they don't necessarily ever meet face to face. Run by Lifewise, this café puts everything into working towards ending homelessness. Originally a soup kitchen at the Airedale Community Centre, in 2010 it was decided that a better approach to tackling homelessness was to break down the barriers that were maintaining the problem. So the busy café on K' Road now provides wraparound services alongside a hot meal to those in need of them, and brings together students, the homeless and local businessmen around the large community tables. If you haven't got time for a sit-down meal — and inevitably a chat with your fellow diners — grab one of their fresh salads, sandwiches or slice of coffee cheesecake to takeaway. There is free computer and wifi access for all, a community noticeboard with job listings and a generously stacked bookshelf that operates as a book-swap. Merge offers breakfast from just two dollars and lunch from four dollars, and if you can spare a bit extra it's only $8 to buy a meal and a coffee to put on hold for someone else. Go on, it'll make your day — and an invaluable difference to someone else's.
453 Karangahape Road, Auckland Central
Whether you require your espresso served with milk or in martini form, the baristas and bartenders at Citizen Q will sort you out. The all-in-one dining spot housed inside Queen Street's Q Theatre keeps theatre-goers going, but also supports one of Auckland's leading arts hubs. Profits from every plate that leaves the kitchen — including their killer wedges with sour cream, cheese and bacon — contribute to supporting the creative ventures that take place at Q. Their selection of small plates makes it easy to share a meal between fellow arts enthusiasts, and the big plates are large enough for those who prefer to keep their food all to themselves. Citizen Q is open for breakfast from 8am during the week and until late most nights. You'll want to book at least a day in advance to ensure you squeeze in a pre-show meal at the restaurant, as the fact that you can move from a seat at table four to row E seat 10 without having to take a single step outside, means spaces here are in high demand.
305 Queen Street, Auckland Central
Published on July 06, 2017 by Melissa Roberts